Snow Forecast Mapswhere's the snow in the next 3 days?
Snow Forecast for 3200 ski resorts around the World, updated four times a day. Weather forecasts are provided for the top lift, bottom lift and mid-mountain elevations. Our detailed Snow Reports and live updates are submitted by local Ski Clubs, ski resort staff and our users. Interactive weather maps show the amount of predicted snowfall as well as the current snow conditions and weather observations. The snow maps also show where the best piste conditions, off-piste powder and forecast weather for skiing and snowboarding can be found.
This map shows the accumulated snow forecast for the next 3 days. Click the image to view the interactive snow forecast map, or see a worldwide overview of all our maps that cover ski resorts for the Rest of the World.
Accumulated snow forecast for the next 3 days.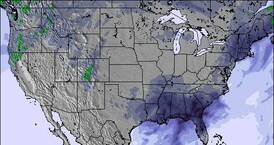 Click to view snow map
Country ski resort overviews
3 Mar 2011

4 Mar 2011
Latest Snow News
Snowing at a moderate rate on the slopes above Mzaar Ski Resort.

Light rain reported from Lommiswil at 605 metres elevation 8 kms SSE of Le Grand Val but it is forecast cold enough for snow at the ski area

Weather radar observation:

Light snow is falling in Wisp.

Weather radar observation:

Snowing lightly at Winterplace Ski Resort.
Latest worldwide snow report
UPDATED 4 DECEMBER 2019 December began with heavy snowfall in both Europe and North America. For the Alps this was simply 'more of the same' after a very snowy November 2019. For North America, particularly the west where most of the snow had fallen, it was quite a relief after a mostly dry November.....
Current ski resort picks
Long range skiing weather forecasts for daily picks of our top 5 Resorts are FREE to non snow-forecast.com members! Find the deepest snow, the snowiest forecasts and the ski resorts reporting powder conditions to make the most of planning your winter sports holiday.
Fresh Snow Depth
Upper Snow Depth
Powder reported
New snow in next 3 days
Latest submitted reviews
Val Senales (Schnalstal) ski resort:
"Fantastic location with good weather. I come to Val Senales to ski every season and it's an absolute pleasure to ski down without stopping from 3200 to 2100 m, one of my favourite slopes. I remember skiing there in the late 70's. The glacier was much bigger but still today you ski within unique scenery. Avoid Val Senales with bad weather, wind can be very strong and lift could be closed. As well you will find top conditions until end of season beginning of May."

Massimo Anselmi from ITALY - 05 Dec 2019
Read 1 more review(s) of Val Senales (Schnalstal) or submit your own
Jackson Hole ski resort:
"Don't believe the online piste reports... I got burned. I was expecting 4 feet of snow, and when I got there.... surprise only 1 run working , and everybody on it. I had to leave after spending all the time and money to get there.... If you want to know conditions, you need to call them and have them tell you.... I will never believe online conditions again for planning a trip."

Lemmings Hotline from UNITED STATES - 01 Dec 2019
Tignes ski resort:
"Some of the reviews on this site are very odd. Tignes is a purpose built ski town 2100 meters above sea level which is only fully open for around 4-5 months of the year. As a result it is very popular, very busy and yes, a bit expensive. But, and its a big but, the skiing is fantastic, the food is excellent and the mountains are beautiful. Love Tignes and will continue to go back."

mack from UNITED KINGDOM - 29 Nov 2019