World Snow Overview
We've created this page to help you find the best snow conditions. It combines past, present and future data sources from around Snow-Forecast.com and updates regularly. The Snow Roundup page is updated on Mondays and Thursdays for all major ski resorts. Live Eyeball snow updates are shown in real time when submitted via twitter by our global network of reporters. Resort Picks lists ski resorts from around the world where new snow is forecast, powder is reported and latest snow depths.
SNOW NEWS UPDATED 11 DECEMBER 2019

INTRODUCTION NORTH AMERICA North America's ski areas have seen more snowfall in the past week, but not so much as the previous big dumps over Thanksgiving weekend. It was California again that got some of the biggest falls, with smaller accumulations in the Rockies and smaller still over on the east side. As more areas open for the season the good news has been generally cold temperatures and fresh snow as bases build. The only 'blip' in the picture really is the Pacific Northwest where warm and sometimes wet weather has stopped some ski areas, generally famed for their deep snow in normal conditions, from opening. Or in some cases, they have opened but only a fraction of their slopes.
ROCKIES After the snowy conditions of a week ago things have quietened down a good deal for much of the Rockies. It has kept snowing but just a few inches for most places in recent days rather than the foot-plus dumps Utah was enjoying around Thanksgiving. In Colorado Aspen and Snowmass (22/32" / 55/80cm) report all four of their ski areas open with a combined total of 3,100 acres open (one of the biggest in North America and indeed the world to date). The biggest ski area in the US, Park City in Utah (33/40" / 82/100cm) currently has 1700 acres open, a little less than a third of its possible total. The vast majority of their trails are open too. One of the biggest snowfalls anywhere in the world in the past week was actually reported by the little ski area of Hogadon Basin (18/24" / 45/60cm) which reported 25 inches (65cm) of snowfall over the weekend.

WEST There has been heavy snowfall for the second week in a row in California with weekend storm totals of up to another 22 inches (55cm) giving great powder conditions once the weather cleared. Mammoth Mountain (50/80" / 125/200cm) was again one of the major recipients of all the fresh snow, reporting 19 inches (47cm) over 72 hours and now has the deepest base in the country, the first to reach the two-metre mark. It also has one of the biggest skiable areas open with 1,800 acres skiable so far. Other areas reported similar snowfall with Northstar (42/42" / 127/127cm) reporting a 22 inch (55cm) fall there. It's a less happy picture further north in the Northwest US where the weather has been too warm and wet in recent weeks and many areas in states like Washington have delayed opening whilst awaiting better conditions.
MIDWEST Not much fresh snow to report in the Midwest in the past week although the last few days have been snowier. Most of the region's ski centres are now open for the 19-20 season although a sizable proportion only at the weekend for another few weeks. Granite Peak (24/48" / 60/120cm), in Wisconsin, has one of the deeper bases in the region and snow depth figures that are better than many better-known areas to the east and west, at present. Over in Michigan, Ski Brule (32/48" / 80/120cm) reports similar conditions and snow depths. Schuss Mountain (20/36" / 50/90cm) has had one of the bigger snowfalls of the past few days reporting seven inches (18cm) of fresh snow.

EAST It has been quite a snowy few days in the Eastern US, particularly to the north, with most areas reporting 4 - 12 inches (10-30cm) of fresh snow creating some really nice conditions for skiing and boarding. The sun came out again at the end of the weekend to make it even better. Several resorts in Vermont have 24-48 inches (60-120cm) of snow now lying including at Stowe, Smugglers and Bromley Mountain. This trio reported 7-8 (18-20cm) of fresh snow over the weekend and into the start of this week. Further south, in Pennsylvania, there was less fresh snow. Unfortunately, there was some rain during a warm spell at the start of the week. Here only about a quarter of ski areas are open so far, either due to the conditions or as they usually don't open until closer to Christmas anyway.

WEST It has been snowing again in Alberta with the heaviest snowfall at the weekend. Lake Louise (43/45" / 107/112cm) reported 11 inches (27cm) of fresh snowfall on Saturday just as the Ladies World Cup Downhill races were taking place. Much larger snowfalls there in the past few days has given the resort the biggest 7-day accumulation in the world of nearly 5 feet (1.5 metres). There has been snowfall for other ski areas in Alberta too as well as in Central and Eastern BC. Revelstoke has opened their full vertical, the biggest in North America, after more than 24 inches (60cm) of snowfall there in the past week. However, ski areas on the coast continue to struggle with either warm temperatures or dry conditions or both. The North American continent's biggest area, Whistler Blackcomb (15"/15" / 37/37cm) still has very limited terrain open due to lack of snow cover and is still waiting for a good dump.
EAST The number of ski areas open in Quebec and Ontario remains fairly limited (just a dozen or so of the hundreds of areas so far) and the snow cover remains thin with precipitation sometimes falling as rain again; however, it is now mostly snow. The deepest reported depth is still only 15 inches (37cm) at Le Massif. The region's big-name resorts like Tremblant (8/8" / 20/20cm) are open but with little fresh snow to report and thin cover so far. It's a similar picture at other open resorts in the region like Mont Ste Anne (10/10" / 25/25cm).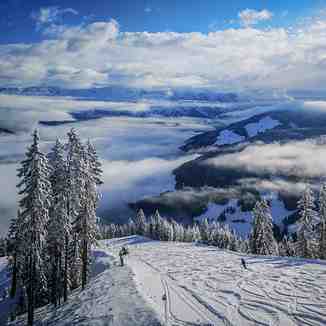 AUSTRIA It was a mostly dry and sunny week again in Austria which meant great conditions up on the country's glaciers and high slopes, less good at lower elevation resorts and runs. That said, Saalbach Hinterglemm (60/80cm / 24/32") operating the country's largest ski area thanks to its new one-way piste/lift connection to Zell am See (0/110cm / 0/44 inches), was keen to stress that it had top-to-bottom skiing available for its season-opening day at the weekend. It was one of a number of Austrian areas reporting 20-50cm (8-20") of fresh snowfall in 24 hours on Tuesday, following light snowfall over the previous few days. Lech (75/80cm / 30/32") and St Anton (80/100cm / 32/40"), in the Arlberg region, reported the biggest 40-50cm / 16-20 inch accumulations. The deepest bases remain up high on the glaciers though with the deepest base reported at Stubai (0/290cm / 0/116").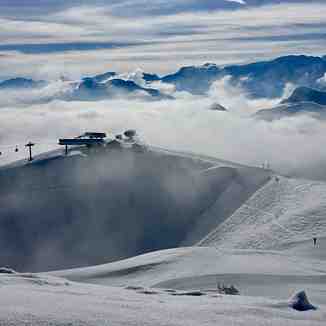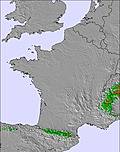 FRANCE The snow started falling again in France in the past 48 hours and looks set to intensify over the coming week. Conditions continue to be good for this early season with the best of the snow above about 1600 metres. The latest snowfalls should improve things further even at lower altitudes down to the traditional valley resorts. Falls of up to 40cm (16 inches) of fresh snow were reported in 24 hours on Monday with Chamonix (0/140cm / 0/56") reporting the biggest dumps. The deepest snow depths (marginally) are claimed by resorts in the southern French Alps, led by Montgenevre (110/220cm / 44/88"). But most of the country's leading resorts have at least a metre of snow lying already on their upper slopes and this should grow dramatically with the forecast snowfall throughout the coming week.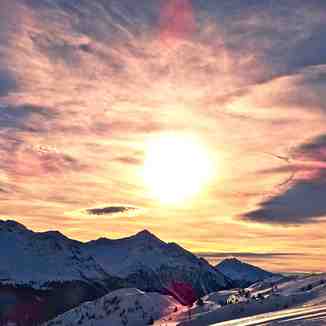 SWITZERLAND It has been snowing quite heavily in most Swiss resorts over the past few days, part of a trend that looks set to continue over the coming week to transform conditions. The first 24 hours of the storm on Monday/Tuesday brought reports of up to 70cm (28") of fresh snow to ski areas in the country; the most in Europe and heaviest in the west with Gstaad reporting the biggest fall, the Lotschental Region (45/147cm / 18/59") just slightly less. Before that, the snow surface was becoming hard-packed, with the best conditions on snow lying above about 1600 metres and thin or little snow cover below. Andermatt (6/320cm / 2/124") is the more extreme example of this with very little snow at resort level, but the deepest base up high, in Switzerland, at more than 10 feet. It has still been too warm for much snow to fall at the lowest elevations.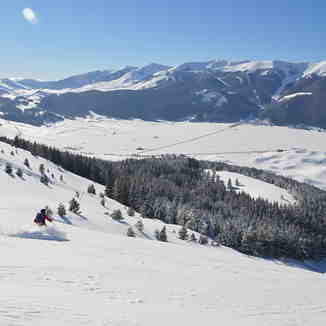 ITALY There's little change in snow conditions in Italy on a week ago, except that it is now starting to snow again after a dry week here. The Presena Glacier (40/400cm / 16/160") continues to be the only ski area in the world with a base depth that's reached the 4 metre mark already this season. Quite a few other Italian areas in the Alps and Dolomites have at least 2.5 metre bases with Arabba (115/265cm / 46/106") posting the deepest in the latter mountain range. Cervinia (63/250cm / 25/100") continues to boast some of the best conditions in the country with all lifts operating and most terrain open after the big early-season falls there.

PYRENEES There's not a great deal of change in snow conditions from a week ago in the Pyrenees; however, it has started snowing again giving a nice fresh cover to the hard-packed slopes. The ski centres have been opening more terrain, particularly on the Spanish side of the mountains and in Andorra, with a long public holiday weekend last weekend in Spain. And of course, more areas have opened for the season as the main winter period draws closer. Grandvalira (15/40cm / 6/16"), the region's largest area, still has a thin cover but the coming snow should bolster this and it now has more than 80 runs, about two-thirds of its maximum area, open already.

SCANDINAVIA Although things may now be changing with the recent snowfall in the Alps, Scandinavia has seen the most snow over the past seven days in Europe with Voss (45/100cm / 18/40") posting the best snowfall numbers with 70cm (28 inches) of snowfall in that period. That's by far the most reported in Scandinavia (and until Monday, in Europe) but most other areas in Finland, Norway and Sweden have seen more snow with temperatures staying low. For Geilo (55/55cm / 22/22"), for example, there's been another 11cm (4"). There's been less snowfall in Sweden but Kåbdalis (85/85cm / 34/34") has the deepest base in the region from earlier falls.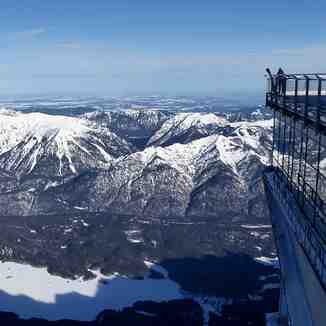 GERMANY It has been a fairly dry week again in Germany with Zugspitze (51/60cm / 20/24") still posting the country's deepest base with a little fresh snow over the past few days; however, it has now been joined by half-a-dozen larger German ski areas which opened for the season at the weekend and report upper-slope base depths of 30-50cm and each with just a few kilometres of slopes open so far. They include Oberstdorf, Bolsterlang and Fellhorn.

EASTERN EUROPE The ski season got underway at several dozen centres spread over several countries with big-name resorts opening. These include Jahorina Mountain, near Sarajevo, in Bosnia where a state-of-the-art new gondola lift was unveiled, Jasna, in the Slovak Republic, where three runs were in operation for the opening weekend (with the slopes open through the week here) and Bulgaria's Bansko (15/80cm / 6/28"), Eastern Europe's largest ski area where it was decided to open some higher runs a week earlier than planned for a 'preview weekend' (it reported 5cm (2") of fresh snow for opening). Half-a-dozen resorts also opened in Slovenia, most reporting 20-40cm (8-16") snow depths but Kanin (0/150cm / 0/60") reports the snow there to be much deeper up high. Resorts also opened in the Czech Republic and Poland as well as other countries. Conditions across Eastern Europe are fairly good, particularly on higher slopes where the snow is typically lying 60-90cm (2-3ft) deep.

SCOTLAND The Scottish ski season is sort of underway with Cairngorm opening a short stretch of machine-made snow for beginner lessons and snow fun on sledges at the weekend. The opening came after temperatures soared to well above zero and heavy rain and wind impacted the piles of machine-made snow at all five Scottish Highland ski areas, all of which now have all-weather snow-making systems that can make snow in above zero temperatures. The good news is that temperatures have now dropped to closer to freezing and there has been some natural snowfall to start the week. So it looks like the combination of machine-made and natural snow should hopefully be enough for more Scottish areas to open at least some terrain this coming weekend.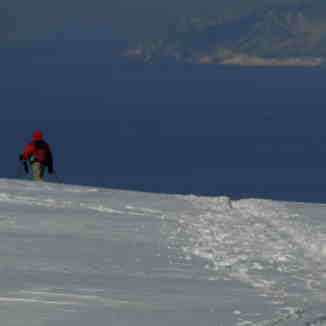 JAPAN Conditions in Japan, on the island of Hokkaido, have completely transformed compared to a week ago. The snow has arrived at last, dumping down every day for the last week as it tends to once it starts. Niseko (75/150cm / 30/60") has had a metre (40") of snowfall in the past seven days; the snow falling with fairly similar 10-20cm (4-8") accumulations of fine powder each day. This precipitation is expected to continue over the coming week with similar amounts of snow falling. Further south, conditions have been improving too but not quite as much, Naeba reports 30cm (1ft) of fresh snow in the past week but there has been warm weather here limiting what's open so far.
WEATHER OUTLOOK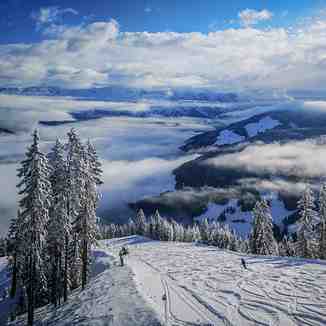 AUSTRIA After the snowfall of the past few days, Wednesday should be sunny across much of Austria before another wave of snowfall commences. Precipitation will probably be heavier than this week, hitting the country over next weekend. Some areas in the north and west including the Arlberg, Ehrwald and Flachau look set to do the best from it with 60-90cm (1-3ft) possible, whilst across the rest of the country it could be anything from 20-40cm (8-16").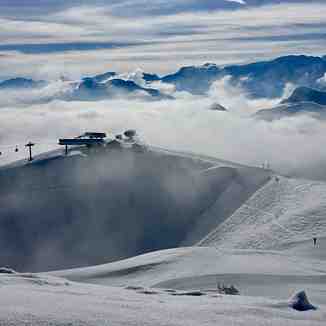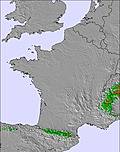 FRANCE It's full-on winter in France again after the fairly dry start to November. Significant snowfall is expected right through the coming week which should bring accumulations of more than a metre of snow to many areas across the French Alps; however, this time it looks like the Northern Alps should see the most snow. This will be good news for some of the country's major resorts like Les Arcs and Serre Chevalier which are still to open for the season but already have at least 2 metres of snow on their higher slopes. Snow should fall down to the valley floor improving things at lower altitude, traditional ski areas.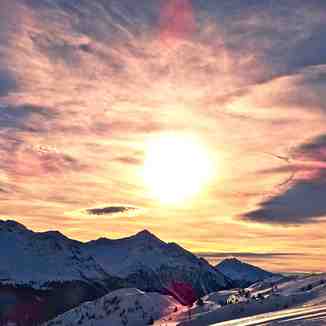 SWITZERLAND It looks like a very snowy week ahead for Switzerland with the heavy snow at the start of this week being followed by light snow up to the weekend. Another band of heavy snowfall should then impact much of the country, potentially bringing seven-day totals to well above the metre mark for areas on the western side (Valais) and central areas. Over in the east, the snow looks set to be much lighter.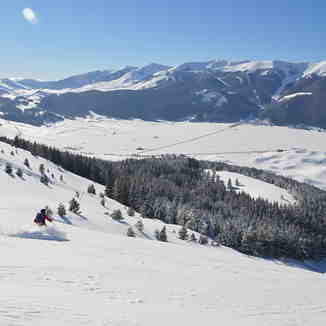 ITALY After the snowfall of the last few days, there should be some quieter days on Italian ski slopes before the next front moves into the western Italian Alps at the weekend. That is expected to bring quite heavy snowfall, possibly as much as 60cm (2ft) to some areas by the end of the weekend; however, the Dolomites are not forecast to get much snow.

PYRENEES The week ahead looks fairly wintery in the Pyrenees with light snowfall expected through to at least the weekend. Accumulations of 15-25cm in total are forecast for the coming week although heavier snow (perhaps 30-40cm) is forecast for the Spanish side of the mountains on Thursday.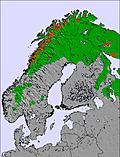 SCANDINAVIA There's no real change in the Scandinavian snow forecast for the coming week. There is more snow expected, especially on the western Norwegian side of the region.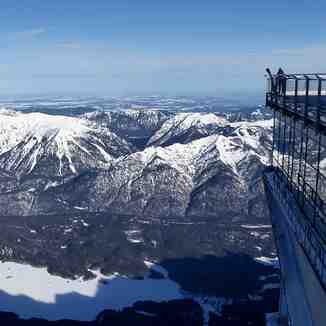 GERMANY It's looking fairly snowy in Germany over the coming week with most ski areas across the country set to receive 10-30cm (4-12") of snow. Down in the Bavarian Alps and along the country's southern borders there could be much more with 60-90cm (2-3ft) of snow possible at ski areas like Garmisch..

EASTERN EUROPE Eastern Europe should also see more snowfall in the latter half of this week with the weekend looking snowy too. The temperature on the mountains may reach double digits below freezing whilst down at resort level they'll fluctuate a few degrees above/below freezing.

SCOTLAND Temperatures have been dipping in Scotland since hitting double digits at the end of last week and from Wednesday onwards the forecast for the following fortnight is for consistently low temperatures. Valley highs could be at +5C (41F) but there will be plenty of sub-zero days on the hills. There's also a lot of low-to-moderate snowfall forecast. Hopefully, a proper season start in the next week or so.

USA WEATHER OUTLOOK
ROCKIES It is looking like mostly clear, dry weather in the Rocky Mountains region for the remainder of this week with some very low on-mountain temperatures possible at times, getting to as low as 20 or possibly even touching 30 degrees below freezing. Things should warm up a little into the weekend with some fairly decent snowstorms on the horizon to end the week and continue through the weekend, bring potentially 6-20" (15-50cm) of fresh snow to start next week. It should start sunny according to current forecasts so that looks perfect for enjoying the fresh snow in the forecast.

WEST The rest of the week ahead looks fairly dry in the southern half of the West California and south) following the weekend storms and it should be a mixture of sunshine and cloud with little precipitation expected until the weekend when the third wave of snowfall should move in. Temperatures look set to fluctuate quite a lot between above and below freezing, remaining blow freezing at most areas most of the time. It's looking more promising for the Northwest with much snowier conditions over the coming week expected to bring significant snow cover to states like Washington.
MIDWEST With the recent snowfall in the Midwest now clearing it looks like temperatures are set to plummet still further below freezing with the windchill making temperatures feel as low as -35F (-37C) at times. There is more snow on the way too although exactly how much is not yet certain and will, of course, vary from state to state and resort to resort, but all will have to do some shovelling. Lake effect snow is a good bet in the far north into Wednesday with another chance of snow showers on Thursday.
EAST A brief mild midweek spell which will see temperatures rise above freezing (and well above freezing in more southerly ski states) should be short-lived with heavy snow and a big temperature dip expected in the last few days of the week. A front coming down from the Arctic will bring bitterly cold weather and the chance of snowfall. Heavier snowfall (5-15" / 12-35cm) is expected at the weekend for many areas.

CANADA WEATHER OUTLOOK

WEST There's not a massive amount of snowfall in the forecast for Western Canada at 10-20cm (4-8"). The Pacific Coast, which needs it most, looks like it does have some decent snowfall (30-60cm / 12-24") on the way this week. Whistler Blackcomb should benefit with mostly sub-zero temperatures. The heaviest snow is expected on Thursday but it should continue on and off all week.

EAST After some warm weather again to start this week it looks like temperatures should stay subzero for the coming week in Eastern Canada. There are not big volumes of snowfall in the focus but it looks like it should be good snow-making weather and there should be a few centimetres/inches of snowfall for the most areas each day during the week ahead.