Snow Forecast Mapswhere's the snow in the next 3 days?
Snow Forecast for 3200 ski resorts around the World, updated four times a day. Weather forecasts are provided for the top lift, bottom lift and mid-mountain elevations. Our detailed Snow Reports and live updates are submitted by local Ski Clubs, ski resort staff and our users. Interactive weather maps show the amount of predicted snowfall as well as the current snow conditions and weather observations. The snow maps also show where the best piste conditions, off-piste powder and forecast weather for skiing and snowboarding can be found.
This map shows the accumulated snow forecast for the next 3 days. Click the image to view the interactive snow forecast map, or see a worldwide overview of all our maps that cover ski resorts for the Rest of the World.
Accumulated snow forecast for the next 3 days.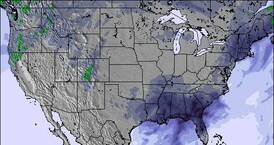 Click to view snow map

Country ski resort overviews
Latest Snow News
Snowing at a moderate rate at La Plagne.

Office de Tourisme de Val Thorens

Great skiing thanks to the new snow that fell over the weekend. Cloudy today, snow possible.

Snowing in Breuil-Cervinia Valtournenche.

Snow is falling at Courchevel.
Latest worldwide snow report
UPDATED 22 MARCH 2023 After the huge snowfalls last week on ski slopes in both Western North America (once again) and Western Europe (more unusually this winter), the past seven days have been a lot drier and sunnier on both sides of the Atlantic.....
Current ski resort picks
Long range skiing weather forecasts for daily picks of our top 5 Resorts are FREE to non snow-forecast.com members! Find the deepest snow, the snowiest forecasts and the ski resorts reporting powder conditions to make the most of planning your winter sports holiday.
Latest submitted reviews
Zakopane ski resort:
"We went to Zakopane as part of a trip of three guys (one a non skier) to see if we could go skiing from the Uk for less than £100. It was the end of the season but would recommend anyone to see what Zakopane has to offer. See how we got on from our video, search "jump wide" on Youtube for our experience."

Jump Wide from UNITED KINGDOM - 23 Mar 2023
Madonna di Campiglio ski resort:
"Just back from a ski in MDC. The slopes are great fun for intermediate cruising. Interesting, well thought of lift system with superb views. Coffee shops and restaurants are all of very high quality. The town itself is classy, a lovely pedestrian zone and with a great atmosphere but the views( while brilliant when you are on the slopes) is limited when you are in town. My only reservation is the road from the freeway to the town. It took over two hours on a C road, constant traffic, roundabouts, trucks etc. So once you are there it's brilliant, but getting there is really unpleasant. You can get the same if not better in Ortisei where the single lane road is less than 114 km from the freeway"

martin from SWITZERLAND - 22 Mar 2023
Read 11 more review(s) of Madonna di Campiglio or submit your own
Tignes ski resort:
"Been on holiday for 2 weeks in Tignes and came here for the DC park. You would think in 2 weeks you might find it open once.... Not so much. Utterly useless. This may be because the lift company do not invest enough money in the shaper crew and they had a comp on, but still 350 Euros for 6 day pass and this is what you get. A resort the size and reputation of Tignes should be doing better, particularly when their own website is advertising the DC park when you pay your hard earned money out for a holiday and lift pass. People don't pay thousands of quid to watch other people do the sport they're going on holiday for. Utter joke. Maybe Macron needs to get on top of this lot as well. Certainly is false advertising for the last 2 weeks."

James from UNITED KINGDOM - 22 Mar 2023