Snow Forecast Mapswhere's the snow in the next 3 days?
Snow Forecast for 3200 ski resorts around the World, updated four times a day. Weather forecasts are provided for the top lift, bottom lift and mid-mountain elevations. Our detailed Snow Reports and live updates are submitted by local Ski Clubs, ski resort staff and our users. Interactive weather maps show the amount of predicted snowfall as well as the current snow conditions and weather observations. The snow maps also show where the best piste conditions, off-piste powder and forecast weather for skiing and snowboarding can be found.
This map shows the accumulated snow forecast for the next 3 days. Click the image to view the interactive snow forecast map, or see a worldwide overview of all our maps that cover ski resorts for the Rest of the World.
Accumulated snow forecast for the next 3 days.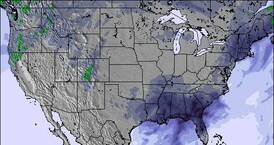 Click to view snow map
Country ski resort overviews
10 Jan 2009

15 Mar 2012
Latest Snow News
Moderate snow reported from La Veta Pass Airport at 10217 feet only 3 miles NE of Wolf Creek Utah Ski Resort

Weather radar observation:

There is heavy snow falling at Vrådal.

Weather radar observation:

There is heavy snow falling in Sunlight Mountain Resort.

Weather radar observation:

Snowing heavily at Snow Snake Mountain.
Latest worldwide snow report
UPDATED 19 NOVEMBER 2019 It has been another fairly sensational week of snowfall in the Alps as more ski areas open for the 19-20 season.....
Current ski resort picks
Long range skiing weather forecasts for daily picks of our top 5 Resorts are FREE to non snow-forecast.com members! Find the deepest snow, the snowiest forecasts and the ski resorts reporting powder conditions to make the most of planning your winter sports holiday.
Fresh Snow Depth
Upper Snow Depth
Powder reported
New snow in next 3 days
Latest submitted reviews
Andermatt ski resort:
"Wrote a report in 2008 and still going every year.
So many changes but still a fantastic place to ski and walk in the valley and along the Rhone in the next valley.
The lift system is now superb and there's usually no waiting for the lifts except at weekends. Good restaurants and cafes of all types.
Returning in February to visit friends and the Gemsstock again"

graham ellis from UNITED KINGDOM - 13 Nov 2019
Mount Buller ski resort:
"Wonderful experience. If you book a couple of weeks ahead you get the best value. Definitely stay overnight or go on a weekday, don't do a day-trip on a Saturday. Best terrain in Aus by far, but sometimes the snow early in the season can be unreliable. That's why I always go in September. Luckily, they also have a top notch snow-making system. Best apres-ski in Aus as well with the main nightclub open 'til 3am every night. Avoid driving up and back in one day on a Saturday or Sunday and you'll have a fantastic time."

David from AUSTRALIA - 12 Nov 2019
Mount Baker ski resort:
"Dreamed for years of making a trip to Baker. Well, last winter I did and I couldn't have been more disappointed. It kind of snowed/mostly rained for the first couple days and the visibility was so bad that you could hardly do anything. Then it cleared, a million people showed up, and it was warm mashed potatoes in about an hour.

Bad food, no slope-side lodging, surly locals, and bad snow. I'll stay in Tahoe or Whistler instead."

Brett from UNITED STATES - 05 Nov 2019