Snow Forecast Mapswhere's the snow in the next 3 days?
Snow Forecast for 3200 ski resorts around the World, updated four times a day. Weather forecasts are provided for the top lift, bottom lift and mid-mountain elevations. Our detailed Snow Reports and live updates are submitted by local Ski Clubs, ski resort staff and our users. Interactive weather maps show the amount of predicted snowfall as well as the current snow conditions and weather observations. The snow maps also show where the best piste conditions, off-piste powder and forecast weather for skiing and snowboarding can be found.
This map shows the accumulated snow forecast for the next 3 days. Click the image to view the interactive snow forecast map, or see a worldwide overview of all our maps that cover ski resorts for the Rest of the World.
Accumulated snow forecast for the next 3 days.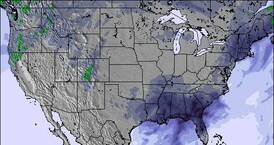 Click to view snow map
Country ski resort overviews
23 Dec 2013
Latest Snow News
Snowing at a moderate rate in Mt Palandöken.

Weather radar observation:

There is heavy snow falling at Vrådal.

Weather radar observation:

It is snowing lightly at Vallåsen.

Weather radar observation:

Heavy snow is falling in Tuşnad Băi.
Latest worldwide snow report
UPDATED 6 JANUARY 2021 Cold is perhaps the keyword to describe conditions in Europe this past week and indeed forecast around most areas for the week ahead. It is still early January and therefore, the darkest part of winter. You'd like to think that's how it would and should be, but the warm weather which has impacted much of the continent at times through the autumn and much of December makes you doubt it will get cold enough.....
Current ski resort picks
Long range skiing weather forecasts for daily picks of our top 5 Resorts are FREE to non snow-forecast.com members! Find the deepest snow, the snowiest forecasts and the ski resorts reporting powder conditions to make the most of planning your winter sports holiday.
Fresh Snow Depth
Upper Snow Depth
Powder reported
New snow in next 3 days
Latest submitted reviews
Mont Tremblant ski resort:
"In the past 25 years noticed it is getting more snow. Back in the mid 90s to early 2000s was very icy, cold and lacking any significant snowfall. It might be anecdotal evidence but the snow quality is improving with warming temps. Good family resort for introduction into skiing/boarding. On snow days lots of runs to explore especially mid-week providing the best riding experience. A good mix of beginner runs for the kids, plus some nice fast cruisers for the parents. Downsides are the weekends, especially Saturday when the lines are ridiculously long and best avoided. If we stay, I almost always skip riding Saturday and hit the hill Friday and Sunday to avoid the crowds. The chair systems need an update. The North side chair can be a brutal ride to the top. Edge chair is slow and old. Good amount of runs for the size of the mountain (hill) but with some glades and no off-piste riding. Best ridden on snow days where the wide open runs are fun and enjoyable. In dry spells it still gets very icy due to heavy use. Steepest double black runs get tracked and iced up first so don't count on those being open.
Not sure why anyone would fly here. The resort does not offer any breathtaking views or scenery to compare with Alps or Rockies or other resorts in the Appalachians. The village is a tad kitchy and nightlife is limited to two bars with either a young crowd or the underage crowd."

Geno from CANADA - 17 Jan 2021
Arizona Snowbowl ski resort:
"Terrible experience with Covid restrictions.
They won't allow you up the mountain unless you pre-buy tickets online. Which is fine, until you spend 4 hours driving to the mountain just to be turned away because of "covid capacity." Today there was hundreds of cars crammed at the base of the mountain being turned away. They pre-sold tickets knowing their capacity limits. People travel from out of town to get here and are forced to turn around and go home.
It is a mountain for crying out loud, there is more than enough room for people to socially distance in addition to all the preventative measures set in place. Employees at the bottom of the mountain had hardly any information to give people and it was a hot mess. They couldn't even dictate what their capacity was.
I have been coming to this mountain for 15 years and have never been turned away for something as ridiculous as this. Sorry, but it is not worth the drive and the customer service was entirely lacking."

Michael Shedd from UNITED STATES - 16 Jan 2021
Read 4 more review(s) of Arizona Snowbowl or submit your own
Park City ski resort:
"I love Park City!
The good:
First of all, the convenience of the airport is second to none for a major resort town. Flying into SLC is a breeze, the rental car counter is right across from baggage claim (no shuttle bus!), and the resort is, no exaggeration, a thirty-five to forty minute drive.
Lodging is reasonable. Ski-in ski-out places are expensive, but in-line with the good value of what you would pay at a world class resort. Plenty of affordable option as well, from places in town to VRBO condos. Parking is still convenient and free at the base of Park City or the Canyons Village (which has a gondola from parking to the lift).
The mountain is awesome. It's big, with plenty of skiable acreage for all ability levels. Plenty of blue groomers, and plenty of black runs, chutes, bumps, and tree skiing for the more advanced skiers. There is even really accessible back country skiing just through the gates. (Don't let the easy accessibility of back country skiing lull you into complacency. There have been a few avalanche deaths in recent years, including one this year, in back country skiing just off property).
The staff is insanely friendly (I was shocked to see the negative review on that front on this site). I'm Hispanic, but unlike the other reviewer have never felt uncomfortable. In fact, there are a huge number of Latin American workers at Park City, and I have found the PC staff, from the ticket kiosk attendants, to the chair operators, to the ski instructors, to be amongst the friendliest around.
Park City's Main Street is a blast. This isn't a place where non-skiers are going to go stir crazy in the room or a hotel lobby. There is plenty of shopping on Main Street, and a lot of really good restaurants. Gorsuch has to be one of the best merchandised stores I've ever been in, although as you get in these resort towns, it is very high-end and I enjoy just browsing. Just outside town toward Salt Lake is a shopping complex with factory outlets. One of my guests last year forgot his ski pants, and inside twenty minutes we had replacements from the Columbia Outlet for $79. Tell me a ski town where you can get a pair of ski pants in town and not feel like you got bent over?
The bad:
Well, during the peak New Years week, and President's Day weekend, you can be on the mountain with a lot of people. Shocker, I know. During the peak times, get up and get to the resort. The longest lines are at the base of the mountain, and things really get busy around 9:30 on. Being at the resort when the lifts open (they generally start loading before the official 9am open, especially on busy days) saves you from spending a frustrating first twenty minutes in line. The mountain is big, and once you get up (unless you are a beginner in the ski school section) the crowds quickly dissipate, and the phenomenal high-speed lifts make even seemingly long lines go quickly. The Canyons side is generally less crowded than the Park City side, especially if you have graduated past the high concentration of blue runs at mid-mountain.
Food is expensive. When Vail bought Park City they brought it in line with all their resorts. So food on the mountain is really expensive. And lessons are very expensive. Shocker, I know....
Other than that, the only complaint could be**relatively** the Big Cottonwood Canyon resorts and Little Cottonwood Canyon resorts get more snow (just on the SLC side of the mountains). If PC gets 6", Snowbird almost certainly got 8". But once again, this is a relative item. This year (2020/2021) has been a poor year for snow all around, but when it does snow they get plenty.
If you want epic skiing (no pun intended) with plenty of terrain, a wide variety of lodging and dining options, and plenty to keep everyone entertained, with flights that are reasonable (less expensive than Eagle or Aspen, maybe marginally more than Denver, but you're in your car in ten minutes and to the hotel in thirty five, instead of thirty to get your car and two hours to the hotel) Park City Utah is your place."

Colin from UNITED STATES - 15 Jan 2021