Snow Forecast Mapswhere's the snow in the next 3 days?
Snow Forecast for 3200 ski resorts around the World, updated four times a day. Weather forecasts are provided for the top lift, bottom lift and mid-mountain elevations. Our detailed Snow Reports and live updates are submitted by local Ski Clubs, ski resort staff and our users. Interactive weather maps show the amount of predicted snowfall as well as the current snow conditions and weather observations. The snow maps also show where the best piste conditions, off-piste powder and forecast weather for skiing and snowboarding can be found.
This map shows the accumulated snow forecast for the next 3 days. Click the image to view the interactive snow forecast map, or see a worldwide overview of all our maps that cover ski resorts for the Rest of the World.
Accumulated snow forecast for the next 3 days.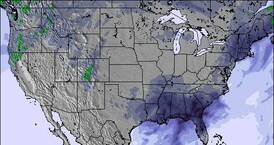 Click to view snow map
Country ski resort overviews
15 Mar 2008
Latest Snow News
Spring Hours: Weekdays 1pm-9pm, Weekends 9am-9pm

Manager Report:

Some cloudy spells at Grouse Mountain. No wind here. Mild temperatures. No new snow. The majority of lifts are open. Excellent piste conditions. Variable snow conditions off-piste

Light rain reported from Dover at 66 feet only 4 miles SSW of Powderhouse Hill but it is forecast cold enough for snow at the ski area

Light rain reported from Chelmsford at 213 feet only 2 miles W of Nashoba Valley but it is forecast cold enough for snow at higher elevations in the ski area
Latest worldwide snow report
UPDATED 14 APRIL 2021 Even as we approach the middle of the month, April continues to be a more wintery month than March was, with the snow returning to the Alps over the past few days and the mercury dropping to double-digits below freezing. Up to 35cm (14 inches) of fresh snowfall has been reported for some high altitude slopes, but the snow has been falling down to resort level in the valleys too. The snowfall has also continued up in Scandinavia and Scotland and it has even been cold, at times, in the southeast as well as the northeast of the continent.....
Current ski resort picks
Long range skiing weather forecasts for daily picks of our top 5 Resorts are FREE to non snow-forecast.com members! Find the deepest snow, the snowiest forecasts and the ski resorts reporting powder conditions to make the most of planning your winter sports holiday.
Fresh Snow Depth
Upper snow depth
Powder reported
New snow in next 3 days
Latest submitted reviews
Crystal Mountain ski resort:
"Crystal Mountain is great and a super beautiful resort. As a beginner/intermediate I've enjoyed Forest Queen (green) and the surrounding blues. I'm looking forward to Lucky Shot and other blues further up the mountain. I find it interesting that someone in a previous review called Crystal Mountain workers "mask Nazis"... I don't think real Nazis told people to wear masks for public safety reasons. Nazis killed people. Anyway, go to Crystal Mountain. Wear a mask. When folks gently tell you to put yours on once you are back at the lift, just do it. It's a rule we agree to when we enter and it keeps places that should be safe, like ski lifts, safe. Thank you Crystal Mountain staff for making the mountain a safer place for us skiers and snowboarders, as I'm sure you have done for decades."

Molly from UNITED STATES - 09 Apr 2021
Read 9 more review(s) of Crystal Mountain or submit your own
Engelberg ski resort:
"Ok, so it's been on my bucket list for ages to ski here on a perfect powder day. And it didn't disappoint. The queues were as bad as all the reviews say, the lifts are shitty. And there were tons of intermediate off-pisters with the fully shiny gear. And yet it was still amazing. The pow was deep, the terrain is amazing. And you pop over a ridge and it just opens out into massive powder fields. But, even when the skiing is this good the experience just sucks and I won't be rushing back."

Rangerdad from GERMANY - 08 Apr 2021
Heavenly ski resort:
"Been skiing Heavenly since they first opened and still skiing the best of the best in my old age. Heavenly has the best snow-making for sure because of the endless Tahoe crystal clear fresh water and the massive equipment inventory around the mountain. Never had a bad day at Heavenly and I give it a 10+ on all counts. Nowadays, I ski mostly Mott and Killebrew and the Nevada Side Trees and Calif. side Powderbowl Line and Trees. When my knees cooperate I still enjoy Fullstone Canyon Gate and the Fire Gate. There is never a shortage of great food, great brew and great people everywhere on the mountain. Heavenly Village for the after ski enjoyment is second to none. Love the ice skating, parking garage, elevators and fantastic restaurants with many shopping opportunities for anything needed. Great prices on everything as well. Outdoor Firepits are warming and fun everywhere in the Heavenly Village. Coffee is strong, brew is cold, sandwiches are creative. Food Bars have massive selection of only the best things. The casinos and hotels are endless with everything you can ask for. Curbside service, valets, crossover walkways keep you warm and out of the weather no matter where you want to go. Specialty Shops abound and will make the best breakfast bagel ever. The gondola was perfectly placed for easy Heavenly Village access from the top. Overall, Heavenly is definitely number one for the best skiing experience. The best time I had was when it snowed 8 feet in one morning. Everyone was snowed in and the mountain opened up. It doesn't get any better than that. That was Heavenly."

Rex from UNITED STATES - 08 Apr 2021