Snow Forecast Mapswhere's the snow in the next 3 days?
Snow Forecast for 3200 ski resorts around the World, updated four times a day. Weather forecasts are provided for the top lift, bottom lift and mid-mountain elevations. Our detailed Snow Reports and live updates are submitted by local Ski Clubs, ski resort staff and our users. Interactive weather maps show the amount of predicted snowfall as well as the current snow conditions and weather observations. The snow maps also show where the best piste conditions, off-piste powder and forecast weather for skiing and snowboarding can be found.
This map shows the accumulated snow forecast for the next 3 days. Click the image to view the interactive snow forecast map, or see a worldwide overview of all our maps that cover ski resorts for the Rest of the World.
Accumulated snow forecast for the next 3 days.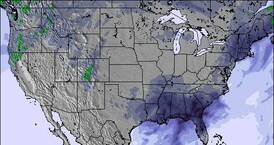 Click to view snow map
Country ski resort overviews
12 Jan 2012
Latest Snow News
Snowing at a moderate rate in Falls Creek.

Snowing in Mount Buffalo.

Weather radar observation:

Snowing heavily in Drahobrat.

Weather radar observation:

There is heavy snow falling on the slopes above Alpental At The Summit.
Latest worldwide snow report
UPDATED 27 MAY 2020 EUROPE: It's a big week in Europe and skiing around the world, generally, as we turn a bit of a corner, we hope, on the pandemic. By that, we mean that the middle of this week sees the number of ski areas open around the world drop to possibly the lowest for perhaps 50 years, with the number of centres known to be operating down in single figures, until at least Friday.....
Current ski resort picks
Long range skiing weather forecasts for daily picks of our top 5 Resorts are FREE to non snow-forecast.com members! Find the deepest snow, the snowiest forecasts and the ski resorts reporting powder conditions to make the most of planning your winter sports holiday.
Fresh Snow Depth
Upper Snow Depth
Powder reported
New snow in next 3 days
Latest submitted reviews
Mount Hotham ski resort:
"Occasionally, amazingly accurate. Especially within 24 hours. Anything beyond a few days is pure guessing."

Damo from AUSTRALIA - 20 May 2020
Breuil-Cervinia Valtournenche ski resort:
"This wonderful ski resort will open for summer skiing on June 26th.
Summer skiing is located at the Plateau Rosa': take the gondola to the top station Testa Grigia and ski down to the Plateau Rosa', just wonderful!"

Stefano from SWITZERLAND - 12 May 2020
Read 32 more review(s) of Breuil-Cervinia Valtournenche or submit your own
Panorama Mountain Resort ski resort:
"A very good resort in complete wilderness. Beautiful scenery and
accommodation right beside the lifts and restaurants. A great variety
of terrain and very helpful and friendly staff. The only negative
was we had a very cold week of minus 20 most days."

Mia from NEW ZEALAND - 14 Apr 2020
Read 61 more review(s) of Panorama Mountain Resort or submit your own