Snow Forecast Mapswhere's the snow in the next 3 days?
Snow Forecast for 3200 ski resorts around the World, updated four times a day. Weather forecasts are provided for the top lift, bottom lift and mid-mountain elevations. Our detailed Snow Reports and live updates are submitted by local Ski Clubs, ski resort staff and our users. Interactive weather maps show the amount of predicted snowfall as well as the current snow conditions and weather observations. The snow maps also show where the best piste conditions, off-piste powder and forecast weather for skiing and snowboarding can be found.
This map shows the accumulated snow forecast for the next 3 days. Click the image to view the interactive snow forecast map, or see a worldwide overview of all our maps that cover ski resorts for the Rest of the World.
Accumulated snow forecast for the next 3 days.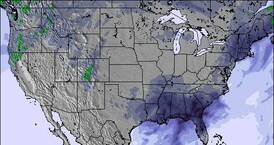 Click to view snow map
Country ski resort overviews
Latest Snow News
Volcan Villarrica Hello, here full snow Now we have to wait and hope that everything improves soon Stay at home

www.snowcampchile.cl

Weather radar observation:

It is snowing heavily at altitude in Oppdal.

Rain reported from Mt Baw Baw at 463 metres elevation one km WNW of Mount Baw Baw but it is forecast cold enough for snow at the ski area

Weather radar observation:

Snowing heavily above Auris En Oisans.
Latest worldwide snow report
UPDATED 29 JULY 2020 The main excitement of the past week is the news that a ski area has opened for the season in South America and it's one of the biggest, Cerro Catedral, near the famous ski town of Bariloche. The centre is only operating for local skiers, and its opening has been severely marred by the death of Mario Ruiz, the ski area's ski patrol chief, who had been working in Cathedral for over 30 years but was killed by an avalanche.....
Current ski resort picks
Long range skiing weather forecasts for daily picks of our top 5 Resorts are FREE to non snow-forecast.com members! Find the deepest snow, the snowiest forecasts and the ski resorts reporting powder conditions to make the most of planning your winter sports holiday.
Fresh Snow Depth
Upper Snow Depth
Powder reported
New snow in next 3 days
Latest submitted reviews
Copper Mountain ski resort:
"No refund on my lift tickets from when they closed for Covid... I was told to buy pass protection next time..
(note from the editor: names of individuals are not included in reviews.)"

Brian Lamar from UNITED STATES - 22 Jul 2020
Zell am See ski resort:
"Was in Zell for the first time just as Covid came. Weren't blessed with great weather, couple of near whiteout days, but plenty of skiing including a day at the glacier, another at MariaAlm, and the links to Saalbach means there's ample variety to keep a reasonable intermediate busy for a full week. But there's more to Zell than just its pistes. Its stunning lakeside location, pretty streets and alleyways and ample apres-ski life make it perhaps the best all-round ski destination I've ever visited. And it's Austria, and they know how to party in a way that no other European destination does. I'll definitely return."

peter from UNITED KINGDOM - 14 Jul 2020
Charlotte Pass ski resort:
"Well, I've been coming to Charlotte Pass since 2013 with my family (wife and 2 daughters). It's a great place, people here are awesome, we stay in a chalet for 7 days each time.
Over the last few trips, the skiing is becoming worse and worse. Super expensive, they charge full rates for lift tickets and the facility is unable to function even at a basic level. Snow patrol / lift management is under supported. Lifts are from the 1960's and constantly fail.
Not opening on time or remaining functioning with reliability. There's only 4 lifts to maintain and upkeep. It is a pathetic failure of upper management to continue to ignore its ski guests.
I don't write a review like this lightly. This is 5 years of hoping it will improve but no.. As a family we won't be returning and strongly advise any potential visitor. If you want to ski then look for other options.
If you want a holiday in a beautiful family friendly location then Charlotte Pass is fantastic. But a warning if you want to ski, it's become very disappointing.
For this trip, there's plenty of snow but lifts aren't running (there's 1 lift called a Poma that is running about 150m with a deep lift line, and I can walk to the top of it faster than you can get the lift there?) I'm 3 days in and haven't caught a lift yet..
I think the owner of the Charlotte Pass resort lease is squeezing chalet (owners? ed) so they leave and they just buy them up 'til he owns them all, then the lift situation will likely improve.
I'm just gutted."

Dave&family from AUSTRALIA - 14 Jul 2020