Snow Forecast Mapswhere's the snow in the next 3 days?
Snow Forecast for 3200 ski resorts around the World, updated four times a day. Weather forecasts are provided for the top lift, bottom lift and mid-mountain elevations. Our detailed Snow Reports and live updates are submitted by local Ski Clubs, ski resort staff and our users. Interactive weather maps show the amount of predicted snowfall as well as the current snow conditions and weather observations. The snow maps also show where the best piste conditions, off-piste powder and forecast weather for skiing and snowboarding can be found.
This map shows the accumulated snow forecast for the next 3 days. Click the image to view the interactive snow forecast map, or see a worldwide overview of all our maps that cover ski resorts for the Rest of the World.
Accumulated snow forecast for the next 3 days.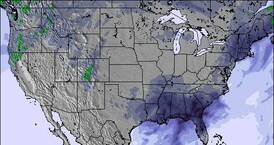 Click to view snow map

Country ski resort overviews
Latest Snow News
It is snowing heavily at La Plagne.

It is snowing steadily in Whistler Blackcomb.

Snow falling in Formigal.

Snowing heavily in Formigal.
Latest worldwide snow report
UPDATED 29 NOVEMBER 2023 It's almost December and the pre-season preparations are reaching their climax at thousands of ski areas across the northern hemisphere while more than 150 have now opened, fairly evenly divided between Europe and North America, with the main Japanese ski season expected to start next week with snowfalls increasing there.....
Current ski resort picks
Long range skiing weather forecasts for daily picks of our top 5 Resorts are FREE to non snow-forecast.com members! Find the deepest snow, the snowiest forecasts and the ski resorts reporting powder conditions to make the most of planning your winter sports holiday.
Latest submitted reviews
Montchavin ski resort:
"Montchavin is an old mountain village where you can smell
the animals tucked away safely for the winter as you wander through the beautiful traditional village centre. It is essentially a family resort and the ski schools are excellent. There is a beginners area for children at the bottom of the slope by the first lift up and a newly developed larger area for adult beginners just up 2 lifts. There are limited bars and restaurants in the village, so they do get busy, but most people self cater out here. There is a free bus service between Montchavin and Les Coches, which allows visitors to benefit from the facilities in both villages - e.g the cinema and pool in Montchavin, and the ice rink in Les Coches. The locals are very friendly, there is a tourist information office in both Montchavin and Les Coches with loads of events each week, so non-skiers will be able to find something of interest to do. Although the village is low down, the pisteurs do a fantastic job each year keeping routes open. Snow cannons are in use if snow conditions are low and temperature allows. In recent years with climate change, we have always managed to ski back to the village and if you don't fancy it, you can download on two bubbles. The fantastic thing about Montchavin/Les Coches is its location slap bang in the middle of Paradiski. We leave our apartment, ski down to the first lift and at the top decide whether to head left or right for Les Arcs or La Plagne. So easy to access the whole Paradiski area with such a lot of varied terrain and runs and some excellent off-piste to be found if you know where to go. Get a guide - they'll be able to show you some great routes. When it's white-out conditions and blowing a gale higher up, you can ski some lovely tree lined runs just in and above Montchavin/Les Coches. I really can't recommend it enough."

Joanne W from UNITED KINGDOM - 27 Nov 2023
Axamer Lizum ski resort:
"Update on my previous review of Axamer Lizum, as they have installed a new high capacity high speed gondola from the car park to the top, with the benefit of a mid station stop. This is in addition to the older funicular and effectively takes out all the old lifts at a stroke, save for the northernmost chair. What was already a great ski area now has world class uplift. Skied here several times last year and loved it. Everything else is just as it was, so still great value for money on the mountain."

Tirolerhund from UNITED KINGDOM - 23 Nov 2023
Ravna Planina ski resort:
"Resort is really well prepared and is surrounded with astonishing nature. There are tracks for every level of skiers. For beginners there is easy track length 4.5km and it's really great. Accommodation is excellent, very nice view from apartments."

Mark from BOSNIA AND HERZEGOVINA - 23 Nov 2023