Snow Forecast Mapswhere's the snow in the next 3 days?
Snow Forecast for 3200 ski resorts around the World, updated four times a day. Weather forecasts are provided for the top lift, bottom lift and mid-mountain elevations. Our detailed Snow Reports and live updates are submitted by local Ski Clubs, ski resort staff and our users. Interactive weather maps show the amount of predicted snowfall as well as the current snow conditions and weather observations. The snow maps also show where the best piste conditions, off-piste powder and forecast weather for skiing and snowboarding can be found.
This map shows the accumulated snow forecast for the next 3 days. Click the image to view the interactive snow forecast map, or see a worldwide overview of all our maps that cover ski resorts for the Rest of the World.
Accumulated snow forecast for the next 3 days.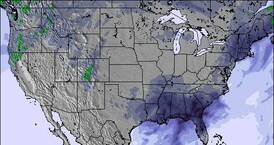 Click to view snow map
Country ski resort overviews
3 Feb 2012

22 Jan 2012
Latest Snow News
Snow falling heavily in Antuco.

Weather radar observation:

Light snow is falling on the slopes above Strandafjellet.

Weather radar observation:

It is snowing lightly at altitude in Rauland.

Weather radar observation:

Snowing heavily at altitude in Myrkdalen.
Latest worldwide snow report
UPDATED 11 SEPTEMBER 2019 As we move a little further into meteorological autumn north of the equator and springtime to the south, there's been plenty of snow for ski areas in both northern and southern hemispheres. Only five areas are currently open in the north but those lucky enough to be skiing or boarding have had some September powder to enjoy. In the Andes, Australia and New Zealand we're into the final weeks of the 2019 season, so getting some late snowfalls to freshen things up is clearly good news too.....
Current ski resort picks
Long range skiing weather forecasts for daily picks of our top 5 Resorts are FREE to non snow-forecast.com members! Find the deepest snow, the snowiest forecasts and the ski resorts reporting powder conditions to make the most of planning your winter sports holiday.
Fresh Snow Depth
Upper Snow Depth
Powder reported
New snow in next 3 days
Latest submitted reviews
Mount Elbrus ski resort:
"Перезвоните мне пожалуйста 8 (900)620-56-77 Вячеслав.

(note from the editor: why do you need someone to call you back?
This post will remain in place for a short time.)"

Вячеслав from NORTH KOREA - 30 Aug 2019
Whakapapa ski resort:
"A great mt when weather gods play well with excellent terrain. Challenging mountain, challenging to get lifts going. 2019 has seen storms lasting nearly three weeks in August; from a base of a 1 meter to now 2.5m. Tragically, after a week no progress with getting a large area of mt open. At west T-bar and chair end result = extreme crowding. Meanwhile, over at Turoa main lift is yet to open for another year- six seater express. Pretty disappointing if you were a season pass holder. Pick your days very carefully if going, it can be good if it all lines up!"

Malman from NEW ZEALAND - 29 Aug 2019
Banff Mt Norquay ski resort:
"I heard a lot about Norquay being smaller than Louise or Sunshine. It's true, but no line-ups (even at Xmas) and a crazy 'tubing' faster than anywhere I know!
Super staff, super groomed slopes and still crazy chutes if you can walk 5 min.
On north east storms this is the place to be! They receive tonnes of snow from the north east.
The lines are steep and no flats like Sunshine...
Only 5 min from Banff. You can just go there for 1 or 2 hours on lunch brake or for a bit of park practice.
Don t miss it!"

Steve from FRANCE - 28 Aug 2019
Read 14 more review(s) of Banff Mt Norquay or submit your own