Snow Forecast Mapswhere's the snow in the next 3 days?
Snow Forecast for 3200 ski resorts around the World, updated four times a day. Weather forecasts are provided for the top lift, bottom lift and mid-mountain elevations. Our detailed Snow Reports and live updates are submitted by local Ski Clubs, ski resort staff and our users. Interactive weather maps show the amount of predicted snowfall as well as the current snow conditions and weather observations. The snow maps also show where the best piste conditions, off-piste powder and forecast weather for skiing and snowboarding can be found.
This map shows the accumulated snow forecast for the next 3 days. Click the image to view the interactive snow forecast map, or see a worldwide overview of all our maps that cover ski resorts for the Rest of the World.
Accumulated snow forecast for the next 3 days.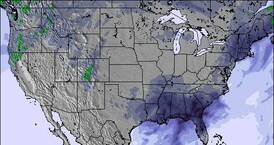 Click to view snow map
Country ski resort overviews
9 Jul 2013
Latest Snow News
Weather radar observation:

There is heavy snow falling in West Mountain.

Weather radar observation:

It is snowing heavily at Snow Ridge.

Weather radar observation:

Heavy snow is falling in Shawnee Peak.

Weather radar observation:

There is heavy snow falling in Royal Mountain.
Latest worldwide snow report
UPDATED 28 OCTOBER 2020 Whilst coronavirus restrictions continue to loom over the ski areas of Europe, as infection rates rise in most countries, the 2020-21 ski season continues to build momentum with more famous ski resorts opening at the weekend; you could hit the slopes at Cervinia, Kitzbuhel and Davos from last weekend.....
Current ski resort picks
Long range skiing weather forecasts for daily picks of our top 5 Resorts are FREE to non snow-forecast.com members! Find the deepest snow, the snowiest forecasts and the ski resorts reporting powder conditions to make the most of planning your winter sports holiday.
Fresh Snow Depth
Upper Snow Depth
Powder reported
New snow in next 3 days
Latest submitted reviews
CMH Galena ski resort:
"Every visit to CMH Galena is spectacular."

Earl from CANADA - 27 Oct 2020
St. Anton ski resort:
"My wife and I spent 10 days skiing St Anton in mid January. We found the facilities outstanding, the ski area itself mind-boggling in its scale and variety of slope and terrain. The people, both staff and other skiiers, were helpful and friendly and we experienced no negative crowd behaviour at all. We stayed in Petneau which was beautiful and provided some great dining options outside of St Anton itself. The free bus service was regular, reliable and efficient. We can't speak highly enough of the whole experience. We will definitely be back."

martin loxton from AUSTRALIA - 27 Oct 2020
Hkakabo Razi ski resort:
"There was a plan to build a resort on this mountain led by former billionaire Thai Prime Minister Taksin. Of course, nothing came of it because it probably made little sense."

Roger from CANADA - 19 Oct 2020