Snow Forecast Mapswhere's the snow in the next 3 days?
Snow Forecast for 3200 ski resorts around the World, updated four times a day. Weather forecasts are provided for the top lift, bottom lift and mid-mountain elevations. Our detailed Snow Reports and live updates are submitted by local Ski Clubs, ski resort staff and our users. Interactive weather maps show the amount of predicted snowfall as well as the current snow conditions and weather observations. The snow maps also show where the best piste conditions, off-piste powder and forecast weather for skiing and snowboarding can be found.
This map shows the accumulated snow forecast for the next 3 days. Click the image to view the interactive snow forecast map, or see a worldwide overview of all our maps that cover ski resorts for the Rest of the World.
Accumulated snow forecast for the next 3 days.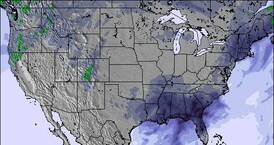 Click to view snow map
Country ski resort overviews
Latest Snow News
No clouds over Nozawa Onsen today. No wind here. Temperatures are around freezing. No new snow. Most lifts are open. The pistes have packed snow. The snow off-piste is packed

Weather radar observation:

Snow falling heavily in Stevens Pass.

Weather radar observation:

There is heavy snow falling in Ski Santa Fe.

Weather radar observation:

Snow falling heavily at China Peak Mountain Resort.
Latest worldwide snow report
UPDATED 6 JANUARY 2021 Cold is perhaps the keyword to describe conditions in Europe this past week and indeed forecast around most areas for the week ahead. It is still early January and therefore, the darkest part of winter. You'd like to think that's how it would and should be, but the warm weather which has impacted much of the continent at times through the autumn and much of December makes you doubt it will get cold enough.....
Current ski resort picks
Long range skiing weather forecasts for daily picks of our top 5 Resorts are FREE to non snow-forecast.com members! Find the deepest snow, the snowiest forecasts and the ski resorts reporting powder conditions to make the most of planning your winter sports holiday.
Fresh Snow Depth
Upper Snow Depth
Powder reported
New snow in next 3 days
Latest submitted reviews
Malam Jabba ski resort:
"A very small resort by international standards. A single 600m long red slope serviced by a 2 seat chairlift. A small learner slope with a drag lift. Not many people ski here so slope is usually empty. Snow is groomed in the season but conditions can be very poor. Season is short, starts sometime between late November to mid December and finishes in late Feb or early March. Resort is popular with non-skiing/snowboarding public and can be very busy. Chairlift must be ridden with skis off and there is a flight of stairs to descend at the top to get at the beginning of slope. Other facilities like food and toilets are few and of poor quality. Parking is nearly non-existent unless if staying in the hotel situated within the resort (which is very expensive). Around $25 for a 3 hour lift pass+equipment hire which in my opinion is expensive for a single slope. Perhaps worth a visit if you are nearby and want to spend a few hours skiing but not worth traveling for."

Haris Mushtaq from PAKISTAN - 20 Jan 2021
Castle Mountain Resort ski resort:
"Small hill with creaky old lifts. Spend enough days there and eventually you will catch right weather conditions. A good one. Can be good when it snows but the weather and wind of Chinook cycles can make a mess of it. Timing is everything, Many locals claim it is the longest steepest fall line in North America but I haven't found that to be accurate. I grew up skiing there and believed that hype but now that I have been all over North America I have found that is false. Every hill has its own selling points and Castle van provide a great day in the right conditions."

Western Skier from CANADA - 20 Jan 2021
Read 105 more review(s) of Castle Mountain Resort or submit your own
Mt Hood Meadows ski resort:
"Been to Meadows a few times. Once I didn't have a pass and an employee sold me one for using his employee discount (30 bucks cheaper)! Decent terrain, lift lines aren't bad compared to big resorts (Whistler, Park City). I'd go again."

Bishop Washington from UNITED STATES - 19 Jan 2021
Read 189 more review(s) of Mt Hood Meadows or submit your own