Snow Forecast Mapswhere's the snow in the next 3 days?
Snow Forecast for 3200 ski resorts around the World, updated four times a day. Weather forecasts are provided for the top lift, bottom lift and mid-mountain elevations. Our detailed Snow Reports and live updates are submitted by local Ski Clubs, ski resort staff and our users. Interactive weather maps show the amount of predicted snowfall as well as the current snow conditions and weather observations. The snow maps also show where the best piste conditions, off-piste powder and forecast weather for skiing and snowboarding can be found.
This map shows the accumulated snow forecast for the next 3 days. Click the image to view the interactive snow forecast map, or see a worldwide overview of all our maps that cover ski resorts for the Rest of the World.
Accumulated snow forecast for the next 3 days.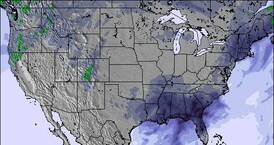 Click to view snow map
Country ski resort overviews
11 Dec 2010

25 Jul 2008
Latest Snow News
Weather radar observation:

Heavy snow is falling at altitude in Strynefjellet.

Weather radar observation:

Snowing lightly at altitude in Røldal.

Weather radar observation:

Light snow is falling at altitude in Hovden.

Weather radar observation:

There is heavy snow falling in Galdhøpiggen Sommerskisenter.
Latest worldwide snow report
UPDATED 1 JULY 2020 We're up to double figures in terms of the numbers of ski areas open in the southern hemisphere now with more ski areas opening in New Zealand and Australia over the past week. The five Australian and six New Zealand areas currently open join one in southern Africa, Lesotho's Afriski, taking us to ten in the southern hemisphere (just behind the thirteen in Asia, Europe and North America). That situation should be reversed by the weekend, if not before, with more than half a dozen more Australian and New Zealand ski areas due to open by then.....
Current ski resort picks
Long range skiing weather forecasts for daily picks of our top 5 Resorts are FREE to non snow-forecast.com members! Find the deepest snow, the snowiest forecasts and the ski resorts reporting powder conditions to make the most of planning your winter sports holiday.
Fresh Snow Depth
Upper Snow Depth
Powder reported
New snow in next 3 days
Latest submitted reviews
Hintertux ski resort:
"After many years, back in Hintertux for summer skiing! Fantastic snow and magnificent scenery, can only recommend to ski in June, particularly this year 2020. It is amazing to feel again the skis under your feet and enjoy the slopes from 3200 down to 2600m..."

Massimo Anselmi from ITALY - 13 Jun 2020
Porters ski resort:
"Friendly, medium sized skifield that has a good Kiwi and international mix of staff. Best option for a beginner to get going as mum and dad can have a ski and still keep an eye on the kids on the platter lifts. Coffee is great. On a full snow clear day it is unbeatable for terrain. Local tip, head for first runs in the morning to the top of T3 and come down Sundance, 3 solid runs. Then coffee run, then a fast McBulty run, Big Mamma or Bluff, lunch, sleep and finish the afternoon with a cruisy Easy street."

colin from NEW ZEALAND - 04 Jun 2020
Mount Baker ski resort:
"Mt. Baker has some excellent terrain but it can be greatly affected by constantly changing weather patterns. You'll want to prepare accordingly. I came up on a whim but once there, I decided to stay for a few days. I quickly discovered that there aren't any hotels. One of the locals told me about Mt. Baker Lodging (mtbakerlodging dot com). I went to their office and rented a very nice cabin at a good price for my girlfriend and myself. It even had a private hot tub! If you're planning on coming to Mt. Baker for a weekend, I would highly recommend these guys. They can be reached at 1-800-709-7669."

Eric Barkstad from UNITED STATES - 01 Jun 2020