Snow Forecast Mapswhere's the snow in the next 3 days?
Snow Forecast for 3200 ski resorts around the World, updated four times a day. Weather forecasts are provided for the top lift, bottom lift and mid-mountain elevations. Our detailed Snow Reports and live updates are submitted by local Ski Clubs, ski resort staff and our users. Interactive weather maps show the amount of predicted snowfall as well as the current snow conditions and weather observations. The snow maps also show where the best piste conditions, off-piste powder and forecast weather for skiing and snowboarding can be found.
This map shows the accumulated snow forecast for the next 3 days. Click the image to view the interactive snow forecast map, or see a worldwide overview of all our maps that cover ski resorts for the Rest of the World.
Accumulated snow forecast for the next 3 days.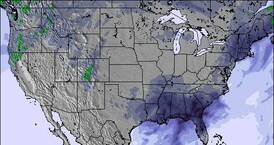 Click to view snow map
Country ski resort overviews
10 Feb 1950

16 Nov 2012
Latest Snow News
No clouds over Bjelašnica today. Feeling cold here today. The new snow is ankle deep. There are no lifts running.

It is snowing steadily at Kiroro Resort.

Recent moderate rain reported from Shotover at 359 metres elevation 7 kms NW of Remarkables but it is forecast cold enough for snow at higher elevations in the ski area

Weather radar observation:

Snow falling heavily in Yllas.
Latest worldwide snow report
UPDATED 13 OCTOBER 2021 The feeling that winter is coming has been underlined across much of the Northern Hemisphere over the past week with ever more significant snowstorms hitting western North America, the biggest dump of the autumn yet in the Alps with snow down to the valley floor in some places, and more snowfall too in other regions like the Balkans and the Pyrenees.....
Current ski resort picks
Long range skiing weather forecasts for daily picks of our top 5 Resorts are FREE to non snow-forecast.com members! Find the deepest snow, the snowiest forecasts and the ski resorts reporting powder conditions to make the most of planning your winter sports holiday.
Fresh Snow Depth
Upper snow depth
Powder reported
New snow in next 3 days
Latest submitted reviews
Red Mountain Resort ski resort:
"Would not recommend this ski hill to friends or family. Very few amenities in town and the hill really is just not special in any way. Snow coverage can be minimal and lifts are slow. Stick to whistler or if you are coming from the east there are better options in Sunshine/Louise"

Bozzy from CANADA - 07 Oct 2021
Read 38 more review(s) of Red Mountain Resort or submit your own
Dinner Plain ski resort:
"First time skiing, the girls operating the poma lift made my experience a good one.
Friendly and helpful, will visit again."

Deb from AUSTRALIA - 15 Aug 2021
Remarkables ski resort:
"Absolutely loved my trip to The Remarks! The staff were so welcoming and helpful, the snow was on point and the sun was shining! I couldn't have asked for a better experience for me and my little boy on his first ski trip."

Ryan from UNITED KINGDOM - 14 Aug 2021