Snow Forecast Mapswhere's the snow in the next 3 days?
Snow Forecast for 3200 ski resorts around the World, updated four times a day. Weather forecasts are provided for the top lift, bottom lift and mid-mountain elevations. Our detailed Snow Reports and live updates are submitted by local Ski Clubs, ski resort staff and our users. Interactive weather maps show the amount of predicted snowfall as well as the current snow conditions and weather observations. The snow maps also show where the best piste conditions, off-piste powder and forecast weather for skiing and snowboarding can be found.
This map shows the accumulated snow forecast for the next 3 days. Click the image to view the interactive snow forecast map, or see a worldwide overview of all our maps that cover ski resorts for the Rest of the World.
Accumulated snow forecast for the next 3 days.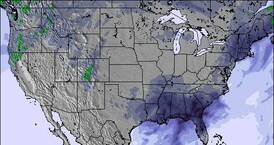 Click to view snow map
Country ski resort overviews
Latest Snow News
It is snowing steadily in Kartepe.

Continuous light snow reported from Ústí nad Labem at 376 metres elevation 7 kms SE of Telnice but it is probably falling as rain apart from near the top of the ski area

Light rain and snow reported from Toyooka at 4 metres elevation 9 kms ENE of Kannabe Kogen Ookayama Ski Resort

Continuous light snow reported from Takajama at 562 metres elevation only 4 kms NE of Harayama Shimin Ski Resort
Latest worldwide snow report
UPDATED 25 JANUARY 2023 It's the most positive picture of the season so far in many of the world's main ski regions.....
Current ski resort picks
Long range skiing weather forecasts for daily picks of our top 5 Resorts are FREE to non snow-forecast.com members! Find the deepest snow, the snowiest forecasts and the ski resorts reporting powder conditions to make the most of planning your winter sports holiday.
Latest submitted reviews
Lech ski resort:
"Good slopes. However, the overall attitude and unfriendliness is to the point of being disgusting. On a day to day basis I faced unfriendly waiters and personnel. Only for the rich who like an unfriendly attitude. The village of Lech is a representation of everything that went wrong with the ski-sport."

Pieter from BELGIUM - 26 Jan 2023
Mount Washington ski resort:
"Stayed at the MT. this past week Jan 20-27. What a mob. Boom open, what a zoo. Through the week excellent conditions. On Wed temperature 6 degrees and full sun. Talk about spring skiing in January. Gotta love the wash. See you soon."

CHICO from CANADA - 26 Jan 2023
Read 482 more review(s) of Mount Washington or submit your own
Chatel ski resort:
"Spent a day in Chatel. What a lovely place. The skiing was incredibly varied, superb views onto the Dente de Midi(at the top), really well groomed runs and we had lunch in town at a place that was very close to Michelin star quality. Highly recommend this place. Easy access from the Swiss autoroute and a quick drive up."

walter from ITALY - 25 Jan 2023