Snow Forecast Mapswhere's the snow in the next 3 days?
Snow Forecast for 3200 ski resorts around the World, updated four times a day. Weather forecasts are provided for the top lift, bottom lift and mid-mountain elevations. Our detailed Snow Reports and live updates are submitted by local Ski Clubs, ski resort staff and our users. Interactive weather maps show the amount of predicted snowfall as well as the current snow conditions and weather observations. The snow maps also show where the best piste conditions, off-piste powder and forecast weather for skiing and snowboarding can be found.
This map shows the accumulated snow forecast for the next 3 days. Click the image to view the interactive snow forecast map, or see a worldwide overview of all our maps that cover ski resorts for the Rest of the World.
Accumulated snow forecast for the next 3 days.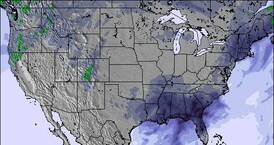 Click to view snow map
Country ski resort overviews
12 Jan 2011

2 Dec 2011
Latest Snow News
Weather radar observation:

There is heavy snow falling at Woods Valley Ski Area.

Weather radar observation:

Snow falling heavily in Toggenburg Mountain.

Weather radar observation:

Heavy snow is falling in Snow Ridge.

Weather radar observation:

Light snow is falling in Ski Santa Fe.
Latest worldwide snow report
UPDATED 2 DECEMBER 2020 It's a very strange start to December in Europe with far fewer ski areas open than would normally be the case at this point of the season, the start of winter by the meteorological measure of the seasons.....
Current ski resort picks
Long range skiing weather forecasts for daily picks of our top 5 Resorts are FREE to non snow-forecast.com members! Find the deepest snow, the snowiest forecasts and the ski resorts reporting powder conditions to make the most of planning your winter sports holiday.
Fresh Snow Depth
Upper Snow Depth
Powder reported
New snow in next 3 days
Latest submitted reviews
Sunshine Village ski resort:
"Sunshine was amazing - fantastic snow and first rate covid safety. So happy they do not allow the crazy "no-maskers". That would shut down the whole place."

Robert from CANADA - 26 Nov 2020
Read 116 more review(s) of Sunshine Village or submit your own
Sunshine Village ski resort:
"I did not get to experience Sunshine Village today as we were refused to even stand in line for a pass as I am mask exempt. It is disheartening as my children were looking forward to learning to skin a beautiful space."

Sarah-Joy from CANADA - 09 Nov 2020
Read 116 more review(s) of Sunshine Village or submit your own
CMH Galena ski resort:
"Every visit to CMH Galena is spectacular."

Earl from CANADA - 27 Oct 2020