Snow Forecast Mapswhere's the snow in the next 3 days?
Snow Forecast for 3200 ski resorts around the World, updated four times a day. Weather forecasts are provided for the top lift, bottom lift and mid-mountain elevations. Our detailed Snow Reports and live updates are submitted by local Ski Clubs, ski resort staff and our users. Interactive weather maps show the amount of predicted snowfall as well as the current snow conditions and weather observations. The snow maps also show where the best piste conditions, off-piste powder and forecast weather for skiing and snowboarding can be found.
This map shows the accumulated snow forecast for the next 3 days. Click the image to view the interactive snow forecast map, or see a worldwide overview of all our maps that cover ski resorts for the Rest of the World.
Accumulated snow forecast for the next 3 days.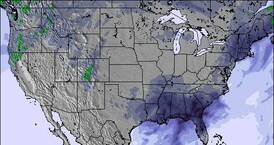 Click to view snow map
Country ski resort overviews
10 Feb 2012
Latest Snow News
Snowing in Vall de Núria.

Snow falling at Serra da Estrela.

Snowing in Baqueira/Beret.

Weather radar observation:

It is snowing heavily at Yokone.
Latest worldwide snow report
UPDATED 12 NOVEMBER 2019 Winter (by the meteorological measure) is now less than three weeks away in the northern hemisphere and the 19-20 ski season continues to build on both sides of the Atlantic.....
Current ski resort picks
Long range skiing weather forecasts for daily picks of our top 5 Resorts are FREE to non snow-forecast.com members! Find the deepest snow, the snowiest forecasts and the ski resorts reporting powder conditions to make the most of planning your winter sports holiday.
Fresh Snow Depth
Upper Snow Depth
Powder reported
New snow in next 3 days
Latest submitted reviews
Mount Baker ski resort:
"Dreamed for years of making a trip to Baker. Well, last winter I did and I couldn't have been more disappointed. It kind of snowed/mostly rained for the first couple days and the visibility was so bad that you could hardly do anything. Then it cleared, a million people showed up, and it was warm mashed potatoes in about an hour.

Bad food, no slope-side lodging, surly locals, and bad snow. I'll stay in Tahoe or Whistler instead."

Brett from UNITED STATES - 05 Nov 2019
Lake Louise ski resort:
"Alberta Rockies local. Obviously biased but I've been riding these local mountains for over 20 years. Granted lake louise doesn't get the dumps the interior gets but fit and finish Lake Louise is one of the best overal resort experiences in North America. Long steep accessible runs are everywhere and if you're lucky enough to ride here on even a 15-20cm day it will blow any other resort out of the water. If want to test your fitness in Alberta Rockies the lake is it. Can't find the stat but I've been told 3 of the top 10 steepest inbound runs reside at Lake Louise. Only 9 lifts but they access nearly every skiable/rideable acre. Buy a local a beer and they'll show you the goods. *unpopular opinion * Lake Louise is better than Whistler"

Christopher from CANADA - 03 Nov 2019
Andermatt ski resort:
"I went to Andermatt late March/early April and skied mainly on Gemsstock and while the runs may not be as maintained as some of the larger European/American resorts, I had a great time. When we arrived there was about 6m of snow at mid-mountain and 2m at base. Over the 10 days we were there around 1.6m of snow fell and it was an incredible experience with all the fresh snow in the steep couloirs. The snow never seemed to get tracked out and there were absolutely no lift lines. Will definitely be coming back."

Jackson from AUSTRALIA - 08 Oct 2019