Snow Forecast Mapswhere's the snow in the next 3 days?
Snow Forecast for 3200 ski resorts around the World, updated four times a day. Weather forecasts are provided for the top lift, bottom lift and mid-mountain elevations. Our detailed Snow Reports and live updates are submitted by local Ski Clubs, ski resort staff and our users. Interactive weather maps show the amount of predicted snowfall as well as the current snow conditions and weather observations. The snow maps also show where the best piste conditions, off-piste powder and forecast weather for skiing and snowboarding can be found.
This map shows the accumulated snow forecast for the next 3 days. Click the image to view the interactive snow forecast map, or see a worldwide overview of all our maps that cover ski resorts for the Rest of the World.
Accumulated snow forecast for the next 3 days.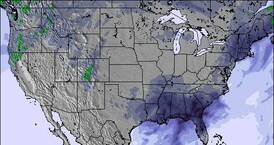 Click to view snow map
Country ski resort overviews
Latest Snow News
Weather radar observation:

It is snowing lightly at Valdres.

Weather radar observation:

Light snow is falling in Uvdal.

Weather radar observation:

There is heavy snow falling above Trysil.

Weather radar observation:

It is snowing heavily on the slopes above Tramelan et Région.
Latest worldwide snow report
UPDATED 21 SEPTEMBER 2022 The start of spring, or autumn, depending on which part of the world you're looking at is here by the astronomical measure of the seasons, so that three weeks when the meteorological season has changed but the astronomical one has not is ended and it's autumn/Fall proper in the northern hemisphere, spring in the southern, whichever way you look at it.....
Current ski resort picks
Long range skiing weather forecasts for daily picks of our top 5 Resorts are FREE to non snow-forecast.com members! Find the deepest snow, the snowiest forecasts and the ski resorts reporting powder conditions to make the most of planning your winter sports holiday.
Latest submitted reviews
Ski Rio ski resort:
"09 21 2022
Last year, 2021 in June, saw my wife and I with companions staying at a cabin built in the former Ski Rio resort. A new company (Blue Sky?) owns the property. There are no ski lifts, there are no amenities. The place is occasionally occupied by folks as ourselves: airbnb types. It seems there is some development going on at the property. I did hike some of the downhill trails. These are just beginning to be overgrown with smallish trees and there is evidence of the occasional rock fall. The climb to the peak is worth the time. There is evidence of bear, mule deer, white tail, elk and I did see the Western Turkey! There is not too much to do in the nearby town. The people at the post office are very nice. There are old wagon trails and lumber trails to follow. I would love to know more of the history of the property. If the airbnb were more affordable, I would stay there for a month in the fall. Very tranquil. Yet the people I did meet there, who were out side of our group, were not the 'hang out and chat' type. The property seems much bigger than 900 acres."

MISTER JUAN ELAN from UNITED STATES - 21 Sep 2022
Whakapapa ski resort:
"Ruapehu is a volcano which means it has wicked terrain, Whakapapa on the south side is awesome.

There is loads of off-trail terrain to explore with plenty of fun and interesting on-trail runs.

It is also a great spot for learning. Happy Valley on the lower mountain is great for doing so and there's sometimes a slightly more advanced beginner area on the upper mountain near the top cafe. They also sometimes have a park set up next to a T-bar.

It is a tricky maunga (mountain) to plan for as the weather can change at any time. It's best to stay in the area for a week or plan trips last minute (literally the night before) to score epic days."

April from NEW ZEALAND - 20 Sep 2022
Turoa ski resort:
"Ruapehu is a volcano which means it has wicked terrain, Turoa on the south side is awesome.

There is loads of off-trail terrain to explore with plenty of fun and interesting on trail runs.

It is also a great spot for learning as there are lots of runs and some areas where it is quite wide. They also have a park (or parks if you're lucky) set up most of the time.

It is a tricky maunga (mountain) to plan for as the weather can change at any time. It's best to stay in the area for a week or plan trips last minute (literally the night before) to score epic days."

April from NEW ZEALAND - 20 Sep 2022