Snow Forecast Mapswhere's the snow in the next 3 days?
Snow Forecast for 3200 ski resorts around the World, updated four times a day. Weather forecasts are provided for the top lift, bottom lift and mid-mountain elevations. Our detailed Snow Reports and live updates are submitted by local Ski Clubs, ski resort staff and our users. Interactive weather maps show the amount of predicted snowfall as well as the current snow conditions and weather observations. The snow maps also show where the best piste conditions, off-piste powder and forecast weather for skiing and snowboarding can be found.
This map shows the accumulated snow forecast for the next 3 days. Click the image to view the interactive snow forecast map, or see a worldwide overview of all our maps that cover ski resorts for the Rest of the World.
Accumulated snow forecast for the next 3 days.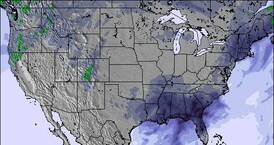 Click to view snow map
Country ski resort overviews
Latest Snow News
Weather radar observation:

Snowing lightly at Ulricehamn.

Weather radar observation:

Heavy snow is falling in Sundsvall.

Weather radar observation:

It is snowing heavily at Sjusjoen.

Weather radar observation:

Snowing heavily at Shintokuyama.
Latest worldwide snow report
UPDATED 29 JANUARY 2020 After the mostly dry and sunny start to the new year and new decade, there have been big changes in the weather over the past week for most of western Europe. This pattern is ongoing as we move towards February and the mid-point of the 19-20 ski season for most.....
Current ski resort picks
Long range skiing weather forecasts for daily picks of our top 5 Resorts are FREE to non snow-forecast.com members! Find the deepest snow, the snowiest forecasts and the ski resorts reporting powder conditions to make the most of planning your winter sports holiday.
Fresh Snow Depth
Upper Snow Depth
Powder reported
New snow in next 3 days
Latest submitted reviews
Blue Mountain Resort ski resort:
"Risk your life, total blatant disregard for the customer. Blue Mt is a local ski area frequented by high school and college kids looking to see who can get down the mountain the quickest. It's dangerous! Ski at your own risk. The management has a total lack of regard for the customers. My wife and I recently visited and spend $170. We used our credit card to purchase a $7 locker. It did not work properly so we decided to put our bags in the car. We approached the ticket counter staff who told us, "too bad", no refund on the locker. I asked to speak with the supervisor, she abruptly refused to refund the money. At this point it had nothing to do with the money, it was about the principle. I asked to speak to the general manager. Now it gets worse. The ticket counter supervisor left and never returned. Yes, I stood there at the window for 45 minutes waiting for someone to address this issue. Their blatant ignorance not only effected me but as I was occupying one of two opened windows the line waiting to purchase a ticket tripled. The line to buy tickets had to be 50 plus people and over an hour at this point. The funny thing here is they're not going to get the $7 anyway because I'm just going to dispute the charge on my credit card. Avoid Blue Mountain!"

Marty L from UNITED STATES - 25 Jan 2020
Read 1 more review(s) of Blue Mountain Resort or submit your own
Happo One ski resort:
"Unfortunately, 2019/20 is shaping up as the worst season in decades.

Happo is a great mountain, but unfortunately, snow conditions are just like back home, icy at the top and wet muck from the middle to bottom, with that famous Japan powder, just something others talk about."

Mick from AUSTRALIA - 24 Jan 2020
Whistler Blackcomb ski resort:
"Since Vail took over the Whistler experience has deteriorated, way too crowded with long lift lines. No longer fun."

Colin Peverley from CANADA - 23 Jan 2020
Read 174 more review(s) of Whistler Blackcomb or submit your own