Snow Forecast Mapswhere's the snow in the next 3 days?
Snow Forecast for 3200 ski resorts around the World, updated four times a day. Weather forecasts are provided for the top lift, bottom lift and mid-mountain elevations. Our detailed Snow Reports and live updates are submitted by local Ski Clubs, ski resort staff and our users. Interactive weather maps show the amount of predicted snowfall as well as the current snow conditions and weather observations. The snow maps also show where the best piste conditions, off-piste powder and forecast weather for skiing and snowboarding can be found.
This map shows the accumulated snow forecast for the next 3 days. Click the image to view the interactive snow forecast map, or see a worldwide overview of all our maps that cover ski resorts for the Rest of the World.
Accumulated snow forecast for the next 3 days.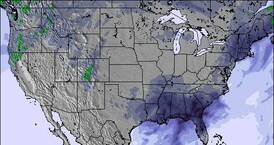 Click to view snow map
Country ski resort overviews
Latest Snow News
Raining moderately in La-Pinilla. Just a light breeze today. Freeze-thaw conditions. New snow is ankle depth. Lifts are closed. Wet snow on the pistes. Icy crust off-piste.

Weather radar observation:

Snowing lightly in Woods Valley Ski Area.

Weather radar observation:

It is snowing heavily in Vučići.

Weather radar observation:

Snowing heavily in Valdres.
Latest worldwide snow report
UPDATED 8 DECEMBER 2021 We're into December and the start of the 21-22 season is looking much more promising than the start of 20-21 a year ago in many respects. The difference is most marked in Western Europe where other than the concern of rising cases and the arrival of the omicron variant, ski areas that hadn't opened at all last December are opening in their hundreds in the Pyrenees as well as in Austria, France, Germany and Italy. Ski areas in the dolomites and Pyrenees that were shut last winter have opened up to 180km (110 miles +) of terrain each in the past week, with up to a metre (40") of fresh snow falling. Despite tightening restrictions it's hard not to feel euphoric if you're one of those that have already made it to the slopes.....
Current ski resort picks
Long range skiing weather forecasts for daily picks of our top 5 Resorts are FREE to non snow-forecast.com members! Find the deepest snow, the snowiest forecasts and the ski resorts reporting powder conditions to make the most of planning your winter sports holiday.
Fresh Snow Depth
Upper snow depth
Powder reported
New snow in next 3 days
Latest submitted reviews
Crystal Mountain ski resort:
"Hands down the best skiing terrain in Washington State. Lots of really cool alpine bowls and challenging terrain.

The only flaw here is getting the mountain is a rough (ed?) and it is expensive. It is a local skiing icon, and a super fun mountain when the crowds are not too crazy.

Not stoked about them charging for parking this season."

Colin Connor from UNITED STATES - 02 Dec 2021
Read 10 more review(s) of Crystal Mountain or submit your own
Mission Ridge ski resort:
"Really fun locals ski hill. This place is a bit of a throw back, but I really enjoy skiing here when I am in Wenatchee. There are a few challenging shoots near the top, but where Mission really shines in with the fast groomers. The mountain skis more like a Colorado ski area than a Washington State resort. Lots of fast intermediate terrain. Great culture, the mountain has a fun, happy laid back culture. It's worth a stop."

Colin Connor from UNITED STATES - 02 Dec 2021
Stevens Pass ski resort:
"Mountain has a rich history and culture. Sadly, since Vail took over they have destroyed that culture. They killed off the independent ski schools going into this season which has been a source of the mountains pulse for generations.

Last year the lifts consistently opened late or not at all as they didn't want to put the resources into staffing for patrol to get the fun terrain open in a timely fashion. They also frequently didn't have enough lift operators to run the mountain due to poor relations with employees.

Vail needs to realize that NW skiing is a different beast and needs to be run differently than Colorado Mega Resorts.

The potential is there for them to get with the program and get things back on track. For that to happen management needs to listen to the gripes of the locals and do the right thing.

Also, bring the bike park back this summer!"

Colin Connor from UNITED STATES - 02 Dec 2021