Snow Forecast Mapswhere's the snow in the next 3 days?
Snow Forecast for 3200 ski resorts around the World, updated four times a day. Weather forecasts are provided for the top lift, bottom lift and mid-mountain elevations. Our detailed Snow Reports and live updates are submitted by local Ski Clubs, ski resort staff and our users. Interactive weather maps show the amount of predicted snowfall as well as the current snow conditions and weather observations. The snow maps also show where the best piste conditions, off-piste powder and forecast weather for skiing and snowboarding can be found.
This map shows the accumulated snow forecast for the next 3 days. Click the image to view the interactive snow forecast map, or see a worldwide overview of all our maps that cover ski resorts for the Rest of the World.
Accumulated snow forecast for the next 3 days.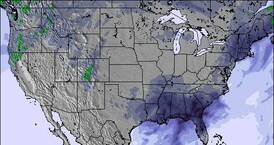 Click to view snow map
Country ski resort overviews
6 Feb 2010

29 Nov 2011
Latest Snow News
Snow falling heavily in Michlifen.

Snowing at Panticosa.

Schweitzer Snow Report

The warm temps arrived and with them some lovely liquid snow. Funnily enough, the skiing is still pretty fun, but you'll definitely want to have your Gore-Tex on to stay dry. There's more of the dreaded "r" word in the forecast for tomorrow so just be prepared. All in all, it's still good to get out there!

Snowing at Auris En Oisans.
Latest worldwide snow report
UPDATED 24 NOVEMBER 2021 It was a key weekend in the start of the 2021-22 season on Saturday as we went from dozens of ski areas having opened to over a hundred now operating as many more open for their seasons in Asia, Europe and North America. For quite a few of them, particularly in France, Germany and Italy, it is quite an emotional event as for most it is their first season start for two years, having lost last winter to COVID lockdowns.....
Current ski resort picks
Long range skiing weather forecasts for daily picks of our top 5 Resorts are FREE to non snow-forecast.com members! Find the deepest snow, the snowiest forecasts and the ski resorts reporting powder conditions to make the most of planning your winter sports holiday.
Fresh Snow Depth
Upper snow depth
Powder reported
New snow in next 3 days
Latest submitted reviews
Whistler Blackcomb ski resort:
"Well, even if they are not open, I will never be back. Have been coming for the last 10 years and last year I had to cancel for health reasons. My doctor filled out the form and they would not accept it, and I lost my tickets that I bought. Ever since Vail took over they don't care about their customers. Just give me the money!!! There are others resorts to go to."

Brad Matyas from CANADA - 24 Nov 2021
Read 187 more review(s) of Whistler Blackcomb or submit your own
Apex Resort ski resort:
"I am looking forward to opening day with nice snow! Lots of challenging terrain in the trees, lots of smoother cruisers and always without much of a lift line. Great GunBarrel lunch. I am local so can't comment on accommodations but am happy to call this my home hill."

Greg Cole from CANADA - 24 Nov 2021
Mount Baker ski resort:
"Real bad mountain, don't come here. Slow chairs, wet snow, mean locals, bad food, no lodging. Plus they get too much snow and it's too hard to ski."

Zach from UNITED STATES - 23 Nov 2021