Snow Forecast Mapswhere's the snow in the next 3 days?
Snow Forecast for 3200 ski resorts around the World, updated four times a day. Weather forecasts are provided for the top lift, bottom lift and mid-mountain elevations. Our detailed Snow Reports and live updates are submitted by local Ski Clubs, ski resort staff and our users. Interactive weather maps show the amount of predicted snowfall as well as the current snow conditions and weather observations. The snow maps also show where the best piste conditions, off-piste powder and forecast weather for skiing and snowboarding can be found.
This map shows the accumulated snow forecast for the next 3 days. Click the image to view the interactive snow forecast map, or see a worldwide overview of all our maps that cover ski resorts for the Rest of the World.
Accumulated snow forecast for the next 3 days.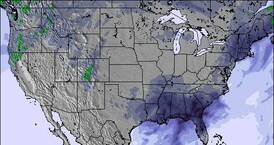 Click to view snow map
Country ski resort overviews
Latest Snow News
Snowing in Snowmass.

There is heavy snow falling in Selkirk Powder.

It is snowing steadily at Westendorf.

Moderate rain reported from Government Camp wx at 5440 feet WSW of Mt Hood Meadows but it is forecast cold enough for snow at the ski area
Latest worldwide snow report
UPDATED 30 NOVEMBER 2022 It's currently looking good across the northern hemisphere at this traditionally tense time just ahead of the main ski season. Hundreds of ski areas are now open, the majority opening in the past seven days and in North America ahead of last weekend's Thanksgiving holiday. But there's been plenty of fresh snowfall and cold weather for snowmaking across much of Europe and North America. Besides more areas open the annual battle to have the most terrain open is also underway, with some centres offering much more than others. In Europe, there's a particular battle between ski areas in the Austrian Tirol with areas posting 100, 70 and 60km (64,44,37 miles) of runs open, the most in the continent. In North America, half a dozen centres, mostly in the Rockies, are....
Current ski resort picks
Long range skiing weather forecasts for daily picks of our top 5 Resorts are FREE to non snow-forecast.com members! Find the deepest snow, the snowiest forecasts and the ski resorts reporting powder conditions to make the most of planning your winter sports holiday.
Latest submitted reviews
Goms - Oberwald ski resort:
"The Obergoms, in the Valais high valley, is considered to be the snowiest region in Switzerland. The very cold temperatures also ensure that the snow remains until spring. The very wide trails (classic and skating) are always in top condition. A night trail between Ulrichen and Obergesteln also has its charm. The trails leading through the whole valley (about 20 km) run along the Rhone (Rottu). With the cross-country ski pass, the return journey is even free.

Das Obergoms im Walliser Hochtal, gilt an schneesicherste Region in der Schweiz. Die sehr kalten Temperaturen sorgen zusätzlich dafür, dass der Schnee bis in den Frühling liegen bleibt. Die sehr breiten Loipen (Klassisch und Skating) sind immer in einem Top Zustand. Eine Nachtloipe zwischen Ulrichen und Obergesteln hat zusätzlich ihren Reiz. Die durch das ganze Tal (ca. 20 km) führenden Loipen verlaufen der Rhone (Rottu) entlang. Mit dem Loipenpass, ist die Rückreise sogar kostenlos."

Martin Spahr from SWITZERLAND - 21 Nov 2022
Stubai Glacier ski resort:
"The resort is great, beautiful scenery and comfy hotels. Skied here twice in November. Unfortunately, ski teams prepare here in early season and, in my experience, ski dangerously. My husband - very experienced skier - was airlifted to hospital this week after one of the slalom skiers smashed into him (then he and adult he was with skied on without stopping). We won't come here again."

Amy from UNITED KINGDOM - 17 Nov 2022
Breuil-Cervinia Valtournenche ski resort:
"Just found this great site so thought I would add my review too.
Cervinia is a two tone resort-high altitude so good snow, lovely easy runs and super views. But it is really not a pretty town, the lift system is somewhat outdated and it is nearly as expensive as Zermatt where I was 4 years ago. Zermatt is in a different class. It's pristine, varied and frankly not much more expensive."

Joel Nick from UNITED KINGDOM - 12 Nov 2022
Read 36 more review(s) of Breuil-Cervinia Valtournenche or submit your own