World Snow News 44
World Snow News Update for July 4th 2008
Snow Forecast | Alps | New Zealand | Australia | N. America | S. America | Sign Up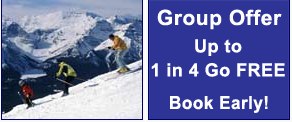 Welcome to the latest roundup of worldwide snow conditions and weather prospects for the week ahead from www.snow-forecast.com.

This week's editorial is sponsored by Iglu Ski who are offering a great 1 in 4 go free deal on ski holiday bookings. If you are intestsed in sponsoring one of our email newsletters or email alerts please let us know.

We are very pleased to report that snow conditions have greatly improved in Australia and New Zealand. Early season conditions on Ruapehu are being compared with the great season of 1994 with snow depths on the upper mountain already approaching the 2m mark, a spectacular turnaround from the warm dry conditions a few weeks ago. Further snow is expected over the next 3 days at South Island resorts and right through until Tuesday at Ruapehu. Improvements in Australia have been modest by comparison with 15-25cm of fresh snow at several resorts over the past few days. Next week should see further snowfalls. Most resorts of South America have had fine weather and with we expect this to continue for another week with only a few exceptions.
A few weeks ago we wrote how sophisticated snowmaking at Coronet Peak had been no match for a spell of unseasonably warm temperatures. It turns out that this need not always be the case. The Arab Emirate of Ras Al Khaimah has just announced plans to go one-better than neighbouring Dubai's indoor ski resort by constructing a conventional ski resort in local hills where temperatures regularly reach +35 degrees. The ski slope will be created using the latest snowmaking technology which allows snow to be created at high positive temperatures. An Israeli company is currently installing one of the various patented technologies that claim to be able to do this at both Zermatt and Pitztal in Europe. The proposed slope at Ras Al Khaimah will be part of a mountain resort development reaching 1900m in the Hajjar Mountains which will also include hotels, a golf course and mountain bike trails. A road to the location is currently under construction and expected to reach the site by 2010.
By our reckoning, the last time they received REAL snow on the hills of Ras Al Khaimah was on the 28-29 of December 2004. Before that it was on February 2nd 1954! Of course, anyone who has previously purchased our unique Snow-Forecast calendars will already be aware of this and many other factoids from the wonderful world of snow.
I should mention that last week we announced the prospect of great surf conditions for the Atlantic coast of Europe. Using the detailed forecasts at out sister-site Surf-forecast.com our HQ in Cardiff, Wales duly emptied in time to surf Cornwall as the waves peaked. Our detailed forecasts were spot on and during a brief window the combination of wind and waves were perfect. Britain's big wave surfers enjoyed a rare summer tow-in session with treble overhead faces at Fistral's infamous Cribber. See a detailed forecast for the Cribber as well as thousands of breaks worldwide.
Summary:
New Zealand snow conditions have improved again.

Ruapehu and resorts of Canterbury and Marlborough have seen most new snow

50 to 90cm of snow fell at several resorts last weekend

Snowfalls have been much less in central Otago, but as much as 15cm fell on Thursday

Many club fields open for the season this weekend

Expect several more days of snow from the current storm

Fine next week as pressure builds from the Tasman. Superb skiing to be had.


In Australia, two fronts have brought much needed snow


Most resorts have received 15-25cm of fresh snow

Expect a fine and cool weekend with light winds

Areas of rain and snow developing from Monday


South America offers plenty of great skiing


Very little fresh snow fell last week

Expect moderate falls around Las Lenas on Saturday

Next week will provide fine weather for most

Prevailingly cold and snowy at Cerro Castor in the far south

It has been a warm and often wet week on the glaciers of Europe and the forecast is for fairly unsettled weather to continue, but there is a great deal of skiing available and there will certainly be some fair weather days. Windy and stormy weather on Thursday has forced the Espace Killy resorts to temporarily close for snowsports. The conditions are forecast to improve on Friday so both areas, Tignes and Val d'Isere, should be able to open again before the weekend. The wind is quite strong on Thursday at Les Deux Alpes too and the number of open lifts has reduced to seven. There is one green run, three blue runs and one red run open. The wind is forecast to ease on Friday and the sun should return. Further clouds are expected for a period on Sunday which could deliver some rain.
In Switzerland poor weather on Thursday at Zermatt has forced the ski area to temporarily close. Conditions are expected to improve on Friday so skiing should again be possible for visitors this weekend Saas Fee is scheduled to open for the summer ski season on 5th July, and the snow base on the glacier is over two metres deep so conditions look really promising.
In Italy the weather is better away from the main divide. At Val Senales the Grawand, Finail and Gletschersee pistes are open and have good snow cover. The sunny weather on Thursday is only interrupted by light cloud cover, so the visibility is great. Similar weather is expected all weekend. At Passo Tonale heavy cloud cover has drastically reduced the visibility on the Presena glacier so it is not possible to ski on Thursday. The weather is forecast to improve on Friday, so it will hopefully be possible to ski before the weekend. Cervinia is scheduled to open for the summer ski season on Friday 4th July 2008. The weather on Thursday is expected to be wet in the afternoon then the sun should come out on Friday, perfectly timed for the start of the summer ski season.
New Zealand has seen a pretty extreme week of weather: Severe gales in Wellington with 140kph gusts made it was too windy for passengers to safely walk to planes, more than 10,000 lightning strikes along the southern Alps yesterday afternoon, a tornado in Auckland and most importantly, some incredible snowfalls. Probably the largest single fall at a ski resort was at Mt Lyford where 85cm fell at the weekend and 50cm at Mt Hutt. Meanwhile, Turoa and Whakapapa that have recorded the biggest improvement in conditions. On June 14th there was just enough snow to open some small beginner areas, and most of that was man-made. By Thursday 3rd July they were reporting almost 2m of snow of the upper slopes, more than 1m at the base and with much deeper drifts. Comparisons are being made with the remarkable 1994 season and as another storm bears down it is certainly looking fantastic. Blizzard conditions over the next few days will ease to give several great days. With all the drifts, staff are working really hard at both Turoa and Whakapapa to get lifts and terrain open. Friday morning may offer some respite but NW gales on the summit and snow right down the the highway by late afternoon may get the better of them. Saturday sees another spell of wind and snow, clearing somewhat on Sunday but it will take until Tuesday before the storm responsible moves off East Cape and allows the weather to settle down.
Turoa have opened the Alpine Meadow platters, the Sunkid magic carpet, the Movenpick, the Parklane, the Giant and the High Flyer. Work continues on the High Noon Express and the Wintergarden platter which will open on Saturday weather gods permitting. At Whakapapa, Happy Valley Beginners, the Centennial, the Rockgarden, the Waterfall Express and the Valley T-Bars all ready to go. Next on the list is Knoll Ridge T-bar and West Ridge Quad which should be running this weekend given some kind weather. That only leaves the Far West T-Bar. On the wild side of the Mountain, Tukino aims to open on Saturday.
Moving South, Rainbow is also opening on Saturday. They have 55cm of snow following another 15cm on Thursday and they can expect quite a bit more from the current storm before it clears. Mount Lyford is not all that far away from Rainbow as the Crow flies, or even as the 4WD drives, but the weather pattern is often very different because it is much more exposed to winds of the Pacific and when low pressure moves up along the coast of canterbury as it did last Sunday the Kaikouras and Mt Lyford can see some pretty remarkable falls. On that occasion, Mt Lyford recorded 85cm of fresh snow and we can only guess what fell on the Kaikouras. Thursday was too windy for Mt Lyford to open and the present system will keep in mostly stormy and often snowy for several days. As with Ruapehu, once high pressure arrives next week, expect some superb conditions.
Mount Hutt had 50cm of snow this time last week and now they have a metre. 50cm of snow fell on the weekend and a further 15cm of wind affected snow fell on Thursday. It is difficult to quantify how much snow actually has fallen over the past week because drifts are over 3m deep. Again, the run of SW winds with bands of snow looks set to continue for several more days and it will be windy at times too but hopefully they will be able to open this weekend to satisfy the eager skiers of Christchurch.
For Chill pass holders (like me), you'll have to pick up passes from the new HQ in Springfield from now on. The club fields are looking particularly good. At
Broken River
, where the 07 season was the best of anywhere in
New Zealand
, it is already possible to ski right back to the lodges. This weekend, being well inland of
Porters
Pass will probably make for much less wind. Other club fields that are. Cragieburn doesn't open for another week, but other options this weekend should include
Temple Basin
(welcome back), and
Mount Cheeseman
, where 20cm of snow fell on Thursday.
Mt Olympus
takes a laid back approach and opens in the middle of the week, by which time it should be sunny.
In the McKenzie region, Roundhill opens on Saturday and Mt Dobson opens on Sunday. Nearby Ohau recorded 20cm of fresh snow on Thursday and no doubt there was a similar fall further east. Ohau hopes to open for freshies on Friday or Saturday. This only leaves Fox Peak, and they plan to open on the 12th.
Not very much weather reached as far as the Southern Lakes region last weekend but that has not stopped all resorts from opening. Lindis Pass about the limit of the heavy falls from that system. Luckily, yesterday's snow did much better and all resorts have seen 15 or 20cm of fresh bringing bases to about the 40-50cm mark. Treble Cone and Cardrona saw the heaviest falls but all areas can expect further snow on Friday, settling right down to lake level on Friday evening. This snow will fall to near sea-level in coastal Otago and Southland, and will be accompanied by gales on the Otago Peninsular. Saturday looks like a day of snow showers with gales on exposed ridges so dress for the conditions. The weather eases on Sunday and Monday and stays fine and frosty for several days. Rising NW winds on Saturday heralds the next weather system off the Tasman but not before the New Zealand has enjoyed several days of perfect skiing conditions.
At long last a couple of fronts in the prevailing Westerly have managed to hit the alpine corner of Australia before heading across the Tasman. Monday through to Wednesday night have seen very welcome snow at most resorts. Perisher Blue had received 15cm (six inches) of fresh snow by Tuesday morning and 77 snowmaking guns have been going flat out since then. Mt Hotham recorded a 25cm snowfall by Tuesday morning bringing the total there to a much improved 35cm. There are three trails open, Big D, Summit, and Road Runner which have a fair covering of natural and man made snow. Spencers Creek at 1830m (near Charlotte Pass) now records 50cm of snow, up from just 10cm a week ago which suggests that by the time the snow stopped falling, 40cm has accumulated there and so some ski touring should now be possible.
With 38cm of snow, albeit partly man made, Falls Creek is now open for the winter. Mount Buller, with 28cm at the top and half that at the bottom, and Selwyn Snowfields with just 10cm of cover have both reopened following new natural snow and the work of the snow machines. Mount Buller has had the snow cannons operating all night long and it is recommended that skiers head to Bourke Street. At Selwyn Snowfields all of the open area has been groomed and the Township T-bar will open for the first time this season on Thursday. Conditions at Thredbo and Perisher Blue where they have just 10cm of snow are improving thanks to snow making and it is now possible to ski from top to bottom at Thredbo on Supertrail. Ben Lomond and Mount Baw Baw are yet to open for their winter 2008 seasons due to a lack of snow.
The showers have cleared to a settled spell of weather although westerly winds brought cloud to the western side of the Snowy Mountains on Thursday. Cloud should decrease as winds become lighter over the weekend and with daytime temperatures of just a degree or two above zero should preserve the snow cover.
A trough of low pressure should approach Victoria on Monday and this promises areas of rain with snow at the resorts around the middle of the week as it moved across the high country. Associated rain also looks likely to affect drought hit areas. Freezing levels may approach 2000m when the weather system arrives but will steadily drop allowing snow to fall to below resort elevations.
The bright sunny weather of this week is forecast to disappear from Thursday at the Blackcomb glacier (65cm) at Whistler, Canada. It is expected to be wet and warm across the weekend so the snow will become heavy towards the end of the day. The Palmer snowfield at Timberline offers excellent summer riding conditions. The Magic Mile and Palmer lifts are open from 7am until 1.30pm. There is a chance of some stormy weather as we head into the weekend but next week will be fine. As mid-week free-air freezing levels soar to almost 5000m, the snow probably won't freeze at night.
South America continues to offer great skiing but as expected the past week was not very eventful weather-wise. In Chile,the Three Valleys resorts offer excellent on-piste carving conditions due to the packed snow cover and beautiful sunny weather which is forecast to last throughout the weekend. La Parva reports the deepest snow base of the Three Valleys resorts with 3m of snow at the top, followed by El Colorado with 1.5m then Valle Nevado with 70cm. Portillo offers excellent riding with over a metre and a half of packed snow across the slopes. The situation is further enhanced by the clear sunny weather that is forecast to last all weekend and right through next week too. Termas de Chillan has top to bottom skiing on 10 to 80cm of snow. On the lowest slopes more natural snow would be welcome, and this could fall over the weekend. Chapa Verde is not yet open for their winter season.
In Argentina Chapelco only has 10cm of hard snow but it is at least open for snowsports with 3 lifts serving 5 pistes. The good news is that we expect snow to fall from Thursday. This snow will also fall at Cerro Catedral where 14 lifts are running and conditions are very similar with just 30cm of hard snow. Las Lenas has vastly more snow depth - almost 2m at the bottom and close to 4m at the top, but again the pistes are quite hard and 15cm of fresh snow forecast for Saturday will greatly improve things ahead of what looks certain to be a settled and sunny week. Cerro Castor is located much further south, right at the tip of the continent near the port of Ushuaia and well in the path of the weather off the Pacific that is currently missing the closest resorts, more than 1000km north. Despite having a low altitude, below 1000m, it more than makes up for it in latitude. Temperatures are -9 C at the top on Thursday morning and there is already 75cm of snow at the summit with top to bottom skiing. We expect frequent light to moderate snowfalls which will ensure that piste conditions stay fresh next week.
The snow-forecast team