Snow Forecast Mapswhere's the snow in the next 3 days?
We provide mountain weather maps showing a vast range of ski resort data ranging from current conditions, future weather and historical data. In addition to our popular static weather maps, we also provide smart interactive maps that allow you find the best snow conditions and skiing weather.
This map shows the accumulated snow forecast for the next 3 days. Click the image to view the interactive snow forecast map, or view a worldwide overview of all our maps that cover ski resorts for the Rest of the World.

Check out the ski map information overlays that include: ski resort webcams, snow conditions, current weather conditions and accumulated snowfall to help plan your ski holiday to find the best snow conditions.
Accumulated snow forecast for the next 3 days.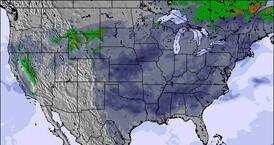 Click to view snow map
Country ski resort overviews
Latest Snow News
Anonymous Report:

Snow falling heavily in Yllas.

Anonymous Report:

It is snowing heavily in Yllas.

Anonymous Report:

It is snowing heavily in Mount Washington.

radikaltur

2015-2016 sezonu iyi geçecek gibi
Latest worldwide snow report
UPDATED 30 NOVEMBER 2015 More snow fell over the weekend in the northern Alps, but this looks to be finally letting up with a sunny and mild week of weather forecast. This should allow for the fresh snow to settle and for piste crews to work round the clock to get more slopes open as we approach December. More resorts are opening by the day, with lots of resorts set to open up this weekend – especially in France and Austria. .... (courtesy of the Skiclub of GB)
Current ski resort picks
Long range skiing weather forecasts for daily picks of our top 5 Resorts are FREE to non snow-forecast.com members! Find the deepest snow, the snowiest forecasts and the ski resorts reporting powder conditions to make the most of planning your winter sports holiday.
Fresh Snow Depth
Upper Snow Depth
Powder reported
New snow in next 3 days
Latest submitted reviews
Whakapapa ski resort:
"Interesting to read the review about a child who fell off the platform on Happy Valley.
We had the exact same experience last year. Luckily everything was ok. But it seems the management and facilities at Whakapapa (just like the weather) can be pretty hit and miss."

Aaron from NEW ZEALAND - 06 Aug 2015
Dizin ski resort:
"Hi,

I have been skiing in Dizin for many years now. The place itself is absolutely great. Fresh powder, great intermediate slopes and some much more advanced yet relatively safe off-piste. All in all, sounds wonderful especially considering the costs to foreigners.

The biggest downside is the staff. This will not be noticed by the foreigners because Iranians love to be nice to foreigners as much as they like to be rude to their compatriots. The staff are the local villagers who are not in any way trained or instructed in basic courtesies; just a bunch of peasants who think they are somehow very special people because rich Tehranis come to their village, buy their properties and build some Swiss-look-alike imitation chalets, and use their resort to ski.

Honestly, you will notice this attitude less in Shemshak and even less in Darbandsar.

Another issue is the total lack of ability to distinguish between service and sales, in Iran, by the businessman. Running a ski resort definitely falls into service category, and not in sales, yet you would feel the opposite here. You pay the full amount to enter the resort and enjoy all the amenities, but they close down half the rides in the middle of the week to lower their costs, so you will stand in lines that are as long as the lines over the weekend while all the rides are open and people swarm from Tehran to be seen in their new ski equipment! So regardless of how much you try to manoeuvre around this problem, they will systematically make sure you get stuck in the lines. Again, you shouldn't expect more from a bunch of up and coming peasants who disguise themselves as businessmen.

Long live Iran,

A caring Persian"

Me from IRAN, ISLAMIC REPUBLIC OF - 05 Aug 2015
Mount Cheeseman ski resort:
"Great place to go where you can stay on the mountain. Great value for money and an atmosphere that is miles away from the resorts but a fantastic experience because of this difference. Very friendly staff and uncrowded slopes (even though we went in the NZ winter school holiday). We'll definitely return."

Christine from AUSTRALIA - 05 Aug 2015
Snow Equipment, Snowboard and Ski Clothes
Wherever you ski or snowboard, our snow store has everything you need from leading brands such as Burton, Salomon, Volcom, K2 and many more. We've accumulated years of experience securely selling quality snow equipment to thousands of customers Worldwide. Our snow store offers free or low cost delivery, a 'Price Match Promise' and really simple returns. Start browsing our extensive range of Mens and Womens ski clothes or snow sports accessories.