Snow Forecast Mapswhere's the snow in the next 3 days?
Snow Forecast for 3100 ski resorts around the World, updated four times a day. Weather forecasts are provided for the top lift, bottom lift and mid-mountain elevations. Our detailed Snow Reports and live updates are submitted by local Ski Clubs, ski resort staff and our users. Interactive weather maps show the amount of predicted snowfall as well as the current snow conditions and weather observations. The snow maps also show where the best piste conditions, off-piste powder and forecast weather for skiing and snowboarding can be found.
This map shows the accumulated snow forecast for the next 3 days. Click the image to view the interactive snow forecast map, or see a worldwide overview of all our maps that cover ski resorts for the Rest of the World.
Accumulated snow forecast for the next 3 days.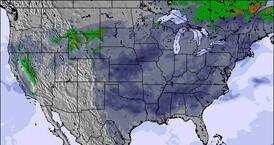 Click to view snow map
Country ski resort overviews
1 Jan 2009

16 Nov 2012
Latest Snow News
Nigel

snowing in Grimentz, and low visibility.

Great skiing on well groomed pistes. Another glorious day.

Icy in places, otherwise ok. Cloudy this morning, clearing later.

Simply Val d'Isere

Heavy snow falling again #valdisere
Latest worldwide snow report
UPDATED 8 FEBRUARY 2016 With half-term fast approaching things are looking very good in the Alps, with fresh snow falling at almost all of our featured resorts. The great news is that heavy snow has fallen in the southern Alps, with parts of Italy, southern France and southern Switzerland reporting as much as 45cm of new snow on Monday morning. This goes with the heavy snow recorded in the northern Alps at the end of last week, so there has been a marked improvement across the board since our last report on Thursday 4th February. Loads more snow is forecast, with 50-100cm likely almost anywhere by Wednesday, before further spells of heavy snow arrive on Thursday and Friday to potentially drop similar amounts. Expect some fantastic powder skiing but please keep an eye out on the latest.... (courtesy of the Skiclub of GB)
Current ski resort picks
Long range skiing weather forecasts for daily picks of our top 5 Resorts are FREE to non snow-forecast.com members! Find the deepest snow, the snowiest forecasts and the ski resorts reporting powder conditions to make the most of planning your winter sports holiday.
Fresh Snow Depth
Upper Snow Depth
Powder reported
New snow in next 3 days
Latest submitted reviews
Malga-Ciapela/Marmolada ski resort:
"Marmolda is the largest mountain in the Dolomites and the view from the top lift station (Punta Rocca) has got to be one of the most spectacular views in the Alps. The Dolomites span out beneath you and you can see the Austrian Alps in the distance.
There are, effectively, only two pistes in Malga Ciapela and each one is very long but, in my opinion, Malga Ciapela/Marmolada is not really about piste skiing. Sure, you have direct access to the dolomitisuperski lift pass which offer more piste skiing than any other lift pass in the world but Marmolada is about freeride! Off-piste skiing is as good as anywhere else in Europe. A wide, open, treeless mountain with umpteen possibilities of decent between the two massive outcrops of rock which have been named 11 and 12!?
Marmolda is a freeride paradise where every decent arrives at the lake which was filmed in the new version of the classic movie, the Italian Job.
I shouldn't really write such a glowing report about this wonderful and majestic mountain because up until now it's relatively unknown and few people ride the powder that often settles on the slopes of the queen of the Dolomites. Go and visit Chamonix or St Anton and leave untouched snow for me. Please!"

Ben Bland from UNITED KINGDOM - 08 Feb 2016
Argentiere ski resort:
"A very good ski area but really it's just too busy and expensive. Crowds are insane and if the weather isn't perfect many or all of the lifts can close for all or most of the day. Many of the runs are challenging and fun and some of the blacks can really hone your skills. However, the queuing for the cable car to the 3275 meter summit and skiing down from the 3175 top of the run is hugely irritating as you really need to pre-book a cable car number or queue for ages.

It's one of the best mountain areas to ski in Europe with about 2000 meters vertical drop but it's ruined by crowds and high prices. There are plenty of other glaciers over 3000 meters in other less well known places all over the Alps with nearly as good skiing but none of the downsides."

Lew from UNITED KINGDOM - 08 Feb 2016
Uludağ ski resort:
"Uludağ her sene olduğu gibi bu sene de harikaydı. Tabi Ulukardeşler Otel personeli, sahibi Ferruh Ulukardeşler, Aşcı Sedat ve Kemal ustalar,Cennetkaya lifti personeli ve sorumlusu İsmail beyi bu harikalığa katkıları için kutlarım."

Ünal Türk from TURKEY - 08 Feb 2016
Snow Equipment, Snowboard and Ski Clothes
Wherever you ski or snowboard, our snow store has everything you need from leading brands such as Burton, Salomon, Volcom, K2 and many more. We've accumulated years of experience securely selling quality snow equipment to thousands of customers Worldwide. Our snow store offers free or low cost delivery, a 'Price Match Promise' and really simple returns. Start browsing our extensive range of Mens and Womens ski clothes or snow sports accessories.