Snow Forecast Mapswhere's the snow in the next 3 days?
Snow Forecast for 3100 ski resorts around the World, updated four times a day. Weather forecasts are provided for the top lift, bottom lift and mid-mountain elevations. Our detailed Snow Reports and live updates are submitted by local Ski Clubs, ski resort staff and our users. Interactive weather maps show the amount of predicted snowfall as well as the current snow conditions and weather observations. The snow maps also show where the best piste conditions, off-piste powder and forecast weather for skiing and snowboarding can be found.
This map shows the accumulated snow forecast for the next 3 days. Click the image to view the interactive snow forecast map, or see a worldwide overview of all our maps that cover ski resorts for the Rest of the World.
Accumulated snow forecast for the next 3 days.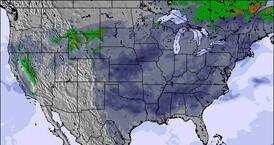 Click to view snow map
Country ski resort overviews
Latest Snow News
Gulmarg Cloud Ski -> Snowfall going right now in Gulmarg. A snow storm in forecast.

https://t.co/3s7rjcokNp

Di5 Adventures

Reasonable #snowfall overnight has closed the chair and phase 2 today due a heightened avalanche danger. #tothetrees #snowboard

Anonymous Report:

For Cypress Mountain: No wind today. Temperatures are around freezing. No fresh snow. Most lifts are open. The pistes are wet. The snow off-piste is heavy.

Furano Tourism

Bright but cloud cover today in Furano with deep snow (over the knee).
Latest worldwide snow report
UPDATED 8 FEBRUARY 2016 With half-term fast approaching things are looking very good in the Alps, with fresh snow falling at almost all of our featured resorts. The great news is that heavy snow has fallen in the southern Alps, with parts of Italy, southern France and southern Switzerland reporting as much as 45cm of new snow on Monday morning. This goes with the heavy snow recorded in the northern Alps at the end of last week, so there has been a marked improvement across the board since our last report on Thursday 4th February. Loads more snow is forecast, with 50-100cm likely almost anywhere by Wednesday, before further spells of heavy snow arrive on Thursday and Friday to potentially drop similar amounts. Expect some fantastic powder skiing but please keep an eye out on the latest.... (courtesy of the Skiclub of GB)
Current ski resort picks
Long range skiing weather forecasts for daily picks of our top 5 Resorts are FREE to non snow-forecast.com members! Find the deepest snow, the snowiest forecasts and the ski resorts reporting powder conditions to make the most of planning your winter sports holiday.
Fresh Snow Depth
Upper Snow Depth
Powder reported
New snow in next 3 days
Latest submitted reviews
Vasilitsa ski resort:
"We have just spent 5 days here in Vasilitsa. Myself, my wife and our 4 year old son and 2 year old daughter. Here are our scores:
Staff and resort personnel: 10/10
Conditions: 8/10
Infrastructure: 8/10
Ski school: 9/10
Ease of parking getting to and from the resort: 9/10
Cost: 9/10
Local villages and accommodation: 8/10

We stayed in the Pindos Palace Hotel, fantastic and great personal service. Great rooms, fantastic breakfast, super clean!
For two days we were completely alone on the mountain. We were the only people in the resort (due to road blockades and general political unrest) and the staff were fantastic! They ran the whole infrastructure of the resort, even though we were the only two paying customers (our children did not pay).
The snow coverage at the top of the resort was good, however, at the bottom, there was no snow. The staff assisted us in taking our children and our equipment to the higher part of the mountain where we spent the whole day with Vassilitsa our private playground. At the end of the day, the staff assisted once again in returning us all safely to the base. Every single staff member loves this mountain and seemed proud to assist us in any way they could. Considering they have no snow machines, the upper part of the mountain was in excellent condition with good snow and still some small off-piste possibilities. The lifts are quite quick, and over the weekend we were there, we never had to wait. The rental shop at the lower lift was excellent, and the lesson we booked for our son was of the highest order (thanks Michalis); we felt safe and confident in his abilities. For us to spend 5 days in Vasilitsa and ski for all 5 during a period of mediocre snow fall is amazing. On a previous trip to Austria we skied only 5 days out of 8. So we were very pleased. It is a beautiful mountain, with trees and amazing scenery. The surrounding villages in the Pindos Mountain range are good for exploring local tavernas and such. We can fully recommend this resort to all levels of skier or snowboarder, families or solo travellers. It might lack the big chalets and such of the other resorts, yet I believe, this is its charm.
One of the best locations for snow sports in Greece where you are in touch with the mountain."

Jason Roditis from GREECE - 10 Feb 2016
Mt Voras Kaimaktsalan ski resort:
"Am an experienced snowboarder, wife is an experienced skier. We are lucky to have skied all over the world with our favourite places: "Niseko", and the "Three valleys"
Living in Greece with our 4 year old son and 2 year old daughter means that we try to get out for short trips to our local resorts when the snow falls. Recently, we had just spent 4 days of great skiing in the excellent Vassilitsa resort. After seeing Mount Voras from the summit of Vassilitsa we decided to do a day trip with the kids. My wife had been to Kaimaksalan before, however, I had not. So we woke the kids at 6am, and after driving for almost 3 hrs we arrived at a very bare, windy place, that had limited snow cover and a thick fog. Ok, weather is unpredictable, so we thought to make the most of it and rented skis for our son. My wife left to explore the mountain first, leaving me with the kids in the beginners area.
This is where things started to go bad. A soon as I swiped my son's card and my own to walk over to the empty kids area, a man from the bottom of the drag lift walked over and bluntly told me I can not have my daughter in the beginners area. I had placed her on a small plastic sled so that I could have her next to me while watching my son practice the basics. I explained that I was alone and had no other option but to have her with me. He said he didn't care and that I had to remove the sled, ok. So I removed the sled and held her in my arms while watching/assisting my son. After about 15 minutes, the man walked back over to us, and asked me to leave. Shocked, I asked why? He said that I was not a skier and was not aloud to assist my son unless wearing skis! Incredibly rude and stupid. I explained that I was a snowboarder and that it would be dangerous and almost impossible for me to hold my 2 year old in my arms while strapped into my bindings, trying to assist my son.
Anyway, he chased us out of the (empty) kids area and sent us to an area on the other side of the fence which was basically rocks and ice with a large pile of stones at the bottom of the short run (dangerous and out of the question for children).
I packed up the kids and went to speak with the director of Kaimaksalan ski resort. His response was one of incredible indifference. He didn't show any interest or care about our treatment. He admitted that his staff had acted wrongly,but that was it. No action taken.
My wife returned from her first session then took our son into the beginners area where he finally started to have some fun. I walked over to the first lift (drag lift) where the same man came out and told me flat, that I could not go on the mountain. When I asked why he said I needed a leg strap for my board. I was just speechless with frustration. I walked back to the directors office and was told that since the government took over the running of the resort that many new rules were now in place.

I accept rules are rules. But rude staff and management who don't care about paying customers, together with a limited ski potential and often bad weather and worse visibility, means this resort is now the last place in Greece that I would recommend.

Avoid if possible."

Jason Roditis from GREECE - 10 Feb 2016
Read 42 more review(s) of Mt Voras Kaimaktsalan or submit your own
Bansko ski resort:
"So much fun. Booked through BanskoRentals.com and stayed in a great 2 bed apartment very close to the gondola and the night life, restaurants etc. We were well looked after by M&G ski hire and school. Great instructor who made our holiday. Can't recommend it enough and will definitely be going back. The burgers at Smokey Mountain were some of the best we've ever had. A must on every visit to Bansko."

James George from BULGARIA - 09 Feb 2016
Snow Equipment, Snowboard and Ski Clothes
Wherever you ski or snowboard, our snow store has everything you need from leading brands such as Burton, Salomon, Volcom, K2 and many more. We've accumulated years of experience securely selling quality snow equipment to thousands of customers Worldwide. Our snow store offers free or low cost delivery, a 'Price Match Promise' and really simple returns. Start browsing our extensive range of Mens and Womens ski clothes or snow sports accessories.