Snow Forecast Mapswhere's the snow in the next 3 days?
Snow Forecast for 3200 ski resorts around the World, updated four times a day. Weather forecasts are provided for the top lift, bottom lift and mid-mountain elevations. Our detailed Snow Reports and live updates are submitted by local Ski Clubs, ski resort staff and our users. Interactive weather maps show the amount of predicted snowfall as well as the current snow conditions and weather observations. The snow maps also show where the best piste conditions, off-piste powder and forecast weather for skiing and snowboarding can be found.
This map shows the accumulated snow forecast for the next 3 days. Click the image to view the interactive snow forecast map, or see a worldwide overview of all our maps that cover ski resorts for the Rest of the World.
Accumulated snow forecast for the next 3 days.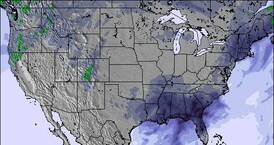 Click to view snow map
Country ski resort overviews
Latest Snow News
Weather radar observation:

Snowing lightly at Whiteface Mountain (Lake Placid).

Weather radar observation:

Snow falling heavily in Vassfjellet.

Weather radar observation:

There is heavy snow falling at Valea Bleznei.

Weather radar observation:

Snowing heavily in Toplita Ski.
Latest worldwide snow report
UPDATED 20 JANUARY 2022 Quite a settled week in much of the skiing world with little or no snowfall reported over the last seven days in much of Europe and much smaller snowfalls on the whole in North America than were seen over Christmas and into the start of the New Year. That said smaller falls in some areas have added up to several feet more snow, particularly up in Canada. Some of the heaviest falls have again been reported in Japan where several areas have now had well over six metres (20 feet) of snowfall so far this season and are reporting some of the world's deepest snow depths, it's a pity the country's borders remain closed. The pandemic and particularly the omicron surge continues to be a global concern but so far all resorts are staying open, only Kazakhstan reported its....
Current ski resort picks
Long range skiing weather forecasts for daily picks of our top 5 Resorts are FREE to non snow-forecast.com members! Find the deepest snow, the snowiest forecasts and the ski resorts reporting powder conditions to make the most of planning your winter sports holiday.
Fresh Snow Depth
Powder reported
New snow in next 3 days
Latest submitted reviews
Zermatt ski resort:
"I have read many glowing reports about Zermatt, focussing on the quality of the pistes, the scenery and the lift systems. Whilst I really enjoyed skiing here a couple of downsides are not mentioned. First, it takes a long time to access the pistes via bus and then lift system can take up to an hour. If you are an average intermediate then skiing back to resort is not an option so the runs are heavily limited. Secondly, in early season until end Jan the lifts close around 3.30 pm, which means a short day, making catching the last lift to the top a real necessity. I would recommend it with these caveats but go with open eyes so as not to be short changed."

Julian Davis from SWITZERLAND - 21 Jan 2022
Breuil-Cervinia Valtournenche ski resort:
"Cervinia is really a two tone resort. It has slopes that are good for beginners and low intermediates and the snow is good due to the altitude. However, the town is really a mess with a poor layout and architecture with no atmosphere. It's everything that classy Zermatt, on the other side of the mountain, isn't. The ski pass is poor value, the lift system not decently linked and I am afraid to say this but you really have to watch your pockets with the lift company, restaurant, ski hire shops etc. Yes, the Swiss are more expensive but scrupulously transparent and honest. I really recommend skiers to rather go to Zermatt and pay (slightly) more for sheer class, efficiency, and atmosphere."

martin from SOUTH AFRICA - 19 Jan 2022
Read 33 more review(s) of Breuil-Cervinia Valtournenche or submit your own
Zermatt ski resort:
"Never again skiing in Zermatt before Christmas!
While the Austrians open all their lifts in the morning, whether it is snowing, storming or foggy, the people of Zermatt first open a small part of their lifts. If you are lucky, one or two are added in the afternoon, if you are unlucky, none at all.
So it was with us in four days we were there from 09 to 12.12.2021.
With us on Zermatt side on all four days only 15 lifts of 54 were open.
Also, if it was windy at the pass to Italy, one could have opened more lifts and departures on Zermatter side in the lee, in order not to annoy the guests (e. g. the slopes from Riffelberg to Furi and from Riffelberg to the Riffelalp, etc.) And then the price you have to shell out for 4 days: 316 € for 15 open lifts in Zermatt.
For comparison in the same period 08 to 12 Dec: 189 € for 31 open lifts in Ischgl.
I was so far in the Kaunertal, Ischgl, Kappl, Galtür, Ötztal, Zillertal, Kitzbühl, Warth-Schröcken, Damüls and Oberstdorf to ski.
Everywhere they open all the lifts in the morning. If it is very windy, one or the other gondola is stopped briefly until the gust has subsided.
But Zermatt is quite different, they open only a few lifts in the morning and then wait to see how full the lifts are.
Such a thing is not possible in a place with such a reputation!
Besides, if they were honest, they would admit that the range of slopes is only from blue to light red, there is not a single challenge for good skiers.
Since the people of Zermatt are so uppity, they also have zero complaint management. I had complained twice to the CEO and the marketing manager, but there was no response at all.
So much for Zermatt, there the rich are more important than the rest of the people!"

AlexSki from UNITED STATES - 19 Jan 2022