Snow Forecast Mapswhere's the snow in the next 3 days?
Snow Forecast for 3200 ski resorts around the World, updated four times a day. Weather forecasts are provided for the top lift, bottom lift and mid-mountain elevations. Our detailed Snow Reports and live updates are submitted by local Ski Clubs, ski resort staff and our users. Interactive weather maps show the amount of predicted snowfall as well as the current snow conditions and weather observations. The snow maps also show where the best piste conditions, off-piste powder and forecast weather for skiing and snowboarding can be found.
This map shows the accumulated snow forecast for the next 3 days. Click the image to view the interactive snow forecast map, or see a worldwide overview of all our maps that cover ski resorts for the Rest of the World.
Accumulated snow forecast for the next 3 days.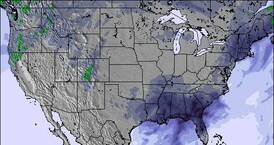 Click to view snow map
Country ski resort overviews
Latest Snow News
Light rain reported from Sussex at 535 feet 6 miles W of Hidden Valley Club but it is forecast cold enough for snow at the ski area

Rain and snow or hail reported from NavacerradaPass at 1888 metres elevation one km S of Puerto de Navacerrada but it is probably falling as rain at the bottom of the ski area

Moderate rain reported from Monticello Airport at 1404 feet 6 miles W of Holiday Mountain but it is forecast cold enough for snow at the ski area

Light rain reported from Avoca/Wilkes-Barre/Scranton International Airport at 955 feet only 3 miles SSW of Montage Mountain Resorts but it is forecast cold enough for snow at the ski area
Latest worldwide snow report
UPDATED 28 APRIL 2021 There is, overall, a feeling of optimism in Europe, even if it is rather ironic that it has arrived as the main ski season nears its end. Vaccination numbers are increasing and infection numbers decreasing in most countries now. After Slovenia and Slovakia allowed their slopes to re-open, the big alpine nations of France and Italy have been easing restrictions now too and Austria says tourism can resume from mid-May. The result of all that is increased confidence that glacier summer skiing will be back in France and Italy in about a month and in Austria more glacier areas plan to open now they have a hope of at least breaking even when they do so.....
Current ski resort picks
Long range skiing weather forecasts for daily picks of our top 5 Resorts are FREE to non snow-forecast.com members! Find the deepest snow, the snowiest forecasts and the ski resorts reporting powder conditions to make the most of planning your winter sports holiday.
Fresh Snow Depth
Upper snow depth
Powder reported
New snow in next 3 days
Latest submitted reviews
Copper Mountain ski resort:
"We just had our photo shoot at Copper for our new ski sweater line. We contacted a few of the resorts in the area, but Copper was by far the most accommodating. Their fees were reasonable and Mike Junius and the rest of the team were gracious hosts and recommended some nice areas to shoot. We can't wait to go back again. Blue bird skies, no wind and 5" of fresh snow certainly helped!"

Scott MacKenzie from UNITED STATES - 22 Apr 2021
Bettmeralp - Aletsch Arena ski resort:
"I just spent a day here. This is another Swiss secret. Firstly, as it is very high the snow is perfect. Secondly, its car free. Thirdly, it faces the sun and fourthly, the views are stupendous. Pistes are varied, great grooming and a car free village. Locals are very helpful and friendly. With COVID the restaurants were shut but they looked thoroughly inviting.

This is one of the best kept secrets in Switzerland. Go try it."

Walter from SWITZERLAND - 17 Apr 2021
Read 4 more review(s) of Bettmeralp - Aletsch Arena or submit your own
Cypress Mountain ski resort:
"Upper management needs to do better and doesn't listen to their customers or employees. They care only about the bottom line, and that profit doesn't ever return to Cypress. They only fixed the sinks in the washroom due to Covid rules demanding touchless faucets.

To start, Cypress is severely understaffed. This leads to 30-40mins wait times on each lift. They decided to close Raven chair because there is not enough staff this season.

They employ marketing tactics that confuse customers and increase profit. An example was the decision to remove the 48 hour snowfall count from the website. Thankfully, we still have snow-forecast.

The Main lodge is messy. Too small for the amount of people that go in. The prices of anything are ridiculous, but that is to be expected. Getting Covid because you decide to use the washroom or talk to guest services? Not acceptable.

They say there is a limit on the number of people, but it still leads to unbelievable large lines waiting for each lift. More people than the last festival I went to. I only got 3 runs the last time I went to Cypress, due to the lines. Ridiculous.

Now the good: Night riding. That's about it.

Cypress is no longer my main mountain, it just makes me sad."

Bruce from CANADA - 11 Apr 2021
Read 101 more review(s) of Cypress Mountain or submit your own