World Snow News 43
World Snow News Update for June 27 2008
Snow Forecast | Alps | New Zealand | Australia | N. America | S. America | Sign Up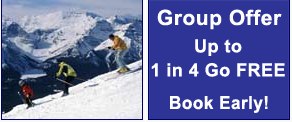 Welcome to the latest roundup of worldwide snow conditions and weather prospects for the week ahead from www.snow-forecast.com.

This week's editorial is sponsored by Iglu Ski who are offering a great 1 in 4 go free deal on ski holiday bookings. If you are intestsed in sponsoring one of our email newsletters or email alerts please let us know.
+++ CALL FOR HELP! We are looking for volunteers to help us translate snow-forecast.com into French, Italian and German in time for the next season... please contact us if you are able to help +++

If you've been watching the site recently you'll not have been at all surprised by the heavy snowfalls that have been hitting New Zealand for several days - our first warnings that a major change in the weather was coming were issued more than a week before the first snow fell. Despite this, South America remains the place to be.
Coronet Peak will celebrate the opening of a new base building following a $30m (NZ) upgrade and has re-opened today thanks to some natural snowfall and good snowmaking temperatures. 15 centmetres (six inches) of fresh snow has fallen at the top of Coronet Peak, eight centmetres at the base and that's just Mother Nature's contribution. Snowguns have been blasting constantly for the past 36 hours supplementing the natural falls to provide coverage across all main trails.
The latest proposal for a ski area in Bulgaria is for the city of Varna on the Black Sea coast at the East of the country. It will be directly across the sea for Sochi in Russia, host of the 2014 Winter Olympics. The mountains inland from the city form one end of the Balkans range, the local area of which is Stara Planina. The highest peak is Botev (2,376 m), which is located in the Central Balkan National Park (established 1991). The local Provadiya plateau is known for its natural beauty. This willl soon join the other 2300 resorts already on this Snow-Forecast.com!
Despite the fact that the Andorra had an overwhelmingly sunny ski season in 07/08, missing out on most of the heavy falls that hit the Alps, Grandvalira, the largest ski area in Andorra and in the Pyrenees, has reported a 12% growth in business last season compared to 2006-7. The ski area reported 1,512,000 skier days were taken and snowmaking efforts were critical in ensuring good snow conditions through the drier than usual season.
Prices at ski resorts in Chile have risen more than 25% due to Chilean Peso re-valuation versus the US dollar and as energy prices has risen 30% this year. For example, at El Colorado, we have been informed that USD 62 buys you a day pass today against the $38 to $46 of last season. Accommodation prices have not yet been raised by that much.
Summary:
New Zealand snow conditions have vastly improved
In Australia, light snowfalls have not made much difference


The Blue Cow ski area of Perisher Blue opened on June 25th, for the first time this season.
Further snowfalls early next week from a westerly front
Early signs that a low may bring a mid-week snowy easterly, especially to NSW resorts


Following heavy snowfall, South America still offers the best skiing

2008 season is looking even better than 2007
Favoured resorts have 3 or 4m bases on upper slope and 1.5m low down
A fairly quiet week for weather - just a little more fresh snow in the south
The Grande Motte glacier at Tignes is open with 5 pistes available. This includes 1 blue run, 2 reds and 2 blacks. Also in the Espace Killy the Pissaillas glacier at Val d'Isere will open for summer skiing this Saturday 28th June 2008. At Les Deux Alpes all of the summer green, blue and red runs are open. This means there are 13 skiable available with access provided on 20 open lifts. There are 7 lifts open at Zermatt as of Thursday providing access to 6 open pistes, including 2 blue runs and 4 red runs. Less settled here. Saas Fee is now closed for the winter season. They are hoping to open for the summer ski season on 5th July. In Italy, where fine and sunny weather should continue, The Grawand, Finail and Gletschersee pistes are open at Val Senales. Passo Tonale the Presena Glacier offers two red runs, Paradiso and Destra, along with the Sinistra black run. Cervinia is scheduled to stay open for summer snowsports until 5th July. It has been a cloudy wet week across Austria and this is set to continue until Saturday, apart from at Stubai where sunny weather will arrive on Friday. Stubai has reduced their open area to 2km on Thursday and wet conditions are to be found underfoot. Similar heavy conditions are also reported at Kaprun where just 5km of pistes are open. The best ski conditions are reported on the Molltal Glacier which has 9km of pistes open. Lower temperatures and an excellent piste depth have kept the snow firmer than at other resorts.
Violent thunderstorms accompanied by squally winds affected much of eastern Austria yesterday evening (Wednesday). Warm weather with further afternoon storms will continue across central Europe for a few days due to an upper atmosphere trough, clearing from the west. It is difficult to predict if any of the glacier ski areas will be affected by storms or whether they will see further warm and sunny weather - certainly the most stable weather should be furthest west and south in the French and Italian Alps but further downpours are possible in Austria for a few days.
Watch out for an unseasonably deep low pressure system developing as it quickly crosses the Atlantic from Newfoundland to the British Isles. Expect to see excellent surf conditions, especially along the Atlantic coasts of Portugal, Spain and France as well as favoured locations in Britain and Ireland where it is possible to escape the onshore wind (but not the rain). Much more information at out sister-site Surf-Forecast.com where you can find incredibly detailed surf and tidal information for surf spots all around the globe.
New Zealand has also seen severe thunderstorms over the past week as a series of powerful cold fronts have crossed the country from the SW.
Conditions at all ski resorts have vastly improved already and it is still snowing pretty much everywhere as we write this on Thursday night. Further widespread snow is forecast for Friday and into the weekend as a low pressure system tracks northward right along the East Coast. Winds are initially westerly but will tend southerly and southeasterly as the low drifts away. There is already over 1 metre of snow at Turoa and Whakapapa and just as soon as the weather clears this weekend there should be sufficient cover to open the upper mountain areas. This is a remarkable turnaround in just a few days thanks to the heaviest snowfalls in New Zealand. Upper slopes of Mount Taranaki and the Western ranges of Nelson and Buller have seen similar accumulations and since these areas will be the first to clear, a chance for ski touring on Sunday and Monday. A feature of the current weather pattern is that there has been plenty of variation in the direction of approaching fronts and showers - between due west and south so far, and soon southeast. This means that pretty much all slopes in New Zealand above 1000m (and almost to sea level in Otago and Southland) have either received moderate to heavy snow already, or will do very soon. If we had to name an exception it is the Remarkables where not much more than a dusting has been reported. Much of the snow has been accompanied by strong winds which has left a very uneven distribution. There are deep powder pockets of wind blown stuff to look for in the back , and if you are concerned about the possibility of avalanches always consult the excellent avalanche.net.nz. There is currently a warning of a high avalanche risk on Ruapehu. Our snow hindcasts offer a rough indicator of past conditions at locations where expert snow reports do not exist.
Mount Hutt snow conditions are currently described as great thanks to 25cm of new snow falling this week, bringing the total to 50cm, with more to come. At Coronet Peak, where the cover is back to its promising 40cm pre-season depth, conditions have really improved following this weeks snowfalls, and more snow is expected today. Nearby Cardrona has a similar cover and is planning to open for the winter season on 27th June 2008. A good amount of snow has fallen this week and further snowfalls are expected before the weekend.
Turoa (107cm) and Whakapapa (86cm) have been storm-bound and thus closed all week. Friday will again see blizzards with 100 km/h winds and snow down to the villages, but the winds are forecast to drop this weekend with the slowly weather clearing, more especially at Whakapapa. When the resorts reopen the riding will be superb and Monday looks especially promising. Take extra care on the roads.
As far as Chill pass holders are concerned, following a very early start to the season,
Mt Lyford
continues to off good skiing after 20cm of fresh snow on Wednesday. All of the other small fields on South Island, including the other 10 that are on the Chill pass, will open between July 3rd and July 12th. There is generally between 15cm and 30cm of cover at present at these smaller fields but expect several resorts to be reporting well over 50cm by Sunday as the present snowfalls continue.
Temple Basin
was closed last year and
Mount Olympus
barely opened but this year they plan to be open on the 5th and 6th of July respectively. They are both highly recommend.
Treble Cone
opens on June 30th,
Ohau
on July 3rd and we await an announcement from The
Remarkables
.
The weather should slowly clear from the west over the weekend but the departing low leaves cool air in its wake that will make for great conditions early next week. High pressure doesn't really take hold for any length of time and freezing levels generally stay below 2000m. A mild westerly at the bottom of the South at the start of the week will soon be replaced by a return to SW fronts mostly running up the east coast. It looks as if high pressure from the Tasman may eventually take charge one the weekend of July 5th.
The ski areas of Australia have barely been clipped by the mobile westerly airstream that has been so beneficial to New Zealand this week. There have been bits and pieces of fresh snow, heaviest in Tasmania, and it has been cold enough for snow-making at night. However, it has been windy too and total snow accumulations have barely reached 10cm anywhere. The La Nina pattern that held so much promise for a bumper ski season here has continued to decline. For the Snowy Mountains and the Alpine region of Victoria, as a deep low pressure passes south of Tasmania, strong westerly winds will gradually moderate tonight and any remaining snow showers will soon die away. A ridge of high pressure develops across the region to deliver a fine weekend. Northwest winds will freshen on Sunday ahead of the next cold front which will bring showers and snowfalls as it crosses the region early next week.
Just as two weeks ago, there are signs that pressure will again fall from the north around mid-week and if so a potentially moist easterly wind off the Tasman may develop. Again, places like Thredbo and Perisher Blue are most likely to benefit from any snowfall and a risk of rain rather than snow falling at all but the highest altitudes. However, as it stands, despite the provenance of the air, our model calls for moderate to heavy snow to just 1400m at Thredbo on Wednesday which would of course be very welcome.
The next cold front off the Southern Ocean is expected to arrive on Saturday 5th and as usual it will turn mild NW ahead of it.
The cloudy, wet weather on Thursday is set to clear with a bright sunny weekend forecast for the Blackcomb glacier at Whistler in Canada. The best skiing will be in the morning when the lifts open before the snow becomes heavy underfoot. Sunny weather continues at Timberline where there is still almost 3m of cover. The Magic Mile lift is open from 7am until 1.30pm while the Palmer lift runs from 7.30am until 1.30pm. The terrain park and half-pipe are open from 9am until 3pm.
South America continues to come out on top for the best place to ski right now. Apart from a small low in the Southern Andes early next week, the week ahead should be mostly fine, with freezing levels typically about 3000m to 3500m ahead of the next major weather system off the Pacific. Freezing levels falling briefly below 1000m in the localised snow at the start of the week. Weather fronts won't cross the coast of Chile until the weekend of the 5th.
La Parva reports the deepest snow base of the Three Valleys resorts and has excellent snow conditions following 35cm of new snow falling in the last week bringing the total on the upper slopes to three metres already. The skies have clouded over although some sun is forecast to break through as we head into the weekend. It should remain dry here all week, with temperatures a little higher. El Colorado has great riding conditions with over a metre of snow covering the 55 open pistes. A combination of sunny and cloudy spells is forecast over the weekend, with heavier clouds next week that could deliver further snowfalls. Although Valle Nevado with just 70cm reports the shallowest snow base of the Three Valleys resorts, the skiing is still great. Unfortunately the snowpark and half-pipe are still closed. Overcast skies on Thursday will thin out on Friday and some sun will shine through over the weekend. Portillo offers excellent riding after receiving more than 60cm of fresh snow over the last week. The weather is forecast to be a mixture of sunny and cloudy spells for most of the weekend. Termas de Chillan has an average snow depth of just 15cm but 7 pistes are open with access provided on 6 lifts. The weather over the weekend is expected to be a mixture of sun and cloud Chapa Verde is not yet open for their winter season. In Argentina, the upper slopes of Las Lenas have close to 4m of snow which is remarkable so early in the season. Fine, apart from light snow on Monday and Tuesday. Cerro Catedral and Chapelco are yet to open for the season and snow is expected to fall on Thursday at Cerro Catedral.
Best wishes,
The snow-forecast team
Please click here if you would like to unsubscribe from the newsletter