World Snow News 27
Welcome to the latest roundup of worldwide snow conditions, together with weather prospects for the week ahead from www.snow-forecast.com in association with Iglu Ski who are offering two-for-one lift passes if you book a holiday through the thousands available on their website.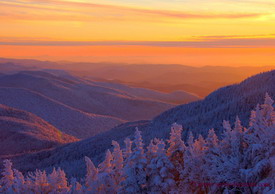 Summary:
Heavy snow forecast for Alps this weekend. Unsettled week to follow
Scotland sees snow – most resorts fully open – more snow expected
Record snow for Iran and other parts of the Middle East
Andorra and Sierra Nevada continue to under perform
Western North America and the Rockies see huge falls of snow
Record snow for Aspen
Record mild temperatures in eastern USA and Canada bring rain to resorts
Another major ski resort opens – in Russia this time
Our 2008 Calendar is now available featuring stunning images from around the world taken by our users. If you purchase a calendar from our online shop, you will automatically receive a 6 month bonus membership (or extension if already a member).
News:
Russian President Putin opened a new ski area at Krasnaya Polyana in Russia on January 2nd, less than two weeks after the new Revelstoke resort opened in British Columbia. The new ski area on Psekhako Ridge, 1,436 m up, initially operates with 18 trails totaling 14 km long and six lifts including a gondola A further seven lifts, 15 km more ski runs and a ski stadium are due to be added by 2011 in time for the 2014 Winter Olympics. We will add this resort to our site just as soon as we have coordinates.
Your editor is currently staying in an obscure little resort high in the Swiss Alps, and the rest of the snow-forecast crew are heading this way shortly so you can assume that we are expecting great conditions. Last weeks Alpine forecast went according to plan – I mentioned that falling pressure over Britain would result in westerly bands of weather pushing into the Alps more and more, and also that mild temperatures may be a problem low-down. That pretty much sums up what happened – though in addition the wind made a mess of the snow in some places. Much of Austria saw snow on Monday and in some places on Tuesday too while Wednesday saw widespread snow in the northern French Alps and nearby Valais – typically less than 10 cm fell but it improved things a lot. The prevailing pressure pattern over western Europe looks like it will stick around for a good while – a broad area of low pressure close to the UK sending Westerly winds towards the Alps with fronts and occasional secondary depressions embedded in this flow. The air headed towards the Alps this weekend has tracked across the Atlantic in a giant arc from Newfoundland through the Azores. As a result it has picked up a lot of moisture. We expect to see heavy snow on Friday/Saturday, with a brief fine spell on Sunday and Monday before a repeat on Tuesday. This Atlantic air isn't especially cold (luckily it is January). There could be some rain followed by a freeze, then snow, at lower resort elevations – not ideal. Heaviest snow looks like falling on more southern resorts for a change – places like Isola in the Maritime French Alps, the Italian Alps too, and also the resorts south of the Rhone in Valais, in Switzerland but nowhere should miss out entirely. Looking further ahead, there is a worry that a subtle shift in the position of the Azores high may source warmer air and raise freezing levels over 2000 m in about a weeks time – hopefully not because so far this season has been fairly kind to low-altitude resorts.
Unfortunately, the forecast was correct – the mid-week showers were mostly light in the Pyrenees. In Andorra, only Soldeu recorded a dusting on Wednesday. With just 40 cm of snow at the top station, things could be a lot better. Happily, the forecast for the next seven days is a bit better – Friday night, Monday night and Wednesday night should see a covering of fresh snow. As has been the pattern this winter, the further west you go, the better conditions are – for example, Formigal reports 1 m of snow on the upper slopes and the forecast is for about five times more snow to fall here than in Andorra over the next week – almost 50 cm in fact. The Sierra Nevada have not seen new snow since January 3rd and the week ahead does not hold a great deal of promise – mostly fine and just snow showers with light snow on Monday and an increasing NW wind on Wednesday. Central and NW Spain will again see more of the weather from these Atlantic systems – we expect three moderate snow events at Valdesqui, a respectable little resort very near Madrid. The threat of warmer air edging in after a week is rather higher for Iberia than it is for the Alps.
As expected, things in Scotland are much improved and only Glencoe remains to open – they have sufficient base so hopefully on Friday 11th they will open for the season. Other resorts are either fully open or near fully open. There have even been reports of great powder days! A very respectable 70 cm of snow has accumulated at the top station of Cairngorm and about half that at the car park makes for great top-to-bottom skiing. The week ahead looks variable – a good mix of fine and snowy days. Watch our for a brief mild spell on Sunday when it looks like it could rain all the way to the summits, especially in the west. Where that occurs, it may result in a frozen snow-pack on Monday. This could cause problems when the next snow falls (Tuesday night) because new snow will not bond well. Avalanches in Scotland are much more common than most people realize so take special care if the snowpack becomes unstable.
Last weeks forecast was partly correct and most resorts in Scandinavia saw a great deal of new snow, for example Sälen saw snow fall every day and Hemsedal saw 20 cm of snow fall on Wednesday night alone. However, some Swedish resorts like Åre missed out altogether and that was not expected. A fairly mixed week is forecast this time and much less threat of a damaging warm spell than in Scotland. In fact, becoming very cold in Scandinavia by mid-week. Most resorts should see moderate snowfalls especially Sunday night and Monday before dry easterly winds arrive.
High pressure building over Ukraine will dominate the weather over Eastern Europe for the next seven days – making for perfect cold and sunny conditions to enjoy the recent exceptional snowfalls. Bansko in Bulgaria has an impressive 2.2 m base on the upper slopes and saw a 5 cm covering just two days ago. We expect a similar modest snow event on Monday night and Tuesday to keep conditions fresh. A similar picture in the resorts of Greece and Southern Turkey too – mostly fine with a spell of snow early next week as a remnant of an Atlantic low drifts east through the Mediterranean.
Iran, Lebanon and Israel all have ski resorts and although Mount Hermon in Israel is far from snow-sure, resorts in Iran and Lebanon are quite large, high and snow-sure. The entire Middle Eastern region has been affected by unusually cold winds originating in central Asia, mixing with moist air off the Indian Ocean. All kinds of places have reported snow for the first time in decades. Iran has been especially badly hit. Presumably the skiing in the resorts north of Tehran is exceptional right now – assuming that road access is possible – more than 50 cm of snow fell across much of northern Iran where 20 people died as a result of the extreme conditions. Snow has even fallen in the deserts of Iraq, Syria and Lebanon – places where summer temperatures exceed 45C. High pressure over Ukraine will maintain a run of cold winds blowing from the Asian interior so we expect similar weather over the next few days, then slowly improving.
Whistler is typical of the coast resorts having too many snowy days and not enough fine ones! Sunday and Tuesday look like providing breaks in the near continuous snowfall. Many resorts have had snow every day for the last seven days and the next seven days look broadly similar – as usual, resorts in Alberta will tend to see more of the sun and less of the snow than more coastal ones.
High pressure is building from the Pacific and should bring a few settled days before a polar low heads south along the Canadian Rocky Mountain front on Tuesday delivering some very low temperatures to the American Rockies. Conditions in much of America are fantastic this week thanks to the amount of fresh snow that has recently fallen and it looks like there will be a perfect weather window to get stuck into all the fresh snow. Alta received 60 cm of snow on Tuesday and it is still snowing. Clouds there not lifting until Saturday, then fine weather until Tuesday night. Heavenly and Mammoth in California, Snowbasin in Utah and Timberline in Oregon all received between 30 and 45 cm on Tuesday and at Timerline, it looks like the snow will not stop until Saturday – expect at least another 50 cm to fall.
The first week of 2008 has proved one of the snowiest ever in Western North America with eight feet of powder from the latest Lake Tahoe snowstorm dumping on Heavenly Ski Resort in California.
According to Russ Pecoraro, Heavenly Ski Resort's director of communications, this weekend's snowstorm is the biggest one to hit Heavenly Ski Resort since 1995, sparking some to call it "The Storm of the Century."
In Colorado, Telluride and Steamboat are all reporting fresh snow that fell on Wednesday. Powder snow can be skied on and off the pistes after 30 to 40 cm of new snow blanketed the mountains. Snow showers through to Saturday, then dry but still bitterly cold.
The poor start to the season for snowfall back in November at Aspen/Snowmass has been forgotten as the resort reports that it has broken the all- time record for the most snowfall in the month of December. With 118 inches (300 centimeters) falling last month at the top of Snowmass – that's nearly 10 feet of snow – the 1983–1984 record of 117 inches has officially been broken. With an end of year storm dropping up to another six inches/15 cm of snow on Aspen/Snowmass slopes, the resort has received nearly triple the monthly average for snowfall.
"This year, we have snow in high quantity and quality. The density of the snowpack is perfect and allowed us to open virtually all 5,000 acres in time for the holidays," says Mike Kaplan, President and CEO, Aspen Skiing Company. "These are by far the best conditions I have experienced in my 15 years in Aspen/Snowmass."
The month started with a monster storm on December 1st and 2nd, followed closely by a repeat performance on December 7th and 8th. Those two storms dropped nearly five feet (150 cm) of snow, and it just kept coming. The epic snowfall has allowed for the opening of 100 percent of terrain, 5,285 acres across the four mountains – Snowmass, Aspen Mountain, Aspen Highlands and Buttermilk – served by 46 lifts.
The snowfall hasn't eased up much in January so far with the latest storm leaving up to 28 inches (72 centimeters) of snow at Aspen/Snowmass last weekend, The resort has now received more over five meters (nearly 510 centimeters) since the beginning of October.
"We haven't seen a winter like this in decades," said Rich Burkley, Vice President, Mountain Operations. "It seems that January is hot on the heels of December already. If this keeps up we'll be skiing into June."
We mentioned the possibility of 3000m+ freezing levels and that's what happened as record breaking warm air spread up through central and eastern states – thankfully it is moving offshore now and seasonal temperatures should return to the East Coast on Saturday morning. Missouri, Tennessee, and Kentucky were among several American states subject to Tornado warnings on Tuesday which was very unusual for the time of year. At the ski resorts, Tremblant lost 60 cm of snow to rainfall but it is already below freezing again. Much lower temperatures and fresh snow are on the way as the cold continental air digs in under the warm air on Friday. Many East Coast ski areas will benefit from a snowy transition, but the Canadian ones will see the most new snow. Becoming very cold next week.
The snow-forecast team