World Snow News 25
Welcome to the latest roundup of worldwide snow conditions, together with weather prospects for the week ahead from www.snow-forecast.com in association with Iglu Ski who are offering two-for-one lift passes if you book a holiday through the thousands available on their website.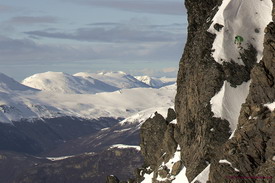 Our 2008 Calendar is now available featuring stunning images from around the world taken by our users. If you purchase a calendar from our online shop, you will automatically receive a 6 month bonus membership (or extension if already a member).
Summary:
NORTH AMERICA – severe wintry weather makes the news
Brief mild spell for East Coast resorts
Snow fell across much of Spain, including western Pyrenees
Sierra Nevada missed out again – snow is forecast
Blocking anticyclone will keep the Alps settled
Lebanon sees fresh snow, clearing to sun
Fresh snow at resorts in Greece and the Balkans
Atlantic winds to bring much needed snow to Scottish Highlands
After a two week dry spell, snow is forecast for Scandinavia
This is the last editorial before Christmas. In Europe, snow conditions are vastly better than last year but the forecast for the Alps continues in a mostly settled theme with only localised falls in the week ahead. There is still un-tracked snow to be found after bumper 1m+ falls of a week ago. For fresh European snow, look instead to Iberia, SE Europe, Scandinavia, Iceland and even Scotland. In North America the season started slowly but it continues to improve. After a week when snow made the news every day in the USA, Christmas Week looks relatively benign.
We often get asked about the prospects of a White Christmas in Britain. Weather models predict a ridge of high pressure building to the west of Europe late on Christmas Day as a deep low pressure passes Northern Scotland. A brief windy west to north-westerly with wintry showers look likely to affect the northern half of Britain, more especially on Boxing Day. If the timing is correct, any UK Christmas Day snow should be restricted to Scottish Highlands. In our experience, Atlantic weather patterns are prone to evolve a little faster than the model predicts, and with 5 still days to go, there is still a chance that the cold snap will arrive sooner. Even so, you would be much more likely to see hail showers rather than snow in southern England so the odds of snow falling in London are slim.
The Alps
A snow-bearing easterly that clipped the Maritime Alps of France and nearby areas of Northern Italy at the start of the week. Places like Auron and Isola-2000 had light snow both on Sunday and Monday. Likewise, excellent Gressoney-la-Trinite in northern Italy received 10–15 cm on Sunday. Better known resorts nearby missed out. The rest of the Alps and neighbouring ranges like the Vosges, Jura and Black Forest have seen a settled and sunny week, but cold enough to preserve the existing cover and generally excellent snow conditions. Parts of Italy do not have such deep bases as elsewhere in the Alps and could really do with a heavy fall. The next 7 offer a similar weather pattern – once again the southern French Alps and SW Italian Alps are most likely to see any new snow, this falling mainly on Sunday, if at all. Looking further ahead, high pressure looks like settling over the Bay of Biscay in a week. This would return us to the weather pattern that dominated November. If so, Austria looks most favoured to see the first really significant new snow in about 8 days time.
Pyrenees and Iberia
Last week I mentioned that the a low latitude Atlantic depression would bring snow where it met the cold air over Iberia. This arrived little earlier than predicted but the outcome was correct and snow covered about half of Spain and Portugal by Tuesday morning. It caused significant disruption too, bringing heavy snow to cities in eastern and central parts of the country, blocking the motorway between Madrid and Barcelona. With the notable exception of the Sierra Nevada and Andorra, most ski resorts benefited. In the Pyrenees, Spain's biggest resort, Formigal saw 10cm added to its 1m base. The next few days should again see snow falling in the more western Pyrenees with Andorra seeing cloud but little falling from it. More obscure ski resorts scattered through the mountainous interior saw enough new snow to open last week – places like Sierra de Béjar, south of Salamanca. It was still snowing lightly here on Thursday but this should clear for the weekend before another fall on Tuesday. Snow has just started to fall in the Sierra Nevada too. This must be very welcome because current reports of 20–40cm of old and hard snow are poor for the time of year Expect moderate snow over the next day or two with a heavy fall on Christmas day.
Scotland
Scottish skiing has again been limited to old snow in the Ptarmigan bowl at Cairngorm. Last week did turn generally much colder as expected, but occasional brief incursions of mild air at altitude created dramatic temperature inversions and midnight Monday night was +4°C at the summit of Cairngorm and -5°C at nearby Aviemore. Freeze-thaw conditions could not have been good for the snow cover. As milder westerly air arrives this weekend, expect some light snow over Scottish hills before temperatures rise again. As mentioned above, there is a very good prospect of heavy snowfall across Scottish mountains on Christmas Day and into Boxing Day with summit temperates down to -6°C by then and feeling much colder with severe gales. A brief ridge of high pressure should provide a weather window before milder Atlantic air returns again later in the week, no doubt preceded by more snow.
Scandinavia
After another week of high pressure snow cover in Scandinavian resorts is getting rather old now but at least low temperatures have preserved the snow that fell a few weeks ago. Hemsedal has almost 1m of snow and other resorts have about 60cm. The anticyclone that has dominated the weather for two weeks is already moving away towards the south and east and this will allow moisture-bearing Atlantic winds to spread south. Freezing levels will be as high as 2000m at first in the far south, which is well above the tops, but a temperature inversion means that it well below freezing in the valleys. In such conditions, with freezing air sandwiching a warm layer, the forecast is very dependent on altitude. As with Scotland, it all becomes more straightforward and generally snowy by about Boxing Day as an Atlantic storm arrives.
Eastern Europe
There is much,much more to skiing in eastern Europe than Bulgaria, but since that's where most people go, it's a good place to begin. After heavy snowfalls a couple of weeks ago, things are in great shape – typically 1m of snow in the resorts, 1–2m higher up. There has been no new snow for a while so off-piste, things are variable whereas the pistes are perfect. Light winds, variable cloud cover, dry days and low temperatures sum up the week ahead. Quite settled in Greece and the Balkans over the weekend too – the nearest snowfall is in northern Turkey, the Caucuses and Lebanon. Next week should see snowfalls around Greece and the Balkans starting on Christmas Eve. Poiana Brasov in Romania saw 5cm of snow on the 17th, and there is 40–70cm cover on the slopes. Thursday was quite windy but the next seven days look better with lighter winds but no new snow. Lebanon saw some great skiing conditions last week. It is snowing at Faraya at present but it should clear by Saturday morning and the following week should be perfect with clear skies and slowly rising temperatures.
Canadian Rockies and West Coast
There was a lot of snow last week and we expect more next week, (and the week after). At Whister, they have just had a very welcome couple of days without snowfall. Friday and Monday also look fine, but in general it's a snowy picture right through the Christmas period as successive Pacific storms roll through. 2m snow depths are now typical of the coastal BC resorts – even Grouse Mountain in Vancouver has 1.8m. As usual in this La Nina weather pattern, places like Banff tend to do better for sunny days.
American Rockies
It's turned distinctly mild on Thursday across Colorado and New Mexico; a balmy 16°C (61°F) in Pueblo and 10°C (50°F) in Denver and 22°C (72°F) in Roswell, Texas – quite a contrast with a few days ago. As low pressure moves away east and deepens, Winter will soon return – in fact, it's already snowing at several nearby Rockies resorts and the next few days look generally snowy with falling temperatures. Jackson Hole in Wyoming saw this snow yesterday, with 10 cm of fresh snow falling. Snow depths in the Colorado Rockies are still generally below the metre mark despite the recent snowfalls but things should improve a little as we approach Christmas. It's already better than that at Alta in Utah where they have 120cm of snow following a 29cm snow fall on Tuesday.
California
A father and his three children went missing in the mountains of northern California this week. The four got caught by a severe snowstorm after they had set off to look for a Christmas tree in a forest about 100 miles north of Sacramento. The storm dropped over 30cm of snow and the four were rescued after three days, just before a second storm hit mid-week. That system is currently bringing more snow to Tahoe and the surrounding area. A fairly unsettled and often breezy weather pattern should persist through the next week, but not sufficient new snow to change the fact that snow depths are still below average for the time of year. Remaining settled for resorts in the south of the State.
Appalachians
The low that tracked NE from the Gulf of Mexico brought some very nasty weather to the region, though luckily the big cities narrowly missed the worst of it. Friday saw 5 to 25 cm (6 to 10 inches) of snow in Pennsylvania and Massachusetts. On Saturday, Missouri was hit by the snow and freezing rain; thousands of people there still remained without power after a storm earlier in the week. Kansas saw more than 12 inches (30.5cm) and similar totals were recorded from around New England on Sunday. Killington saw 30cm of fresh snow from this system. Like much of the region, Killington will suffer a brief blast of warm, wet, southerly winds this weekend caused by a deepening low over the Great Lakes. High freezing levels and strong winds are never welcome but at least they should be mercifully brief – a return to cold and snowy conditions on Sunday night, clearing on Christmas day. Tremblant may be just about far enough north for the mild air to stay at or about freezing, in which case wet snow rather than rain should fall.
Best wishes
The snow-forecast team