World Snow News 37
World Snow News Update for March 21 2008
Welcome to the latest roundup of worldwide snow conditions, together with weather prospects for the week ahead from www.snow-forecast.com in association with Iglu Ski who are offering our readers Easter half price chalets on their website. For extra details about current snow conditions, see the latest summary of conditions from Skiclub, updated twice each week.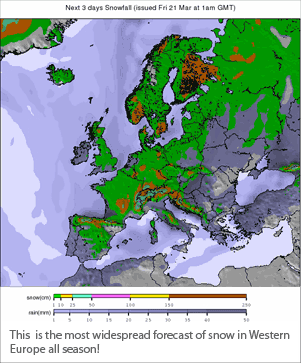 Europe snow map for the 3 days ahead" style="float: left; margin: 0 10px 10px 0;"/> The main subject last week was the prospect for high pressure to build south from Greenland into the North Atlantic, bringing a return of winter conditions to western and central Europe in time for Easter. This weather pattern has developed much as expected and cold northerlies will persist throughout the next week and possibly longer – great news for late season prospects in the Alps. Most ski areas will benefit from much lower temperatures and new snow, including lower altitude resorts in places like The Vosges, Jura, Black Forest and Massif Central.

Once again we have the prospect of heavy snowfall in the Midwest of the USA, an area where hardly a day has gone by without snowfall causing disruption, often because roofs have collapsed under the weight of snow. Adjacent areas of Canada have seen record snowfalls too, and the closure of many schools in Ottawa and Quebec last week, for fear of roofs collapsing is a typical example of the kind of disruption caused by this record breaking winter. Southwestern Minnesota will be hit by heavy snow today. Thankfully, snow is forecast at most ski areas too, including Northern California, an area that has tended to see mainly warm conditions of late.
Summary:
Many Alpine resorts saw light to moderate snow over the last week.

There will soon be a dramatic return to winter conditions with snow to 500 m right across Western Europe.



The Pyrenees received fresh snow last week together with colder temperatures.

More snow this weekend, especially to the west of Andorra. Remaining cold.



Scotland has great snow conditions, but the strong wind is a problem.

More snow over the next several days, and northerly gales abating.



Most ski areas in North America have fresh snow.


Another snowy week ahead.

East Coast ski areas to see a return to cold conditions.

Spring snow in the Colorado Rockies and California.



It was snowy again in Scandinavia last week.


Staying cold. Several more snowy days, but sunny from Wednesday.

Last week we promised that by Easter even the lowest Alpine resorts would see the return to winter snow conditions. We are in no doubt that this will prove correct because the transition is already well underway. Saturday in the Alps is looking especially cold, in marked contrast to a week earlier when Foehn winds on Friday caused temperatures to nudge 20°C in some Swiss valleys like the Rhone. That warm day was followed by widespread snow to about 1500 m on Monday night with exceptionally good mid-week conditions at higher resorts. The transition to colder air has already brought light to moderate snowfalls to many lower resorts, especially in Germany and Austria. This is good news for any skiers and snowboarders who have planned an Easter weekend or later trip, especially anyone who has booked a trip to low elevation resort.
Below about 1600 m, relentless February sunshine stripped away most of the snow and surviving resort runs had to be artificially maintained – narrow strips of increasingly muddy snow surrounded by green meadows. This weekend snow should fall right to the valley bottoms and although it warms up a little from Tuesday, it should still be cold enough for further heavy snow in all but the lowest Alpine resorts. The more southern French and Italian Alps will see a lot less snow than in the north and east. It is also worth stressing that heavy snow and strong winds is already affecting ski resorts and low ground in Germany and the Czech Republic. Prepare for winter driving conditions and expect delays because more of the same weather is expected as we head into the busy holiday weekend, but great snow conditions when you get there.
Resorts in Andorra have at least seen some fresh snow last week. This weekend promises more but once again the best of the new snow will be at resorts further west, right as far as the Cantabrian Mountains. All resorts in these areas will remain very cold for the time of year.
Scandinavia has had another snowy week with most resorts reporting at least a light covering of fresh snow. Oppdal is the resort to head to this weekend with powder to be enjoyed both on and off the pistes following 20 cm of new snow on Tuesday. It stays snowy in Norway and Sweden until mid-week when it will become sunny. Staying very cold throughout.
The last few days have delivered plenty of fresh snow across the resorts of Scotland but it has been too windy at times for lifts to operate. The good news is that the cold and snowy weather will continue but the wind should moderate. Just a chance of a brief return of mild Atlantic winds on Friday but the long range forecast is for it to stay cooler than normal for several weeks which will make for an excellent end to the Scottish season, hopefully with skiing until May. Snowfall in the cold northerlies will not be limited to the Scottish Highlands – the high ground of England and Wales will also see a good snow cover and this may even extend to low elevations at times, especially along the North Sea coast. This cold and often frosty weather will come as something of a surprise following several months when average temperatures were at least two degrees above normal.
The forecast issued last week was about right. All resorts have seen fresh snow but they are about to suffer from a warm weekend thaw. The better news is that cold and snowy weather returns on Monday and will last for about five days before the next threat of mild weather.
There have been some very heavy snowfalls in the Canadian West – typically 0.5 m to 1 m of powder fell last week at the more northerly resorts in BC. Expect more of the same for the next nine days: cold, unsettled and snowy. With reported snow bases of up to 6 m, snow cover will last for several months. Fernie, in British Columbia, has had a great week with 80 cm of new snow providing powder riding on a 3.5 m base. The forecast for the weekend is for predominantly cloudy skies and light snowfalls.
The Lake Tahoe area has seen several warm spells lately and snow conditions are quite heavy on some trails. Staying mild this weekend, then much, much colder with heavy snow on Tuesday and Wednesday. As expected, it warmed up enough for some Colorado resorts like Durango to experience the first spring snow conditions of the season – staying mostly sunny with mild days here and at resorts in New Mexico. Further north, other Colorado resorts like Vail should see lower temperatures and light snowfalls until Sunday when four fine days will be followed by heavy snow on Wednesday night and a much milder end to the week. Vail Resorts, is offering the new Epic Season Pass for next winter. The new unlimited, unrestricted season pass is valid for the entire 2008–2009 ski and snowboard season at their company's five resorts of Vail, Beaver Creek, Breckenridge, Keystone and Heavenly for an initial price of only $579. This compares to a window-ticket price in excess of $550 for a six day ticket bought in resort this season.
Further north, 35 cm of snow fell on Wednesday at Jackson Hole in Wyoming leaving fluffy and light powder on a 3 m base. In Montana, Big Sky saw 20 cm of fresh snow on Tuesday. Both Wyoming and Montana can look forward to more snow followed by fine weather conditions this weekend and further cold and snowy weather returning next week, especially at Jackson Hole. Quite strong winds at times in both Montana and Wyoming
A severe storm system has been affecting parts of the Midwest United States bringing flooding and gales. As the storm system moves away from the Eastern Seaboard, very cold continental air is digging in behind, replacing the rain with gales and snow. This will be a mixed blessing for ski resorts across New England and near the borders of Canada because some slopes will be swept bare while others, to the lee of the wind, will get dumped on. An unsettled and often windy week ahead in the Appalachians and slightly less cold from Tuesday but not warm enough to threaten a serious thaw.
The snow-forecast team