World Snow News 28
Welcome to the latest roundup of worldwide snow conditions, together with weather prospects for the week ahead from www.snow-forecast.com.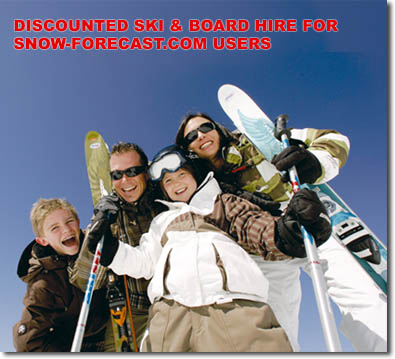 Summary:
Alps ski areas in good shape after a snowy week –

much more settled weather on the way



Much improved in Pyrenees following recent snowfalls

settled weather next week, mild at first



Conditions improving again in Scotland for a while
Scandinavia the pick of Europe next week


Generally excellent conditions across all North American resorts


Get 25% discount minimum on the on spot prices + 7th day Free + Free Handling Charges. With more than 600 shops across 300 ski resorts, Skiset offers top quality equipment from all the best ski and snowboard brands, and you can choose equipment to suit your skiing or boarding level. Ski holidays sometimes seem too short, so don't waste time while you're in resort – rent your skis online now and make the most of the great deal exclusively for snow-forecast.com members. Click here to book.
News:
Kazakhstan's leading resort of Chimbulak is to be developed to international destination resort standards ahead of the country hosting the Asian Winter Games in 2011. According to an ARUP report, one of the biggest challenges for the developers are that the Tien Shen Mountains, where the Chimbulak and Medeu Resorts will be constructed, are one of the highest seismic rates areas in the world.
A new six-seater chair has opened at the Norwegian Olympic ski centre of Kvitfjell.
56 male and female skiers and snowboarders are soon will take part in the Freeride World Tour on the near Mammoth Mountain, California, next Wednesday, 23rd January.
The Alps have enjoyed a great week with regular snowfalls with good fine spells too. As expected, some of the heaviest snowfalls have been in the southern French alps and Italy – exactly the areas that needed new snow most. Nowhere missed out entirely, especially from the first weather band on Saturday which blanketed the entire area – falls of 50 cm or more in France, Switzerland and Italy. Subsequent weather bands have been much more fragmented with considerable variation in snowfall over relatively short distances – once such fragmented band is moving across the region on Thursday night and there will again be fresh tracks at a lucky minority of resorts on Friday morning. The heaviest snow from this particular band is falling further north, on the Vosges, Black forest, Jura and Bernese Alps.
There have been widespread reports of powder this week, but as usual, we urge some caution because these days pretty much any fresh snow seems to get branded powder, regardless of its moisture content. Most of the Alpine snow of the last week would certainly not make the grade if it fell on Utah, but by European standards, it was fairly fluffy. Even so, the high initial moisture content and subsequent low temperatures and strong winds have resulted in wind-slab conditions off-piste in many areas, especially high up. There is still a lot of untracked snow about, but it's much harder to find than it was early in the week. To some extent, the unstable snow-pack of early week has now consolidated (frozen!), but there remains a considerable avalanche risk, especially where high winds have redistributed snow onto leeward slopes. We expect to see another few days of scattered modest snowfalls from the present westerlies (and mild enough for rain at lower altitudes in France) before high pressure builds from the west to give a mainly settled week. High free-air freezing levels and marked temperature inversions at first – then becoming steadily colder at all elevations. There is a small chance that a cold NE blast will bring light snow, primarily to eastern and northern parts on Tuesday.
Things have improved a lot in Andorra, both in terms of snow depth and snow quality following the first snowy week of the ski season there. Tuesday and Wednesday were snowiest and about 25 cm of snow fell at most ski areas. There should be more snow on Thursday night before dry and sunny weather arrives. Unfortunately, as we mentioned a weeks ago, the dry weather will initially be accompanied by high temperatures – we expect the snow to soften across all resorts and then to become quite hard as temperatures fall again next week. In the Sierra Nevada, once again there is fast skiing on hard pistes – it hasn't snowed since Jan 3rd and like the rest of Iberia, prospects are disappointingly settled so we don't expect much to change this week.
The continued wintry weather across the Scottish resorts has further improved the already excellent conditions. More snow fell on Wednesday night at Cairngorm and this has improved the piste conditions in most areas with all runs complete. The lower slopes are hard and icy but the new snow is covering this up and drifting is expected with a combination of windy and snowy weather. At Glencoe, most runs have complete snow cover. Glenshee has fresh drifted snow on a hard packed base on-piste with icy cover in places. All of the main pistes are complete at The Lecht with a good cover of groomed fresh snow. From Thursday they are advising visitors to go directly to main office counter 3 on the middle floor, to help speed up the distribution of reserved equipment. At Nevis Range, the lifts are closed on Thursday morning but this will be reviewed around midday. The snowpack is hard with some icy patches. The slopes above the mid-mountain area are have cover from top to bottom but can be narrow in places. Some of the lower runs still have thin snow cover and there are some bare patches. A snowy weekend in prospect, but severe gales on Friday and much milder from Tuesday.
Very good conditions right now and staying that way next week. Southern Sweden and Norway should see the heaviest snowfalls in Europe over the next few days and there will be further top-ups after that. Friday night should be especially snowy, although that particular dump will be accompanied by fairly high freezing levels (1000 m) so there may well be some rain at resort level in southern places like Voss. It soon turns much colder with further snow over the weekend falling to near sea level.
High pressure over Ukraine dominated the weather over Eastern Europe much as expected with just light coverings of snow to refresh the slopes at places like Bansko in Bulgaria. That system will soon slip away eastwards. Low pressure around the Baltic states on Tuesday will ensure that temperatures fall and also brings the promise of modest fresh snowfalls, more especially to resorts further north such as the Ukrainian resorts in the Carpathians.
Staying bitterly cold across the mountains of Iran with further snow showers. Although we lack any confirmation, looking back through our archive of forecasts (soon to be available to members!), conditions there must be exceptionally good and the same goes for the Caucuses. Another dry, sunny and cold week in prospect for Lebanese and Israeli resorts and for Greece and Turkey too. Resorts in Greece should see at least some light snow showers at times before turning distinctly spring-like on Monday and Tuesday.
Before the season even began, we reported that the La Nina pattern would be very favorable for the west of Canada. Less than half-way through the month, Whistler Blackcomb has announced it has already surpassed its average snowfall for January, having also posted above average snowfall during November and December. Whistler currently has 2.5 m of snow including 13 cm of fresh snow. Apart from light snow on Friday that dies out on Saturday, it makes a welcome change to forecast that there should then be several cold and sunny days in which to enjoy the conditions. It is even possible that once high pressure arrives, just as in western Europe, it could quickly outstay its welcome. Elsewhere in British Columbia and Alberta, conditions also continue to be excellent. There has been snow falling throughout the week continually topping up the trails. Banff/Lake Louise and Sunshine have had light dustings falling throughout the season over night. This was topped up on Monday with 15 cm of new snow. The trails are in excellent condition and pockets of fresh powder can be found off-piste. Excellent snow can also be enjoyed at Fernie after 27cm of snow on Monday. The backcountry has become tracked but more snow is forecast for late on Thursday and right through the weekend.
The main weather feature is a broad region of low pressure forecast to develop in a band between Southern California and Colorado.
Conditions over the American Rockies and California/Nevada are already excellent – there have been regular 20 cm falls each day at many resorts. The prospect of widespread snowfalls from Monday through Wednesday as pressure falls again means that it will stay that way. The downside is that it will be a very cold and mostly cloudy week, especially in Colorado where it stays grey; clearing further west. Once the wind drops, expect some great skiing and riding at Oregon resorts too – with 3.5 m of snow, Timberline presently boasts the greatest snow-depth of anywhere we have reports for.
There has not been a great deal of snow at the Canadian East coast resorts since the last editorial – just a dusting at Tremblant. More snow is on the way for resorts in Quebec on Friday and Saturday – then settled but bitterly cold, especially so because of a steady breeze. Further south, in Vermont, Stowe has 12 cm of fresh snow and this area is looking often snowy and always cold for the week ahead – the recent outbreak of springlike conditions was thankfully just a blip in an otherwise excellent East Coast season. That's very good news for an area that struggled almost as much as the Alps did last season. So far this season, skier visits to New England resorts are up 40% compared with last season.
The snow-forecast team