---
Issued: 1st May 2019
By Patrick "Snowhunter" Thorne
Our latest roundup of snow conditions around the world. Each section that follows below goes into detail country by country. Clicking the map thumbnail will take you to our dynamic snow forecast map for the latest detail (where you can also overlay live weather & reported conditions). Weather outlooks for Europe and North America can be found at the end of this roundup.
INTRODUCTION:

---
---
With 'May-time' upon us we are reaching the very end of the northern hemisphere's 2018-19 ski season. There are only around 50 ski areas open in to the start of May: a mixture of high altitude and glacier ski centres, along with those at far northerly latitudes and even a few that are famed for making so much snow with machines they can stay open to late May or even June.
The good news for those open into May, this year, is that most have had fresh snowfall to end April; as much as 45cm in the last three days of the month in the Colorado Rockies and as much as 65cm up on glacier slopes in the central and eastern Alps.
So the deepest base in the Alps so far this season has just been reported by Engelberg, in Switzerland, where there's still four weeks of the season left. It has now reported a 7.8metre (25 foot) base up on its Titlis glacier.
After the coming weekend most ski areas in the Dolomites, Pyrenees and eastern Europe will be closed leaving a few dozen in the Alps and Scandinavia open later into spring.
The arrival of May is also an exciting time south of the equator. At the very least it means the 2019 ski season in Australia, New Zealand, southern Africa and South America can be said to be starting next month. However, it's not unusual for an early heavy snowfall to create the opportunity for southern hemisphere resorts to open in late May. There's been snow in the past few days in New Zealand so the Kiwis are getting exited.
---
INDEX:
Austria / France / Switzerland / Italy / Andorra / Norway/Sweden / Germany / Bulgaria / Scotland / Japan / USA / Canada / Europe / North America

---
We're down to the last half dozen or so ski areas open in Austria, with a number including Ischgl (0/140cm) and Kitzbuhel (10/110cm) calling it a day on Wednesday, May 1st . Meanwhile, the Pitztal (90/565cm) and Solden (144/467cm) glaciers will close after skiing on Sunday leaving only a handful of Austrian areas continuing later in to spring. But it has been snowing hard with the Stubai glacier (30/600cm) reporting 50cm of fresh snow over the weekend, taking its base depth up to the 6 metre mark; the deepest an Austrian resort has reached since the big snowstorms of January. There were similar falls reported on other glaciers and Stubai was closed due to bad weather on Saturday. A number of glacier areas will be open next week with several open through the spring, in fact, and the Hintertux (50/490cm) will stay open all year round. Next week sees the popular annual ski and golf competition on the Kitzsteinhorn (125/395cm).
---
---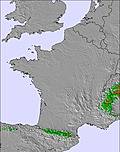 It's the last few days of the 2018-19 ski season in France with four areas: Chamonix (0/230cm), Val Thorens (170/220cm), Tignes (40/190cm) and Val d'Isère (36/185cm) open to the start of May. However, all will close by the end of the weekend. It has been fairly snowy here as well with up to 13cm (5 inches) of fresh snow reported over the weekend (at Tignes) but at least some fresh snow almost everywhere on higher slopes. Unlike in the other three major Alpine ski nations, there's no ski area open in France through the latter half of May. However, Val d'Isère, Les Deux Alpes and Tignes re-open for glacier skiing in June.
---

The reported upper slope base depth at Engelberg (0/780cm), open to the end of May, has leapt back up after snowfall there over the past week. The resort is now claiming the deepest base in Europe again after being pipped by the Folgefonn glacier, in Norway, when that re-opened with an 8m base (which has subsequently dipped a bit), earlier this month. About 25% of Engelberg's slopes are open as we enter May, mostly upon the Titlis glacier. Glacier 3000 (40/318cm), near Gstaad and Les Diablerets, is one of several Swiss resorts due to end their season after skiing on Sunday (others include Andermatt 0/600cm and the Diavolezza glacier 66/180cm near Moritz). It has reported the biggest snowfall in the country since the weekend with 20cm of fresh snow. Murren will re-open for the coming weekend to telemarkers only with a special weekend celebration. It is not currently reporting its snow depth but says temps are -5C up top so conditions should be good.
---

It's the final week of the season for quite a few of the ski areas still open in Italy too, with most of those still open closing on Wednesday, May 1st or Sunday, May 5th. There has been fresh snow in the past few days here too with resorts in the Dolomites reporting 10-20cm of fresh snow on high slopes since the weekend, and there have been similar falls in the Italian Alps. The Presena Glacier (50/450cm) should stay open the longest, through to the third weekend of May, and it has the country's deepest base at 4.5 metres (15 feet) with 10cm of fresh snow. When it closes at the end of May, Passo Stelvio will open for its spring to autumn season. It's worth mentioning that the Monterosa region (90/280cm) is due to be open this weekend and will be targeting freeriders who can enjoy the 60cm of fresh snow which fell there last week.
---
After a fairly snowy end to the season which saw just 100 or so skiers enjoying a foot of fresh powder at Andorra's Arcalis ski area in the final days of its season, all of the principality's ski areas have now closed for the 18-19 season, as have all but one of the ski areas in the wider Pyrenees. Only Spain's Masella (20/100cm is still open through to Sunday. Sierra Nevada (100/300cm), down in the south of Spain, is also still operating until this weekend with more than half of its 120 ski trails still open and is the most unlikely May ski destination in Europe. Portugal's Serra de Estrella ski area (20/60cm) also has nine runs open and reports great conditions after heavy late-April snow.
---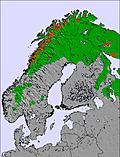 Even though temperatures are generally cooler and the days are longer in Scandinavia than elsewhere in Europe at this time of year, the snow is still thawing. Here too many areas will be ending their seasons this weekend, or sooner. Are (25/25cm), in Sweden and the region's largest, is due to close at the end of the day on May 1st. Another Swedish area, Riksgransen (255/255cm), is aiming to stay open nearly two months to midsummer but its base has already thawed by about a third in the past two months. It had 4m when it opened at the start of March, so fingers crossed it makes it this year (it didn't in 2018). Skiing and boarding under the midnight sun are due to resume there in May. Elsewhere in Scandinavia, Norway's second summer ski area opening of the season is due to happen a week on Friday with Galdhøpiggen Sommerskisenter due to open on the 9th May. Folgefonn and most of Finland's main ski areas remain open, albeit with thin cover now. Ruka (20/20cm), open for over 7 months now since early October last year and formerly open into June each season, is set to close this Sunday.
---

Germany's ski season finishes on Wednesday, May 1st, with the two ski areas still open there set to end their seasons at the close of the ski day. It's been a fairly good winter across the country since the big snowfalls of early January and it is ending well with the country's highest ski area, the Zugspitze glacier (0/460cm), reporting the biggest snowfalls of the final week of April: 70cm in the final three days of the month. 20-25cm of this snow fell in each of the final three 24 hour periods of the month. The other area still open, Oberstdorf (0/160cm), also reported fresh snow; a total of 20cm fell here.
---
---
Bulgaria's season ended before Easter but there are still some open ski areas on the Eastern side of Europe – at least until this Sunday, May 5th. The coming weekend is due to be the final one for still open Kanin and Vogel,in Slovenia, as well as Zakopane (2/110cm)in Poland. Zakopane appears to be in the best shape of the three with 10cm (4 inches) of snow reported in the past few days.
---

The 2018-19 ski season has ended in Scotland after more warm weather decimated most of the remaining snow cover before Easter. Three of the five highland ski centres do have Technoalpin Snow Factory all-weather snow-making systems so could presumably still make small snow areas if they wished but it may well be that the demand is not there at this time of year to make that viable. There's no word as yet either if there's any plan to use them for spring or summer snow park type events as has happened in past years.
---

Next weekend is the last of the season for most ski areas that are still operating in Japan. There has been little if any fresh snow across the country. Niseko (0/200cm), where the Annupuri and Grand Hirafu sectors are still operating, reported 1cm of snowfall on Saturday taking it's April total to 6cm! Temperatures are up to +15C at the base now so that's not a huge surprise. It's rather cooler (+5C) at Japan's main summer ski destination: Gassan (950/950cm) which should be open into July. It still has the world's deepest snow-pack at present but that has thawed down 50cm since it opened for the season earlier this month.
---

It's been largely a week of warm weather and pond-skimming events to end the season in the US, at the ski areas which remain open. Bases have been thawing too with the continent's deepest at Squaw Valley (104/508cm) now only just above 5 metres, down from a high point of over 7 metres a few months ago. Still, there should be enough to last through to closing day on July 7th. Mammoth (292cm/470cm), planning to stay open to July 4th, has also seen it's base drop, in its case down below 5 metres for the first time since the start of the year. There were exceptions to the sunny weather with some fresh snow in New England and on high slopes in Colorado over the weekend. A dozen or so US resorts are staying open through May with Heavenly (175/175cm) among the latest to announce it plans to stay open for Friday-Monday weekends until the end of the month. Killington (44/66cm) also hopes to make it to the end of the month and maybe into the first few days of June. It had a few inches of snow at the weekend to bolster its chances.
---

It has been one of the snowiest weeks of the past few months in western Canada with Nakiska (0/0cm), near Calgary, in Alberta posting a 30cm (12 inch) 24-hour snow accumulation for its closing weekend on Saturday. With ski areas in the east of the country deciding not to try to re-open again after the warm, wet weekend (before last) decimated their remaining snow cover, we're down to the four usual late-openers in Canada with Lake Louise (141/195cm) and Jasper's Marmot Basin (134/134cm) both coming up to their final weekends. Sunshine (177/177cm), near Banff, which reported 10cm of fresh snow at the weekend, is open for three more weeks and Whistler Blackcomb (220/220cm) is open through to the last Monday in May.
---
---

The 30 or so ski areas that are still open in the Alps for the first weekend of May are mostly glacier or high altitude resorts. They should continue to see the changeable, sometimes (at higher elevations) snowy conditions of the past few weeks occur over the remainder of the week ahead and in to next week.
The snowfall should not be as heavy as it has been over the past week and particularly last weekend. Some areas may see another 20-50cm over the next 7 days.
For the Pyrenees and high areas elsewhere in the Iberian peninsula, there may be some fresh snow up high for the final few days of the season. However, this looks more like 5-10cm, at most, here.
It also looks like a snowy end to the week in the Dolomites, with the heaviest snowfall expected on high slopes on Friday when up to a foot (30cm) of fresh snowfall is possible.
---

---
There not very much snow in the forecast for North America for the start of May.
The biggest accumulations (20-30cm) are expected over the coming week on some of the world's highest ski slopes in Colorado. Resorts like Loveland (193/193cm) have reported up to 40cm of snow in the past few days. Therefore, it's a bit of a shame the area plans to close on Sunday.
There's currently no other significant snow in the forecast anywhere in North America.