---
Issued: 26 February 2020
By Patrick "Snowhunter" Thorne
---
---
---
INTRODUCTION NORTH AMERICA
---
---
In North America there's been more heavy snowfall in the Rockies. The Pacific Northwests has also received heavy falls almost every week so far this year and resorts in Alaska are continuing the trend this week too.  Western Canada has also seen some more healthy snowfalls with up to 46m (18 inches) in 72 hours to start this week, reported in BC.
It's been drier further east although conditions remain good at most resorts following the healthy snowfalls earlier this month. But there's plenty of snow forecast from New Hampshire up to Quebec in the latter half of this week anyway, which should further improve things there.
---
ROCKIES
ROCKIES REPORT There's been heavy snowfall again in the Rockies this week. Breckenridge (86/86" / 216/216cm) reported 13 inches (33cm) in 24 hours on Monday although lift openings were initially impacted by strong winds too.  It is reporting one of the deepest bases in Colorado and that it has passed the 300 inches (7.5 metres) season-to-date snowfall mark in the past few days. Depths are good across the state. The heavy snowfall was reported right the way up through Utah and Wyoming too.  The weather has calmed down a good deal but stayed very cold in most areas since Monday.
ROCKIES FORECAST It's looking like the cold weather should continue in the mountains through the week ahead, with temperatures dipping up to 20 degrees below freezing at times. It's looking like mostly clear conditions until the weekend with a mixture of sunshine and cloudy days.
---
WEST

USA WEST REPORT  The Pacific Northwest continues to see the most snowfall in North America with Alaska now coming into its own as a major beneficiary of the snow deluge in the wider region so far. Eaglecrest reported 18 inches (45cm) of fresh snowfall in 48 hours at the weekend and noted that it had received fresh snowfall for 35 straight days.  So it's deep powder there. It's been snowing once more in Washington State too where Alpental (107/208" / 267/521cm) continues to report the world's deepest snow base. It's a different scenario further south with distinctly spring-like conditions in California already although most areas there are in good shape following earlier snowfalls this season.

USA WEST FORECAST After the latest round of heavy snowfall in the northwest it looks like quite a dry week ahead, although with some moderate snowfalls up in Alaska. Temperatures should stay just below freezing in the mountains. Further south, in California, it will remain predominantly dry and sunny with temperatures here climbing above freezing at times. It looks like more unsettled weather and fresh snow arriving at the weekend but, currently, it looks like any fresh accumulations will be light.
---
MIDWEST

MIDWEST REPORT It's been a mostly dry, generally cold week in the midwest, so there's little change to report on seven days ago.  Granite Peak Ski Area, in Wisconsin (53/95" / 132/236cm), still has the deepest base in the region and all of its nearly 70 runs open. It's typical though of ski areas across the Midwest which similarly now have decent base depths and all of their runs open, in most cases.

MIDWEST FORECAST Mostly cold, mostly dry weather is forecast for much of the midwest over the coming week.  There's a mixture of sunshine and cloudy days in the forecast and temperatures ranging from around freezing down to ten below. But there's no sign of any real precipitation coming up as we look into March now.
---
EAST
---
USA EAST REPORT  Mostly cold and clear across the eastern US over recent days.  But after a sunny start to this week with temperatures ranging from a little above freezing at resort level to a few degrees below on the mountains, the weather has become more unsettled with snow starting to fall at some resorts.  Cannon Mountain, in New Hampshire (20/66" / 51/165cm), is posting the deepest snow in the region at present and like most other resorts in the east, is fully open with almost 100 trails skiable.

USA EAST FORECAST  It's looking good for some significant snowfall in the eastern US over the next 48 hours.  Resorts in New Hampshire, which have not fared quite so well as centres further north much of this winter, are in line for up to a foot (30cm+) of snowfall on Thursday.  The snowfall is expected to continue on Friday but much reduced and cover a wide area with temperatures double digits below freezing at times.
---
---
---
WEST

CANADA WEST REPORT  Plenty of snow in western Canada over the past week, the heaviest at the weekend for many areas.   Big White (271/309cm / 108/124″), which already has one of the deepest bases in the country, reported 46cm (18 inches) in 72 hours up to Tuesday.  The snowfall has now eased though and the weather is calmer but with plenty of fresh snow to enjoy.

CANADA WEST FORECAST There's fairly calm weather in the forecast for the week ahead in western Canada with temperatures just a little below freezing and a mixture of sunshine and light cloud. There could be occasional snow showers but probably not adding up to more than a few centimetres/inches in most areas over the coming week.
---
EAST
---
CANADA EAST REPORT Dry but generally cold in eastern Canada for the first half of this week, with temperatures hovering between 1 and 10 degrees below freezing.  The good news is that after the big snowfalls a week or so ago, almost every major ski area in the region is fully open and reporting good conditions on the groomed runs. Owls Head (140/140cm / 56/56"), in southern Quebec, has the deepest snow in the province and reports 49 of 50 trails open. Mont Tremblant (60/60cm / 24/24") may still not have the deepest base but reports all 100+ trails open.

CANADA EAST FORECAST There looks to be fresh snow on the way again to eastern Canada with the heaviest falls of 20-40cm (8-16 inches) expected on Thursday; however, lighter snowfall will continue on Friday and Saturday. Temperatures will be getting lower still on the mountains, potentially down to 15 below freezing for the final days of February.
---
---
INTRODUCTION EUROPE
---
---
It's dumping down in the Alps and it currently looks like this could be the biggest snowstorm of 2020 so far. At least in the northern French Alps and western Switzerland, where some resorts are expected to see heavy snowfall for 4 or five days straight into next week. This storm will potentially leave the areas receiving well over a metre of snowfall if the weather develops as forecast. The snowfall is welcome after another few days of very warm weather with temperatures reaching double digits above freezing at resort level in some places.
With the start of March and meteorological springtime arriving on Sunday, it also means the start of the unusual season of Europe's 'spring skiing capital' Riksgransen, up in the Arctic Circle of Northern Sweden. This season, which runs through to May, when skiing and boarding under the midnight sun begins (and it usually re-opens for mid-summer's day in late June) should get off to a promising start as the most snow for more than 20 years has built up through the winter. It is reported to be lying there waiting for the first skiers on Friday.
Elsewhere in Europe, there's fresh snow on the way for the Pyrenees after a mostly dry month. Scotland is enjoying its best conditions of the season after more snow fell and the weeks of gales finally eased. Areas in Eastern Europe are in good shape too.
---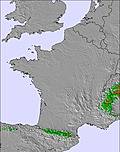 AUSTRIA REPORT Snow kept falling in Austria later than the rest of the Alps at the end of last week before the warm front that crossed the region brought some very warm weather to start this week. Nice and sunny but into the teens Celcius down in the valleys and warm to quite high altitudes too.  Now the snow is moving in across the country and temperatures are down again. This looks to be set in now for much of the week ahead with heavy snowfall some days, lighter others. The deepest snow continues to be up on the glaciers, as you would expect. Although St Anton (110/320cm / 44/128") is also in the three-metre-plus base club, the only non-glacier Austrian resort that is. Despite the warm weekend most of the country's resorts are fully open thanks to the bases they've built up.

AUSTRIA FORECAST As mentioned, it does look increasingly snowy over the week ahead with some Austrian areas likely to see over a metre (40 inches) of snowfall over the coming week, though some may only see 30cm (a foot) in the same period. Currently, it looks like the snow will just keep coming, some days heavy with 20-30cm (8-12 inches) in 24 hours, others with just a little snowfall. Temperatures will go from double digits above freezing in the valleys to double digits below on higher slopes.
---

SWITZERLAND REPORT  Andermatt (40/450cm / 16/180") continues to post the deepest base in Europe at present and it is one of several resorts forecast to see big snowfalls over the coming week. So the numbers may be going up beyond 5 metres by the weekend for the first time this season if the snow arrives as forecast. It, like most leading Swiss ski areas, currently has all of its terrain open although again that looks like it could be impacted by the amount of snow in the forecast.

SWITZERLAND FORECAST It's looking like a very snowy few days ahead in Switzerland with most areas in the country expecting to get 30-60cm (1-2 feet) of snowfall on upper slopes by the end of Thursday. The heaviest snowfall is expected in the west, in regions including Valais, and the snow currently looks like it may keep falling through the weekend into the start of March too.
---
FRANCE REPORT It has been rather warm, dry and sunny across French ski slopes for the past 3-4 days with temperatures getting a few degrees above freezing up to mid-mountain levels. But in the last 24 hours or so the snow has returned and it is currently forecast to be heavy through the rest of the week, potentially bringing a metre or more to some resorts in the northern French Alps by Friday; however, probably more like 30-60cm (1-2 feet) for most.  Les Arcs (202/330 / 81/132"), which currently has the deepest snow in the country, is amongst those in line to probably receive some of the biggest snowfalls this week.

FRANCE FORECAST As mentioned, the current snowfall should continue at least through to Friday, easing off from Thursday onwards in many areas. It increasingly looks like the snowfall may hang around through the weekend and continue into next week, bringing potentially huge accumulations over the coming week, if it does carry on into March as forecast.
---

ITALY REPORT Reports from Italian ski resorts in the past day or so have been more about the coronavirus outbreak in the country than about the snow conditions. But focusing on the latter, the news is there's not much news.  Essentially, little fresh snow in the past seven days, mostly sunny and dry and in recent days (as will much of the rest of western European ski regions) rather too warm; however, again in common with the rest of the west, the snow has now returned to Italy and is particularly welcome here as many areas missed out on some of the falls over the past month. Unfortunately, some in the south look like they'll miss out once again. For others, there are big falls expected to develop over the coming week.

ITALY FORECAST Most Italian slopes are in line for plenty of snow over the next seven days, the heaviest potentially a metre or more in the north and west for regions like Cervinia and the Aosta Valley. This time though it looks like the Dolomites may see a decent dump too, with up to 50cm in the seven-day forecast for areas here.  More southerly areas like Piedmont, which saw big falls in early December and January, look like they will miss out again though.
---
---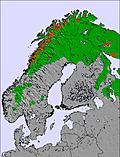 SCANDINAVIA REPORT Yet another snowy week in western Norway with still more daily dumps. Roldal (250/400cm / 100/160") now has a snow depth rarely seen in the region after topping Europe's weekly snowfall table for yet another week. Voss Myrkdalen (120/300cm / 48/120") was not far behind once again. But it has remained snowy across much of Scandinavia with the region's bigger destination resorts also reporting plenty of fresh snow this week, if not quite the huge falls of Norway's west.  The big news in Scandinavia this week though is the continent's 'spring skiing capital' Riksgransen, up in the Arctic Circle, opening for its 2020 season.

SCANDINAVIA FORECAST It's looking like it will stay snowy for most areas in Scandinavia over the coming week. The amount of snowfall is expected to be less than the very snowy last seven days but more light to moderate snowfalls are expected at many resorts throughout the coming week.
---

GERMANY REPORT Not a great start to the final week of February for many German resorts with temperatures well above freezing and rain falling to quite high elevations on Monday and Tuesday. The good news though was that temperatures have now fallen and its more heavy snowfall, especially on higher slopes, for most German ski centres. The highest, the Zugspitze Glacier (258/295cm / 103/118") continues to have the best snow conditions by some distance. Reit im Winkl (6/120cm / 3/48"), with all lifts running and all 40+ trails open, is currently one of the best below it.

GERMANY FORECAST The current snowfall in Germany looks set to continue in most areas through the rest of this week and into the weekend. There is potential for some of the best falls of the season so far as we enter the final month of the season for many smaller, lower German ski areas which have been struggling to open much terrain to date; however, the biggest snowfalls of 20-40cm will, in any case, be on higher slopes.
---
BULGARIA and ROMANIA
BULGARIA / ROMANIA REPORT It's a bit of a weather roller coaster in Bulgaria and Romania with 24-72 hour cold periods bringing snowfall but then temperatures shooting up above freezing right up to the top of the slopes and hitting double digits above freezing in resort.  At the moment we're in that warm, sunny period but there is another temperature drop and fresh snow on the way. Borovets (200/255cm / 80/102″) has the country's deepest snow base and is pretty much fully open.

BULGARIA / ROMANIA FORECAST Temperatures are a bit too warm at present but set to drop below freezing again on Thursday/Friday with 10-30cm (4-12 inches) of snowfall forecast across the country's slopes. Bansko, which currently reports one of the thinnest bases (5/80cm / 2/32"), should see the heaviest snowfall, with about a foot (30cm) forecast. Warmer weather at the weekend once again though.
---
CZECH REPUBLIC / SLOVAKIA REPORT It has been one of the snowiest periods of the season so far in the Czech and Slovak Republics and the wider Tatra Mountains. Tatranská Lomnica (30/130cm / 12/52"), which already reports Slovakia's deepest snow at present this season, reported another 38cm (15 inches) over the first few days of this week and has every run open, every lift turning.  The country's biggest resort, Jasna (30/80m / 12/32") got 28cm (11 inches) over the same period and is running at about 80% cavity.

CZECH REPUBLIC / SLOVAKIA FORECAST A fairly promising week ahead in the Tatra Mountains as we move in to March with low temperatures (typically freezing to ten below) forecast for the next seven days on the slopes. Although, as has been the picture for most of this season, later this week we may see plus temperatures down on lower runs and in-resort.  Mostly cloudy weather forecast with not much fresh snow, perhaps 5-10cm (2-4 inches) more at the end of the week.
SPAIN / ANDORRA REPORT There was light snowfall on higher slopes late last week before a return to warm temperatures over the past few days; however, there is some snowfall on the horizon at last for the rest of this week. It's looking like the most significant snowfall in the region for about a month in fact. But in any case, most of the regions' bigger resorts are fully open thanks to earlier falls. It is just small, low-elevation centres that have suffered in this often, "too dry for natural snow, too warm for snow-making," winter.

SPAIN / ANDORRA FORECAST The current warm temperatures continue for the next few days and there will be more sunshine before February ends. Light to moderate snowfall should increasingly fall in the latter half of this week with around 15cm forecast in Andorra. But some resorts, particularly on the French side, may see as much as 30cm (a foot).
---

SCOTLAND REPORT Conditions in Scotland continue to fluctuate by the day and often by the hour as storms blow through bringing periods of snow, rain and gales but with cold dry spells in between.  The overall picture is good though, or at least "as good as it gets" in recent years, with around 50 of the country's 120 ski slopes open across the five Highland centres, again about the most there's been open at any point over the past few years.  Glencoe (5/60cm / 2/24″) continues to have the most runs open with about two-fifths of the runs open there. In fact, it is almost fully open (when the gales allow it to open). 5-10 runs are open at the other four centres.

SCOTLAND FORECAST The good news is that the forecast is currently for ever-better conditions on Scottish slopes as we enter March.  It appears that there will be light to moderate, and at times, heavy snow showers over the coming few weeks and so far there's no sign of temperatures going up to well above freezing, as has been an issue on repeated occasions over the past few months.
---
---
---
JAPAN REPORT There's no real respite for Japanese ski areas from the troubling warm winter that has impacted much of the country. The FIS Alpine Skiing World Cup rolled into Yuzawa Naeba at the weekend and saw a GS race in temperatures 10 degrees above freezing on the Saturday, then the slalom race cancelled on the Sunday due to strong winds.  Further north, the winds brought blizzard conditions and Niseko (120/300cm / 48/120") picked up around 20cm of fresh snow to start the week. As the winds died back and the skies turned blue there were some of the best conditions of the winter so far with long lift lines, Snow-Japan.com reports.

JAPAN FORECAST Temperatures look like they should be below freezing now after the warm weekend and whilst there's not a lot of snow in the forecast there should be small accumulations after a few sunny days.  The fluctuating temperatures, winds and recent heavy snowfall earlier this week has led to snowpack instability and high avalanche danger.