World Snow News 26
Welcome to the latest roundup of worldwide snow conditions, together with weather prospects for the week ahead from www.snow-forecast.com in association with Iglu Ski who are offering two-for-one lift passes if you book a holiday through the thousands available on their website.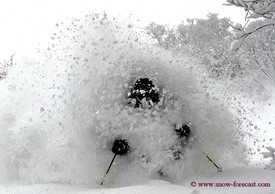 Summary:


Parts of the Italian Alps have seen the first snow for 3 weeks
Moderate fresh falls forecast for Alps this weekend
Heavy fall of snow in Bulgaria – great conditions
A brief taste of winter for eastern parts of Britain
Good prospects for Scottish Highlands next week
Excellent snowy prospects across the Rockies
Brief Mild spell for American Atlantic coast
Our 2008 Calendar is now available featuring stunning images from around the world taken by our users. If you purchase a calendar from our online shop, you will automatically receive a 6 month bonus membership (or extension if already a member).

The Alps
No doubt many readers are returning home from a winter holiday in the Alps. What a difference a year makes. Following the disappointment of Christmas 2006, the crowds were back and Alpine resorts were really busy. There was quite a lot of fresh snow about but the crowds soon tracked it out leaving lower runs warn and off-piste decidedly tracked out. Most places saw new snow just before and during the holiday period and for some Italian resorts, this was the first fresh snow for 3 weeks. Cold and windy on Thursday – windy enough to close many lifts. Prospects for the week ahead are more mixed as westerly winds return. Saturday should see a significant snowfall during the transition to Atlantic air, but after the weekend, rising freezing levels, to over 2000m, will cause snow to melt at lower elevations. As the week progresses, unsettled Atlantic weather over Britain and Northern Europe look increasingly likely to bring bands of snow at least as far as the northern Alps at first and more generally by the weekend as pressure over western Europe.

Pyrenees and Iberia
After a very slow start, snow conditions have improved over Spain, though it must be admitted that typical 60cm depths in Andorra are less than half of what is on offer in the Alps – Arcalis being the best on offer. Thursday morning provided a light covering to freshen up the pistes there. The arrival of a westerly wind on Saturday night will send freezing levels over 3000m for a couple of days. As the wind turns colder next week, this could make things icy – hopefully the accompanying mid-week snow showers will be heavier than we currently forecast because the next significant snow forecast for the Pyrenees is on Thursday – more especially in the west again. As has been a theme over the past month, more obscure Spanish resorts further west like San Isidro have fared better. Even the normally snow-sure Sierra Nevada has just 20–40cm of snow right now (Thursday). 5cm of fresh snow on Thursday was little consolation because it was too windy for lifts to operate. Thursday night should see a little more snow before the wind slowly drops and temperatures rise. Although we lack current reports, it seems probable that little resorts like Michlifen in Morocco saw the heaviest snow out of the last weather system – we would love to hear from anyone who was in the right place at the right time.

Scotland
Scottish Highland snow showers over Christmas were very welcome, but the ski season has not really got going yet – just limited skiing to be had at Cairngorm so far. Thursday has brought wind and snow off the North Sea to Glenshee, Lecht and Cairngorm. Even though Atlantic air will soon return, prospects could be a lot worse because this time the freezing level in the milder air looks like it will not get above 900m (on Saturday), and then fall back to about 400m next week. In short, expect the snowy easterly that you have now to give way to a snowy easterly very soon – great news, especially for Nevis Range and Glencoe. As usual, the strength of the wind will be a problem at times next week. Before that milder westerly arrives, there will no doubt be some very wintry scenes over the east Pennines, North York Moors and parts of eastern Ireland on Friday morning – a rare chance to visit the local slopes.

Scandinavia
There is widespread snow on Thursday, heaviest at Hemsedal where the depth at the top is already over 1m. Prospects are for much more snow across the resorts of Scandinavia over the next 7 days, especially in the south and east. Short daylight hours and heavy cloud make for a less than perfect picture – peak season here is not for another 6 weeks or so.

Eastern Europe
Our previous editorial mentioned the excellent prospects for Bulgaria. That was two weeks ago and during the intervening period there have been huge snowfalls at all resorts here and in southern Romania. There is transport chaos in the Romanian capital Bucharest, with snow 50–60cm (19.5–23 inches) deep in places. With over 2m of base, it is probably the pick of Europe right now – Bansko is typical, -8°C today, fully open and with over 2m of powder. A mostly fine week ahead too – sunny with light winds and low temperatures. Perfect conditions to enjoy the new snow. It is quite snowy in Lebanese resorts like Faraya at present and a few showers over the next two days, then a clear and cold few days with ideal conditions.

Canadian Rockies
Conditions in Canada continue to be excellent, both east and west. The New Year began with snowfalls at most resorts with much more to come over the weekend – the only drawback being flat light conditions. Expect 50cm or more of fresh snow at Whistler on Friday/Saturday. An improving picture on Sunday (flurries) and Monday (sunny spells) before the next system arrives.

American Rockies and California
Snowfalls are due to continue at most of the American Rockies resorts with Californian resorts expecting well over a metre of snow over the weekend. Timberline with 2.6m of snow leads the way in America with a snow base expected to break three metres in a few days according to our predictions. As pressure falls across the Rockies, expect snow to begin falling across the big ski areas of Colorado on Friday, become heavier over the weekend and dies out on Tuesday. Utah and Colorado should see the heavy snow first, spreading into New Mexico later. Mid week onwards should be perfect right across this region thanks to pressure building in from the west. Yet more snow arriving by the weekend.

Appalachians
New Year was notably snowy across New York and much of the NE. Sunday River in Maine had a white New Year receiving 31cm of fresh powder on their slopes. Attitash Bear Peak also had a great start to the New Year receiving 24cm of snow. Thursday is bitterly cold at ski resorts from Vermont to Quebec with temperatures reaching below -20°C during the day on Thursday at Tremblant. The temperature is forecast to increase over the weekend, which will make skiing a little more comfortable. Early next week, freezing levels will continue to rise, briefly reaching 3000m or so and accompanied by an ugly mix of freezing rain, sleet and snow that should lead to widespread icy conditions when cold air returns. Hopefully most places will escape the boiler plate snow that this region is infamous for.

Best wishes for the New Year
The snow-forecast team