World Snow News 19
8th November 2007

Welcome to the latest roundup of worldwide snow conditions, together with weather prospects for the week ahead from www.snow-forecast.com . This weekly editorial is sent to all active members of the site. If your membership has expired, you can view current and archived editorials at http://snow-forecast.blogspot.com/ or renew your membership online (we'll write soon with details of some exciting new content and member discounts).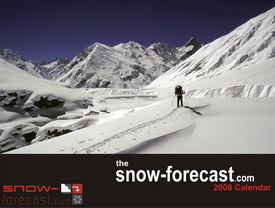 In New Zealand, the resort of Broken River has officially closed. This marks the end of the 2007 Southern Ski season and so our editorials will now focus on Northern Hemisphere areas until May 1st 2008.

The Northern Season has got off to an excellent start in three regions - Scandinavia, Austria and Canada. The week ahead will bring heavy snow once again to these areas, but also to several skiing regions that have missed out with cold polar air plunging into central Europe, slightly further West than it has done for some time. South Western Europe and the South Western United States are still dominated by settled conditions associated with a developing La Niña and a negative North Atlantic Oscillation. We should stress once again that these two meteorological engines are running opposite to the way they did last season so we would be surprised if the dire European season was repeated. On the other hand, things look ominously dry and mild for resorts in Southern California and the Southern Rockies - El Niño years are a much better bet for these areas (and for New Zealand too).

In last week's editorial I mentioned that we needed to see just a modest westward shift of the blocking Atlantic anticyclone to allow cold and snowy air to reach Scotland and the Swiss Alps and not just Scandinavia, Austria and Eastern Europe as had been the pattern for several weeks. Thankfully, this is exactly what has happened. The present weather pattern is conducive for snowfall across much of Northern, Central and Eastern Europe. Only the French Alps, Massif Central and the Iberian Peninsula are still missing out and even here there are tentative signs that a cold Easterly flow through the Western Mediterranean will develop in 8 or 9 days bringing snow to the Sierra Nevada and hopefully the eastern Pyrenees and Maritime Alps too.

After early snowfalls in September there hasn't been anything to get excited about. As I write, on Thursday afternoon, temperatures across the northern and eastern Highland tops are below zero and 110km/h winds are already bringing blizzard conditions. This wintry blast comes courtesy of the remains of hurricane Noel which provided additional vigour to a deepening Atlantic depression. This storm, soon to be over Scandinavia, is driving severe gales down the North Sea and snow to 500m on the eastern side of Scotland. Although the airstream turns briefly to a milder westerly on the weekend, the fresh snow on the higher slopes of Cairngorm and Glenshee should survive through to Wednesday when another deep depression brings gales and more Highland blizzards as it sinks down the North Sea.

Whereas last season saw a blocking anticyclone over Southern Europe drive exceptionally mild SW air into the British Isles, this year we are already two months into a very different pressure pattern. If we continue to see high pressure between Greenland and the central North Atlantic, prospects for the Scottish season are excellent. So far, so good. The weather pattern that is bringing snow to Scotland is doing a similar job in Scandinavia. A deep depression currently sits over the Gulf of Bothnia with all Scandinavian ski resorts in a cold and snowy northerly. There are severe gales, especially over Southern Norway. The next Atlantic depression could well run up against some very cold air over Scandinavia on Tuesday/Wednesday with heavy snow turning to rain at low levels. As the second low moves away, it will leave the area in cold northerlies once again. High pressure over Western Europe over the past two months meant that snow fell heaviest over Austria and neighbouring parts of Switzerland and Italy but with little further west. Conditions in Austria are once again excellent with many resorts able to open early. Lech reported 20cm of fresh snow this morning and 30cm at Solden - low temperatures accompanying the snow mean that power conditions are widespread, especially up on the glaciers in places like Kaprun. All Austrian resorts will see more heavy snow this weekend with snow falling right down to resort level too. The only caveat is that it will be very windy on upper slopes. The glacier resorts of France and Switzerland are already suffering from those high winds but just as predicted last week, they missed out on the recent snowfalls. What skiing is on offer is hard. As the snowy northerly air edges further west, we expect to see very welcome fresh snow - just a dusting this weekend, but a second depression brings the promise of significant snow to France, Switzerland and the Italian Alps in seven days, assuming it tracks down the North Sea as expected. weather pattern that is bringing snow to Austria is also bringing fresh snowfalls to less well known ski areas, places like the High and Low Tatras of Poland and Slovakia as well as the less lofty ranges that encircle the Czech Republic. Freezing levels in the range 500m to 1000m next week will allow snow to accumulate at many of these minor ski resorts, though it would be surprising if any take advantage of this by opening so early in the season. This snowfall will extend far down the Balkans too, heaviest around Serbia and Montenegro on Friday night when more than 25cm of snow is expected to fall. Further afield, heavy snow and low temperatures head for resorts in Bulgaria and Turkey there is already a dusting at Borovets and a thick cover at Vitosha. It is already quite snowy at most Greek resorts. Helmos near Patras and Mt Parnassos near Athens have a good cover although neither is open and don't expect to see much more new snow over the next seven days - just a few snow showers. Low temperatures will help preserve the snow that has already fallen. High pressure over Western Europe has diverted snow-bearing clouds away from the Pyrenees for some time. There is no immediate prospect that this anticyclone will pull back far enough into the Atlantic for that to change during the next week so expect more clear skies. Looking further ahead, a developing easterly wind and falling air pressure in the Western Mediterranean sea hold the promise of snow for the mountains of Iberia just over a week from now. Last week's editorial was already so bloated that I decided not to mention the forecast of the first Lake Effect snow because it falls in places that have very little in the way of downhill sport; just tiny slopes for locals. Towns downwind of Lake Eerie have been affected by localised bands of very heavy snow that has its origins where cold wind blows across icy water - the first such snowfall of the winter. The first real winter storm of the season brought snow to the bigger Appalachian resorts on Tuesday - 20cm of snow fell in just 12 hours in the town of Waterford. The next five or six days should be more settled before pressure falls in the continental interior - expect warm southerly winds and rising freezing levels followed by an abrupt change back to cold and snowy air in a week. Central Europe may be doing well but British Columbia is doing better. Very heavy snowfalls are expected from the Pacific Coast to the continental divide, decreasing in amplitude away from the Pacific - good news for anyone heading to Whistler, Banff or any of the wonderful prospects in between. As stressed in previous editorials, the weather patterns strongly favour this region for the season ahead. The Canadian Rockies continue to see much more of the La Niña pattern than further south where pressure is high. Even so, one major snowfall a couple of weeks ago means that Breckenridge and Sunday River will both open on Friday, joining Copper Mountain, Keystone, A-Basin and Loveland which are already open. All have about 50cm of cover with no recent changes. The next seven days begin settled, but pressure over the Rockies slowly falls and there should be falling temperatures and widespread light snowfalls. These will be very welcome at places like Jackson Hole where the ski slopes are still green.
Best wishes,
The Snow-Forecast.com editorial team