---
Issued: 23rd April 2019
By Patrick "Snowhunter" Thorne
Our latest roundup of snow conditions around the world. Each section that follows below goes into detail country by country. Clicking the map thumbnail will take you to our dynamic snow forecast map for the latest detail (where you can also overlay live weather & reported conditions). Weather outlooks for Europe and North America can be found at the end of this roundup.
INTRODUCTION:

---
---
Although most of the ski areas that were still operating up to the Easter weekend have now closed for the 2018-19 season, several hundred areas are still open for snowsports as we move closer to May across the Northern Hemisphere.
Those that are still turning the lifts have been rewarded with fresh late-April snowfall too in several areas. The Pyrenees enjoyed a snowy end to the season at the weekend with up to 30cm of fresh snow reported and at least one area, Masella (20/100cm) deciding to extend their season to the start of May after 27cm of snow fell there.

More recently snow has begun falling in the Alps, mostly above 2,000 metres, and this is expected to continue for the next few days potentially bringing as much as 50cm of fresh snow to higher slopes there.

In Northern Europe, things have been warming up and there's been little fresh snow to report but in the far north, it has stayed cool enough for the snow to stay in good shape. Sadly, that does not include Scottish slopes where all the ski areas are now closed after a record warm Easter.

Across the Atlantic there was fresh snow in the Rockies last week but it has been warm and dry since the weekend and too warm in fact in Quebec where a rapid thaw led to flooding in places and the temporary closure of some ski areas that tend to stay open in to May and are hoping to reopen this coming weekend if they can. More snow is forecast for the half-dozen areas still open in western Canada however.

Outside the main ski regions, Portugal's Serra de Estrela ski area is still reporting good skiing conditions after heavy snow a week or so back, Israel's Mount Hermon ski slopes were closed by heavy snowfall over the Easter weekend and south of the equator Afriski in Lesotho, southern Africa reported its first dusting of fresh snowfall just over a month ahead of the start of the 2019 ski season there.
---
INDEX:
Austria / France / Switzerland / Italy / Andorra / Norway/Sweden / Germany / Bulgaria / Scotland / Japan / USA / Canada / Europe / North America

---
Most of Austria's ski areas have now closed for the season, with only around a dozen currently open, including those famed for their snow reliability, or the country's glacier areas of which Austria has more than any other nation. There's been no fresh snow in Austria over the past week although unsettled weather that has recently moved in should bring some to high slopes this week ahead. The Stubai glacier (30/570cm), where the season continues into June, has the country's deepest base although all of the glaciers have at least 3.5 metres of snow depth up top. Of the non-glacier areas that are still open, St Anton (5/350cm), is posting the deepest snow.
---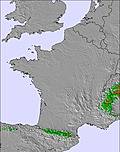 Although there are only about a dozen ski areas still open in France it is turning in to quite a snowy week with famous powder pocket Bonneval sur Arc (55/290cm) posting 10cm of fresh snow to start the week on Tuesday. It now has the deepest base in the country after the biggest depths dropped below three metres/10 feet with ongoing thawing through the past week. Most of the remaining open areas will close this weekend but Chamonix, Tignes and Val Thorens plan to continue through to May 5th. They all have plenty of snow lying so making it through the final week or so shouldn't be a problem, most have good snow depths tight down to resort level too so it's still possible to ski to the bottom.
---

The number of ski areas in Switzerland has dropped dramatically here too this week of course. But around 20 Swiss areas are still open through to the end of the month with again a number continuing into May. Here too there';s been no fresh snow to report in the past week and indeed it has been warm, but there are more wintery conditions on higher slopes now and the snow is falling on areas including Andermatt (0/600cm) which is open to may as well as on the year-round glacier slopes above Zermatt (3/210cm). Engelberg (5/7093cm), where the ski season still has a month to run to the end of May, reports the Alps' deepest snow.
---
---

Around 20 Italian ski areas remain open, although some of them now only at weekends. Most will indeed close after the coming weekend although some including Cervinia (45/220cm), Cortina d'Ampezzo (20/160cm) and Livigno (35/229cm) will carry on to the start of May. These resorts are currently seeing mixed conditions with snow falling on higher slopes above around 2000 metres. This snowfall will continue through the week meaning a snowy end of the season and some potential late season powder days here.
---
Andorra's ski season largely ended on Sunday with fresh snow falling on higher slopes, a fitting end to the 'winter'. However, the Arcalis ski area (125/215cm) in the Vallnord region is open another week until Sunday. There are several ski areas still open on the Iberian Peninsula however including the most southerly on mainland Europe, Sierra Nevada (100/300cm) which has been enjoying heavy snowfall since the weekends and currently expects to remain open to May 5th. There are more than 100 runs and 100km of slopes still open here despite the southerly latitude. Serra da Estrela (209/60cm), Portugal's only ski area, also remains open following heavy snowfall there in mid-April.
---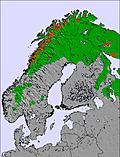 Unlike most of the main ski nations in Europe, the majority of ski areas in Finland, Norway and Switzerland remain open with the locals enjoying the sunshine and long daylight hours. However, temperatures are still creeping well above freezing at most areas south of the Arctic Circle (and some above it) and most will close this Sunday. Norway's Fonna (650/800cm) glacier area which opened for the season earlier this month has by far the deepest base in the region (and all of Europe). Temperatures there are currently +5C with no snow forecast.
---

Only two of Germany's ski areas are still operating for the 2018/19 season. One of the biggest, Oberstdorf (25/105cm) and the highest, the Zugspitze Glacier (0/410cm). Oberstdorf is carrying on May 1st although only has about 4km of runs open and temperatures are well in top double figures. It's cooler up high on the Zugspitze and there's more terrain open (15km). It will also close on May 1st. Both areas may get light snow towards the end of the week.
---
We're down to the last dozen or so ski areas open across Eastern Europe with all of Bulgaria's resorts now closed for the 18/19 season. In common with the mountains further west temperatures are getting up in to double figures and there's been little or no fresh snow in the past week with none in the forecast either. Poland's Zakopane (10/93cm) is among the few Eastern European resorts expecting to stay open to May 5th.
---
---

The Scottish ski season ended at the weekend with Glencoe, the last centre that had still been operational, calling it a day on winter 18-19 a fortnight earlier than last year. Glencoe had previously reported that it had enough snow to continue operations into May but it wasn't worthwhile doing so due to a lack of customers, however, record warm April temperatures meant only patches of snow remained in the end that dedicated skiers had to hike to from lifts. The Lecht ceased snowsports operations a few weeks ago now in common with most of the other Scottish centres but had said it may re-open if there's a sudden heavy spring snowfall, but that looks increasingly unlikely now.
---

There's been no snowfall reported in Japan over the past week and temperatures have been getting in to double figures at most of the centres that are still open for this season so there's not much chance of any in the forecast either. Niseko's Grand Hirafu sector (10/240cm) is due to stay open to Monday, May 6th and reports temperatures as high as 12C. Japan's Gassan summer ski area is open and is enjoying similar warm temperatures but its 6-10m base should see it through to July as usual.
---

There are about 20 ski areas still open daily in the US and a similar number saying they are now closed midweek but plan to re-open this weekend and in some cases weekends into May too, conditions permitting. The deepest basses in the country, and indeed of the open areas on the North American continent, are in California where Mammoth (343/531cm) and Squaw (142/546cm), both open until July, have each seen about a foot of snow loss from their bases since last week, but they hopefully still have enough to see them through the next 10 weeks or so. There's not been any fresh snow reported in the US since the weekend but there was some snow in the Rockies last week with ski areas in Colorado and Utah reporting 20-40cm more falling up to the weekend. Over in the east, half-a-dozen areas remain open with most planning to make it into May, including Sugarbush. Finally, moving forwards, two US resorts have said they plan to stay open weekends into May for as long as conditions remain good. They are Donner Summit in California and more unusually Arizona Snowbowl, in the south, which reports it has enjoyed one of its two snowiest winters for the past 20 years.
---

The number of ski areas open in Canada now is about in single figures after many of those that had soldiered on to the Easter weekend closed at the end of Sunday or Monday. But most of those that are still open will remain so into May now. Beginning in the West, where ski areas reported 10-20cm of fresh snow in the past week and mid-mountain temperatures remain sub-zero at many, Blackcomb Mountain closed on the 22nd but Whistler Mountain aims to be the last area open in the country and will stay open through to May 27th, the last Monday of next month. Also still open until the first weekend of May are Lake Louise and Marmot Basin in Alberta, whilst Sunshine will stay open through to May 20th. Over in the East, ski areas were largely closed over the Easter weekend due to warm, wet weather but Mont Sutton in Quebec has announced plans to stay open into May, aiming to stay open longer next month than it has ever managed before, if conditions allow.
---

It's looking like an unsettled end to the week in the Austrian Alps, although it is still a little far out for precise forecasting it seems likely that the country's glaciers may see 20-30cm of fresh snow towards the end of the week meaning a potential powder weekend there.

For France, where it is already snowing, the unsettled pictures continues here too with some higher slopes potentially seeing 30-50cm of snow by the weekend for resorts including Chamonix and Val d'Isere, although with rain more likely below about 2000 metres.

The weather looks unsettled in Switzerland too with Europe's highest ski slopes on the Klein Matterhorn above Zermatt in line to receive up to 60cm, (two feet) more snowfall by the weekend. For Andermatt, open to the start of May and currently posting the second deepest base in the Alps at 6 metres (20 feet), it could be as much as 70cm.

It's a similar picture for Italy with 30-50cm snowfalls forecast for ski areas including Cervinia and Livigno on their higher slopes by Saturday.

Only half-a-dozen ski areas are still open in the Pyrenees but it looks like it will stay snowy there this week and some areas may see as much as 50cm more snow on higher slopes by the weekend.
---

---
It's looking too warm for any fresh snow in the USA over the coming week but north of the border in Canada it's looking more unsettled and the few ski areas still open there could see 20-40cm of fresh snow on higher slopes by this time next week.