---
Issued: 27th February 2019
By Patrick "Snowhunter" Thorne
Our latest roundup of snow conditions around the world. Each section that follows below goes into detail country by country. Clicking the map thumbnail will take you to our dynamic snow forecast map for the latest detail (where you can also overlay live weather & reported conditions). Weather outlooks for Europe and North America can be found at the end of this roundup.
INTRODUCTION:
Sunshine and unseasonably warm spring-like temperatures have been the order of the day for a third week in much of Europe; certainly the Alps, Dolomites and Pyrenees. There was a little snowfall in the middle of last week in parts of Austria and Germany, as well as Bulgaria on Saturday, but mostly it has been a case of staying on the groomed runs and layering on the sun cream. In Scandinavia, it has been a mixed picture with almost every type of weather hitting them: very low temperatures, above zero temperatures, strong winds and fog. Scotland just got the very strong winds and warm temperatures which have, unfortunately, decimated the snow cover there.

Across the Atlantic, it is a very different picture. It has been dumping down from coast to coast in North America and on the Pacific Coast, in particular. The February snow totals are staggering with some resorts reporting 4–5 metres of snowfall now since February 1st; equating to all-time February snowfall records, in fact.

Elsewhere in Europe, Scandinavia has continued to enjoy some snowy days; at least in Norway and Sweden. Whilst Scotland continues to suffer from record-breaking warm temperatures for February allowing them to only open small beginner areas thanks solely to all-weather snow-making machines.

It's much snowier across in North America though where there were big snowfalls in the west once again with some areas in BC, Utah and Wyoming reporting 50-60cm of snowfall in 24 hours over recent days. But there's been at least some fresh snow in most of the continent's ski resorts. The most unusual news for world snowfall comes from New Zealand, where it's still summertime. Here ski areas received up to 50cm of snowfall last weekend and at least one area: Mt Hutt, has announced it will open three months before it's official 2019 season opening date for a bit of fun on the snow this weekend; before it all thaws.

---
INDEX:
Austria / France / Switzerland / Italy / Andorra / Norway/Sweden / Germany / Bulgaria / Scotland / Japan / USA / Canada / Europe / North America

---
Austria was the only country of the big four alpine nations to see fresh snowfall in the past week, with the regions of Salzburgerland and Upper Austria seeing the biggest accumulations during last week. More recently, the Steiermark region posted snow falling over the weekend. The Loser ski area (160/480cm), above Altausee, moved above the country's glacier areas to take the €˜current deepest snow base in Austria position after it received 39cm (a foot) of fresh snow. This being the first new snow for over a fortnight it was very welcome, particularly for those missing fresh powder for their free-riding. But as most Austrian ski areas have deep bases the lack of new snow isn't a problem elsewhere in the country in terms of on-piste cover.
---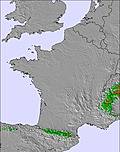 We are into a third mostly dry, warm and sunny week on French ski slopes (although change is around the corner; see our weather outlook). On-piste conditions could do with a freshen up but remain basically sound with deep bases allowing resorts to open all groomed runs at most of the country's ski areas. The thaw has reduced bases by 20-30cm over the past few weeks but that's less than 10% of the snowpack for most. The deepest base is still reported down in the Pyrenees at Cauterets (260/370cm), whilst in the Alps, most of the bigger areas have at least two metres of snow depth on upper slopes and plenty down to resort level too. Bonneval Sur Arc (60/270cm), over the back of Val d'Isere, reports the deepest.
---

As with France another snowless week in Switzerland although Andermatt (60/600cm) is maintaining its world's deepest upper slope base depth claim, although the rest level stat has diminished. Engelberg (55/555cm) has reduced their claimed upper slope base depth figure by 20cm to reflect the thaw, moving Mammoth (381/572cm) up into second place for the planet, at present. As was widely reported, one very unfortunate result of the warm weather after the heavy snow, was a major avalanche in Crans Montana last week which killed one man and injured several others. Unusually, it crossed a piste and did so when the official danger level had been reduced from a moderate level 3 to next-to-lowest level 2. Investigations are on-going.
---

A dry week for Italy too with strong sunshine on the slopes across the country. Again here, almost all ski areas are fully open with skiers enjoying good on-piste conditions, particularly in the morning before it really warms up. As with the rest of Europe, things are looking like they will begin to cool down at last later this week with some snow in the forecast (see weather outlook below).
---
With the culmination of the World Cup racing season, the finals, coming up fast in Soldeu (70/150cm) the lack of fresh snow for another week and the ongoing lack of fresh snow on the horizon, means it is looking like the racecourses should be nice and hard-packed for the world's best racers. This is even before the experts start preparing them, unless there is a change. But we're heading towards a month since the last snowfall now. But all the slopes are open across the principality, base depths healthy and all lifts turning so piste skiers remain fairly happy with conditions, even though a freshen up would certainly be welcome. As in the Alps, temperatures are creeping up above zero during the day-time though so colder weather would be good too, but then it is approaching the start of spring.

---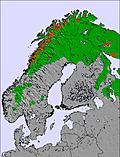 Scandinavia has continued as the place to be for consistent fresh snowfall through the past week. This is the same as it was the previous week when there was no snow at all elsewhere in Europe. Again, snowfalls have generally been fairly modest: in the 5-15cm range for most resorts, but they've kept conditions nice and fresh. The largest accumulations were reported in Western Norway at the end of last week when Voss (90/110cm) reported nearly 50cm of snow in 72 hours. But at the start of this week, the focus has moved to Swedish areas receiving smaller snowfalls. Finland continues to have one of its most challenging seasons in decades. Although some areas have managed to open almost all their runs thanks to snow-making some including the biggest, Levi (30/63cm), still have only half their terrain open.
---

German ski areas are among the few in Europe to report fresh snow in the past week. Ski resorts primarily in the country's Oberbayern area, down near the Austrian border, reported fresh snowfall at the end of last week and through the weekend. Once again Germany's highest slopes on the Zugspitze Glacier (0/400cm) saw the biggest accumulations: 23cm on Friday/Saturday. For most other ski areas it was more like 5-15cm. But in any case, conditions remain good in the country following the very big snowfalls in January.
---
---
It snowed hard in Bulgaria on Friday and Saturday last week as forecast, leading to the cancellation of the Men's World Cup Super G competition at Bansko (100/180cm) on Saturday, although races on Friday had gone ahead and the cancelled race was rescheduled for Sunday. Snow accumulation claimed by reporters on the ground was up to 30cm leading to great powder conditions for the start of this week. Temperatures were down at around -10C. Conditions have settled down now and we're back to mostly sunny conditions with good deep bases of 1.5 to 2.3 metres across the country's ski area with almost all runs open and lifts operating.
---

It has been another fairly dismal week on Scottish ski slopes with record February day-time temperatures (18.3 degrees Celsius in Aberdeenshire) for Scotland itself and record night-time temperatures for the whole of the UK. Clearly, that's not good for snow cover, not that there was much left after previous warm weeks anyway. Although there's no sign of an imminent change in terms of a huge snowfall, temperatures do seem to be starting to fall away again now and Sunday morning started with a frost for the first time since early in the month. Cairngorm, Glencoe, The Lecht and Nevis Range all have small beginner areas open although this area at Cairngorm had to close at times last week due to issues including strong winds and a local power outage.
---

As forecast last week, the usual regular deliveries of snowfall to Japan have ended over the past seven days and there's been very little fresh snowfall across the country following the cold snap in the middle of the month. Temperatures are now back up around freezing. Niseko (140/340cm) reports just 6cm of fresh snow over the past week and is still just below the 9 metres snowfall-to-date stat for the season on 897cm. Upper slopes were closed on Sunday due to strong winds although these have now eased. Hakuba (50/265cm) has had much less snow this season (3.5 metres so far) and nothing in the past week leaving the slopes hard packed and in need of a fresh snowfall.

---
---

There have been still more big snowfalls in the US. Although, for the past week the focus has switched a little from the West coast with seemingly unlikely locations like Arizona and New Mexico posting some of the biggest accumulations of the past week and snow reported too in Texas and on The Strip in Las Vegas. But the next wave of heavy snowfall is now hitting California where most of the 13 US resorts now reporting 4m+ upper slope depths are located. Mammoth (381/572cm) still tops the North American snow depths table but resorts just below it in the table are forecast to get more snow over the coming week so it will be interesting to see where we are at the start of March. It has been quieter this past week in the east although Smugglers Notch (61/137cm), in Vermont, reported 8cm (3 inches) of snow to freshen up slope cover over the weekend.
---

Western Canada saw the heaviest snowfalls in North America over the weekend with Fernie and Big White on the Eastern side of British Columbia clocking up 50 and 42cm of snow respectively in 24 hours on Saturday. Fernie (125/256cm) briefly overtook Whistler Blackcomb (257/257cm) (which had some fresh snow too but not so much). The upper slope base depth at Fernie was reported as 267cm to Whistler's 266cm at the same time. Since then conditions have dried up a good deal with sunny weather and temperatures in the range of -15 to 0 Celcius. Since the weekend the focus has turned to the east for fresh snowfall with up to 30cm reported in the past few days in Quebec and Ontario. Although there have also been periods of less welcome freezing rain at some areas at times. Mont Tremblant (465/465cm) continues to post the country's deepest base, by some distance, at 465cm (15.5 feet).
---

There are increasingly positive signs of another front bringing fresh snowfall to the Alps in the latter half of this week, in many cases bringing the first snowfalls for around three weeks. The forecast is changing by the day at present but it increasingly looks like there'll be heavier snow in the Western Alps, France and Switzerland through the start of March from Friday into next week. There'll be snow in the Eastern Alps too (Austria) but, so far, it looks like not so much.
Resorts in the French Alps may be among the first to get snow with Chamonix likely to see their first falls on Thursday. The northern French Alps are looking particularly snowy with up to a metre of snowfall possible by Monday in the Chamonix Valley if current forecasting models prove correct. Other areas such as the Portes du Soleil may get 30-60cm of snow.
Similar amounts are expected over the same period across Switzerland with Zermatt and the 4 Valleys, as well as the Gstaad region, likely to see the heaviest snow.
So far, the snowfalls in Austria do not look like they'll be so heavy but there may be as much as a foot (30cm) of snow in the northwest around the Arlberg region towards the end of this week. Ski areas In Salzburgerland and Tirol regions, in particular, looks set to receive 5-15cm of snow on Friday/Saturday.
Italy currently looks like it will miss the bigger snowfalls but there should be some snowfall (5-20cm) over the weekend across the country's ski areas including light snow in the Dolomites. The heaviest snow will fall in the northwest up by the French and Swiss borders.
In the Pyrenees, it looks like another fairly warm, dry week with still no snow in the forecast. Temperatures will drop below freezing overnight so hopefully, any thawing won't be too dramatic.
For Scotland, it is getting gradually colder and there is hope of some fresh snow for the approaching first weekend of March. Resort managers are optimistically reminding everyone that Scottish skiing is often at its best from March to May. Scandinavia should continue to be '€˜changeable' with more moderate snow in the forecast interspersed with dry days.
---
---

Heavy snow is falling again in the Western US including on resorts that have already set all-time February snowfall records so it looks like they'll be beating the old records by even bigger margins by the end of the month on Thursday. But the snow forecast is for heavy snow to continue right into next week so March looks set to begin in the same vein as February finishes with 7-day totals potentially as much as another 1.5 metres (five feet). Elsewhere, moderate snowfalls are forecast for the Rockies (10-30cm more) and it's a similar picture on the East Coast too.
In Canada, it's looking like a fairly quiet week ahead with currently very little fresh snowfall expected in the west of the country; perhaps 5-15cm more in Quebec and Ontario to the east.
---