---
Issued: 15 April 2020
By Patrick "Snowhunter" Thorne
---
---
SOUTHERN HEMISPHERE OVERVIEW
---
---
Whilst doubts remain as to whether ski areas in Australia, New Zealand, Southern Africa and South America will be able to begin their seasons, as forecast in under two months' time, mother nature is continuing the autumnal build-up to the ski season with snowfall reported widely.

After fairly heavy snow in Australia just over a week ago, there was a further dusting of snow at the weekend.

New Zealand also saw some heavy snowfall on Sunday, it's third reported covering in the past month, this time a little heavier than before on Sunday. Mt Ruapehu on the country's North Island reported more heavy snowfall on Tuesday morning. This was only five days after the previous falls. Resorts are due to begin opening here in June.

And in South America El Colorado, in the Chilean Andes, posted a video of snow falling.

Currently, ski areas in Australia are reported to be prepping for a possible season start around the Queens Birthday weekend of 6th June, if current government restrictions are lifted by then.

In common with ski areas in Europe and North America, medics based in ski resorts have said they would not be able to cope with a substantial number of sick tourist skiers if the pandemic spiked at that time.
---
INTRODUCTION NORTH AMERICA
---
---
It has been a fairly cold and snowy week in parts of North America with ski areas in California, the Rockies and more northerly areas of the midwest and the east all-seeing fresh snowfall and low temperatures.
With the US moving to the top of the coronavirus death tables and having about as many people infected as much of the rest of the world put together, the onus has been on keeping all ski areas closed and discouraging backcountry skiing with still stricter lockdowns. Despite this, there were Easter weekend reports of far more people than usual heading into the backcountry and unfortunately, reports of several accidents including at least two separate avalanche deaths since the start of the month.

There are also increasing reports of people being fined for backcountry skiing contrary to increasingly tough lockdown rules in some states and provinces.
---
---
ROCKIES
ROCKIES REPORT There's been a little fresh snow on higher slopes In the Rockies but the focus continues to be on trying to persuade people to stay off the slopes. Colorado's Governor, Jared Polis, extended an executive order last week keeping all of Colorado's ski resorts closed for an additional three and half weeks to slow the spread of COVID-19 through to April 30th, the third extension there. Most ski centres in the region are therefore now closed until next winter but some that open in May or June like Breckenridge, A-Basin and Snowbird perhaps may not yet be definite. Beartooth Basin summer ski area also says it hopes to open on May 30th this year. Snow King ski area in Jackson, Wyoming appears to have finished grooming its slopes twice a week for local skiers who wanted to hike up for some socially-distanced skiing. The last reported groom was April 8th, but rain was reported.
ROCKIES FORECAST A bit of a north-south divide with snow down to mountain bases at times over the next few days in the northern Rockies, but turning to rain on lower slopes further south. Where it is snow, 4-8 inches (10-20cm) is possible. Driers and warmer into the weekend before cooling again at the start of next week.
---
WEST

USA WEST REPORT After an often snowy few weeks the weather has settled down and warmed up in the west over the past week. We're now mostly seeing above-freezing weather and occasional showers falling as rain as much as snow, except up high or up north. Most resorts in the area would now be closed anyway, except a few of the famous spring skiing centres like Squaw Valley and Mammoth.

USA WEST FORECAST It looks like a sunny week ahead in the west, with temperatures climbing up five to ten degrees above freezing. Therefore, a level of thawing is looking likely for many areas.
---
MIDWEST

MIDWEST REPORT The ski season ended in March in the midwest as all ski areas closed there due to the pandemic. In any case, most would be closed now as the season would be over anyway, but it's worth noting that after several weeks of warm, thawing weather there's been a return to full-on winter since Easter Sunday with some areas in states like Wisconsin declaring a state of emergency due to snow, on top of the COVID-19 emergency. Some of the heaviest snowfall, up to 60cm (two feet) in total, was recorded in the Upper Peninsula area. Strong winds of 40-60mph were also reported.

MIDWEST FORECAST After the cold and snowy weather of the past four or five days temperatures will be climbing over the coming week and hit double-digits above freezing by the weekend in mid-afternoon, although still dropping to sub-zero overnight on higher slopes. What precipitation there is in the forecast looks like it will be falling as rain not snow next time though.
---
EAST
---
USA EAST REPORT After warm weather last week, the mountains of the US east coast were reminded that it could still be ski season if it wasn't for the coronavirus. Heavy snowfall returned to the north of the region from last Thursday through to the start of this week, impacting Vermont, Maine and New York state, in particular. Many resorts here would be closing after Easter weekend if they hadn't already, only centres like Killington and a few others would be open to late April and into May in a normal year. Indeed, Killington hasn't yet given up on possibly re-opening in late-spring if it's safe to do so. In the meantime, the onus continues to be on locking-down against any slope usage, particularly at closed resorts, as it the case for most of North America. Sugarloaf, in Maine, was typical in issuing fresh statements stressing adherence to Maine Governor Mills' recent stay-at-home order, stressing everything is closed and strongly discouraging any unnecessary travel to the area at this time for recreational purposes.

USA EAST FORECAST It does look like the wintery weather will continue for the rest of this week, which may add to the temptation for backcountry skiers and boarders. The mountains of Vermont, for example, are expected to see several inches of snow most nights through to the weekend. The snow will be on higher slopes with temperatures set to be below freezing from at least mid-mountain up. Further south and on lower slopes, where temperatures will be five or so degrees above freezing, it's more likely to be raining.
---
---
WEST

CANADA WEST REPORT Most ski areas in western Canada would now have closed. Fernie issued a statement on Tuesday noting that this would have been their closing day for the season if they had not closed a month back due to the virus. So it seems right that we're seeing plus temperatures, thawing and even a little rain in contrast to the western Canada ski season norm. Of course, some areas, including the three ski areas around Banff, Marmot Basin and Whistler would have been open into May, and some may still hold out hopes of re-opening later in spring if it is possible, but that is unknown and, if anything, seems increasingly unlikely. The country has the same issue with people hiking up to ski closed resorts, last week resulting in a young man ending up in a hospital with a back injury after venturing into the long-closed terrain park at Big White and falling badly and requiring rescue. "The message from the mountain is simple," said the resort. "We're closed, please stay away until it is safe to open again."

CANADA WEST FORECAST It's looking colder and snowier over the next few days with significant snowfall expected in the Rockies and temperatures up high dipping to double-digits below freezing for a time before things warm up towards the weekend.
---
EAST
---
CANADA EAST REPORT It has been a fairly snowy week in eastern Canada, particularly in eastern Quebec where the eastern townships have seen significant snowfall since last Thursday. The heaviest snow has been in The Charlevoix region. This has been driven in on some very strong winds at times giving blizzard conditions. In southern Quebec though it has been more often raining. The Quebec government has, in the past few days, ordered the cancellation or postponement of all cultural events, festivals, and public sporting events until at least August 31st. So any faint remaining hope of any late spring snowsports at centres like Mont Saint Sauveur is now gone.

CANADA EAST FORECAST For much of the east, the snowy weather looks set to continue through the coming week with light snowfall expected on the region's mountains until the weekend. A sunny and slightly warmer few days then, but probably more light to moderate snowfall to start next week.
---
---
INTRODUCTION EUROPE
---
---
As we enter the latter half of April, after the Easter weekend, this would usually be the time when most of the still-open ski areas in the Northern Hemisphere would be ending their winters. Just a few hundred resorts would be soldiering on over the next three to four weeks with high-altitude or high-latitude skiing, A few dozen of those, mostly in the very far north and famed for very deep snow or with glaciers, have stayed open to late spring and even summer as the Southern Hemisphere's ski season begins. But spring 2020 isn't like any ski season before it and most resorts that would have closed over the past fortnight have been closed since mid-March due to the pandemic.

Whilst spring is making its presence felt in most of Europe, there are still places getting either unexpected and unusually late snowfalls or have deep snow on the ground. They still hope they might re-open during June or July.

There is evidence that the tide of closures during the past month is starting to turn. This is too late in the season for most areas, but resorts have re-opened in the past week in the Czech Republic and in Norway; only the small areas, only partially open and under strict operational limits to prevent any danger of spreading the virus. This has to be a good sign for glass-half-full thinking skiers and boarders.

Scandinavia has been the most interesting part of Europe and perhaps the world in response to the coronavirus outbreak. That continues to be the case. The latest development this week sees the loosening of a month of lockdown in Norway with the first centre re-opening there. Whilst in Sweden, several ski areas located in the north of the country are now among the few in Europe that are yet to close because of the pandemic.
---
---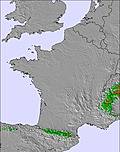 AUSTRIA REPORT It's been a largely warm week in Austria with temperatures rising more than 20 degrees above freezing in the valleys and hitting plus temps up to 3,000 metres at times; however, there were snow flurries on the highest slopes to start the week and rain falling lower down. There has been some consternation, perhaps not so much in ski circles, that Austria is seeking to loosen its pandemic lockdown. It appears infections and deaths have been contained, to some extent, and are beginning to plateau or even fall. The country announced plans for a gradual loosening of restrictions over the next few months which could ultimately see some of Austria's glacier ski areas re-opening in late spring or early summer. But some have complained that several resorts in Tyrol are being blamed as hubs for infection prior to the lockdown in March and feel it is not right that they should be among the first areas to come out of lockdown. For the time being at least, there's no fear of that with very tight controls, tighter than on the rest of the country, in Ischgl and St Anton. These have now been extended to a least April 26th on medical advice.

AUSTRIA FORECAST More warm and mostly sunny weather is forecast for the remainder of the week with temperatures 20C or higher in many valleys, 10 degrees or more above zero up at 1500m and above freezing on all but the highest slopes (and even there at times). Some precipitation in the forecast for the weekend but it looks more like rain, even at altitude, at present.
---

SWITZERLAND REPORT After a mostly sunny week in the Swiss Alps, there was a little fresh snow reported at higher elevations to start this week. It remains unknown when Swiss resorts may re-open but in an announcement that they are sticking to a 60million CHF planned spend on new lifts for The Matterhorn Ski Paradise, Zermatt's lift company hinted they might see guests again in May. It was said the area, which is one of two in the world that tries to open every day of the year, "…will remain closed …until at least 30.04.2020. (We are) …looking ahead with optimism to the time after the crisis and the preparations for a possible resumption of summer operations are already in full swing."

SWITZERLAND FORECAST It's looking warmer for the rest of this week with double-digit plus temps in the valleys and up above freezing (just) in the daytime even on slopes around 3000 metres. But snow on high slopes (rain below) is expected again at the end of the weekend as conditions become more unsettled again.
---
FRANCE REPORT It's been a largely dry and often sunny week in the French mountains with temperatures heading towards 20 degrees above freezing down in the valleys, but staying cold enough to stop much thawing of the snowpack above 2000 metres and sub-zero still on the country's highest slopes above 3000 metres. The three glacier areas at Les 2 Alpes, Tignes and Val d'isere are still featuring summer skiing from June on their websites but the country's President, Macron, announced on Monday night that the tight lockdown would continue to May 11th, followed by a limited re-opening in June and July.

FRANCE FORECAST The weather looks set to be a little less settled over the week ahead but still fairly warm, particularly down in the valleys where 10-20 degrees above freezing continues to be the norm, as it has all month. The freezing point is somewhere between 2-3000 metres, so above the tops of the mountains in some cases, but not for the highest peaks. Plenty of clouds with sunny spells forecast into the weekend but no precipitation until perhaps the start of the week when most will get rain, although some snow up high.
---
---

ITALY REPORT The very slight easing of Italy's lockdown at the start of this week should make it a little pleasanter for everyone living there, although the ski areas remain firmly closed and mountain sports are banned. It's full-on springtime here anyway with mostly lovely sunny days this past week and warm in the valleys whilst remaining sub-zero up high in the north of the country. There are three Italian areas that can open for glacier skiing in late spring or summer but it remains too early to know if they'll be open this year at some point or not.

ITALY FORECAST The week ahead looks similar to the past week with mostly dry, warm, sunny days and little or no snow forecast. It's possible there'll be some light precipitation in the Alps and Dolomites later in the week which may add a few centimetres of snow on upper slopes, rain at lower elevations.
---
---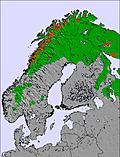 SCANDINAVIA REPORT Scandinavia continues to demonstrate an interesting mix of different stages of the response to the pandemic. Most interesting perhaps is that easing of restrictions in Norway from Tuesday, after a month of strict lockdown, has allowed at least one centre, Ål Skisenter (50/50cm / 20/20″) to re-open limited terrain under strict operating restrictions to ensure there's little or no danger of spreading the pandemic. It's unclear, as yet, if the country's three small glacier areas will open over the next few months. One of them, Fonna (1260/1460cm / 504/584″), reported another 10cm (four inches) of snowfall in the past few days and posted pictures of a solo employee skiing powder there at the weekend. In Finland, which was one of the last countries in Europe to close its slopes a fortnight ago, the reports this week have been of stockpiling snow ahead of next winter, with Levi and Ruka aiming to open in early October as a result. And Sweden, although most ski areas there are now closed, remains the only major European ski nation where some centres are still open. These include Risksgransen (592/592cm / 237/237″), potentially open until midsummer, although again with strict restrictions.

SCANDINAVIA FORECAST It looks set to stay cold in the regions of Scandinavia where snowsports usually continue into May, and in the far north and glacier areas, to June and beyond. The next few days should continue to be snowy although with only light snowfalls forecast. Temperatures in Riksgransen, where it's rapidly moving towards 24-hour daylight, will stay 1-5 degrees below freezing for the coming week with a few centimetres (an inch) of snow most days, potentially taking it up towards a six-metre base depth.
---
---
EASTERN EUROPE
EASTERN EUROPE REPORT The Czech Republic became the first country in Europe to see a ski area, closed due to the virus lockdown, reopen after the country eased its rules slightly. Praděd ski resort, at Ovčárna in Jeseniky, opened with strict anti-virus-spread rules last week. Meanwhile, Europe's south-eastern corner has continued to stay colder for much of April, in the Balkans at least, than further north and east in the Alps. There was more heavy snow on ski slopes earlier last week before the weather started to warm up and dry out. It is now mostly above freezing, but still only in single-digit degrees throughout the days. Ski resorts, especially Bansko, have been identified as hot-spots for COVID-19 transmission back in March and possibly earlier, before it was well-known and countries began reacting. Bansko has been in strict quarantine and is now at the forefront of a Bulgarian roll out of mass testing. It's now obligatory to wear a mask when outside in Bulgaria.

EASTERN EUROPE FORECAST Temperatures are now climbing in Bulgaria and this is the first week in the Balkans when there's no snow forecast. Actually, there's very little precipitation forecast at all, possibly some rain early next week. Mostly it's sunshine and cloud.
---
SPAIN / ANDORRA REPORT There was a bit of melancholy in Andorra on Monday with Grandvalira, the largest ski resort in the Pyrenees, pointing out that it would have been the last day of the season there, had it not ended a month earlier than planned due to the virus (and had the lockdown not been extended). They sought to look back at the good parts of the season and look forward to next winter. There was a dusting of snow too on higher slopes to mark what would have been the final weekend of the season.

SPAIN / ANDORRA FORECAST Temperatures are definitely on the rise in the Pyrenees with a sunny week ahead and temperatures well above freezing to high above mountain level, and well into double-digit plus temps in the valleys. Some precipitation is forecast next weekend but that looks likely to be rain right up to the highest slopes, at present.
---

SCOTLAND REPORT Scotland did not see the Easter warmth of England and Wales to the south, and it even had some light snow showers up high and frosts over the past few nights. But still the trend is for positive temperatures and a gradual thawing of the snowpack. In the east it has already gone from some slopes at centres like The Lecht. In the west there was a lot more spring snowfall in the first place so much more there to thaw. A "Virtual ski" is planned for fans of Glencoe on Saturday morning when the centre's fans plan to get together from their homes via Zoom to 'virtually' ski down Main Basin before tackling some of the more challenging runs, kind of.

SCOTLAND FORECAST A dry week forecast with temperatures above freezing to above the mountain tops for much of the time and quite warm down on lower slopes, leading to rapid thawing where there's still snow cover.
---
---
---
---
JAPAN REPORT A mixed picture from Japan this week. Many of the country's resorts had already closed but several dozen of the larger areas tend to stay open to early May, some beyond that. As those who follow Japanese skiing closely know, it has been a poor season for snowfall, some say; at some areas, the worst ever. Then there's the virus. The northern island of Hokkaido declared a state of emergency in February, felt it had control by mid-March and removed the state of emergency. Ski areas continued operating anyway as they weren't told to close, it was just advice to everyone to be cautious. Now things have got worse again, more so this time on the main Japanese island of Honshu, and the state of emergency is back. But most Japanese ski areas still remain open; however, some are closing, partly as the season was ending anyway, partly due to the virus. The most in profile so far, this week, is Hakuba. But others staying open, so far, best known of which internationally is Niseko (40/290cm / 16/116″). It reported 10cm (4 inches) of snowfall last Thursday, but mostly clear, sunny skies and the snowpack is slowly starting to melt.

JAPAN FORECAST Hokkaido should see cold temperatures and a little fresh snowfall on higher slopes (just a few centimetres/inches) over the next few days before things start to warm up. By the weekend it looks like back to double digits above freezing in the valleys, still cooler up high but remaining above freezing.