---
Issued: 18 March 2020
By Patrick "Snowhunter" Thorne
---
---
---
---
INTRODUCTION NORTH AMERICA
---
The reaction to the coronavirus outbreak has been different in North America with, at time of writing, no national advice to close resorts. However, some states and provinces including Colorado and Quebec have instructed ski areas in their regions to close. And perhaps 80-90% of other ski areas closed over the weekend, many because they are owned by corporations that have decided they should close for a period, some just for a few days or a week initially, others going for 'indefinitely' or to the end of the season (which is many cases was only a few weeks away anyway).
The consequence though, is that whilst there are blanket closures in many European countries, in North America some resorts remain open in many of the ski states and provinces, some arguing quite strongly that it's actually good to get outdoors during the coronavirus outbreak.
We should not forget the snow in all this either. There have been huge snowfalls over the weekend in the west of the continent with ski areas in California reporting up to a metre (40 inches) of snowfall. This (and other storm conditions) led some ski areas to close over the weekend before deciding they'd stay closed anyway due to coronavirus fears. However, many are saying that their closure is just until this coming weekend, initially at least, whilst they assess the general situation regarding the coronavirus.
---
---
ROCKIES
ROCKIES REPORT As with the rest of the US the number of ski areas still open in the Rockies is fast diminishing, but for the few that are still open or for those prepared to earn their turns, there have been further significant snowfalls. Idaho is particularly prominent in terms of being the state with most ski areas still open, at least half-a-dozen at his point. Schweitzer (65/117"/ 163/292cm) has the deepest snowpack in the region and all 70+ runs open but Pebble Creek (30/75"/ 76/188cm ) reports the freshest snowfall of any open area in the world over the last few days with two and a half feet (77cm) of snowfall ion the last 72 hours.
ROCKIES FORECAST It's looking fairly snowy, especially up high, over the coming week in the Rockies with temperatures staying sub-zero right down to resort level. The biggest falls are forecast on Thursday on with some resorts potentially seeing more than two feet (60cm) of snowfall to see in springtime by the end of the weekend.
---
WEST

USA WEST REPORT The big snow news in the US west this week was the biggest snowfall of the year in California at many resorts, with some posting more than two feet (60cm) of snowfall in 24 hours and over 40 inches (a metre) over 48 hours. Unfortunately, the snowfall (and associated storm) was heavy enough to close resorts. Unfortunately, the coronavirus mass-closure began just as conditions cleared. However, some centres were still open at the time of writing and planning to stay open, they say. Other centres say they'll be deciding later this week whether to re-open next week. China Peak (24/37" / 60/8cm), which reported eight inches (20cm) if fresh snowfall, is one of them.

USA WEST FORECAST Ironically, it continues to look like one of the snowiest weeks of the season so far in the US West, particularly at the more southerly end of the region where light to moderate snowfall over the coming week looks set to bring up to three feet (90cm) more snowfall to some slopes; however, most look set to remain closed due to the attempts to slow the coronavirus pandemic.
---
MIDWEST

MIDWEST REPORT A good number of ski areas in the Midwest were starting to consider closing due to limited snow cover and warm weather forecasts with the end of the season getting nearer, even before the virus became a big issue; however, as with every other part of the Midwest, several ski areas are still open. Granite Peak Ski Area (57/95" / 142/236cm) is one, reporting superb conditions and all 70 or so run open. It already had one of the deepest bases in the region and still does.

MIDWEST FORECAST It's a bit of a mixed bag with some warm temperatures but there's also a forecast 2-6 inches of (5-15cm) of snowfall lined up around Thursday-Friday for the Midwest.
---
EAST
---
---
USA EAST REPORT Again, most ski areas in the East have now closed due to the virus but, at time of writing, a few soldier on. Among them New Hampshire's Cannon Mountain (28/76" / 69/191cm), which also has the deepest posted base in the East and all its runs open and lifts operating, more or less. It has been sunny rather than snowy in the region recently and there have been gales too but it has stayed mostly cold and conditions on open slopes are reported to be good.

USA EAST FORECAST Mostly cold weather but another gale is expected to blow through at the end of this week bringing strong winds and a spike in temperature to well above freezing. Either side of the spike some decent snowfalls are possible.
---
---
WEST

CANADA WEST REPORT It's a fast changing situation in Western Canada too with ski areas gradually announcing the seasonal shutdown. Some were still open as recently as Tuesday with Apex, Big White, Sun Peaks and Revelstoke among the latest to announce closures. Again, here some are saying they might re-open (Vail's Whistler Blackcomb is currently only officially closed until Sunday whilst the group reassesses its position); however, at the time of writing at least, some resorts remain defiantly still open. Only on Monday evening Marmot Basin (146/146cm / 59/59") was one of several in Alberta determined to stress it will be staying open to the start of May in its public announcements; however, changed its mind on Tuesday morning. Sunshine Village, near Banff (205/205cm / 42/42"), was still open as of Tuesday. The resorts are, like others still open, stressing the wide-open space they operate in and stepped up cleanliness in public areas. The snow? Well, it's great apparently, a little fresh at the weekend but more frequent sunny skies and wonderful conditions.

CANADA WEST FORECAST The coming week looks like it will see temperatures rising above freezing at times but dropping back below overnight too for freeze-thaw conditions. There's little snowfall in the forecast (perhaps in the latter part of the weekend), but conditions should be very pleasant with a mixture of sunny and cloudy days across the region.
---
EAST
---
CANADA EAST REPORT Quebec closed all its ski resorts by provincial order at the weekend but, at the time of writing, it is still possible to ski at several ski areas in Ontario. Searchmont (50/70cm / 20/28") is one of these and skiers there have been complimenting the centre and each other on their social distancing skills. Snow conditions are good, annoyingly for the hundred or so shuttered ski areas across the East which had a less than perfect first half of the season. Temperatures have been sub-zero in recent days with blue skies for some great skiing.

CANADA EAST FORECAST It looks like it will warm up a little later this week with temperatures reaching freezing or going a few degrees above zero and some light snowfall (just 5cm / a few inches or so) as we move into late March. Crucially though, snow cover should be maintained with temperatures not yet getting too warm.
---
---
INTRODUCTION EUROPE
---
There hasn't been a week like it in the 150 year history of winter sports holidays, well perhaps only in times of war, with most of Europe's leading ski resorts shutting down due to the coronavirus pandemic.
The snow has kept falling and, frustratingly, most resorts had good conditions for what should have been the final weeks of the ski season. But not all resorts have closed, or at least they hadn't done when this report was being written (as we all know, things are moving fast). Ski areas in Finland and Sweden have remained open, as have ski areas in Scotland.
There is also the matter of ski touring. Although the lifts are not working in the Alps and resorts are warning about the dangers (no patrol, no safety measures) of their closed slopes, some ski tourers are saying this is all great news for those who want to earn their turns, arguing that being out on the empty slopes is better than being confined indoors. Some ski areas are also saying that their cross-country trails and toboggan runs are still open. Although these are being targeted more at resort residents than trying to attract tourists across an increasingly tightly closed Europe.
Against that some people are arguing that risking injury and putting pressure on medical services who are fully engaged in fighting the virus is irresponsible.
---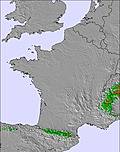 AUSTRIA REPORT Austria has moved fast from the first announcement that Ischgl was to close last Thursday to all resorts in Salzburgerland and Tirol on Friday and by the weekend ski areas across the country were closed. Initially, people were still ski-touring, cross-country skiing and tobogganing as the lifts closed but now these activities are rather frowned upon as the country gets more tightly locked down. It is too early to say when ski operations might resume in the country but it does have more high altitude glacier ski areas than any other country (at least eight) with the potential to open in late spring or summer. One of the year-round centres, Hintertum, has indicated they will re-open in late spring or summer when given the all-clear, but do not know if it will happen that soon.

AUSTRIA FORECAST It looks increasingly spring-like in the Austrian Alps with temperatures down in the valley resorts getting up to double digits above freezing. We should perhaps remember that even without the virus many areas would have planned to close either the last weekend of March, in less than a fortnight, or at the start of April. Temperatures in the mountains are closer to freezing and there's a chance of more snowfall up high later in the week, but probably just light snow at best.
---

SWITZERLAND REPORT Swiss ski areas began closing at the weekend and the country's federal government had to insist on a few last players closing down after some (Gstaad and the Jungfrau Area among others) keep things going a little longer than the government intended. There was then a big upswing in take-up of ski-touring opportunities. Although in the past few days the government have clamped down on this to some extent, by closing most restaurants and shops. However, a move to close hotels was rescinded on Monday so some skiers are believed to still be in Swiss resorts.

SWITZERLAND FORECAST It's looking like it will continue to be warm and sunny in Switzerland for the rest of this week. Temperatures on higher slopes should stay below freezing but from mid-mountain down, increasingly getting warmer. Colder temperatures and some snowfall are expected at the weekend, but probably not very much.
---
FRANCE REPORT The situation in France over the coronavirus outbreak has escalated rapidly from "everything is open and should stay open on Saturday afternoon, to "everything must close by midnight", a government order that evening. How fast that order was carried out varied from resort to resort over the following 24 hours. By Monday morning the country's purpose-built ski stations, in particular, were closing completely and asking anyone still in resort to leave immediately. What of the snow? Well, there are different attitudes to it and going out in it. Some argue that in resorts that are year-round, communities like Chamonix or Morzine, people should be able to go out ski-touring or cross-country skiing alone if they wish, others say everyone should stay indoors and away from everyone else.

FRANCE FORECAST Pleasant spring weather for the week ahead in the French mountains, with temperatures staying below freezing on the mountains most of the time, warmer in the valleys. Plenty of sunshine over the next few days but possibly snowier weather into the weekend. Snowfalls, however, look likely to be smaller: 15 – 25cm (6-10 inches) in total on higher slopes.
---

ITALY REPORT Italian ski areas were, of course, the first to move in to lock down a week ago, just as the country saw some of the best snowfalls of the season so far. It's unclear when resorts there will be able to begin opening again but it looks unlikely before the end of the season now. Indeed many are posting "see you next winter". One interesting area to keep an eye on over the coming months will be Passo Stelvio, which normally has a season running from early May to late October and is now the only Italian ski area open through the summer, if there's adequate snow. The Presena glacier is also usually open in late May and into June up high. After these two, Val Senales usually opens from early September, again subject to snow conditions.

ITALY FORECAST It's sunny in Italy too and warm in the valleys, getting up to double digits above freezing. Although, fortunately, much cooler on higher slopes. There is more snow on the way though, with the Dolomites likely to see some light o moderate falls from Friday on and snow across a wider area of the country through the weekend.
---
---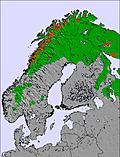 SCANDINAVIA REPORT If you do want to ski with lift assistance this coming week, and you can get there (and feel it is wise to even try), Scandinavian ski areas, specifically those in Finland and Sweden, are the main skiing nations in Europe where hundreds of areas are still open. At least they are at the time of writing. Norway began closing its areas at the end of last week, although not all did close, initially at least. Rather than issue a blanket ban, the Norwegian government asked communities to consider how their medical facilities would cope if the virus hit hard and fast. As a result, most decided "no well if we have lots of skiers here to cope with too" so decided to close their centres. That hasn't happened in Finland or Sweden though where ski areas are reporting great conditions with everything open and some fresh snow too. Riksgransen (430/430cm / 172/72") up in the north, possibly open to June if circumstances don't interfere, now has the deepest base in the world of still-open ski areas and now reports 30cm (a foot) of fresh snow in the past few days.

SCANDINAVIA FORECAST There's a mixed forecast depending mostly on how far north the ski resort is located. Little snow is expected in the south, moderate falls further north and heavy snow, potentially over a metre, up north in Riksgransen. Through the region though temperatures should stay cold, below freezing, as the days rapidly get longer.
---

GERMANY REPORT German ski areas have completely closed down because of the coronavirus outbreak and the country has largely closed its borders. It has not been a good winter for most German areas, many of which were only just starting to see some decent snowfall this month after warm, snowless periods in the first half of the season. The virus is the final straw for winter 19-20 here. A German resort was the only one where final world cup races of the season were cancelled in the past week due to inadequate snow cover, rather than due to the virus.

GERMANY FORECAST Even without the virus the prospects for many German ski areas (which typically close in late March in many cases anyway) did no look good. Having had little snow this year many are seeing temperatures 5-10 degrees above freezing for the week ahead with only the highest slopes, up on the Zugspitze glacier, likely to see a few centimetres/inches of snow.
---
BULGARIA and ROMANIA
BULGARIA / ROMANIA REPORT Bulgaria was one of the last countries to announce a closure of its ski centres. The country has moved faster than most from claiming they had no coronavirus cases a week ago to a state of emergency and closing first shops and restaurants at the weekend before deciding on ski resorts on Monday. Ironically, the good conditions of recent weeks had been continuing with more light fresh snowfall at the weekend.
BULGARIA / ROMANIA FORECAST After the recent heavy snowfalls, the region looks set for a dose of spring over the coming week with warm temperatures down in the valleys and plus temps even up on the tops of the slopes, so some thawing looks inevitable. There's the chance of some light snowfall later in the weekend.
---
CZECH REPUBLIC / SLOVAKIA REPORT As with the Alps and Pyrenees, the Czech and Slovak republic's ski areas began closing at the end of last week and are now in a quite tight lockdown with the countries' borders also largely closed, looks like the end of the 19-20 ski season here.

CZECH REPUBLIC / SLOVAKIA FORECAST Very warm, thawing temperatures in the region for the rest of this week but a temperature dip and some fresh snow, potentially 10-20m (4-8 inches) is forecast for the latter half of the weekend.
SPAIN / ANDORRA REPORT The closure of ski areas in the Pyrenees began in Spain last Friday with several groups announcing they were closing their areas. Andorra's centres soon followed and on Sunday the ski areas in the French Pyrenees followed, along with all other French resorts. There had just been big snowfalls in the region to add to the frustration, providing some of the best conditions of the season so far.
SPAIN / ANDORRA FORECAST The snowfall last week is something of a memory now with temperatures at double-digits above freezing down in resorts and well up to thawing levels at mid-mountain too, with full sunshine as well. There is a chance of more light snowfall here at the end of the weekend and the start of next week.
---

SCOTLAND REPORT Scotland is one of the three Western European ski nations that are still operating, with social distancing and increased cleanliness the order of the day. All five Highland ski centres remain operational and say they will remain so until Scottish or British government instructions force them to close, which they say could be at any time. The centres have battled the weather for the past few seasons in particular so it's ironic that now things are finally looking good, its the virus, rather than a lack of snow, that threatens operations. But open they are for now and as usual a mix of rain, snow, gales and sunshine in the past week with more fresh snow in the last few days. The cover is getting thinner on some lower runs but all five centres remain open with the deepest base still being at Glencoe.
SCOTLAND FORECAST More of the same weather as we move into astronomical springtime, with more snowfall forecast for western Scotland, drier conditions in the east. Temperatures cold on the slopes, getting above freezing but not too high for a thaw.
---
---
---
JAPAN REPORT Japan has taken a very different approach to virus control than most other nations with most of its ski areas staying open. There has been some delight in recent days too with temperatures staying colder and conditions snowier in mid-March than is often the case, with Appi ski area (195/195cm / 78/78") typical in reporting 15cm (six inches) of fresh powder in the past 48 hours and cold temperatures. It is not so far behind it's average snowfall for this time of the season either having had six metres (20 feet) of snowfall so far, only a metre (3.3 feet) behind the total at this point last year.

JAPAN FORECAST After a warm Wednesday it looks like sub-zero temperatures with light to moderate snowfall from Thursday onwards. There is some windy weather in the forecast for Hokkaido too though, potentially reaching 60kph (40mph) on higher slopes on Thursday and Friday.