---
Issued: 05 February 2020
By Patrick "Snowhunter" Thorne
---
North American Roundup
European Roundup
Asia Roundup

---
INTRODUCTION NORTH AMERICA
---
---
A real mix of snow and weather news to report across North America with some resorts reporting their snowiest ever Januaries by the weekend. Whilst at the same time there have been record high temperatures reported in parts of Colorado to start February (although it's now colder and snowier again). Meanwhile, in Washington state, the ski resort that was posting the deepest snow in the world a week ago, saw that level drop 2 feet (30cm) as it rained and thawed at the weekend, although here too it's now back to heavy snowfall again.
---
ROCKIES
ROCKIES REPORT After a few dry days, there's been fresh snowfall in parts of the Rockies over the past 72 hours with Alta in Utah (115/115" / 287/287cm), which has the deepest reported base in the Rockies at present and all runs open, reporting another 4 inches (10cm) of snow in the last few days. There were similar falls across Utah and nearby Wyoming, the heaviest being reported at Powder Mountain (58/58" / 145/145cm) which posted a 7 inch (18cm) accumulation.
ROCKIES FORECAST It looks like a week of light snowfall mixed with sunny days for much of the Rockies region. Temperatures should stay sub-zero for the next seven days and there'll be light snow showers for many resorts on several days; however, rarely amounting to more than 2-4 inches (5-10cm) in any 24 hour period. Over the course of the week though we should be looking at a foot (30cm) or so in total.
---
---
WEST

USA WEST REPORT Weather extremes for the Pacific Northwest resulted in a warming trend at the start of last weekend, bringing rain and strong winds to high elevations. The rain turned to snow at the start of this week as temperatures dropped back down closer to normal. So both the rain and the gales caused some ski areas to close for a time. Mt Baker (123/154" / 307/384") which had reported a base depth of 15 feet (4.5 metres), the world's deepest going into the weekend, saw that stat drop below 13 feet (3.9 metres) losing that 'deepest in the world' status by Sunday. It is climbing back up again now though.

USA WEST FORECAST After the unseasonably warm weekend, we should be back to normal in the Pacific Northwest now with the current snowfall expected to continue through the week ahead with temperatures well down towards 10 degrees below freezing at the low points over the coming few days. More big snowfalls in the forecast mean that some areas in the region could once again see a metre or more of snowfall by this time next week.
---
MIDWEST

MIDWEST REPORT Mixed conditions in the Midwest with at least cold conditions for much of the region with the temps holding at double digits below freezing. Not much fresh snow though although the temperatures are good for snow-making. Most of the region's ski centres are now open though with areas, which closed during the warm spell last month, now operating again and most with all lifts turning and all slopes open. In Michigan, Big Powderhorn Mountain (30/6" / 76/152cm) has the deepest base. In Wisconsin, it's Granite Peak Ski Area (49/90" / 122/224cm).

MIDWEST FORECAST Conditions look fairly similar over the week ahead with mostly cloudy, cold days but dry with occasional periods of sunshine. There is some snow forecast for the weekend but it looks like there won't be much, just a couple of inches at most for the majority of the area.
---
EAST
---
USA EAST REPORT After the snowy end to January in the eastern US, the snowfall has eased off a little but conditions continue to be generally good with temperatures staying low in the main ski states and most areas now with all (or nearly all) terrain open. That said, there has been some light snowfall in recent days. For example, Stowe in Vermont (36/60" / 91/152cm), which has the state's 'deepest snow reported' at present and all but one of its dozen lifts operational, reported 3 inches (8cm) of snowfall on Monday/Tuesday, freshening up cover nicely.

USA EAST FORECAST After the sunny weather and sub-zero temperatures over the past few days a front is expected to bring quite heavy snowfall across large parts of the Eastern US on Thursday and Friday with temperatures rising to around freezing point. Some areas may get as much as a foot (30cm) of snowfall through the 48-hour period. The start of the weekend should see temperatures drop well below zero again with sunny weather on Saturday before more snowfall rolls in to start next week.
---
---
WEST

CANADA WEST REPORT It was a snowy weekend in Eastern BC and Alberta with resorts in the region posting some of their biggest snowfalls of the year so far. Kicking Horse (97/203cm / 39/81") posted 60cm (2 feet) of fresh snowfall between Friday and Sunday before the sun came out again. Temperatures have remained well below freezing bringing some superb powder conditions once again. There was still more snow for Whistler Blackcomb (248/248cm / 95/95") too, although not quite so much as forecast. It continues to be fully open posting the largest amount of terrain currently skiable in North America.

CANADA WEST FORECAST It looks like more settled weather will be the norm across BC and Alberta for the coming week, at least in terms of snowfall. Currently, there's nothing really forecast into the weekend although the weather should stay very cold and there'll be a mixture of sunshine and cloud. There may be some light snowfall at the weekend but currently, it doesn't look like this will amount to much.
---
EAST
CANADA EAST REPORT It's a continually improving picture at present in Quebec and Ontario with ever more snowfall, most of it in the past week, coupled with low temperatures allowing more areas to open more terrain. Owl's Head (140/140cm / 56/56") has the deepest base in the region and about 90% of its terrain is open. Nearby Mont Sutton (40/90cm / 16/36") announced at the weekend that it finally had all 60 of its runs open.

CANADA EAST FORECAST It should stay cold over the coming week with some light snow showers at times for many areas. However, Thursday is looking like the day for some more concentrated heavy snow in both Ontario and Quebec, when many resorts could see 15-30cm (6-12 inches) of snowfall in 24 hours if the snow arrives as forecast.
---
---
INTRODUCTION EUROPE
---
---
After a mostly dry January, February has begun with much more changeable weather in the Alps. It's now snowing heavily across most parts of the mountain range with the snow falling further east too into the Tatra mountains of Eastern Europe.
The snowfall is particularly welcome after a brief warm spell over last weekend which saw a sudden rise in temperatures bringing warm and wet weather after the fresh snowfall, rather spoiling the quality of the new snow in places. But now we have low temperatures and fresh snowfall again to quickly consign that brief spell to history.

However, the rapid fluctuation between heavy snowfall, wet snow and rain and with strong winds thrown into the mix is fairly bad for snowpack stability meaning the avalanche danger level is at five, high on the scale to a maximum five, in many areas in the Alps with spontaneous slab avalanches likely.

The current strong winds are also closing high slopes and in some cases, whole ski areas in the Alps and Tatras due to blizzard conditions.

The Pyrenees, by contrast, have stayed largely dry and often sunny over the past week with temperatures getting a little too warm at times. But, overall, conditions are good and everything is open.

In Scandinavia, the pattern of good snowfall for the west continues with most of the country's larger areas also fully open, if not with so much fresh snow.

For Scotland another week of snowfall, gales, thawing then more snowfall.
---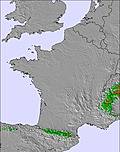 AUSTRIA REPORT We're currently enjoying a snowy period in Austria after a mixed week which saw some good snowfalls around the latter half of last week to end January but then unusually warm weather and rain for many areas to start February, at the weekend. The temperature dropped again though through Monday and Tuesday and is now subzero down into the valleys in almost all Austrian regions and the snow is falling with 30-60cm (1-2 feet) expected for many areas by Thursday. The country's glaciers continue to post the deepest snow bases, most with more than 3 metres (10 feet) of snow lying, the deepest reported by Kaunertal (75/365cm / 30/146").

AUSTRIA FORECAST The snow that's currently falling in much of Austria should keep dumping right through into Thursday for many with subzero temperatures continuing into the weekend from the tops of the slopes down into the valleys. Sunshine should return late Thursday or Friday giving good conditions for most ski centres to end the week and for the weekend. Temperatures currently look set to rise above freezing, particularly down into the valleys and in the afternoons from Sunday.
---

SWITZERLAND REPORT Swiss ski centres posted some of the biggest snowfalls in the Alps last week with a handful of ski areas in Valais reporting more than a metre (40 inches) of snowfall in seven days. After a warm spell brought sticky, wet conditions at the start of the weekend it's looking like the current snowy weather may again see some of its biggest accumulations being in Switzerland, the next 24-48 hours should reveal all. The Jungfrau region, for example, where Grindelwald (15/60cm / 6/24") doesn't report a great snow depth but does note all 200km+ of trails are open, could get as much as 80cm (32 inches) in total. Andermatt (54/400cm / 22/160"), which already has the (joint) deepest base in Europe on its upper slopes is expecting a total of 60cm (two feet) of snowfall by Thursday. Leukerbad (60/210cm / 24/84") which was one of the big snowfall winners last week is due to get another 60cm (two feet) in total too.

SWITZERLAND FORECAST Snowfall currently covering most of Switzerland should ease away from most areas during Thursday leaving clear, cold, partly sunny conditions. This should make for great skiing weather to end the week if it is as currently forecast. Temperatures will rise into the weekend but so far it's looking good for most areas.
---
FRANCE REPORT French ski areas saw some of the biggest snowfalls in the storms last week and they're enjoying more snowfall now. What's more, even at the weekend when lots of ski areas in the Alps got rain due to the short sharp warm spell, a number of higher altitude areas just got more snow. These included Europe's highest, Val Thorens (197/250cm / 87/100") which reported 10cm of snow at the weekend even before the latest snowy period began. Most French resorts are expecting 30-40cm (12-16 inches) of fresh snowfall to accumulate from the current snowfalls by Thursday.

FRANCE FORECAST It looks like the return of sunny weather to French ski areas from Thursday with temperatures climbing back up towards freezing and possibly going a few degrees above, or more, down at resort level. The weather looks like it will be more unsettled over the weekend although as of yet there's no more precipitation in the forecast.
---

ITALY REPORT | La Thuile (50/250cm / 20/100") reported the biggest snowfall in Italy last week with 90cm (three feet) and it looks like it may be one of the bigger Italian winners from the snowstorm that's currently underway in Italy, with another 50cm (20 inches) or so of snowfall forecast by Thursday. Again, it's the ski areas along Italy's northern and western borders with France, Austria and Italy that are set to see the biggest accumulations from the current storms. But there is some snow forecast for the dolomites in the east too, just not so much again, more likely 5-10cm (2-4 inches) on Wednesday/Thursday.

ITALY FORECAST After the current period of snowy weather passes through by Thursday in most areas we're looking at clearer conditions for the rest of the week and into the weekend across Italy. The temperature should stay cold on higher slopes into next week and whilst they may creep above freezing in the middle of the day by the weekend at lower resort level, it shouldn't be so warm for so long as to cause much thawing.
---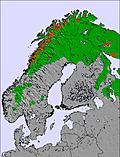 SCANDINAVIA REPORT Scandinavian ski areas, specifically centres in parts of Norway, have been posting consistent snowfall for two months now and for many weeks (if not the past two) have reported the most snow in Europe. This week it's still snowing at Bjorli (70/70cm / 28/28") with 40cm of fresh and it's still in the European top 10 for snowfall totals over the last three days. Over in Sweden, Dundret (120cm/120cm / 48/48") posted the most snow with 28cm (11") of fresh. It, like most areas in the country, is fully open. Are (90/90cm / 36/36"), the region's biggest centre, has more than 70 of its 90+ trails skiable.

SCANDINAVIA FORECAST After the fairly dry weather for large parts of Scandinavia some unusually heavy snowfall is forecast for parts of the region on Wednesday/Thursday. Storlien (40/70cm / 16/28"), in Sweden, may get as much as 45cm (18 inches) in 48 hours, which will be the heaviest snowfall of the season so far if it arrives as forecast.
---

GERMANY REPORT German ski centres have had a mixed week in what continues to be a very poor season for many, unfortunately. After the late January snowstorm brought some respite from the often dry, warm winter to date, the start of February (at the weekend) saw a return to warm, wet weather damaging the generally modest snow cover. The good news though is that the start of this week has seen more precipitation but this time with temperatures dropping to well below freezing. Therefore, for most it means snow. That snow is still falling as this report is being compiled but, hopefully, we're talking 20-40cm (8-16 inches) of snowfall for most areas.

GERMANY FORECAST The current snowfall in Germany is expected to diminish through Wednesday and into Thursday with temperatures staying low. The sunshine is expected to return from Thursday, whilst temperatures remain sub-zero. So, potentially, the end of this week could see some of the best conditions on German ski slopes this season so far. Next weekend currently looks dry with temperatures creeping back up above freezing in the afternoons.
---
BULGARIA and ROMANIA
BULGARIA / ROMANIA REPORT Although there were some small snow showers last week there's not a huge amount of change in Bulgarian ski data with Bansko (5/75cm / 2/30"), the region's largest centre, still having by far the most terrain open. It's been another week with temperatures often too warm for the snow with the mercury rarely dropping below freezing, even at the tops of the mountains.

BULGARIA / ROMANIA FORECAST The good news is that after the often warm weather of the past few weeks we're just moving towards a big temperature drop and the likelihood of some snow, probably 5-15cm (2-6 inches) on Bulgarian slopes. Not a lot but one of the best periods of precipitation of the year so far and the sub-zero temps down to the valley expected into the weekend should at least allow snow-making systems to operate at capacity.
---
CZECH REPUBLIC / SLOVAKIA REPORT It has been snowing hard in the Tatra Mountains over the past 48 hours with some of the snowiest weather of the season so far and several resorts expecting to get up to 60cm (2 feet) of fresh snowfall by Thursday, for some about as much as they've had all season to date. Slovakia's largest resort, Jasna (30/80cm / 12 / 32") is one of those currently seeing the heaviest snow and temperatures falling below freezing right down to the valley floor.

CZECH REPUBLIC / SLOVAKIA FORECAST After the heavy snowfall on Tuesday/Wednesday the skies are expected to clear across the region on Thursday/Friday with only light snowfalls, if any, into the weekend. Temperatures should hit their lowest point on Thursday, double-digits below freezing on the slopes, but then climb back up again over the weekend and perhaps get above freezing down at resort level from Sunday/Monday onwards.
SPAIN / ANDORRA REPORT After the heavy snowfall in the Pyrenees the week before last and subsequent lighter snowfalls a week ago, it has been much drier over the past seven days. There has been a mixture of sunshine and cloud and temperatures a little warmer than the snow would like, a few degrees above freezing on the slopes, and warmer down in resort. But because of the good December and January falls, the cover is largely good and everything is open, including all 210km of slopes at GrandValira (Soldeu/Pas de la Casa) (80/165cm / 32/66").

SPAIN / ANDORRA FORECAST There's no real change to snow conditions forecast in the Pyrenees for the week ahead. Currently, the outlook is another week of dry weather with temperatures a little above freezing on the slopes and five or more above down in resort.
---

SCOTLAND REPORT Another fairly frustrating week for Scottish skiers. Glencoe (0/20cm / 0/8") and Nevis Range (0/20cm / 0/8") in the west posted images of great deep snow conditions on Wednesday/Thursday after some excellent midweek snowfall but were unable to open their lifts to skiers as the winds were too strong. At the weekend the winds eased off but temperatures shot up and rain moved in, ruining the snow cover and breaking up the completed runs once again. So it was back to stage one, once more. Since the weekend temperatures have dropped and there's some fresh snow again, but not yet enough to open runs. All five Highland centres still have their all-weather snow-making systems making small areas so can at least do some business providing skiing and boarding for beginners.

SCOTLAND FORECAST The remainder of this week looks fairly promising in the Highlands with temperatures due to stay pretty cool and light to moderate snowfall forecast for the hills most days through to the weekend. Whether that snowfall will be adequate for ski areas to be able to re-open runs by the end of the week remains to be seen.
---
---
JAPAN REPORT A sad week in Japan with at least three avalanche deaths reported, all in separate incidents. At least two (probably all three) were in off-piste locations. Two were on Hokkaido and one in Nagano (the on/off-piste location is unconfirmed at the time of writing). There has not been a great deal of fresh snow so these incidents are more often caused by wind slab fracturing. In fact, Niseko (95/230cm / 38/96") has had a pretty dry week with almost no snowfall up to last weekend, although it has been snowing again since Monday. Snowfall totals remain at less than half the average for this point in the season and it's a similar picture across Japan; however, temperatures are now well below freezing much of the time (a lot of the problem to date has been caused by warm temperatures) and most groomed runs now open, if hard-packed, at the country's larger resorts.

JAPAN FORECAST The week ahead looks set to continue the trend since the weekend. A forecast of light to moderate snowfall with favourable temperatures. In short, much like a normal Japanese winter at last. Daily totals of 5-15cm (2-6 inches) are forecast with the snow falling fairly constantly throughout the day and night.