---
Issued: 13 November 2019
By Patrick "Snowhunter" Thorne
---
INTRODUCTION:
Winter (by the meteorological measure) is now less than three weeks away in the Northern Hemisphere and the 19-20 ski season continues to build on both sides of the Atlantic.
There are now more than 50 areas open worldwide, with a fairly even split between Europe and North America.
The snowy November conditions have continued in the Alps where a few more big-name resorts, including Gstaad and Verbier, opened at the weekend. The snow kept falling, interspersed with dry, sunny days to enjoy the soft, fresh snow.
The Dolomites and Pyrenees have also seen some good snowfalls with Cortina d'Ampezzo, in Italy, opening 20 days early for the season. Although nowhere has reported being open yet, bases are now up to 90cm (3ft) at some areas in the French Pyrenees. Scandinavia is also staying cold and looking snowy in most areas.
In the USA and Canada, there's not been much fresh snow over the past week but there are now around 30 areas open, many of the most recent additions to the list in the Midwest and east of the continent where a dip in temperatures has allowed snow-making systems to fire up. That's also how Mammoth in California, one of the biggest name resorts to open in the last seven days, has been able to start their season.
Whilst it's nearly officially winter north of the Equator, to the south it's nearly summer and only one small area is still open for lift-served skiing at weekends when the weather is good,; it's in New Zealand.
---
---
INDEX:
Australia / New Zealand / Argentina / Chile / South Africa / Lesotho / Austria / France / Switzerland / Italy / Andorra / Norway/Sweden / Germany / Bulgaria / Japan / Scotland / USA / Canada / South America Weather Outlook / Southern Hemisphere / Europe Weather Outlook / North America Weather Outlook

---
---
Austria continues to have the most ski areas open in Europe although the US is now well ahead in terms of the number of areas open in one country, getting to more than thirty ski centres now, whilst Austria remains on nine. Austria should get into double figures and stay ahead of Switzerland (on seven) at the weekend though as the first of the country's areas that are not reliant on glaciers or snow-farming to open. They just have reputations for reliable snow on their higher slopes. Obergurgl, Schladming and Turracher Hohe are amongst those aiming to open later this week for their 19-20 season. Of the nine areas that are already open, there has been more fresh snowfall days interspersed with beautiful clear sunny days. Hintertux (0/80cm) and Solden (0/154cm), which have both had 20-30cm more fresh snow in the past 48 hours, both have around 40km of runs open, probably the most of any areas in the world at present. All the snow has caused some issues, however. There were two avalanche deaths at Solden at the weekend. Two very experienced skiers headed off-piste but apparently miscalculated the conditions.
---
---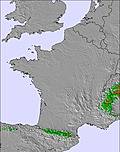 Tignes (30/120cm) remains the only ski area open in France with half a dozen trails open. The Grands Montets and Les Houches ski areas, in the Chamonix Valley, have named this Saturday 16th November as their target opening date but this is yet to be confirmed for sure. In addition, the glacier at Val Thorens is due to join it in a little over a week. There has been more snow in the French Alps and indeed in most mountainous regions of France with the French Pyrenees seeing some particularly heavy snow in recent days with resorts like Cauterets and Piau Engaly reporting 90-120cm (3-4 ft) accumulations. So far, none have announced early openings; however, that may change.
---

Switzerland's good start to the season has continued (albeit still early days, of course) with more snow falling and much more in the forecast. Three more areas have now opened with Andermatt (30/200cm), where the Gemsstock's ski slopes opened on Saturday, immediately posting the deepest snow in the world so far this season and the first in the Northern Hemisphere to reach two metres. It's one of many ski areas in the Alps to just be opening at weekends in November. Glacier 3000 (10/46cm), the ski area shared by Gstaad and Les Diablerets, also opened, as did Verbier's slopes. This takes the number of Swiss areas open to seven with Saas Fee (20/50cm) now reporting more than 25km of runs already open; the most in Switzerland so far. Zermatt (8/70cm) has the highest slopes open in the Alps and the biggest skiable vertical open so far for 19-20. At least four more Swiss areas may open this coming weekend although only Crans Montana has confirmed at time of compilation. Davos, Grimentz and Laax may also open. The latter has said it has been ready to open for several weeks now but last week delayed doing so due to strong winds in the forecast.
---

Cortina d'Ampezzo (20/50cm) was the surprise opening last weekend when the resort opened 20 days earlier than planned thanks to a 50cm snowfall in the Dolomites. With the Presena Glacier (100/150cm) and Solda (20/50cm) also opening Italy is now up to six ski areas open for 2019/20 now. The country has seen more snow over the past few days with up to 50cm more snow reported in parts of Trentino since the weekend. Cervinia (30/140cm) has the most terrain open with ten runs to choose from. More areas are due to open this weekend including Alagna, Madonna di Campiglio and Santa Caterina which are on the list.
---
Andorra's looking pretty good with just over a fortnight to go to the expected start of the season at the end of this month. There's about 50cm of cover now on upper slopes with a lot more snowfall in the past week. There similar volumes of snow across the Spanish Pyrenees and (as mentioned above), deeper still on the French side. This time last year La Molina and Masella's Alp 2500 ski area had been open a fortnight after opening very early following a huge October 2018 snowstorm. This year there's nowhere open yet but Alp 2500 say they expect to open the weekend after next.
---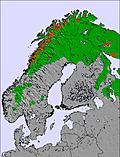 Things are looking pretty good for the start of the 19-20 season in Scandinavia too where it has been largely cold with some fresh snowfall. Another half dozen ski areas have opened in Norway, Finland and Sweden over the weekend so we're now into double figures for the number of areas already open. Ruka (0/25cm), in Finland , has one of the bigger areas open so far. It's already into the second month of the 19-20 season with over a dozen trails now open. Levi (0/35cm) is building up to hosting the World Cup the weekend after next. Pyha is the next Finnish area due to open this coming weekend. Bjorli (60/60cm) is one of the new openers in Norway, already posting the deepest base in the region to date with lots of fresh snow. Trysil is due to open at the weekend and the region's biggest ski area, Are, in Sweden should be opening too.
---

There's been snow for German slopes too and although none of the country's larger ski areas are expected to open any time soon, one of its small centres, Schwärzenlifts, in Eschach (which has four drag lifts) says it will open this weekend after the first natural snowfalls topped up by snow-making in the area.

---
The signs continue to look promising across Eastern Europe with more fresh snowfalls and cover building in most areas. Chopok in the Slovak Republic was one of the latest to post images of great cover across the slopes. Most Eastern European areas won't open until early December but hopefully, the signs are good for a successful start in most areas once it arrives.
---
There's still just one small area in Japan open, using plus-temps snow-making machines; however, Niseko posted its first centimetre of snowfall of the autumn at the end of last week. This has created some relief with resorts due to start opening later this month.
---

Scotland's hills are white once again after more fresh snow has fallen over the past few days and nights. The centre's operators are keen to stress that whilst it's looking promising at this stage, it's still early days in terms of reaching reliable snow cover in order to be able to open. That said several areas have also been firing up their snow-making systems after a prolonged period of cold, often sub-zero temperatures have persisted; unusual for this time of year now.

---
---

The US is the country for skiing at the moment with more than 20 areas now open in 10 states after more resorts opened at the weekend, mostly in the Midwest, but also on the east and west coasts. The majority are currently only open at weekends. Among the big names starting their seasons were Mammoth Mountain, the first in California, Sunday River, the first in Maine and Copper Mountain Resort and Breckenridge Ski Area in Colorado, where the lifts started spinning at 9 am last Friday, November 8th. They take the number of areas open in Colorado to seven, with Copper (46/46cm) opening three lifts, accessing 90 acres of terrain across five trails, whilst Breckenridge (46/46cmm) opened the BreckConnect Gondola to access 200 acres of terrain. There's not been much fresh snow in the past week in the US, just an inch or so in Colorado after a warm weekend. Mammoth opened with a purely machine-made base on one run. It's actually newly opened ski areas in the Midwest like Brule (91/91cm), in Michigan and Wild Mountain (15/91cm) that are posting the deepest snow numbers in the country. Big-name resorts due to open for the season this weekend include Squaw Valley and Vail. Steamboat will also be opening in Colorado on what will be the earliest date in 50 years after receiving record October snowfall.
---

The 19-20 ski season continues to gather pace in Canada too. With Sunshine (51/51cm) and Marmot Basin (40/40cm) opening at the weekend. There are now five areas open in Alberta including all three Banff ski centres. Lake Louise (70/84cm) meanwhile, posted 35cm (14 inches) of fresh snowfall at the weekend to provide some great powder conditions to start the week. The other two Banff areas got 10cm less but still plenty of fresh. The season is also underway on Canada's east coast where warm temperatures in October delayed the start there. Snow-making systems have been working flat out since temperatures dipped and Mont Saint Sauveur (0/20cm) was the first to open here at the weekend.
---

The unsettled weather that has been a feature of the past fortnight now in the Alps shows no sign of change really with a mixture of more sunny days and more heavy snow days stretching into the week ahead. The good news is that the snowy days look like they'll be very snowy with most of the already open areas (and many not yet open) forecast to receive 50cm or more snow by Thursday/Friday then more snow at the weekend. It's a similar picture for western Italy and the Dolomites with some very heavy snow expected across the region through the week ahead. It's also looking very snowy in the Pyrenees with lighter snow on Wednesday giving way to potentially days of heavy snow bringing over a metre to some areas by the start of next week if forecasts play out as predicted. For Scotland, it's looking like more cold weather ahead and more snowfall on the ski slopes through the coming week.
---

It's looking like another mostly dry and sunny week in the western US with temperatures a little above freezing. The north east of the country is, however, due to receive a good snowfall of 10-30cm at the weekend according to current forecasts, with the snow starting to fall from Friday onwards. Over the Canadian border the picture is also mixed with initially colder, snowier weather in the east but the potential for 20-40cm accumulations in provinces to the west including Alberta and BC later in the weekend and into the start of next week.