---
Issued: 2 October 2019
By Patrick "Snowhunter" Thorne
Our latest roundup of snow conditions around the world. Each section that follows below goes into detail country by country. Clicking the map thumbnail will take you to our dynamic snow forecast map for the latest detail (where you can also overlay live weather & reported conditions). Weather outlooks for Europe and North America can be found at the end of this roundup.
---
INTRODUCTION:
We're in to October and more Northern Hemisphere ski areas are opening for an early start to winter 2019-20 whilst most Southern Hemisphere ski areas have now ended their 2019 winter (and almost all of the rest are set to do so over the next two weekends). Therefore, we're switching to the Snow Forecast October to May weekly snow report layout with ski areas in Europe and North America featured first.
The good news is whichever hemisphere we feature first, there's fresh snow to report in both, with more snow in Europe and North America as well as south of the Equator.


Western North America saw the biggest snowfalls of last week with some big accumulations of more than a metre reported in Montana and 50cm plus in British Columbia. There were also good falls in states including California and Wyoming over the weekend and into the start of this week. But though it looked spectacular and was considered quite an extreme snow event, especially considering it was still September, temperatures are warming again in the region and it's not expected to last.
In Europe there was 5-10cm of fresh snow on high peaks across the Alps in the middle of last week, freshening up cover on the already open glaciers. We're now back into double figures for the numbers open, with two more opening last week despite Tignes deciding not to; more than half of those open are in Austria. More snow is expected over the next few days.
There was snowfall for the Southern Hemisphere too last week with ski areas including Mt Ruapehu in New Zealand, which will most likely have the last ski areas open for the 2019 season in the Southern Hemisphere later this month, one of the main beneficiaries and reporting around 50cm of fresh.
The majority of Southern Hemisphere ski areas have now closed but several dozen, mostly in Australia and New Zealand, are still open and several have said they plan to stay open for at least another week after that; up to mid-October.
---
INDEX:
Australia / New Zealand / Argentina / Chile / South Africa / Lesotho / Austria / France / Switzerland / Italy / Andorra / Norway/Sweden / Germany / Bulgaria / Japan / Scotland / USA / Canada / South America Weather Outlook / Southern Hemisphere / Europe Weather Outlook / North America Weather Outlook

---
---
Austria is dominating the number of ski areas open at present with the Kaunertal glacier opening on Saturday and the Molltal glacier re-opening last week after a two-month closure due to temperatures being too high and snow cover gone at the height of summer. The Molltal reported 5cm of fresh snowfall last Wednesday. So more than half the current Northern Hemisphere total open are in Austria with seven glaciers open for snow-sports, although at the last report the Dachstein only for cross country at present. An eighth, the Kitzsteinhorn, expects to open 'early October' but had not named the day at the time of publication of this report. The year-round Hintertux ski area (0/45cm) continues to post the most terrain open in the country with some 20km of piste and has announced it is moving to winter opening hours with the lifts now running to 4 pm in the afternoon rather than the 1 pm of summer skiing. Everywhere else, including Solden (8/50cm), the Stubai (0/25cm) and Pitztal (10/20cm) report less than 5km of slopes open so far.
---
---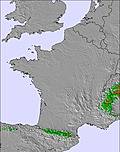 After making the call not to open for their 2019-20 season last Saturday, there was the first snowfall of the season last Wednesday at Tignes, although not enough for resort managers to change their minds. So we're probably waiting for more snow now before Tignes decides to open. Otherwise, Les Deux Alpes is aiming to open on the final Saturday of the month, just for nine days, if conditions are any better there, which currently seems unlikely, but we still have four weeks of autumn between now and then.
---

It's still a choice of Saas Fee (0/50cm) or Zermatt (0/50cm) for snow-sports in Switzerland at present. Both received a little 3-5cm of fresh snow last week and both continue to offer around 15km of slopes a piece. At least three more Swiss glaciers are expected to open through October, with the Titlis glacier above Engelberg, the Diavolezza glacier in the Engadin Valley and Laax all aiming to open before the end of this month.
---

Val Senales (0/25cm) is entering its second month of its 2019-20 season already but there are just three runs open here with a thin base. The snow is lying deeper at Passo Stelvio (100/200cm) which is by contrast entering the final month of its season which began last spring, it currently has six runs open
---
There are currently no ski areas open in the Iberian peninsular and resorts in the region don't normally open until the very end of November at the earliest. That said a late October snowfall last year did lead to at least one area opening early at the very end of October, so we never know.
---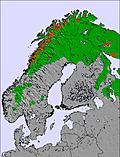 There's a second ski area opening in Scandinavia on Friday as Finland's Ruka begins its long season on October 4th. This is usually the longest in Europe for a non-glacier resort, extending well into May next year. Ruka opens early by using snow-farming to stockpile snow on three pistes through the summer and then spreads it back out on the slopes at the start of October as temperatures start to drop, meaning even if there's a daytime thaw it can be topped up by snow-making at night. It will join the only other ski area open in the region, Norway's Galdhopiggen glacier ski area, which enters its last full month of operations for 2019 this week. More ski areas in Finland including Levi are expected to open over the next few weeks.
---

There's nowhere currently open in Germany where most of the country's ski areas traditionally open for the season in December. The Zugspitze Glacier, which operates the country's highest lifts and usually has its longest season, expects to start its 2019-20 season in mid-November.

---
Eastern Europe has already seen some snowfall on higher slopes in the Tatra Mountains but the region's ski areas do not usually open before November at the earliest, with most not doing so until well into December.
---
There are no ski areas currently open in Asia. Resorts in Japan tend to start operations in the latter half of November or later.
---
---

There are no ski areas currently open in Scotland and there has not yet been any snow seen on the country's mountain tops. It is not impossible that one of the country's ski centres could open in October if there was an unseasonal early snow dump, The Lecht has opened for Halloween before in similar circumstances, but there's nothing like that on the horizon so far. Cairngorm reported its first dusting of snow on October 1st.

---

There was much excitement in US media at the end of last week as estimates for the amount of snow due to hit the Pacific Northwest in an unseasonal 'early winter' dubbed the 'September shocker' reached as high as six feet (1.8 metres) in the most exuberant forecasts… In fact the biggest reported falls were in Oregon and did reach 1.2 metres (4 feet) of wet snow but it is now reported to be thawing fast and no ski centres are known to have opened as a result of the snow (unlike a few years ago when as few centres did open after similar falls around the same time of year in Washington State). The focus now is back to the battle to be the first in the country to open for winter 19-20 with overnight temperatures looking to go sub-zero on both sides of the country so we can expect snow-making systems to be fired up at competing resorts in the next few days.
---

It's been looking a lot more like winter in Western Canada through the weekend. Panorama, in BC, reported heavy snow top-to-bottom from Thursday on and believed it was the first in the country to fire up its snow-making arsenal, although it does not appear to have any imminent plans to open.

---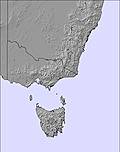 AUSTRALIA Australia's ski season is into its final fortnight with the first areas reporting closing days last weekend. Temperatures have also been climbing up into double figures from top to bottom. However, it is lasting up to two weeks longer than planned with Perisher (225/225cm), which also started the season two weeks early back at the end of June, saying that this winter is their "longest season in memory". They still had all lifts turning and around 85 runs reported open last weekend.
---
---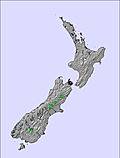 NEW ZEALAND Ski areas have begun ending their season in New Zealand with Treble Cone one of the bigger centres to call it a day on winter 2019. But at the same time it has stayed cold with light snow flurries reported in recent days at several areas and indeed Mt Ruapehu, where Whakapapa (151/263cm) and Turoa (90/278cm) are usually the last to close in the Southern Hemisphere each year in late October (sometimes even early November). There was 50cm of fresh snow in the middle of last week and these areas now have the deepest reported bases south of the Equator. For most of the still-open centres though this coming weekend, or next; will be the last of winter 2019.
---
Most of the ski areas in the Andes are now closed for the 2019 season with Nevados de Chillan, the last major ski area in Chile to still be operating for the 2019 season, ending its winter on the last Sunday of the month. However, the continent's largest ski area by uplift capacity and the number of lifts, Cerro Catedral (35/95cm) near Bariloche in Argentina says it will stay open through the first half of October to the 14th.
---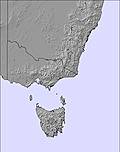 It's going to get increasingly warm on Australian ski slopes with some resorts seeing temperatures in the high-teens above freezing at times in the week ahead in mid-afternoon. The weather will be mostly sunny with some precipitation possible at the weekend although the looks more like rain than snow with the temperatures so high now. It's looking more wintery still in New Zealand though with 10-30cm of snow in the forecast over the coming week and temperatures mostly sub-zero on higher ski slopes for much of the week ahead, although fluctuating up to positive temps by mid-afternoon. For the Andes there are mixed, typical spring-like conditions with temperatures mostly staying sub-zero day and night on the slopes, with occasional spells of precipitation, mostly still falling as snow over the coming week. Lower down at resort level though there'll be longer periods of above zero temperatures, though rarely above plus five, which will bring thawing and rain at times.
---

It is looking like a fairly snowy week ahead up high in the Alps with 30 – 60cm of snow forecast above 2000 metres by the end of the weekend. That's good news for the 10 or so glacier areas now open once the weather clears, but could also be the start of bases building at areas due to open later this month and in November. The snow is looking heaviest over the next 24 hours and again at the weekend with areas on the eastern and northern sides of the Alps seeing the biggest dumps.
---

In North America things have warmed up and dried out for many areas after the heavy snowfall in the northwest over the weekend and into the start of this week so the race to open for October may not get underway for a few days. However, the weekend is looking cold and snowy up high in Colorado so we can expect the snow-making guns to fire up then, if not before (it should be sub-zero overnight up high during the coming week but above freezing in the daytime). North of the border in Canada it looks like more snow is on the way for ski slopes in Alberta and BC this week and there could be the first cover in the East later this week for Quebec too.