World Snow News 51
World Snow News Update for August 22nd 2008
Welcome to the latest roundup of worldwide snow conditions and weather prospects for the week ahead from www.snow-forecast.com sponsored by Iglu Ski. Check out their website for the latest offers for your next ski holiday. For additional details about current snow conditions, see the latest summary of conditions from Skiclub of GB, updated twice each week during both northern and southern ski seasons. You can view our older worldwide snow blogs here.

Brief summary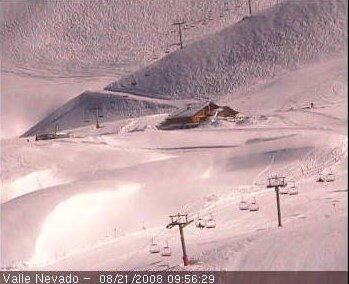 The 2008 southern ski season continues to impress. Despite a late start and a mid-season thaw, Turoa in New Zealand has broken its previous snow depth record. The average depth of 4.6m is currently the deepest snow base on offer at any southern hemisphere ski resort apart from La Parva in Chile. This is no mean feat in a ski season that is proving remarkably snowy in so many places, not just in New Zealand but in Australia and parts of South America too. Following the excellent northern ski season, it would be comforting to suppose that our fears about global warming can now be laid to rest but unfortunately things are not that simple. These snow conditions have much more to do with abundant precipitation caused by the paths of weather systems. In any case, to make a bold conclusion on the evidence of a couple of good snow seasons would be to confuse weather with climate and there is nothing of comfort to skiers or the ski industry in any of the climate models. Good days and good ski seasons won't stop; they'll just become further apart.
Snowcam of the Week (left): Valle Nevado in Chile. Tucked away in the pristine Andes Mountains of South America, the Valle Nevado Ski Resort is the ultimate summertime ski trip destination. Located only 37 miles east of the Santiago International Airport
Ski resort news:
Despite investing 20 million Euros in snowmaking and other infrastructure, ski resorts in Andorra have lost market share to budget destinations in eastern Europe. Resorts hope that they can lure British and Irish skiers back by offering an impressive deal for the forthcoming ski season. According to preliminary announcements there will be free ski passes for under 14 year olds as long as you book through a British or Irish travel agent. If you have not been to Andorra for a good while, you'll probably be surprised how much things have improved since it was Europe's bargain basement ski area.
Following on from recent excessive snowfalls through the Craigieburn range, the K2 Big Mountain CHILL Series has changed its programme and timeframe with the intention of making the most of the incredible snow conditions.
Four days prior to the intended Craigieburn event a massive snowfall left an unstable snow pack and limited access to the ski area. The new schedule is for the Craigieburn leg to take place on Thursday 4th and Friday 5th of September and for a second leg to run over Saturday 6th and Sunday 7th at Mt Olympus. A total cash prize pool of $2800 is up for grabs across the K2 event along with additional prizes. More information at chillout.co.nz. Before then, the Volkswagen National Championships are to be held on the 29th, 30th and 31st of August at Coronet Peak.
Plans for a new ski resort development in Bulgaria which environmentalists say encroach on to protected national park land where construction is illegal, appear to be moving forward despite Bulgaria's Environment Minister saying they must not. The situation has led to criticism of the minister from both land owners and environmental groups.
The development approved by the local Separeva Banya municipality, the minister declared the proposed development, "illegal and in violation of the regulations of the Protected Areas Act." But construction of the new winter resort Panichishte-Ezerata-Kaboul has already begun with the municipal management of Separeva Banya in south-western Bulgaria saying that their proposals were not something that came under the remit of the Environment Minister anyway.
On the spot checks by environmental campaigners last week found that the barrier at the entrance to Rila national park in the area had been removed, together with its concrete foundations. The sign banning motor vehicles from entering the park had also been removed according to the environmentalists. They said their next step would be to advise the police of the situation.
A new triple cable giant gondola, the Rittner Seilbahn, will open this autumn in Italy. The new Leitner built lift will provide improved access to Rittner Horn mountain from the north Italian city of Bolzano, which is located through the Brenner Pass to the south of Innsbruck.
The new lift will carry eight giant gondolas, each capable of carrying 35 passengers, 27 of them seated. The cabins will arrive at four minute intervals and together will have a capacity of 550 people per hour.
The lift replaces an old cable car (tram) on the route but the base building will undergo a complete re- construction with the new building incorporating office and retail space as well as 130 underground parking spaces on three levels. The 4,541-meter-long lift cable will follows the identical route of the former lift and seven support towers will be built in the same locations of the seven towers of the former lift.
Summary:
NEW ZEALAND saw another major storm last weekend


Many ski resorts have seen bumper snowfalls, mainly from Arthurs Pass north

Fine weather followed the snow but the avalanche risk was very high

With 4.6m of snow, Turoa has broken the New Zealand snow depth record

NW gales affecting S Island resorts on Thursday night and Friday

The next Tasman low will arrive early on Sunday

Rain, snow and strong winds for more northern ski areas

Initially quite mild but turning to a cold southerly next week


The snowy winter in Australia continues to deliver perfect conditions


Snow fell at most resorts last weekend

The past few days have been very cold with further snow for some

An active cold front will cross the region tomorrow with snow down to 800m

Fine weather to follow, but possibly mild in a week or so

As forecast, snow fell on glaciers across the Alps last week. On Friday, 10cm of snow fell on Friday on the glacier at Val Senales in Italy and snow also fell on Friday at both Les Deux Alpes and Tignes. In Austria the snow arrived at the weekend. 10cm fell at Stubai but this was not sufficient to merit reopening the area for skiing - Stubai Glacier has been closed for several weeks. Kaprun, which is still operating, did a little better with 20cm of fresh snow but despite this boost the snow conditions there were reported as wet and heavy and the area open for skiing was actually reduced to just 1km of pistes. Saas Fee and Zermatt saw a dusting of snow on Sunday. Hintertux saw a dusting of snow on Wednesday and although it did not really alter conditions there, they already boast an impressive 13km of open pistes.
The forecast sees an east-west split this weekend with fine weather for the glaciers of France but snow for ones in Austria, close to a weak area of low pressure. Mostly fine for all areas until Friday when an outbreak of much cooler snow-bearing NW winds are possible.
The winter of 2008 is proving to be an exceptionally good one in New Zealand and at many resorts conditions are described as being as good as or even better than the legendary ski seasons of the early 1990's. The latest storm dumped over a metre of snow at many central and northern resorts last Friday and over the weekend and also brought rare snowfalls to low elevation parts of Nelson and Buller. At Whakapapa, it is once again possible to ski all the way down to the village and at neighbouring Turoa the average snow depth of 4.6m has broken the previous record for any New Zealand resort and conditions in the early part of this week were being likened to Utah (by the resort management, but even so). Snow canons are buried and if the weather continues as we expect, they are going to need to extend their measuring stake some more.
Manganui on Mount Taranaki has also greatly improved since the latest fall which has brought the snow base over 2m. At the top of South Island, Rainbow has been hit by the same storms and should now be enjoying its best conditions for years. Unfortunately this has been one storm too many for the little resort and five days later they have not yet managed to dig their way back in through the giant snowdrifts that have buried the access track. Nelson and Blenheim skiers must be feeling pretty frustrated this week because it is a long drive to the closest alternatives at Mt Lyford and Hanmer which have about 3.5m and 2m bases respectively. The good news is that the bulldozers aim to have the road clear at Rainbow for Friday.
Unfortunately the most recent snowfalls at Mt Lyford on Monday, when 15cm fell, were wind affected and a crust covered some off piste areas making for tricky riding which did not soften until late on Thursday when milder air arrived.
On Thursday, most New Zealand resorts reported a rising mild NW wind with a few showers west of and about the main divide. This marks a change in the weather and a new Tasman low will soon develop in the westerly flow. We expect this depression to cross North Island on Sunday but since it is still in an embryonic stage there is some uncertainty both in the path and also the strength of this system. Current models suggest it will be a relatively modest affair compared with recent storms; small consolation because there will be heavy rain and gales for some. Once again the top of South Island and the bottom of North Island will be hit hardest.
Fridays Northwest gales will no doubt close some South Island resorts but they do at least promise to bring a spell of snow to the ski resorts of the Southern Lakes region (especially Treble Cone which is furthest west) although on some aspects more snow will be lost to the wind than actually falls. Expect heaviest snowfalls above 1500m in Fiordland and Westland.
Canterbury ski areas continues to enjoy spectacular snow conditions. Following the big dumps at the end of last week, most had several more cms of snow (and hail) on Monday evening as a brief southerly front went through. Tuesday and Wednesday provided perfect skiing days - cold and sunny with light winds. Snow bases are in the range 2 to 3m and a long Spring season seems assured. For example, Temple Basin, which didn't even open in 2007 because of insufficient snow, currently has 2 to 3.5m of the stuff. Residents in nearby Arthurs Pass have described it as the snowiest winter there for 20 years.
Mount Dobson
was closed due to strong winds on Monday but Tuesday provided excellent skiing on redistributed windblown snow that was firm in places. Wind is likely to be a problem again on Friday.
The Southern Lakes region has seen new snow too. Nothing like as much has fallen as further north but fairly regular falls and low temperatures are providing great conditions just the same. Snow bases are typically around the metre mark and apart from a few resorts that had a dusting of snow on Monday night the last significant snow was at the weekend and at the end of last week. Treble Cone was close enough to the West Coast to see 45cm fall over this period while Coronet Peak saw 15cm and the Remarkables saw 10cm. Low temperatures meant that Queenstown and the entire Wakatipu Basin were blanketed in snow, making for an impressive spectacle from the skifields.
Sunday looks like a day to avoid on Ruapehu as northerly gales create blizzard conditions above about 1900m with a chance of rain and sleet rather than snow below this, at least for a time. At Manganui, a period of heavy rain rather than snow is a near certainty. Resorts like Mount Lyford and Hanmer are sufficiently far south to see easterly rather than northerly winds on Sunday but their low altitude also puts them at risk of rain or wet snow on lower slopes. The problem with either of these possibilities comes when much colder weather arrives on Tuesday. This could lead to an ice layer that may persist as a weakness in the snowpack when the return of southerly winds bring further bands of cold and dry snow later in the week as expected. Further south, this depression should bring snow rather than rain to the Canterbury ski areas, but south of here very little precipitation at all.
Tuesday looks distinctly wintry in eastern parts of New Zealand with strong southerlies that may reach gale force in Wellington. Snow will affect many eastern hills from Dunedin north and should settle to fairly low levels - say 500m in Canterbury. Beyond Tuesday, confidence in the forecast is very low. Previous weather models maintained a cold southerly flow for several days and predicted snowfalls reaching inland Otago but the most recent model has the southerly flow moving offshore quite quickly with fine weather for the Southern Lakes region extending north to cover all of New Zealand by Thursday.
In Australia, Perisher Blue has received regular snowfalls throughout July and now into August cold temperatures and consistent snowfalls have been in abundant supply. The resort has received 286cm (nine and a half feet) of snowfall since opening weekend. Although it hasn't snowed here since last Saturday and existing snow is wind affected, fresh snow is expected tonight (Thursday night).
Apart from Thredbo, all Australian resorts saw fresh snow last weekend. Since then it has been a cold week - ideal for snowmaking and Mount Baw Baw in particular continued to see regular snowfalls with 30cm falling since Sunday.
As we indicated last time, the weather will end the working week with a return to a cold and snowy southwest flow everywhere, although this will be quite brief. An active cold front is crossing Victoria on Thursday night and will move across the remainder of the mountain region on Friday bringing NW gales about the tops. Several cms of snow should fall as the front passes with isolated snow showers and thunderstorms following on a cold SW wind.
High pressure builds over South Australia and moves onto Victoria by Sunday providing a perfect skiing weekend of fine and frosty conditions and fresh snow.
Much of next week looks mostly fine too. Expect light winds, variable areas of cloud and no more than a few isolated showers. Make the most of these great conditions because by the end of the week it looks like increasingly mild northerly winds will make the snow sticky as freezing levels climb to almost 3000m.
The Chilean resorts fared best for fresh snow last weekend. The heaviest fall was on Saturday at La Parva which received 1 metre in just 24hrs bringing the total there to 5.65m on the upper slopes to claim the title of snowiest resort anywhere. Amazing champagne powder was reported from top to bottom at the resort which has received 1.25m of snow in the past week, including a dusting yesterday. Enjoy the fine weather; it should last until snow arrives on Wednesday, then fine again. It's hard to find anything not to like about a forecast like that. The only caveat is that the new snow will be accompanied by quite strong winds.
Strong winds have caused problems at Nevados de Chillan of late. The bad news is that after a calm spell the wind is forecast to get very strong once again this weekend, peaking in intensity on Monday night. The good news is that Tuesday, Wednesday and Thursday look like they will be very snowy.
Chapa Verde received slightly less snow with 90cm reported on Saturday. The resort was closed on Monday due to high winds. The road from Santiago to Portillo was closed on Monday due to the high volume of snow that fell over the weekend. Conditions at the resort were reported to be excellent.
In Argentina, 30cm of snow was reported on Saturday at Chapelco with powder conditions preserved for several days by low temperatures. Snow also fell at the end of last week at Cerro Catedral and both resorts received further dustings of snow on Monday. Las Lenas meanwhile has not seen fresh snow this week but sunny skies and low temperatures have preserved the existing cover; a relatively modest 0.6 to 1.7m makes it one of the few southern ski resorts reporting less snow than average for the time of year. Mid week promises to bring plenty of fresh snow here, mostly falling on Wednesday.
The snow-forecast team