SnowRanger brings GPS technology to the skier and snowboarder
Snow-forecast.com now offers a unique GPS mapping product to help skiers. This means no more messing around with torn paper maps in high winds or trying to spot a landmark in a white-out—just pull out your GPS and see exactly where you are and which way to ski or snowboard to get to the next chairlift or lodge. Ever wondered where you were out the back of Courchevel, or how to get from Peak 7 at Breckenridge to Tenmile Station™ to meet your mates for lunch? With these digital maps on your GPS you'll know exactly where you are and how to get to where you want to go.

No more messing around with torn paper maps in high winds or trying to spot a landmark in a white-out—just pull out your GPS and see exactly where you are and which way to ski or snowboard to get to the next chairlift or lodge.

It takes less than 30 seconds to put these maps onto your Garmin nüvi®, eTrex®, Oregon, Magellan Triton, or other GPS!

Each map shows the resort's:
* Chairlifts * Trails (pistes)
* Terrain Parks
* Lodges * Roads
* Parking
* Tickets, Plus skier drop-off, forests, contours, and more.
"The Mammoth map that I used was awesome. The details on the map were everything and more than I expected. I'm looking forward to using other resort maps in the near future." - Jason Bond, satisfied customer
We've got over 460 GPS maps for European ski resorts and 76 for the major North American resorts. The map below shows an overlay for Val Thorens overlain on Google Maps. You can view other resorts by clicking the Piste Map button on any of our resort pages (where available).
click here to buy SnowRanger pistemaps for your GPS from only £19.99
Get this map on your Garmin, eTrex®, Oregon, Magellan GPS here
In addition to finding your realtime position on the mountain, you are able to store your tracks and later upload them for sharing on the internet using the unique "Snowdays" tool. There is even a Facebook group where you can share and compare your day's skiing or boarding! The image below is taken from a Snowdays record, and we think it's pretty cool!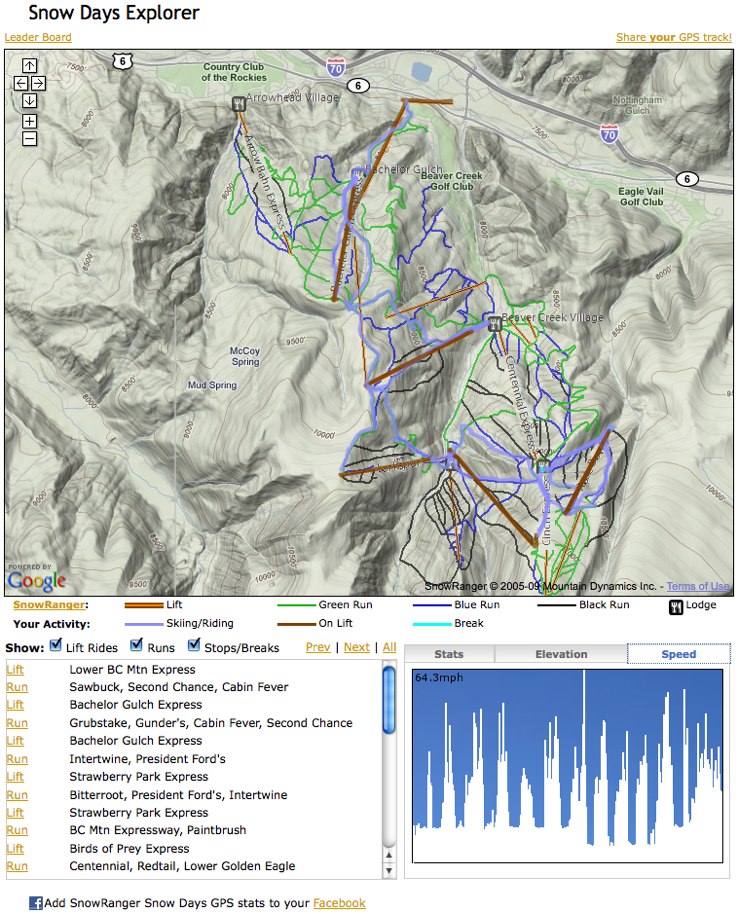 click here to buy SnowRanger pistemaps for your GPS from only £19.99