Know the Mountain with GPS Piste / Trail Maps for over 500 Resorts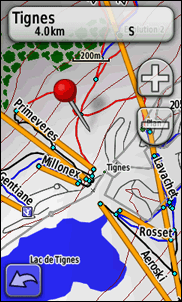 Ever been stuck wondering which piste leads to Courmeyer and which to Meribel? Or which lift to take to get back to France from the Swiss side of the Portes du Soleil? With our digital maps on your GPS you'll know exactly where you are and how to get to where you want to go--and no more wrestling wet paper maps with freezing fingers in a blizzard! SnowRanger is a series of ski resort piste maps for your Garmin GPS for over 500 ski resorts in Europe and N. America
Compatibility: Snowranger maps come on a microSD card will work with all Garmin GPS "x" models that have a microSD (also known as Transflash) slot, such as the Legend Cx, Vista Cx, Rino 530HCx, GPSmap 60CSx, Edge 605 and all Oregon models. We also provide an SD card adapter so the maps will work with all Garmin nüvi and Colorado models. Installation from memory card takes less than 30 seconds to put these maps onto your Garmin nüvi®, eTrex®, Garmin Oregon etc.
New - Pistemaps now available for Nokia N95 mobile phone running the Garmin Mobile XT. This available as a bespoke download for your phone. If you would like this option, please order below and then email help@snow-forecast.com stating your preference for Nokia N95
Each pistemap shows:

Pistes (colour coded black, red, blue)
Ski lifts with names
Terrain Parks
Restaurants & Refuges (no excuses being late for lunch!)
Roads
Car Parking
Ski Schools

SNOW DAYS is an additional free service that enables you to upload your tracks to the internet and view them overlaid on a resort basemap.

View your Snow Days GPS stats and share them with your friends with our Facebook application.


The maps are published in partnership with Navionics S.p.A. and include all of Navionics' on-piste details plus detailed TeleAtlas streets and points of interest (POIs) for the villages.
Browse the EUROPE maps | Browse the N. AMERICA maps and order your set now! Got a question? Ask us