Snow arrives early in the Alps and N. America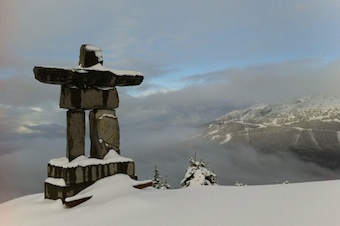 Recent snow in Whistler (photo credit: Whislter Blackcombe Resort)
Although it has only been five weeks since the autumn equinox, it feels like the northern hemisphere ski season is already in full swing. In case you haven't been keeping up with all the latest ski news here are a few highlights from the editors at Snow-Forecast.com.
Early indications are promising that we will generally have another great ski season. First, let's not forget the southern hemisphere season is still hanging in there. In New Zealand (which would rather be known as Middle Earth) they had a real mixed bag of a season but the biggest snowstorms came late and as a result Turoa and Whakapapa on the North Island have two more weeks of skiing. Grab yourself a super-cheap spring pass and make sure you take plenty of sun cream. On South Island, Mount Olympus and Broken River closed last weekend, the last of the club fields to shut for the season. Back country, there are still huge stashes of snow about but take extra care of the avalanche risk which is higher than normal. For those in the know, back country skiing in NZ is possible right through the summer.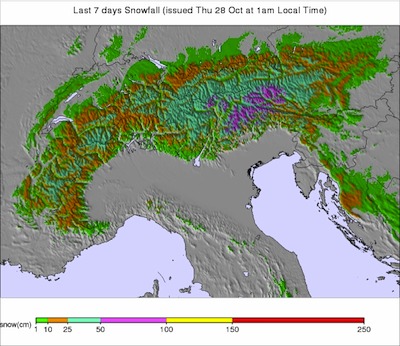 Last 7 days accumulated snowfall (click image to view latest live version)
The
European Alps
saw a huge fall of snow last weekend leading to several resorts opening early.
Bormio
in
Italy
is not one of these, but it reported the most new snow - 60cm of fresh.
Cervinia
already has a 60cm base, and should have more snow before it opens this weekend. The Alpine glaciers generally saw 20-30cm of fresh snow leading to excellent conditions now that the weather has cleared.
Val Senales
and the
Presena Glacier
in
Italy
are open for skiing following 20cm of fresh snow on Monday.
Tignes
and
Les Deux Alpes
in
France
are open and also saw 20cm of fresh, while
Zermatt
and
Saas Fee
in
Switzerland
received a little less new snow. Snow settled everywhere above 2000m in
the Alps
and in a few places much lower, for example Laax has announced it'll open early for the season, this Saturday. It snowed in the Three Valleys too, but they don't plan to open until Dec 4th.
With more snow expected in a few days, this should form a base layer that will now build through the season and barring some exceptional mild-spell, it seems safe to assume that there will be no repeat of the grassy green slopes that greeted Christmas holiday skiers several years ago. Back then, news hacks everywhere were prematurely writing the obituaries of many lower resorts. With its relative abundance of low altitude ski areas,
Austria
was singled out as the least viable ski destination. So what happened next? Three superb seasons, and we are happy to report that not only did the glaciers of
Hintertux
and Molltal once again see heavy snow in mid October, that snow has once again settled to a low altitude, so low that
Kitzbuhel
has announced it will open early for the season on Saturday, with a 30cm base. Also opening early this weekend because of all the fresh snow, Garmisch in
Germany
.
Across the
Atlantic
, a strong La Niña weather pattern is set to dominate this season for the first time since 2007/08. This is very good news for places like
Whistler
. It's a shame the Olympics are not there this year because it promises to be a bumper season in the
Pacific
NW (but drier further south). The first of many La Niña storms dumped a foot of snow there last week (but note that they are closed until the end of November) before delivering an early blizzard to large parts of the
United States
, stretching from the coastal
Cascades
to North Dakota. Orgeon always benefits from the La Niña storm pattern, and no surprise,
Timberline
, which is open at weekends, got a 20cm fall out of the first storm; which incidentally hammered the
Pacific
coast with 25-30 foot waves - visit surf-forecast.com if you are into that sort of thing. As the storm moves east it dropped enough snow for
Nakiska
and Mt Norquay to open this weekend whereas
Loveland
in
Colorado
opened on the 24th. On the other side of the continent
Sunday River
in
Maine
was first to open in
North America
.
Snow also fell in Gulmarg in India just a week ago, forming a base layer almost a month earlier than last season, promising a good season there. It also snowed in Scotland last week and although we don't give long-range forecasts for places like Scotland where there don't seem to be reliable seasonal indicators, pretty much everyone who is into that kind of thing is predicting a winter almost as severe as the last one in Britain - good news for Scottish ski resorts if true. It should be no surprise to anyone that with all this winter weather about, high latitude Ruka in Finland has already been open for 3 weeks.
Best wishes,
Snow-Forecast.com Team