---
Issued: 22 April 2020
By Patrick "Snowhunter" Thorne
---
North American Roundup
European Roundup
Asia Roundup

---
SOUTHERN HEMISPHERE OVERVIEW
---
---
After the snowfall reported in South America, Australia and New Zealand over the past few weeks it was southern Africa's turn to report pre-season snowfall last week, just a day after we got our last report published. There was a heavy dusting for both Afriski, in Lesotho, and Tiffindell, in South Africa, meaning all three (or four, if you take the view that Australia and New Zealand are on separate continents) of the Southern Hemisphere's glaciers with ski lifts on them (ok, possibly five if you include Antarctica which perhaps still has one or two) have now had autumn pre-season snowfalls.
Meanwhile, as the season draws closer, centres are increasingly publishing their plans for opening, if and when pandemic restrictions in their countries allow them to open at all. For most that means saying they are preparing for all scenarios, from remaining closed to (what currently seems most likely) some form of restricted opening with strict social distancing/increased hygiene measures in place.
The Foote family who have run the Mt Dobson ski area in New Zealand for many decades issued this statement last week,
"Just a quick message to all our loyal Dobo customers and followers regarding the 2020 ski season and how it may look for everyone. What unprecedented times we are all experiencing right now, some days it all seems like a bit of a dream. We here at Team Dobo are currently forging ahead, prepping for the 2020 season. In our eyes it will potentially be a season like no other we will ever experience again. That being said it is all going to look very different depending on what lockdown level we will be at. Hopefully level 1 or 2. We are at present working on safety systems for our staff and you, our customers. But we're sure, by the time we are able to open, you will all have down pat this social distancing that we are all living from day to day. So between ourselves, the staff and you our amazing diehard powderhounds, we've got this. It will look different but we can all make it work."
---
---
---
INTRODUCTION NORTH AMERICA
---
---
It has been another fairly wintery week in much of North America. More snow has been reported on mountains across the west of the continent, in the northeast and even record cold and snow for this late in the year reported in parts of the midwest; however, everywhere remains closed due to the pandemic and backcountry skiing remains frowned upon. This is due to the risk of medical resources being used on an injured backcountry skier when needed for fighting the COVID 19 pandemic. According to reports a lot of people are still backcountry skiing and there are conflicts with closed resorts in both Canada and the US, with police and other law enforcement personal. Sadly, there has been another avalanche death.
We will now stop reporting snow conditions in the midwest until next autumn. Just to note, the region has had its second cold and snowy week with some parts reporting record low temperatures and heavy snow for this late in spring. All ski areas there are closed.
From next week we will scale back reporting to look at areas where late spring skiing could resume. We will also keep track of fresh snowfall across the continent as we head into May.
---
---
ROCKIES
ROCKIES REPORT It's been snowing again in the Rockies with some quite significant accumulations (particularly in the latter half of last week) reported across the region, mostly in Colorado. Aspen posted pictures of snow in the town and reported 30cm (12 inches) plus accumulations on the slopes. The mantra continues to be stay home and stay off the slopes. But that message is being ignored by a good number of backcountry skiers, some of whom have become increasingly vocal in arguing that the police are being heavy-handed in prosecuting those caught, in their opinion. It has been said that the process of giving backcountry skiers fines also often breaches the two-metre social-distancing rule between skier and police official, according to some media reports. Whatever an individual's position may be on that issue, the reality is that the avalanche danger is currently very high in the Rockies making conditions very dangerous. An experienced backcountry skier was killed this week in Colorado. it is understood that one of the three members of the group set off an avalanche above him.
ROCKIES FORECAST After the snowy weather recently it's looking warmer and drier for much of the final week of April. Temperatures should get above freezing to quite high altitudes and there's little precipitation in the forecast for most areas; however some snow up high may arrive at the end of the week, although any fall would be short-lived.
---
WEST

USA WEST REPORT Several ski areas in the western US may have the highest likelihood of being able to reopen later this spring. Squaw Valley and Mammoth, in California, as well as Timberline, in Oregon, are among areas that can stay open into July most years. Vail Resorts have also said they'd like Heavenly to reopen, if that is possible, later in the spring. The weather in the west has been fairly favourable for maintaining snow, staying cool on higher slopes at these resorts. Although, for lower areas it has been increasingly warm and sunny since the weekend so a thaw has set in.

USA WEST FORECAST It is looking warm in the west for the week ahead. Temperatures will be above freezing right up to mountain tops and for much of California, at least, wall-to-wall sunshine is forecast.
---
EAST
---
USA EAST REPORT Mid-April has continued to be snowy in much of the eastern US, with snow falling down to quite low levels in Massachusetts and Pennsylvania as well as further north. Some of the bigger accumulations were reported on mountains in Maine, Vermont and upstate New York where up to 12 inches (30cm) of snowfall accumulated into the weekend.

USA EAST FORECAST The weather will be mixed over the coming week in the eastern US. Generally, things will continue to warm up but there may be more gales, periods of rain (possibly snow up high) as well as cloud. There may also be sunny days too. Temperatures on higher slopes should stay close to freezing and generally below.
---
---
WEST

CANADA WEST REPORT Fairly unsettled weather in western Canada over the past week has brought more snow to higher elevations, where temperatures have generally remained subzero. It has reached plus temps at mid-mountain and 4-8 degrees above freezing, at times, down at mountain bases. Big White is one of the resorts that would have closed at the weekend, had it still been open it says. Of those they could still re-open, being operational usually to late May or even into June and July. Sunshine and Whistler look most promising for an extended season; both have had fresh snow up high this past week.

CANADA WEST FORECAST Another week of mixed and often unsettled weather forecast with the potential for more snowfall at higher elevations in Alberta and BC, rain more likely at resort level. But the latter half of this week should be generally clear and sunny before more precipitation rolls in at the weekend. Temperatures continuing to be warmer at resort level and well above freezing but sub-zero on higher slopes still.
---
EAST
---
CANADA EAST REPORT It has been another fairly cold and sometimes snowy week inQuebec and the rest of eastern Canada, with temperatures below freezing right down to resort level. The province remains in lockdown and all the areas that can re-open in May have said the season is over now for 2019-20 and they won't be re-opening for snowsports until next autumn.

CANADA EAST FORECAST After the recent cold weeks, it looks like there'll be a dramatic rise in temperature through the remainder of this week and into the weekend with mostly sunny days in the east and temperatures climbing ever higher into positive numbers even at altitude. This means that a spring thaw should be getting underway.
---
---
INTRODUCTION EUROPE
---
---
We are moving into late April and further into spring and the COVID-19 Coronavirus pandemic continues to hold all of Europe in lockdown.
But things are slowly changing each week, just as the weather does through the year. Restrictions have been loosened slightly in Andorra and Norway making it possible to ski again here (under various strict limitations) and in Austria's case only backcountry and from May 1st. But these can be seen as signs of light in the darkness for those looking for snow. Even though neither country wants people to travel to the snow, at least people living close by can go out into the hills again.
If we ignore the pandemic for a moment, we are now entering the last week of April and more than 95% of Northern Hemisphere ski areas would be closing in an average year anyway. Springtime is progressing fairly normally in most of Europe, staying cold up high on the glaciers, very warm down in the alpine valleys. There's also been fresh snowfall for Scandinavian ski slopes.
Austria announced one of the biggest changes in skiing in Europe this spring with their government's decision to allow a resumption of ski touring (backcountry skiing) from Friday, May 1st (for Austrians).
There's also been an increase in ski area activity in Norway where smaller ski areas were allowed to re-open last week after a slight easing of the lockdown there. Here too, May 1st will be a big day as one of the country's three glacier areas, Fonna, which this year reports an exceptional 12 metre (40 feet) snow depth, will be able to open for the season with strict limitations.
The one country in Europe that hasn't closed all of its ski areas, a least for a time, is Sweden. Here, only two centres now remain open this late in the season.
The season is essentially over as a result of both the virus and the weather in Eastern Europe and the Pyrenees. Therefore, this will be the final week until the autumn that we report from these regions.
---
---
---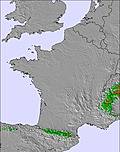 AUSTRIA REPORT Austria announced last Wednesday that it would be the first major alpine nation to allow skiers to return to the snow for ski touring (backcountry skiing) from May 1st, the weekend after next. The resumption was announced by the country's Vice-Chancellor, Werner Kogler, in a list of non-team sports allowed to resume. He urged anyone doing so to stick to "something easy" to minimise any likelihood of accidents. The loosening of the restrictions is also for Austrians only, not international travellers. It is not clear when glacier ski areas, of which the country has several usually open in late spring and summer, might resume operations. Golf courses, some of which are located in the same ski resorts that have glacier skiing up high, can re-open from May 1st. As to the conditions, it has continued to be springlike this past week with warm weather in the valleys and rapid thawing of the snowpack below about 2000 metres, staying around freezing up high with the odd dusting of fresh snow (particularly at the start of the week).

AUSTRIA FORECAST More of the typical spring conditions are forecast for Austria's mountains throughout the week to come. It should stay sub-zero up on the glaciers but get above freezing at mid-mountain and be well into double-digit positive temperatures in the valleys. There's a chance of more snow up high at the weekend though, after predominantly sunny conditions for the rest of this week.
---

SWITZERLAND REPORT Switzerland has seen predominantly warm and sunny weather over the past week, although there were unsettled conditions into the weekend with rain and some fresh snow up at high elevations and on glaciers.Switzerland announced plans to ease its lockdown slightly in the coming weeks and months; however, the kind of lifting of restrictions that might allow snow-sports to resume, depending on how the pandemic continues in the country, won't be made for some time. The next update will be on 28th April but it seems unlikely there'll be an announcement then. The main ski area that could re-open when restrictions are eased is Zermatt, which has Europe's highest lifts and year-round snow-sports on its glacier. Saas-Fee usually starts its nine month ski season in late July.

SWITZERLAND FORECAST It's a changeable few days in Switzerland with some precipitation at times over the next few days and even stormy weather occasionally before things settle down to end the week. Temperatures remain warm in the valleys, above freezing at mid-mountain and sub-zero with occasional light snowfall up above 2,500 metres on the glaciers.
---
FRANCE REPORT It was announced last week that the tight lockdown on life in France will continue to at least May 11th. The country has three summer ski areas which normally open from June. The latest government advice suggests 'mass gatherings' won't be allowed until at least the autumn so it is unclear whether they will be able to open this year, unless possibly in some highly restricted way. The Tour de France, which was due to pass through the mountains earlier in the summer, has been re-scheduled for September suggesting that's when the country expects to see some degree of normality and possibly not before. As to the current weather, it has been more unsettled over the past week in the mountains than during the first half of April. Temperatures have stayed fairly similar, well above freezing in the valley, still above freezing at mid-mountain but staying a little below up high. This has meant periods of snow on mountain tops and glaciers and rain at lower levels.

FRANCE FORECAST It looks much the same for the week ahead on French mountains with changeable weather. Sunshine and clouds, temperatures double digits above freezing in the valleys bust staying cold above about 2,500 metres. Precipitation will fall as snow up high, perhaps 5-10cm on glaciers by the weekend, with rain on lower slopes and in the valleys.
---
---

ITALY REPORT Italy continues to be in lockdown; now into its sixth week. So there is no one out on the country's slopes. Springtime continues to take hold with double-digit plus temperatures down in the valleys of the ski centres. There has been more changeable weather in the mountains though with some fresh snow reported in the past few days on the highest slopes and rain in the valleys.

ITALY FORECAST The forecast for the coming week continues to be varied in Italy with rain on lower slopes, snow up high through the middle of the week. The latter half of the week is mostly sunny although with occasional snow showers up high. Colder weather looks set to move in for the end of the month next week.
---
---
---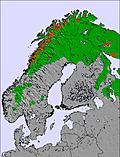 SCANDINAVIA REPORT
After Norway decided to ease its lockdown a little a week ago, several smaller ski centres, including Ål (55/55cm / 22/22") and Hovden (120/90cm / 48/36″) have re-opened with strict pandemic-spread-avoidance restrictions in place. For other smaller centres, there's a mixed response, for example, by those who have been advised by their local authorities that they shouldn't (each case is being decided locally). In most cases, the decision has been made based on the opinion of local medical facilities as to whether resuming operations might risk overwhelming services if there is a problem. There are also the issues that it would be the end of the season anyway at many centres, and/or that there aren't staff around for a final week or two of operations. The relaxed Norwegian rules still preclude larger gathering though so the country's bigger resorts have confirmed they will not be re-opening this season now.
Among ski areas due to open is Roldal, which will be operational at 10am this Thursday 23rd April. The area was posting a base of nearly six metres (40 feet) when it closed in mid-March, the deepest in the world at that point.
The three small glacier areas may all be re-opening too for skiing through the rest of this spring and into summer. So far, only the Fonna glacier announced on Saturday that it would be open from May 1st with various restrictions in place, including the need to buy lift passes 48 hours in advance, a limit of 300 ticket sales a day and all indoor facilities including toilets will be closed. The centre reported this week that they have now been digging out the access road, buried 12 metres/40 feet deep by snow, for over a month now.
In Sweden, only two areas in the far north remain ope. Riksgränsen (530/530cm / 212/212") currently has the deepest base in the world of an open ski area (not that there are many to compare with) and its neighbour, Björkliden (134/134cm / 56/56"), is also still operating.
What of the actual weather? Well what snow there has been reported in Europe over the past week has mostly been falling in Scandinavia where up to 30cm of fresh snow has been reported at mostly closed areas like Storlien, in Sweden. Riksgränsen reported 20cm (8 inches) of fresh snow since the weekend.
SCANDINAVIA FORECAST It's rapidly approaching 24-hour daylight in northern Scandinavia, at just a few weeks away. Temperatures in the Arctic circle, where Riksgransen and Bjorkliden are located, remain around freezing, but mostly a few degrees below. The forecast for the week ahead is mostly cloudy, sometimes foggy, with some small snow showers in the region too at times.
---
EASTERN EUROPE
EASTERN EUROPE REPORT Although at least one small ski area was reported to have re-opened in the Czech Republic last week after restrictions there were relaxed slightly a fortnight ago, it has got progressively warmer in the country and there are no reports of any ski areas open now. Operations were severely limited anyway and it is compulsory to wear surgical masks in both the Czech and Slovak Republics when outside now. In Bulgaria, conditions have continued to be colder than further north, up in the mountains at least, with a little fresh snow reported up high.

EASTERN EUROPE FORECAST There's more cold weather forecast in the Balkans and the chance of a few centimetres//inches more snow on higher slopes as temperatures remain sub-zero through the middle of this week on higher slopes in Bulgaria. Further north, in the Eastern Alps and Tatra mountains, it will be warmer with freeze/thaw up high but warm weather down in the valleys as spring continues to increase its grip.
---
SPAIN / ANDORRA REPORT Everywhere is closed in the Pyrenees and with western Spain and Andorra particularly hard hit by the virus, that seems unlikely to change. In any case, it's the end of the normal ski season. Only a few areas (probably including Sierra Nevada, Europe's most southerly resort) would still be open this week in a normal season. Temperatures have been a little cooler than in the Alps though, if not cold enough for any fresh snow. Instead, the thaw is well set in.

SPAIN / ANDORRA FORECAST The temperatures are expected to climb through the week ahead and remain above freezing, even on mountain tops at night, in the Pyrenees, by the end of this week. Some precipitation expected at the weekend may, therefore, fall as rain to high altitudes.
---

SCOTLAND REPORT There's been stunning weather in the Scottish Highlands over the past four or five days after a little fresh snow up high at the end of last week. Temperatures have been well below freezing overnight but reached double figures in the afternoons. If the season were still going it would be great skiing in the west where Glencoe and Nevis Range still have a lot of snow lying.

SCOTLAND FORECAST It looks like it should stay dry over the coming week and the warm daytime temperatures are likely to continue to impact the snowpack; however, the thickness of it on higher slopes and the fact temperatures are falling well below freezing overnight means the thawing will only continue to be for periods during the day.
---
---
---
JAPAN REPORT As with the rest of the world, Japan's ski season would be (and is) winding down even without the current pandemic issues. But after continuing to operate to date, a resurgence of the pandemic in the country has led some areas to decide to close a little earlier than they otherwise would of, with Nozawa Onsen closing on Friday and Madarao/Tangram as well as all Myoko resorts, among the larger centres, now closed.

JAPAN FORECAST Although it appears all of the country's ski areas have decided to close over the past week, there should still be a fortnight or so of the winter to run for several, if it wasn't for the pandemic. It is still staying fairly cold in the mountains, with freeze-thaw conditions and some light snowfall forecast overnight for the week ahead.