---
Issued: 01 April 2020
By Patrick "Snowhunter" Thorne
---
---
INTRODUCTION NORTH AMERICA
---
It's a week now since the last ski area in the US, that was running its lifts, stopped doing so (10 days since the last in Canada). Since then North American ski areas continue their lockdown this week with more resorts, that had initially said they hoped to re-open later in the season if the situation eased and it was deemed safe to do so, now deciding they are definitely closed until next winter. As we reach the first week of April, a large number of ski areas would be starting o close for the season anyway, even in a 'normal' year. Some, including Killington, Heavenly, Whistler and Breckenridge do still hope to re-open though. They are still saying possibly in late spring though, again if it is deemed safe.
The national outdoor sports focus now has switched to the large numbers of skiers and boarders reported to be heading into the backcountry to hike up and ski down. Some states, including Colorado, have now placed official bans on that and whilst others continue to permit it, pressure is growing from bodies like Ski Industries America and corporations like Burton who are encouraging skiers and boarders to 'stay home'.
Organisations that study and publish avalanche danger levels have also shut down their operations for this season early, over the past weekend. Partly as they are finding it increasingly difficult to operate with restricted mountain access and partly as a further sign that they don't want to be seen as a part of encouraging people to go into the mountains.
But what of the snow? Well, the past few days to end March and start April have seen some more snowfall across the continent, with up to 75cm (30 inches) of snowfall on higher slopes in the west of the continent since the weekend, and snowfall in the northeast too, This being springtime, many of the forecasts point to snow up high, rain on lower slopes.
---
---
ROCKIES
ROCKIES REPORT It's been quite a week in the Rockies with the police moving in to popular backcountry ski areas and at closed resorts like Loveland, issuing tickets to backcountry skiers who broke new statewide laws which effectively make backcountry skiing illegal during the current pandemic. Moving further north though, some ski areas in other states are still allowing backcountry skiers on their slopes, albeit entirely at their own risk. One of the most interesting stories comes from Snow King ski area, in Wyoming, which has crowd-funded $6000 in the past few weeks to allow for twice-weekly slope grooming so that people who hike up can ski down groomed slopes. They only require social distancing between skiers. The snow? (It's still out there even if no one can get to it.) If anyone wants to know, a mixed bag of rain and snow showers, blustery conditions and fluctuating temperature. Typical springtime really.
ROCKIES FORECAST There's a continuing mix of conditions in the forecast as temperatures fluctuate to above and below freezing bringing snow to higher slopes, rain to lower. In between there'll be some nice sunny days, although there's some stormy weather in the forecast later this week too. The best chance for fresh snow currently looks like being at the weekend when a temperature dip and precipitation are forecast. Further north in the region, in Wyoming and Utah, it is looking more snowy more often.
---
WEST

USA WEST REPORT Ski areas in the US west reported the most snow in the world until just before all were closed by the coronavirus outbreak; however, that was up in the Pacific Northwest while some of the better recent snowfalls were further south in California. The past few days have seen a switch back to the north though with some of the biggest snow showers in a month hitting the region. After early rain, snow levels eventually got low as 1,500 to 2,000 feet (450-600m) in elevation in some areas and total snowfall accumulation was 12 to 24 inches (30-60cm) in the northern Cascades of Washington State.

USA WEST FORECAST It's looking like it will stay well below freezing with continuing light to moderate snowfalls in the north of the region through the rest of this week. To the south, in California, temperatures will be closer to freezing (and well above at resorts like Mountain High in the south) and be much drier.
---
MIDWEST

MIDWEST REPORT Some, although not all, ski areas in the Midwest would have closed by now even without the coronavirus outbreak to contend with. Many do shut down in late March or the first week of April in a normal season. This hasn't been the best season for some parts of the region though and a number of areas had already closed down even before the virus became a crucial issue. This past week has been mostly warm, thawing the snowpack, but it seems winter is not completely over yet.

MIDWEST FORECAST It's turning colder in much of the Midwest during midweek and there's a return to snow for some on Wednesday/Thursday before things start to warm back up into the teens of degrees above freezing point.
---
EAST
---
USA EAST REPORT The focus in the East this past week, which has seen the most cases of coronavirus, has been on a full lockdown, trying to persuade (or enforce) skiers not to hike up and ski down because of the potential additional burden on health services if things go wrong. There's been particular outrage at reports of more than 400 people gathering at the weekend at the famous spring skiing spot of Tuckerman's Ravine in New Hampshire. As to the weather, well a little fresh snow on more slopes at more northerly resorts in states like Maine and Vermont, rain further south.

USA EAST FORECAST The recent weather patterns with occasional light snowfall, temperatures a little above freezing in the valleys, mostly a little below freezing on the slopes, looks set to continue through the remainder of this week. There will also be occasional sunny periods.
---
---
WEST

CANADA WEST REPORT It's been a snowy end to March in Alberta and BC with webcams showing forecasted light to moderate snowfalls over the past week laying fresh snow on ski slopes across the region. Banff's Sunshine ski area, which usually stays open to late May, says it hopes to reopen before the end of the season if it can. Whistler Blackcomb also says it will re-open, if it is deemed safe to do so, in late spring.

CANADA WEST FORECAST It should stay snowy over the coming week with temperatures still double digits below freezing in the high alpine areas, and pretty cold, though maybe getting a degree or two above freezing, in the valleys. It's a mixture of snow showers and sunny periods through the coming week for most.
---
EAST
---
CANADA EAST REPORT Eastern Canada's ski areas had a wintery end to March with 5-10cm (3-4 inches) of snowfall and sub-zero temperatures to end the month. All of the region's ski centres have been closed for the past fortnight and few seen likely to re-open this season even if restrictions are lifted. Only Mont Saint Sauveur sometimes maintains a small terrain park, open into June and July if conditions are good.

CANADA EAST FORECAST Temperatures are set to climb through the first week or so of April in eastern Canada, with highs of 5-10C above freezing into the weekend, so it looks like the spring thaw should be setting in. The weather will mostly bring light cloud although there could be some sunny days later in the week.
---
---
INTRODUCTION EUROPE
---
It has been a snowy end of March for much of Europe with snow reported in the Alps, Dolomites, Pyrenees and Tatra mountains as well as up in Scandinavia.
With the lockdown on outdoor activities being tightened all the time, this is as often a cause for frustration as celebration for many skiers. Ski-touring, the main downhill option left with all the lifts closed, had been booming at many resorts but is now either banned completely or severely frowned upon, due to the danger of it requiring medical resources if things go wrong. Iit is felt these should be reserved for the fight against the virus.
Not quite every European ski nation feels the same way though. Sweden is increasingly isolated in its approach which allows ski areas to stay open but just requires its citizens to behave responsibly, without telling them they must. So it's social-distancing and lots of hand sanitisers by the lifts. Skiers and boarders who are in the country have been able to enjoy plenty of fresh snow there this week. The ski areas of Iceland and Japan also remain open.
With everyone focused on fighting the virus and some not wanting to even think about snow and ski resorts, it's easy to forget that a whole swathe of lower, smaller European ski areas would normally have closed last weekend, or this coming weekend, for the season anyway as spring increasingly takes hold.
---
---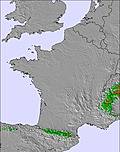 AUSTRIA REPORT Austria's lockdown was extended until April 13th and there is a country-wide call for people to stay at home. The lockdown is tighter on some famous ski resorts including Ischgl, St. Anton and Solden where incidences of the virus have been more common. People are only allowed to leave these resorts if they can provide permits from the ministries of foreign affairs and health. In the meantime, it has been snowing. Hintertux reported about 20cm of fresh snow up high on Monday, before cold, clear conditions from Tuesday, when temperatures dipped to 17 degrees below zero up on the glacier. Usually open every day of the year for snow-sports it is one of several resorts that might be among the first to re-open in late spring if it is deemed safe to do so.

AUSTRIA FORECAST After the snowy start to the week most parts of Austria have a full-sun week to begin April with temperatures set to climb perhaps to double digits above freezing in the valley resorts by the weekend.
---
---

SWITZERLAND REPORT With all Swiss ski areas in lockdown, in common with all ski areas across the Alps, there is not much to report this week. There was fresh snowfall across most of the country at the weekend, resulting in excited posts from people in resort, even if it was mostly pictures of the snow taken from inside. For most areas now though the sun has been back out since Tuesday.

SWITZERLAND FORECAST The week ahead looks fairly straightforward to forecast in Switzerland: sun, sun and more sun. Temperatures are climbing but should still stay below freezing in the mountains, at least until the weekend; warming up in the valleys though.
---
---
FRANCE REPORT French resorts, both in the French Alps and the Pyrenees, reported fresh snowfall to start the week, 5 to 10cm (2-4 inches) for most, a little more up in the high Alps. There's absolutely no snow-sports allowed in the country at present with a crackdown on ski-touring and backcountry skiing as well as the closure of all ski lifts. The country's three glacier summer ski resorts have begun publicising their 2020 summer ski season though. Les 2 Alpes, Tignes and Val d'Isere will open again in June, if things have returned towards normality and its deemed safe to do so.

FRANCE FORECAST There's something of a north-south divide in France over the remainder of this week. Temperatures are fairly consistent across the country, a few degrees above freezing on the ski slopes. But whilst the northern Alps should see wall-to-wall sunshine, in the south light snowfall is expected until Thursday, then the sun arrives there too.
---

ITALY REPORT Italy is already near to completing its third week of lockdown so there's no snow-sports to report on. Temperatures have stayed low much of the past seven days and there was light fresh snowfall across much of the country through the weekend and into Monday. As with most parts of the northern hemisphere, many Italian ski areas would normally be closing anyway over the next few weekends, but some would be open in May, June or July including Passo Stelvio and Cervinia. The chance remains these will re-open later in the spring if it is decided it is safe to do so by then.

ITALY FORECAST The week ahead looks very sunny across Italy. Temperatures set to stay fairly cool but climbing above freezing in the valleys and by the weekend, probably on higher ski slopes too.
---
---
---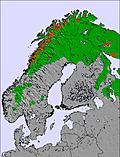 SCANDINAVIA REPORT With so many ski areas currently closed it's easy to forget it's still snowing at many of them. One that is still open, Sweden's Storlien Alpin (90/90cm / 36/36"), reported 20cm (8 inches) of fresh in the past 24 hours. Apologies for this post to those who actually want to forget it's still snowing at many of them. Meanwhile, Riksgransen (530/530cm / 212/212") has had more than a metre (40 inches) of snowfall over the past week and has become only the fourth ski area in the world this season to pass the five-metre base depth mark, and it's the only one of the four that is still open. Indeed (at time of writing), all Swedish ski areas that want to be are still operational. This is in contrast with those in the rest of Europe and north America, as the government there continues to take a different approach.

SCANDINAVIA FORECAST Following the heavy snowfall of the past few days it looks like conditions will be drier in much of Scandinavia over the remainder of this week, in most parts at least; however, it should stay cold, particularly in the north. Mostly sub-zero at all levels across most of the region, meaning the fresh snow should stay in good shape. There's a chance of more snowfall further south in the region later in the week and in to the weekend.
---
---

GERMANY REPORT The sun is back out after the snowy start to the week but temperatures on the mountains are remaining low for the next few days. More snow is forecast around Thursday then temperatures should start climbing up in to the weekend.

GERMANY FORECAST The sun is back out after the snowy start to the week but temperatures on the mountains are remaining low for the next few days. More snow is forecast around Thursday then temperatures should start climbing up in to the weekend.
---
BULGARIA and ROMANIA
BULGARIA / ROMANIA REPORT It was cold again over the weekend in the mountains of south eastern Europe and locked-down ski areas in the region posted more cam footage of new snow lying.

BULGARIA / ROMANIA FORECAST It's expected to stay cold and snowy in the region right up to the weekend, in fact the Balkans are amongst the snowiest places in the world at present. Temperatures should start to climb again from the weekend, but stay sub-zero up high.
---
CZECH REPUBLIC / SLOVAKIA REPORT It has been a fairly cold and snowy final few days of March in the Czech and Slovak Republics. The major ski areas like Jasna have reported regular small to moderate snowfalls in recent days with temperatures staying well below freezing, so colder than usual for the time of year. All resorts remain closed and on lockdown due to the virus pandemic.

CZECH REPUBLIC / SLOVAKIA FORECAST After the cold snowy start to the week it looks like sunshine will be dominant on Thursday although it should still be cold. Temperatures will climb towards the weekend though if forecasts remain on track, the weather becomed increasingly unsettled with warm weather by Saturday and precipitation falling as rain on lower areas; snow up high on Sunday.
SPAIN / ANDORRA REPORT The snowy theme in the Pyrenees has been a feature through much of March and has not really eased with more snowfall across the region over the past week. Temperatures have remained close to freezing, actually cooler than they were at times in January and February.

SPAIN / ANDORRA FORECAST The snow looks set to keep falling, at least on higher slopes, into the later half of this week before clearer skies emerge on Thursday/Friday. It's then looking snowy through the weekend and temperatures, at least down on lower slopes and at resort level, could climb up at 5-10 degrees above freezing by Sunday.
---

SCOTLAND REPORT Given that good conditions in Scotland are rarer than they once were, it's galling, to say the least, that this nasty virus has closed the slopes at all five Highland centres just as they're enjoying some of the best conditions for several years. It's the second week since the shut-down began and the weather has been mostly benign but stayed cold enough so there's not been much thawing. All five centres would, without the virus, be enjoying brisk Easter holiday business right now.

SCOTLAND FORECAST It looks like more of the same for most Scottish areas over the coming week although temperatures, down in the valleys at least, are climbing up in to double figures and there are some gales forecast on Thursday/Friday. There's more snow expected on the hills too though, particularly in the west, towards the weekend.
---
---
---
JAPAN REPORT A mixed story from Japan this week with three areas of interest. First up, the country appears to have turned the corner on the coronavirus outbreak having used established structures to keep those who got it quarantined and tracing those they came in to contact with. The state of emergency in northern Hokkaido has been lifted. Secondly, a lot of smaller ski areas closed last weekend as it's the end of the season for them. Although others are staying open to the start of May (Japanese areas did not close due to coronavirus). And thirdly, there have been some good snowfalls to see out March and see in April. Nozawa Onsen reported 25cm (10 inches) of fresh snowfall overnight and great powder conditions on Sunday morning.

JAPAN FORECAST After the snowy weather at the start of this week it has turned much warmer since Monday with temperatures well above freezing across most of the country's ski slopes. On the whole, conditions are looking dry and sunny with temperatures creeping up to 5-10 degrees above freezing at times but there is some precipitation in the forecast, most likely on Thursday and/or Friday. Due to the warmer temperatures this may fall as rain on some slopes; however, some should see snow, particularly up high on Friday.