---
Issued: 25 March 2020
By Patrick "Snowhunter" Thorne
---
---
North American Roundup
European Roundup
Asia Roundup

---
INTRODUCTION NORTH AMERICA
---
---
The number of ski areas still open in North America can now be counted on one hand as shutdowns continue in the fight to limit the spread of coronavirus. That hasn't stopped people skiing and boarding in many areas with a number of areas welcoming ski-tourers still, although others are stressing this isn't permitted and/or safe on their slopes during the closedown.
Over in Canada, it is believed that all ski areas are now closed. The last to do so, Hudson Bay resort in a remote spot in BC, deciding to end it's winter at the end of the ski day on Sunday; however, plenty of people are still out ski-touring and there's been fresh snow too.
---
---
ROCKIES
ROCKIES REPORT The number of ski areas still open in the Rockies is rapidly diminishing but at the time of writing Idaho's Lookout Pass (85/109" / 213/272cm) was defiantly staying open, stressing the healthiness of going skiing, limiting access to indoor areas and taking other anti-virus measures. In fact, they're saying they're extra busy at weekends; however, several centres remain open in Montana. Although Discovery Basin (35/66" / 89/165cm) decided to close on Sunday. At the other end of the US Rockies, Ski Apache, in New Mexico, closed on Sunday after what they said had been a phenomenal season; cut a little short by the virus. Back north it was a similar story at White Pine, believed to be the last area open in Wyoming, which said it was ending its season four days earlier than the scheduled date. So what of the actual snow? Well the past few days have been mostly sunny and sometimes rising a few degrees above freezing.
ROCKIES FORECAST After the recent sunny days, there's plenty of fresh snow in the forecast for the rest of the week with many areas expecting 12-24 inches (30-60cm) by the weekend. Temperatures will drop and stay well below freezing for a return to full-on winter in the first week of astronomical springtime.
---
WEST

USA WEST REPORT The US west is one of the last parts of the continent where a handful of ski areas are still operating, with strict social distancing in place of course, despite the virus. 49 Degrees North (86/127" / 216cm/318cm), in Washington state, was one of the last still running is lifts and offering prepared slopes. It reports more than 80 of them open, along with the terrain park and a dusting of fresh snow in the past few days.

USA WEST FORECAST Conditions are getting more typically springlike (naturally enough) in the US west with freezing temperatures overnight and the temperature getting up above freezing in the day, but only by a few degrees thankfully. There's not much precipitation in the forecast until the weekend with some snow expected on Saturday, but this may turn to rain on Sunday as temperatures are warming even overnight. Although, that's a little way off yet to be certain.
---
MIDWEST

MIDWEST REPORT The few areas that were still open in the Midwest this time last week have now all shut-up shop for the season, partly due to the virus. Although, in some cases, the end of March marks the end of their season anyway (perhaps just a week or two early this year). Certainly, temperatures in the past few days have been tending to quite a bit above freezing and precipitation has been falling as rain rather than snow on quite a few centres in the region.

MIDWEST FORECAST A mixed bag of sunny, cloudy and sometimes windy weather ahead, although without much more precipitation in the forecast. For the snowpack, there are typical springtime freeze-thaw conditions with temperatures dropping well below freezing overnight then getting well above in the day.
---
EAST
---
USA EAST REPORT With all the ski areas now closed in eastern North America, those who want to continue skiing and boarding have been skinning up the slopes in large numbers. This has led resorts to issue statements, as has been done elsewhere in the country and around the world. Some seem happy about it, others question whether skiers should be doing it and risking injury, others saying the activity is not allowed on their land. In the meantime, it has been snowing in the northern parts of the region with The Adirondacks, Berkshires, Catskills, Green and also White hills have seen hefty snowfall, greater than 6 inches (15cm) in some locations over the first few days of this week. This has improved conditions that had been getting hard and icy up to the weekend. Killington, in Vermont, has said they would like to re-open the slopes, if they can, later in spring. They try to stay open to June each year, but say it's too early to know if they will be able to as yet.

USA EAST FORECAST For those ski-touring, conditions should be good with the fresh snowfall over the next few days. Further fresh snowfall, albeit light, is expected over the next few days, probably just an inch or two (few centimetres) a day for most areas until sunny skies at the start of the weekend. The snow may fall as rain at lower latitudes/elevation ski areas as this is nearing the end of the normal season anyway. Temperatures hovering around freezing, mostly just below.
---
---
---
WEST

CANADA WEST REPORT The 2019-20 season ended as far as regular ski resorts in western Canada this past weekend with the latest areas still open in BC closing because of the covid-19 crisis, earlier last week. The final areas still open in Alberta had closed because of advice by the province's government. The situation has led Avalanche Canada to warn backcountry skiers to be careful, issuing this statement, "Covid-19 is creating unprecedented challenges to our healthcare system. All avalanche forecasting agencies are urging backcountry users to be extra vigilant to the possibility of any type of incident that could add more load to a system already under huge pressure. Please consider this fact while planning your recreation. This could be a time to avoid the backcountry. If you choose to head out, every effort should be made to avoid injuries. We encourage you to take all precautions necessary to safeguard the health and safety of your group and others."

CANADA WEST FORECAST It was glorious wall to wall sunshine and temperatures a degree or two above freezing for most western Canadian ski areas at the end of last week; however, things have turned cold, snowy and winery again across much of the region only a day or two in to spring and it looks like more of the same through the remainder of this week. For most areas, it will be relatively light snowfall of 5-10cm (2-4 inches) every few days with temperatures dropping below freezing for potentially excellent conditions.
---
EAST
---
---
CANADA EAST REPORT Quebec was the first part of Canada to completely close its ski resorts more than a week ago and in recent days all have confirmed they won't be re-opening this season as lock-down measures have been tightened by the Quebec regional government. But, probably to the frustration of skiers and boarders told to stay indoors, it has been snowing again in recent days with ski slopes in the region believed to have received 10-20cm (4-8 inches) or so of fresh snowfall (official measures are less available now), since the weekend.

CANADA EAST FORECAST It looks like it will keep snowing on ski slopes in eastern Canada over the remainder of this week with another 10-20cm (4-8 inches) of snowfall expected over the next few days. Temperatures are generally just a few degrees below freezing so should keep the snow in good condition. Temperatures will start to rise into the weekend though and look like they'll get above freezing quite high on the slopes by Sunday.
---
---
INTRODUCTION EUROPE
---
It has been another unprecedented week on European ski slopes with ski areas in Finland and Scotland the latest to close down due to the coronavirus pandemic. In the case of Scotland, this is part of a UK-wide lock-down similar to that of France and Italy. Whilst in Finland, a number of hot-spots for infection have been near to ski areas leading to all centres deciding to close this week. At least all major centres have closed or will do later this week.
For skiers and boarders deprived of lifts, the effort in many places has switched to ski-touring or hiking up with gear on your back. This is receiving a mixed response with some countries seeming to be happy it's happening, others, particularly France and Italy at this point, banning almost any outdoor activity and publicly shaming ski-tourers for risking injury to themselves and requiring medical attention in these times of over-stretched medical services.
Against all the coronavirus impact on skiing and most other aspects of our lives, it's hard sometimes to remember that the world keeps turning and the snow keeps falling.
In fact, we have now entered the start of astronomical springtime as well as the meteorological measuring of the season which saw spring start on March 1st. So, for the next two months there's definite agreement it is spring and some areas would be closing at the end of March anyway even in a regular ski season.
The snow has been falling though in many areas, with the past few days seeing the heaviest falls in north-eastern Europe in countries like Poland, the Czech Republic and Slovakia where accumulations of up to 50cm (20 inches) have been reported. Elsewhere, many areas have seen some snow too, albeit lighter falls.
When will the lifts (except in Iceland, Sweden and Japan) run again? Well, the good news from China is that some ski areas have started to re-open there in the past week, two months after they went into lock-down and about two weeks after the number of new cases reported dropped dramatically. So, there's a chance that some summer ski centres could be opening by late spring. We live in hope.
---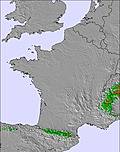 AUSTRIA REPORT Austria has one of the tighter lock-downs in Europe against coronavirus and has closed all hotels as well as all non-essential businesses including ski areas. The current restrictions last to April 13th but it seems likely they will be extended and in any case, many Austrian resorts were due to end their seasons on or before that date. Others said they won't be re-opening this winter even if the limitations are eased; however, Austria does have more ski areas than any other country that stay open to late spring or summer. Therefore, it's more feasible that one of these may re-open for glacier skiing perhaps in June or July if Europe follows a similar path to China which has begun relaxing restrictions after two months with cases in steep decline. That could see resorts like Hintertux, which aims to stay open year-round, re-opening or perhaps the Molltal or Kauntertal ski areas.

AUSTRIA FORECAST Springtime in Austria means temperatures climbing in the valleys but still some fresh snowfall on higher slopes, due at the end of this week and into the weekend. Up to then though the next few days look clear and sunny.
---

SWITZERLAND REPORT Swiss ski centres are now well into their second week of closure. The picture here seems a little more confused than France and Italy where there is a full lock-down. Whilst Switzerland has closed most non-essential shops, restaurants and activities, it is still allowing hotels to operate in ski resorts. Most have closed but the mountains are being seen as a healthy place of escape from the cities so there's a report of crowded villages like Verbier calling for more restrictions. Heading out on to the snow is kind of restricted and kind of not, it seems. In terms of the actual weather, it has been cold in most parts of Switzerland in recent days, with a sunny start to the week in many areas but now turning snowy again with a few centimetres for many resorts in the last 24 hours.

SWITZERLAND FORECAST It looks set to stay cold across much of Switzerland for the coming few days, with many areas continuing to see temperatures double digits below freezing. Light snowfall is forecast in most mountainous parts of the country for the rest of this week with most seeing a few centimetres (an inch or so) each day, but heavy falls are unlikely.
---
FRANCE REPORT There have been some good conditions in the French Alps this past week which has been encouraging some to break the lock-down and head off ski-touring, leading resorts like Chamonix to be increasingly forceful in their message that ski-touring and similar sliding activities without lifts shouldn't be taking place when medical facilities are fully stretched. The issue was brought home forcefully last week when a ski-tourer died in an avalanche in the valley and another needed to be rescued, claiming they were unaware of the ban.

FRANCE FORECAST It looks like there'll be a little more snowfall on higher slopes over the next day or two, just light falls or a few centimetres/inches are expected each day, then full sunshine should return from around Friday. Temperatures on the mountains should stay cold and well below freezing but in the valleys, below 1500 metres altitude, they're set to shoot up to 5 or even 10 degrees above freezing as we enter the weekend.
---

ITALY REPORT Italy, of course, remains in lock-down with people not supposed to leave their homes and there's little knowledge of snow conditions presently. That said we do know parts of the country have seen fresh snow, with a video posted from Cervinia showing the forecast 20cm or so up high being scraped from a closed mountain restaurant's terrace by staff. There's no knowing quite when normality will return in Italy but several resorts there, Cervinia one of them, do usually operates in summer and/or late spring.

ITALY FORECAST Sunshine mixed with cloudier weather for much of Italy over the coming week. As spring is here it's no surprise that temperatures will continue to climb in the valleys. But up on the mountains light precipitation is expected to bring some small snowfalls in between the sunny spells, up on the slopes.
---
---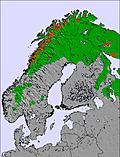 SCANDINAVIA REPORT Scandinavia is the one part of Europe (well, apart from Iceland) where the ski season is continuing, although here too the number of areas open is diminishing. Norway closed all its areas more than a week ago but Finland looked like it was planning to stay out the season until reports of coronavirus cases in some resorts led to hasty announcements at the weekend that resorts would close at the end of this week. Subsequently, several have moved that date forward and closed already. But Swedish ski centres are still open and Riksgransen (440/440cm / 180/180″), now into its fourth week of its 2020 season, reported fresh snowfall this week to freshen up its slopes, as did many other Swedish areas. It has the deepest base of all open resorts in the world at present.

SCANDINAVIA FORECAST There's more snow in the forecast for northern Sweden, where areas up in the Arctic are already reporting their deepest base for several decades. Riksgransen expects another 30cm (a foot) by the weekend. Staying cold elsewhere with a real mix of sun, cloud, some strong winds and occasional mostly light snow showers.
---

GERMANY REPORT All German ski areas are currently closed. This has been one of the worst seasons on record for the country even before the arrival of the virus (just as things were finally starting to improve in terms of snow conditions). The past few days have been mostly sunny with freeze-thaw conditions. For most German areas the final weeks of March are normally the final weeks of the season in any case.

GERMANY FORECAST The forecast is for progressively warmer temperatures into the weekend and mostly dry weather. It looks like daytime temperatures will be double-digits above freezing in the valleys and well above freezing too up on the mountains by the weekend. So what snow there is will be thawing fairly fast in many areas.
---
---
BULGARIA and ROMANIA
BULGARIA / ROMANIA REPORT It's been a fast change from being one of the few countries that still had ski areas open a little over a week ago to being in full lock-down with ski areas quarantined now. In the meantime, ski areas in Bulgaria have been reporting fresh snowfall on their closed slopes over the past few days.

BULGARIA / ROMANIA FORECAST Ironically, the end of March continues to look like a snowier period than much of January and February was in the region. The heavy snowfall at the start of this week will ease but temperatures on the mountain slopes should stay sub-zero into the weekend, warmer down in resort villages.
---
CZECH REPUBLIC / SLOVAKIA REPORT Ski areas in north-eastern Europe has seen some of the biggest snowfalls of the past few days. Slovakia's Strbske Pleso (60/100cm / 24/40") reported a big 49cm (20 inches) fall between Saturday and Monday before the snow showers eased. There were similar accumulations at many other resorts in the Czech Republic and Poland, as well as Slovakia. All are currently closed in the virus-spread limitation efforts.

CZECH REPUBLIC / SLOVAKIA FORECAST After the recent snowfall, it looks like full sunshine for the rest of this week with temperatures staying cold in the mountains but gradually warming in the valleys. But by the time the next precipitation is due at the weekend, it looks like we could be up to double digits above freezing in resorts. So rain there and on lower slopes, possibly still cold and snowing up high.
SPAIN / ANDORRA REPORT March continues to be one of the best months of the year so far in Andorra and the Spanish Pyrenees. There's been more fresh snowfall in the past few days, creating great conditions at some spots.

SPAIN / ANDORRA FORECAST It looks like the snow should keep falling on higher slopes as we get towards the end of the month. Heavy snow is forecast in the latter half of the weekend after a few sunny days to end the week.
---

SCOTLAND REPORT Scottish ski centres came under increasing pressure to close last week. This was not so much because of their actual operations, which had closed down public areas including shops and cafes and stepped up social distancing, but because by being open they were attracting people to travel to them and there was a risk of injury needing medical attention. Having to close was ironic given that great conditions were continuing at present and periods of reliable cover and temperatures have been less common on Scottish slopes in recent years.

SCOTLAND FORECAST Temperatures are set to rise through the middle of this week and there may be periods of rain as well as strong winds. But it's looking colder into the weekend with the chance of more snow, possibly heaviest for Cairngorm, as temperatures dip at the end of the week and through the weekend. Mountain rescue services in Scotland are strongly advising anyone against going outside on the mountains at present however, in order to avoid stretching limited resources during the virus crisis.
---
---
---
JAPAN REPORT Japan continues to take a different path to most other countries with all of its ski areas believed to be still operating. Niseko (85/320cm / 34/128") reported some fresh snow in the past few days, as did many of the country's other ski areas. We're mostly talking 5-15cm (2-6 inches) so just a nice freshen up rather than a serious dump. But it is late March.
JAPAN FORECAST Temperatures are currently yo-yoing between well below and well above freezing on many Japanese mountains and the week ahead looks like more of the same. For most the next few days looks fairly dry; however quite heavy precipitation is forecast at the weekend. The question remains will it fall as rain or snow? The answer appears to depend on altitude and the point in the temperature cycle when it falls and means rain for some, snow for others.