---
Issued: 19 February 2020
By Patrick "Snowhunter" Thorne
---
---
North American Roundup
European Roundup
Asia Roundup

---
INTRODUCTION NORTH AMERICA
---
---
It has been the President's Day holiday long weekend in the US which got resorts across the country battling for business. Fortunately, most are in good shape at present with fresh snowfall reported once more in the northwest (heavy), Rockies (heavy), Midwest (moderate) and Northeast (moderate) over the past few days.

Although the regions Northwest continues to post the deepest snow in the continent, and the world, with one area posting upper slope bases at over 5.1 metres (17 feet). Ski areas in Washington state reported more than 38 inches (95cm) of fresh snowfall this past week. Wyoming[s Jackson Hole topped the continent's snowfall league for the last seven days posting 55 inches (1.4 metres) of fresh snow, taking its seasonal snowfall total to date to an impressive 10 metres (400 inches).
---
ROCKIES
ROCKIES REPORT The Rockies continue to be the place to be for powder at present with significant new snowfall in the past few days, following on from the huge falls about 10 days ago that led to access road closures. Nothing so severe as that this time, thankfully, but still plenty of fresh. Winter Park (85/85" / 212/212cm) was one of the big winners with two feet (60cm) of snowfall to start this week in the first 72 hours. But many other areas in Colorado and Utah posted 12-24 inches (30-60cm) too whilst up in Wyoming, after nearly five feet (1.5 metres) more snow in the past week, Jackson Hole has passed the always impressive 400 inches/10 metres season-to-date snowfall mark.
ROCKIES FORECAST A little unusually it's looking snowier in the southern Rockies than further north over the next few days. There's light-to-moderate snowfall (totals 8-16 inches / 20-40cm) forecast over the coming few days for resorts in Colorado but clear, sunny days expected further north. Temperatures should stay at or just below freezing everywhere. Then from the end of the weekend, heavy snowfall is expected from north to south at the start of next week.
---
WEST

USA WEST REPORT There's been still more heavy snowfall in the Pacific Northwest region of the US, with big 24-hour dumps reported on multiple days by ski areas. Particularly, once again, in Washington state as well as Oregon and Alaska. Alpental (100/204" / 249/511cm) continues to post the world's deepest base and to be the only resort with more than 5 metres/200 inches of snow lying on its upper runs. It was one of several resorts in the region getting more than another 3 feet (90cm) of snowfall in the past week. For once though it wasn't just northern areas seeing snow, Sunrise (48/48" / 125/125 cm), down in Arizona, said it also got 16 inches (40cm) of snowfall in the past week.

USA WEST FORECAST Currently, it looks like the snow tap on the pacific northwest may ease off a little this coming week with cold temperatures but not so much fresh snow in the forecast, although another dump is expected into the weekend. Further north and west up in Alaska though we are looking at a possible metre (40 inches) plus accumulations by the weekend so it should be dumping up there. By contrast to the south in Tahoe and below, mostly dry and sometimes a little warm here.
---
MIDWEST

MIDWEST REPORT Some cold and snowy weather for parts of the Midwest this past week between sunny periods. Most of the fresh snow of the last few days (and it has been 3-6 inches / 5-15cm) has been reported by ski areas in Michigan, although with a little in Minnesota. The deepest snow is reported in Wisconsin though, at Granite Peak Ski Area (52/93" / 130/233cm) where all seven lifts are turning and nearly 70 runs (all of them) open. But then almost all areas in the Midwest currently report they're fully open.

MIDWEST FORECAST The week ahead looks to be a fairly dry one with a mixture of sunshine and cloudy days for much of the Midwest. Unfortunately, it's looking like temperatures will climb back up above freezing later in the week.
---
EAST
---
USA EAST REPORT Things continue to look good in the east, at least up in the more northerly ski states like Vermont, Maine and New York. It has been snowing here again on Tuesday with the biggest falls, around 8 inches (20cm), reported up in the far north towards Canada. Sugarbush (36/61" / 90/152cm) has just pipped Stowe (36/60" / 90/150cm) to claim the deepest base in Vermont. Both areas, and most of the rest in the region, are fully open and reporting good, fresh snow conditions.

USA EAST FORECAST It's looking snowy for the next 24 hours or so in the east before a return to sunny weather for the remainder of the week. Temperatures in the main ski regions to the north should remain below freezing much of the time, though creeping into low positive degrees down at base level at times in the afternoons. There are signs of more snow coming later in the weekend.
---
---
WEST

CANADA WEST REPORT A cold and snowy few days in Western Canada. Even the continent's largest ski area, Whistler (242/242cm / 96/96") reports cold weather down to village level, a rarity this season there, although everything is now open. Inland colder and snowier this week with up to 50cm (20 inches) of fresh reported in the last 72 hours. Big White (255/307cm / 102/123"), already one of North America's snowiest resorts of the 19-20 season, got another 30cm (a foot) in the same period.

CANADA WEST FORECAST After the next few days remaining cold, dry and generally sunny the next snowfall is expected to arrive at the end of the week. Coastal resorts may get as much as 5cm (20 inches) of fresh snowfall by Monday, with less at inland areas but still perhaps 20-30cm (4-12 inches) over the weekend too.
---
EAST
CANADA EAST REPORT Temperatures briefly climbed to near freezing at the weekend in Quebec but didn't quite make it in most of the province's ski regions before more heavy snowfall came in on Tuesday. So it continues to feel more like a real winter after the disappointing start to the season in Eastern Canada in December and January. The deepest snow is lying in the Eastern Township in the south of the region, where Mont Sutton (65/115cm / 26/46") was the first to report all of its runs open (60 out of 60) a few weeks ago. Nearby Owl's Head (140/140cm / 58/58") is also fully open and has the region's deepest base.

CANADA EAST FORECAST After the heavy snowfall at the start of the week, it looks set to stay very cold in the mountains of Eastern Canada. Temperatures as low as 30 degrees below freezing are forecast for some resorts over the next few days and for many, the highs will still be 10 degrees below! The snowfall will probably be lighter though it looks like there'll be a centimetre or two/couple of inches of snow to keep things fresh most days through the rest of this week.
---
---
INTRODUCTION EUROPE
---
A fairly quiet week for snowfall in Europe after the three previous weeks of successive snowstorms in the Alps brought a considerable amount of fresh snow.

Forecasts of lighter snowfalls to start this week perhaps turned out to be a little smaller than expected. So it's a case of 5-15cm in the past 48-72 hours for many areas in the Alps; a nice freshen up of cover but nothing major.
The southern half of the continent continues to be impacted by warmer than normal temperatures, in many places much warmer, with no fresh snow worth measuring in most areas including the Pyrenees, for almost a month now.

This continues a pattern of the continent's bigger, higher ski areas doing fine this season from the snow accumulated during the big snowfalls; however, smaller, lower areas that got rain when the higher centres got snow and which have had very little cold weather for snow-making, are suffering. Some of these have hardly been able to open at all this winter.

So for the big snowfalls of the past week in Europe, the place to look is Scandinavia, as it has been snowing most weeks this season. Ski areas in western Norway are again reporting up to 1.4 metres (nearly 5 feet) more snowfall in the last seven days.

Actually, there has been plenty of snowfall in Scotland too, it has just been difficult for skiers and boarders to access it as it has been so windy.
Conditions have also continued to improve in Eastern Europe with more snowfall reported in Bulgaria.
---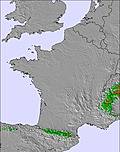 AUSTRIA REPORT After the recent snowy weeks, there's been little fresh snow over the past seven days in Austria. Expected small to moderate snowfalls to start this week didn't amount to much, for most areas just a couple of centimetres/inches if anything. The deepest snow and the lowest temperatures continue to be found up on the country's highest slopes particularly the glaciers, where the snow is lying at last 3 metres (10 feet) deep for most. The Stubai Glacier (35/370cm / 14/148") has the deepest with its stats illustrating the big difference this winter between higher and lower snow depths.

AUSTRIA FORECAST It is mostly sunshine for the week ahead in Austria with some snow forecast around Friday, but it's looking light; just a few centimetres at most up high. As has been the pattern for much of the winter so far, temperatures are looking a little too warm at times down in the valleys at resort level, staying sub-zero on the mountain tops.
---

SWITZERLAND REPORT Swiss ski areas have seen some of the heaviest snowfall of the past few weeks and the start of this week was no different when ski areas in the westerly Valais canton reported up to 18cm (7 inches) of fresh snow to start the week. Generally, conditions are good for most resorts across Switzerland and Andermatt (46/450cm / 18/180") continues to post the deepest base in Europe, as well as Switzerland. Like most of the country's larger areas, it's fully open.

SWITZERLAND FORECAST The current light snowfall in Switzerland will ease off by late Wednesday/early Thursday in most areas and it looks like we will be returning to wall-to -wall sunshine across the country for the week ahead. Temperatures should stay cold and below freezing in most resorts until the end of the week but currently, it looks like things will pop above freezing at the weekend before cooling again early next week.
---
FRANCE REPORT There were some light snowfalls, as forecast, to start the week in the northern French Alps on Monday. But, generally, it was just 5-10cm (2-4 inches), plenty to give a nice freshen up to slope cover. Chamonix (10/255cm / 4/102") reported one of the bigger falls, 11cm (4.5 inches). But from Tuesday we were back to sunshine and there wasn't much, if any, snow in the southern Alps or French Pyrenees. So the La Plagne area (150/330cm / 60/132") continues to post the deepest base in the country with no change on last week.

FRANCE FORECAST After the snowfall of the last few days, it looks like we are back to sunshine across France from Thursday on. Temperatures are climbing above freezing, even up at around 2000 metres from the weekend too. Hopefully, not much above and it looks like it should start to cool down again early next week.
---

ITALY REPORT Another week with little or no fresh snow to report in Italy, just a few centimetres in a few areas to start the week. But most have remained dry and looks set to continue to do so. As with the rest of Europe, this isn't a big problem for most areas, which on the whole are fully open, albeit with now old snow lying from the last big snowfalls in January, in most cases. However, most southerly areas are suffering. Asiago (0/100cm / 0/40") for example, close to the coast in Veneto, has snow up high but less than half of its lifts operating and only about a third of its trails skiable (the higher slopes, obviously).

ITALY FORECAST There's no change and no snow in the forecast for Italian resorts over the week ahead. On the contrary, it looks like wall-to-wall sunshine at least into next week. Temperatures should stay low in the mountains until the weekend but it does, unfortunately, look unseasonably warm from Friday on with possible double-digit temps above freezing down in the valleys and plus temps high in the mountains too.
---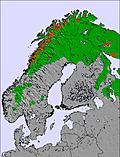 SCANDINAVIA REPORT Western Norway had the most snow in Europe by some distance again this week and base depths at Myrkdalen, near Voss (120/300cm / 48/120") and Roldal (220/350cm / 88/140") are getting near the deepest they've ever been reported in recent decades after another 1.4m (56 inches) of snow was reported at both over the past week. Unusually, both are also now reporting deeper bases than most areas in the Alps. Elsewhere in Scandinavia, the picture is less remarkable although there have been more moderate to good snowfalls across the region.

SCANDINAVIA FORECAST After a few clear days there's now more snow on the way for western Norway with another 30cm (a foot) forecast by the weekend whilst temperatures remain close to freezing. The wider Scandinavian region should see a mostly snowy week too, although this will once more be rain for some lower ski centres when once it would have been snow.
---

GERMANY REPORT There's been a little fresh snow for some areas in Germany over the past few days, just 2-6cm (1-3 inches) for most. But it remains a depressing picture for large parts of the country where the dozens of small, low lying ski hills are unable to open due to lack of snow with warm temperatures meaning snow-making systems can't work either. Most of the country's bigger, higher ski areas are open and many are fully open. The Zugspitz glacier (275/300cm / 110/120") has by far the deepest snow in the country. Otherwise, resorts like Reit im Winkl (10/130cm / 4/52") have the deepest snow and that lower base stat is typical of the issue facing many German areas this winter.

GERMANY FORECAST The remainder of this week is looking fairly snowy on German slope with temperatures hovering around zero and forecasts of anything from 5 to 30cm (2-12 inches) of snow in total by the end of Friday. However, from the weekend, it is looking like whilst it will be nice and sunny again for most areas. Temperatures will shoot up to potentially double digits above freezing, even at quite high altitudes, clearly bad news for the German snowpack.
---
BULGARIA and ROMANIA
BULGARIA / ROMANIA REPORT Some fresh snowfall in the past week across the region, refreshing slope cover again; however. although the snow fell down to valley level in most areas, the lower cover was thin and disappeared fast. Bansko (230/130xcm / 12/52") is maintaining its run back down to resort; however. Pamporovo 200/200cm / 80/80") continues to report the deepest snow.

BULGARIA / ROMANIA FORECAST The next few days do look pretty cold in Bulgaria with some significant snow likely right down to the valley, perhaps heaviest for Borovets where up to 30cm (a foot) in 48 hours to the end of Thursday is expected. Then sunny weather following behind and unfortunately, a steep rise in temperatures to well above freezing by the weekend.
---
CZECH REPUBLIC / SLOVAKIA REPORT Just a few centimetres of snowfall to refresh cover in the past few days in the Czech and Slovak Republics, sunnier again now. Most ski areas in the region are open though, even the smaller, lower centres with thin cover. Tatranská Lomnica (30/130cm / 12/53") has the deepest base in the region, all lifts operating, all runs open and 3cm (an inch) of fresh snow.

CZECH REPUBLIC / SLOVAKIA FORECAST It's looking like the Tatra mountains will be dry and sunny over the coming week too, with temperatures here also creeping above freezing, in common with much of the rest of Europe, at the weekend.
SPAIN / ANDORRA REPORT Another mostly dry week in the Pyrenees and it is coming up towards a month now since the last significant snowfall. This led to a report going vital at news outlets around the world of a small French resort using a helicopter to bring in snow from higher altitudes to patch up snow cover in order to keep operating; however, this really just reflects an almost worldwide phenomenon this winter, so far, that small, low ski areas are suffering from lack of cover whilst the bigger, higher areas are doing ok from snow built up in big falls earlier in the season (which fell as rain lower down). So areas like Andorra's Grandvalira (5/135cm / 18/45") are fully open with 240km of runs to explore even though the snow cover is getting a little old now.

SPAIN / ANDORRA FORECAST Alas, there remains no snow in the forecast and warmer than normal temperatures over the coming week, getting up to double figures above freezing down in resort. It looks like the snowpack should continue to survive the warmth at the leading areas although smaller resorts will continue to suffer ad more may be forced to join the dozen or so forced to close. There's no respite in the longer-term forecast either with no snow on the horizon now until March.
---
---

SCOTLAND REPORT With the storm systems battering Britain over recent weeks it has been an ongoing struggle for Scotland's ski centres to run lifts safely. The storms have continued to bring lots of snow though, especially heavy in the west. Whilst the violent gales sometimes blow the snow off the mountain tops, fences do hold a lot of it on the mountain. So to conclude, conditions are as good as they've got this season over the past week, it's just that slopes haven't been able to actually open much. It has improved over the last few days though in a lull between the storm fronts. The most snow continues to be in the west and the most terrain open, when they can open, at Glencoe (10/50cm / 4/20") and Nevis Range (10/50cm / 4/20") but it is an improving picture at all five centres.

SCOTLAND FORECAST There's more of the same in the forecast for Scottish ski centres with more heavy snow forecast, particularly on higher ground in the west. Unfortunately, there could be more gale force winds, particularly at the weekend and strong in the west again, which seem likely to close centres once more. Some areas could see as much as a metre (40 inches) of snowfall by this time next week.
---
---
JAPAN REPORT Alas, after the promising colder, snowier weather reported at last a week ago, our friends at SnowJapan.com are reporting it has gone back to too often warm and wet conditions across much of the country. So snowfall at Niseko (100/265cm / 40/106") has stalled with little fresh to report and current conditions being windy. It has got up to a six-metre (20 feet) seasonal snowfall to date though, 3 metres/10 feet less than what had accumulated by this point last season. A little more snow reported in the last few days at some areas further south, although here too a mixed picture. For example, Minakami (100/100cm / 40/40") reported 18cm (7 inches) of fresh snow overnight on Tuesday morning but that was after rain the previous afternoon. Strong winds have been a feature at centres across the country.

JAPAN FORECAST There are again more optimistic signs for weather over the coming week after the disappointing conditions of the past seven days. Temperatures are again dipping back down towards seasonal norms, more snow is forecast and winds should ease.