World Snow News 52
Welcome to another roundup of worldwide snow conditions and weather prospects for the week ahead from www.snow-forecast.com in association with Iglu Ski. For additional details about current snow conditions, see the latest summary of conditions from Skiclub of GB , updated twice each week during both northern and southern ski seasons. You can view older blogs here.
Brief summary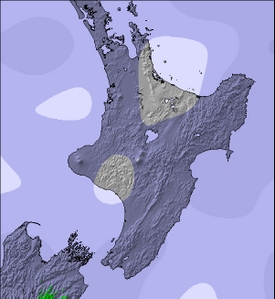 Spring conditions have been prevalent at resorts in Australia and New Zealand, but excellent snow depths for early September and the prospect of further snowfalls mean that the ski season is far from over. New Zealand in particular has very mixed fortunes with a mild and windy spell of weather last week followed by snowfalls of 2-3m on the main divide of the Southern Alps. Snow began to fall a few days ago on the higher mountains but with heavy rain falling below 1800m, many pistes became saturated. Thankfully, rain has turned to snow at many resorts and things are improving once again - it should be a great weekend. In South America and Australia, conditions have also improved following snowfalls that were mostly light in Australia but heavy in the Andes. As yet there are no signs of the first significant snows of autumn in the Alps whereas in Scandinavia snow has already begun to fall in more northern ski resorts like Riksgransen.
Surfers on both sides of the Atlantic have a lot to look forward to in the week ahead. A succession of swell-generating Hurricanes crosses the central Atlantic over the next week with epic surf conditions expected for many locations on that side of the Atlantic. Meanwhile, deep depressions in the North Atlantic will deliver strong swells from Morocco to Norway. The British Isles should see at least two periods when warm south-easterly winds deliver clean surf conditions to the west facing beaches. For more information than the discerning surfer could ever need, head over to surf-forecast.com
Site news
Please note that editorials will be issued less frequently during the relatively quiet months before the Northern ski season gets started in December. In the meantime we will focus our efforts on further improving the content of the website. The biggest improvement over the past few months has been support for languages other than English. The list of translations continues to steadily grow and we are incredibly grateful to everyone who has helped out with this project. This week Italian and French versions of the site have beenlaunched bringing the total number of languages supported to eight. You will also notice on the resort information tabs, we have new location maps snowing regional, local and streetview detail greatly improving navigation and geographical placement of them.
Last year we introduced hindcasts, historical snow reports and longer range forecasts for members. This season we will be adding streaming video content. We already have an archive of many millions of webcam images and we are currently converting these stills into time-lapse movies and we have begun experimenting with video weather forecasts and hindcasts too. This content will only be available to members because of the considerable bandwidth required.
Summary:
Prior to Wednesday, New Zealand resorts had not seen new snow for almost 2 weeks


In the past few days, up to 3m of fresh snow has fallen above 2000m along the main divide of the South Island
Little has reached resorts so far. Rain turned to snow on Wednesday night
Saturday looks like it will provide a great weather window for fresh tracks

A rising mild NW on Sunday night brings a mix of rain and snow to ski resorts early next week
A deep low crosses South Island on Tuesday with colder air in its wake.
Rain should turn back to snow before it clears eastwards
Remaining rather unsettled with further snow later in the week
All in all, mixed conditions with a risk of some rain at resorts from Mt Hutt north


All Australian resorts apart from Ben Lomond in Tasmania saw light weekend snowfalls


Ben Lomond did 15cm of snow fall on Tuesday

Moist easterly winds brought mostly light snow to eastern slopes of the Snowy Mountains this week

Light showers, with snow to about 1500m, fade away during the weekend
The next weather system crosses the region on Tuesday and Wednesday
Rain will turn increasingly to snow with moderate falls expected
Thursday and Friday look like good days for making fresh tracks
Another front should arrive from the west around next Saturday


Last weekend saw heavy snow at most resorts in South America


Up to 100cm of new snow was reported on the higher slopes of Cerro Catedral
Snow depths at La Parva are now approaching 6m on uppermost slopes
Staying quite unsettled and often snowy for several more days
Becoming more settled and sunnier everywhere from mid week

In France, Les Deux Alpes, Tignes and Val d'Isere have closed. In Italy, both Presena and Cervinia have closed leaving only Val Senales open. If you still want to enjoy summer skiing on the European glaciers Austria and Switzerland are a safer bet but even here the mild weather continues to make for soft snow conditions. Hintertux still boasts an impressive 11km of open terrain while Molltal glacier has 9km of runs on offer. Shallow piste depths of less than 50cm forced Kaprun to close on Thursday but Dachstein is open and claims 5.2m of snow depth although quoting snow-depth on a glacier seems unlikely to be very objective.
Saas Fee and Zermatt have been opening whenever the fairly unsettled and sometimes windy summer weather allowed them too. They were both closed again on Thursday.
Alpine weather should be mostly fine until at least mid-week. With low pressure remaining to the west of the Alps it stays mild with snow showers confined to areas above 3800m. Light winds.
Snow conditions at resorts in Australia are very good for the time of year and snow bases well in excess of 1.5m at the main resorts mean that they should be able to provide a few more weeks of good spring skiing but as we approach the equinox the low altitude and the latitude mean that you will have to be in the right place at the right time to catch the kind of snow conditions that typified July and August and at present everywhere is reporting spring snow conditions.
A moist easterly flow from the Tasman has dominated the weather pattern for a few days across the ski areas of New South Wales accompanied by cloud and light snow showers down to about 1500m with only isolated showers further west.
This pattern will continue for two or three more days as a low pressure system develops over southern Queensland and moves south off the Tasman coast of New South Wales. Before the showers clear away they will trend to rain at higher altitudes as freezing levels rise to near the summits on Saturday. Hopefully, by Sunday any rain showers will be too isolated and too light to have a significant impact on the snowpack. On Sunday the tropical low-pressure system will begin to deepen and rapidly accelerate away across the Tasman towards New Zealand where it will dominate the weather early next week. Australian surfers should see some decent surf all along the NSW coast as the low moves away - check out the 4 metre 12 second period swells and offshore winds that or sister site surf-forecast.com is predicting for the Sydney North shore at places like Manly beach.
Cold air aloft looks like it may develop over the Alpine region on Tuesday bringing with it some moderate snow falls more especially to resorts in Victoria. The precipitation will probably begin as showery rain below 2000m before it turns to snow, at least on the higher ski slopes.
If things go according to plan, Thursday or Friday hold the promise of fresh tracks before the next weather front arrives around Saturday, give or take a day.
Snow falling at many New Zealand resorts on Wednesday has ended the longest spell without fresh snowfall since the 2008 season began. Although Mt Lyford received 20cm of snow on August 26th most other resorts did not see any fresh falls since a few days before then and at Whakapapa you have to go back to August 19th and at Rainbow, August the 17th. For many places the break in the weather, caused by an intense anticyclone close to the Chatham Islands, has been very welcome because prior to this there was a problem from too much snow falling. Unfortunately the settled spell has been both mild and windy at times with spring snow conditions widespread.
A weak but very humid Tasman low pressure system heralds a change in the weather. As moist NW winds ran up against the Southern Alps rain and snow began to fall a few days ago and an intense anticyclone over the Chatham Islands caused the clouds to remain in the same area until Thursday night. Along the main divide, above about 2000m, some remarkable accumulations of snow have been observed with 2-3m having fallen in the Mount Cook area. Not surprisingly, this has brought high avalanche risks here. Scattered rainfalls spreading east of the divide since Tuesday have been sufficiently heavy to give the pistes a soaking at some resorts, especially below 1800m. The heavy wet snowpack became very unstable for a time.
Thankfully, on Wednesday, South Island rainfall has turned to snow at all but the lowest elevations and the snowpack has refrozen making it more stable again. Mt Cheeseman, Porters and Broken River all saw at least 20cm of fresh snow on Thursday morning with lighter falls elsewhere. The heaviest precipitation has moved north late on Thursday with very heavy rain and some snow too for the Nelson mountains. Snow will penetrate to quite low levels by Friday morning in the east before it clears. Most places will see a clearance until Friday afternoon, reaching Rainbow and Mt Lyford a little later and setting up these South Island resorts for a perfect weekend. Rainbow will be especially popular on Saturday because so much snow fell there a few weeks ago that it had been forced to close during some of the best days of the winter; local skiers who missed out have some catching up to do and Saturday looks like the day to do it.
Ski resorts in the Southern lakes region have seen rather less weather from this front than Canterbury resorts although snow showers on Wednesday night and Thursday did at least deliver a few centimetres of snow to most slopes and as much as 10cm at Treble Cone - good enough to freshen up the pistes after a spell without any fresh stuff. There should be slightly heavier snowfalls in this area on Monday and Tuesday courtesy of the tropical depression currently forming over Queensland.
On the North Island, Friday should see morning rain quickly turn to snow at Turoa and Whakapapa with the current wet snowpack re-freezing in a cold afternoon southerly change. Although snowfalls are expected to be quite modest light winds should allow enough fresh snow to remain in place to greatly improve weekend prospects.
Unfortunately, a rising north wind on Sunday will bring rain at resort elevations on Sunday night, perhaps preceded by a little afternoon snow before the resident cold air clears away. Our advice is to make the most of Saturday and Sunday am. Monday morning looks like it threatens to give Ruapehu ski slopes another wetting with heavy snowfall confined to the summit area. A mid-week spell of cooler westerly winds and snow showers will hopefully repair the damage and cover what is likely to be a very frozen snowpack.
Monday's spell of mild northerlies at Ruapehu is associated with the same Queensland low pressure system that we mentioned before. At this stage it is expected to track across the bottom of South Island which means that the associated mild air that was in the tropics just a few days earlier will cross most of New Zealand. The southern extent of the accompanying warm airmass, with freezing levels over 2000m is a little uncertain. Successive forecasts seem to be revising it further north; a good thing if correct. At this stage it looks like Monday's thaw will affect ski resorts all the way south to Mount Hutt and possibly as far as Mount Dobson and Roundhill in the Mackenzie with the Southern lakes region likely to be spared. If the low takes a slightly more northern track, significant snowfall in central South Island is possible and in any case feezing levels won't be high enough for the high mountains of the main divide to avoid another big dump. Keep a close watch on the forecast updates through the weekend to see whether rain or snow is expected at resort elevations - it is finely balanced.
Regardless of the details, a cold southerly change should sweep right up the east coast as the low departs with exposed places like Mount Hutt, Porters and Mt Lyford likely to see some fresh snow in the process. Weak Tasman lows maintain the unsettled theme to the weather later in the week but lacking the tropical origin of Monday's low, at least the systems that follow it should bring only snowfalls to resorts rather than any rain.
Even though New Zealand and Australia have great conditions for the time of year, South America continues to offer a better combination of snow conditions and fine weather.
As far as we can tell, every resort in
Argentina
and
Chile
saw significant snowfalls last weekend with up to 1m of fresh snow reported. The snow moved east from
Chile
into
Argentina
during the first part of the week but conditions are great right across this region.
New Zealand
may be able to boast 2 or 3m of fresh snowfalls along the main divide this week but there are no resorts in this remote snowsure zone
Temple Basin
is closest) and in winter hardly anyone even goes there, let alone skis there. Instead, the ski resorts are mostly low altitude places in the rain shadow where only one tenth as much snow has fallen from the current system. In
South America
on the other hand, purpose-built high altitude resorts like
La Parva
and
Portillo
are located where some of the heaviest snow falls and the base areas are higher than most of the mountain summits in
New Zealand
. It is not surprising they have so much snowfall.
La Parva
currently reports almost 6m on its upper slopes which at over 3600m altitude are almost as high as the summit of
Mt Cook
.
Late season has improved a lot at lower elevation places. In Argentina, at Chapelco and Cerro Catedral, lower run snow depths are about 1m and on Thursday, powder is reported from upper runs in each area.
It is snowing, or about to snow at many resorts and this unsettled and snowy theme will last until about Wednesday. Some place like La Parva, Chillan and Las Lenas will see most of the snow fall at the start and the end of this period while others like Termas de Chillan see the snow in the middle, on Sunday and Monday, but by Wednesday almost everywhere begins a spell of fine weather.
Please click here if you would like to unsubscribe from the newsletter