World Snow News 50
World Snow News Update for August 15th 2008
Welcome to our 50th World Snow Roundup and weather prospects for the week ahead from www.snow-forecast.com in association with Iglu Ski. For additional details about current snow conditions, see the latest summary of conditions from Skiclub of GB, updated twice each week during both northern and southern ski seasons. You can view our archive of older editorials here.

We are pleased to announce that visitors to our site in South America can now switch the language to Portuguese and Spanish.

Brief summary
Weather patterns remain conducive to great skiing conditions at all of the main Southern hemisphere ski areas. In some parts of New Zealand it has been unusually snowy once again and several relatively low elevation towns and roads in Australia saw rare snowfalls last week. After a dismal summer in Britain, we were not surprised to see the first email alerts being triggered by the prospect of the first significant snowfalls of the autumn at resorts in the European Alps. Our alerts are only sent when at least 10cm of snow is forecast to fall at mid-resort elevations. It is not all that unusual for this to happen in mid-August, especially at higher elevation resorts, but it is encouraging just the same. Whereas Summer 2007 was often cold and snowy on the glaciers of Europe, 2008 has been much milder with more rain than snow.
Ski resort news: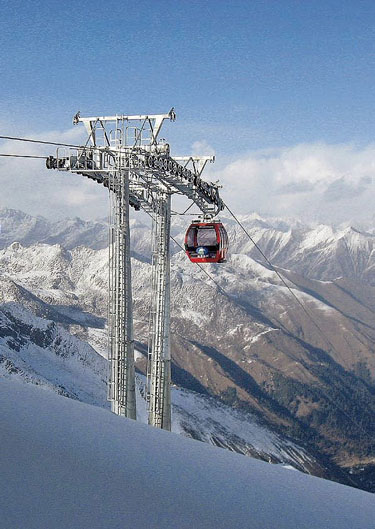 The Kitzsteinhorn Mellow Parks on the glacier above Kaprun in Austria will be enlarged this winter with a superpipe. The new superpipe will be build near the summit station of the Sonnenkarbahnen, at around 3000m, between piste no. 1 and the Roxy park. This will be the only superpipe in the Salzburg region and one out of three in Austria. The pipe will be 150 metres long and the walls will be five metres high. Their glacier ski area remains open for most of the year and is currently open for summer skiing and boarding so it seems likely that the superpipe will be a year round facility.
Doppelmayr has completed a new gondola with eight passenger cabins which reaches 4,843m above sea level in China (pictured left). The lift accesses The Aba Great Glacier in Sichuan province, about six hours driving time from regional capital Chengdu. The top station is 327m higher than the previous record holder, also in China, at Jade Dragon Snow Mountain in Yunnan province, which was built by another European company, Leitner, opened in 1999, and has a top station height of 4,516m. The third highest gondola in the world, and the highest at a ski resort, is also in Asia, at Gulmarg in India. Built by French company POMA its highest terminal is at 3979.5m
The new lift has been built for Aba Dajiuzhai International in a tourist region which attracts two million visitors annually. The company aims to initially attract 200,000 visitors a year to the lift, which accesses a beautiful mountain lake. They then aim to grow that business to 500,000 – 700,000 visitors annually following further improvements to the centre.
The new lift can carry 800 passengers per hour and takes 9.4 minutes to make its ascent. There are 36 gondola cabins travelling at six metres per second over the 2399m length and 1,226m vertical.
Doppelmayr won the contract in April 2005 and began work in October 2006 and following bad weather delays, completed construction and handed over the lift in late March, and the gondola is now open to the public.
After having opened for one season in the Plateau sector, the new snowpark at Val Thorens is already a victim of its own success and needs to be enlarged by 18,000 to 88 000 square metres at a cost of 300,000 Euros. A new 500 metre long hand rail, the enlargement of the beginners' learning area with more educational and fun elements and the improvement to the expert zone will provide still more for skiers and snowboarders of all standards.
The installation of a second drag lift, doubling up the Plateau drag lift, improves the access to this important meeting and entertainment spot. And for those who haven't yet tested it, try out the novel activity, the Jump'Air, a jump with landing on a shock absorbing mattress. The Jump'Air is ideal for learning or improving freestyle, whether on skis or on a snowboard including grab, back flip, rodeo back, under flip, 360°, 740°, 900°... or to try any jump with little danger
A new boardercross will also be added in the 2 Lacs sector. 1.4 km long and over a vertical of 350m metres, this fun area links whoops, jumping table and raised bends. (grab, back flip, rodeo back, under flip, 360°, 740°, 900°...) or to try and jump as far as possible with no danger. The Jump'Air is ideal for learning or improving freestyle, whether on skis or on a snowboard.
Summary:
NEW ZEALAND weather is dominated by a deep depression


Severe weather for many areas once again

Fresh snow has fallen at all ski areas over the past few days - 20cm is typical

Mt Lyford can still claim to be the snowiest resort in NZ with 3.7m

Avalanches have been reported from the Tararuas for the first time in 90 years

Wind and snow clearing by Monday, but not after heavy falls for most ski areas

Great skiing conditions next week before the next Tasman low arrives


Ski resorts in Australia have seen further snow - 2008 is proving to be a great season


It has been cold enough for snow to fall to low elevations

Several towns were affected and some roads were closed last weekend

Cold SW flow eases this weekend - there will great skiing on offer

Cold and snowy again by next Wednesday


Southern Resorts in Argentina and Chile saw snow last weekend


A few more northern resorts saw a little snow early this week

Many resorts saw heavy snow on Tuesday - La Parva reports 4m on upper slopes

Significant snow and wind will arrive on Friday and Saturday

The weather next week will be mostly dry with variable cloud


,
Last week we mentioned the possibility of weekend snow around Zermatt but it was actually a little more widespread than we expected. A dusting of snow fell at Saas Fee on Saturday and 10cm of snow also fell on the glacier at Val Senales. Mild weather meant that any improvement was short-lived and in general snow conditions on Europe's glaciers are wet.
A low pressure system is currently forming over eastern Europe and as it does so it will briefly drag cool northerly winds over the Alps, especially the Austrian Alps. There will be some snow for glacier resorts like Kaprun and Hintertux on Friday night but it probably won't be enough for Stubai to open. Dustings of snow will fall further west too. Low temperatures and strong winds will make it feel bitterly cold at Tignes on Friday.
The week ahead maintains the unsettled theme with only brief spells of fine weather. As we reach the tail end of summer, temperatures will generally be cold enough for snow rather than rain to fall on the highest glaciers - especially in the second half of the week.
Weather conditions over Britain remain really miserable with low pressure and copious rain dominating the 5 day forecast and a notably deep low crossing the country on Monday bringing gales to the southwest. A ridge of high pressure may bring a settled spell of weather to southern Britain from mid-week but the Atlantic westerly air will keep the lid on temperatures and northern and western areas will continue to see cloud and some rain.
Last weeks forecast for New Zealand proved accurate. First a weak low crossed the top of the South Island followed by a sharp southerly up the east side of both Islands before a major Tasman storm system arrived. On Saturday, My Lyford managed yet another 35cm fall with 25cm at Rainbow. Several Christchurch and Banks Peninsula roads were closed while the Rimutaka road out of Wellington was blocked by snow at its 600m summit. The nearby 1500m high Tararua range is a popular walking destination for Wellingtonians but the unusual winter weather has brought an unusual hazard with 3 large avalanches reported so far and winter conditions that local mountaineers described as more reminiscent of winter in the higher parts of the Southern Alps. A string of deep depressions have dumped two to three metres of snow and these are the first reports of avalanches in the Tararuas since 1929.
As the next major storm approaches on Thursday night, the Wellington and Wairarapa districts will once again be hit hard with a mix of 120kph winds and squally thunderstorms - and that's at sea level. At 1500m in the Tararuas and Ruahines it will be much more severe with more snow too - in short, dire conditions. The same system is currently bringing heavy snow and thunderstorms for parts of Buller, Westland and NW Nelson tonight and continuing on Friday. Up to 1m of snow has already fallen along the main divide of the Southern Alps in the last 3 days and at Arthurs Pass National Park the avalanche risk is already extreme
The entire country is now under the influence of a huge 970 millibar Tasman Sea storm. It is currently crossing Southland but extends its influence all the way north to the Kermadec Islands with rain and thunderstorms for many places in between. Severe conditions will slowly ease next week as the low moves off east and fills but the East Coast off north Island won't lose the cool southerly until Tuesday night. As we stressed a week ago, despite the NW wind direction the airmass is not mild (it is returning polar air that was located south of Tasmania a week ago) and snow rather than rain has already fallen at all ski resorts. We did suggest that it might be a close thing whether North Island resorts would begin with rain but in the event Manganui was the only New Zealand resort to see any unwelcome wet stuff this week. Even here it has already turned to snow. 10cm settled on Wednesday night with much more to come - a major dump in fact. Turoa and Whakapapa have also seen snow and by Thursday they were just shy of 3m depth in the upper areas but avalanche risk is high both here and on Taranaki. At Turoa, only lower mountain areas were open on Thursday and at Whakapapa only Happy Valley was open due to strong winds, snow and avalanche clearing work on the upper slopes. Between 10 and 25 cm of snow fell on Wednesday night and snow continued through Thursday. As usual, lack of snow is rarely the problem at the Ruapehu resorts - the problem is the relatively small proportion of fine days in which to enjoy it. Whereas many resorts have powder alerts, Ruapehu ones issue Bluebird alerts instead. They have managed a few clear blue sky days of late and should see another fine spell from Tuesday to Thursday and the wind will have moderated by then too - any sun this weekend will be fleeting as snow showers rattle through on strong west winds. Those in the know make their annual pilgrimage to Ruapehu in the spring when you are much more likely to encounter superb skiing on uncrowded slopes with some of the finest views anywhere. The spring ski pass is a steal too. Even so, most years, by the time the resorts close through lack of visitors, snow and weather conditions are still ideal.
All central and northern South Island resorts have seen about 20-30cm of fresh snow from the current system but some are wind-affected on Thursday with the majority closed Rainbow, Hanmer, Temple Basin, Craigieburn, Porters, Mt Olympus Alpure Peaks, Mt Dobson and Ohau) and only five open Mt Lyford, Broken River, Mt Cheeseman Mt Hutt and Roundhill). Mt Hutt is describing conditions as the best for 15 years. They also had 20cm of snow on Saturday and 14cm on Monday. As many overseas ski teams head there for training at its Red Bull International Race Training Arena locals have a great chance to watch an learn. Amongst the international elite of the sport, overall 2007 World Champion Aksel Lund Svindal is due to arrive this week along with Norwegian team-mates and they will train for two weeks. The International Race Training Arena consists of a 1,460m track that starts at the top of Mt Hutt and finishes in the base area. Athletes reach speeds of 130 km/h while hitting jumps that send them 40m through the air. The Arena is located in the main basin of Mt Hutt offering spectators great views from top to bottom.
Sheltered from the worst excesses of the weather, all of the southern lakes ski areas were open on Thursday and the southerly track of the current system means that they have already seen between 2 and 12 cm of fresh overnight snow. More is forecast as the wind starts to blow from the south and east as the low moves away. However, snow depths remain only a fraction of those found further north and only The Remarkables is reporting more than 1m of cover. It was mostly sunny here on Thursday with just a few snow showers. 7cm of new snow fell at Treble Cone on Wednesday night adding to the 5cm that fell on Tuesday. We are expecting cloud and moderate snowfalls from Friday through to Sunday afternoon in this area with perfect conditions following the weekend especially by Wednesday when the breeze will have fallen light. Later in the week, a strengthening NW wind in the Southern lakes region ushers in the arrival of the next Tasman weather system bringing yet more snow on Friday.
As expected, resorts in Australia have received heavy snow falls at the weekend and into Monday. Snow also fell to low elevations on both Thursday and Sunday affecting several towns and many roads. Heavy snow on Sunday night affected the Western Freeway near Ballarat, west of Melbourne. Snow and hail also fell around Bathurst, Goulburn, some parts of Canberra and Yass with a spate of snow-related accidents reported on Hume and Barton Highways.
Selwyn Snowfields did best. It received 40cm of weekend snow now has over 1m of cover. Perisher Blue also received 19cm on Monday and there is fresh dry powder from top to bottom. Mount Buller received slightly less with 15cm of new snow being reported. Following a 20cm snowfall at the weekend that brought the total depth to 1.5m, Francis Jackson Falls Creek's Snowsport School Director said: "This is the longest period of consistently dry, soft snow I've seen. We've had a month of perfect snow quality normally found overseas. The skiing and boarding is unreal. If there was ever a time to come and experience how much fun it is - its now!" Falls Creek has now exceeded its 20 year average snowfall and with more snow forecast, we can be certain that 2008 will go down as a better than average season. Both Mount Buller and Falls Creek have seen daily snowfalls so far this week.
The rest of the week has followed the forecast too with a disturbed SW flow blowing across the Alpine region most of the time. Thankfully, there have been brief fine spells to enjoy the near-perfect snow conditions but in Tasmania Ben Lomond was closed on Thursday because of strong winds.
Thursday saw high pressure over the Great Australian Bight direct a cold south or southwest flow over the high country with cloudy skies and isolated snow showers for the Victorian Alps and more frequent showers and stronger winds for the Snowy Mountains. More showers on Friday, frequent in the east and south, easing at the weekend and early next week and remaining cold so expect excellent snow conditions especially if the cloud breaks. A cold front approaches Victoria on Monday evening and later in the week the weather pattern gets back to pretty much what we have at present - a cold and showery S or SW flow, showers heaviest and winds strongest near to the Tasman coast and Tasmania too.
Last week we forecast two distinct snowfalls for resorts in South America - one at the weekend that would be centred on the Lakes region and another one over a wider area mid-week. The first one showed up on time, the second one a little early hitting most resorts on Tuesday. There is another heavy snowfall on the way for Friday and overall snow conditions could not be much better.
In Chile, snow fell at Chapa Verde and Valle Nevado over the weekend and again on Tuesday so that Chapa Verde reports 50cm of snow falling over the last seven days. Snow also fell in Argentina at Chapelco and Cerro Catedral leading to excellent piste conditions and off-piste powder. Cerro Catedral is much improved following an inconsistent start to the season; 30 out of 40 lifts were running on Tuesday and the upper snow depth was approaching 2m at last although with just 15cm at the resort, further snow would be welcome. Las Lenas and Chapa Verde both had just a dusting of snow on Monday which was sufficient to refresh the pistes. The snow conditions across the Three Valleys resorts of El Colorado, La Parva (4m on upper slopes is the deepest in the Southern Hemisphere) and Valle Nevado are great thanks to this weeks snowfalls. Portillo offers some of the best riding in Chile following 27cm of new snow falling on Tuesday.
As a vigorous depression crosses the region on Friday afternoon and Saturday, many resorts will see a spell of heavy snowfall accompanied by strong winds with a mix of fine and cloudy weather to follow. The track of this system follows the previous storm and so it will easily reach resorts in the north delivering the second major snowfall this week. Unfortunately, it may be mild enough for some rain on lower altitude slopes such as those of the Lakes region.
The snow-forecast team