World Snow News 48

Update for 1st August 2008
Welcome to the the latest roundup of worldwide snow conditions and weather prospects for the week ahead from www.snow-forecast.com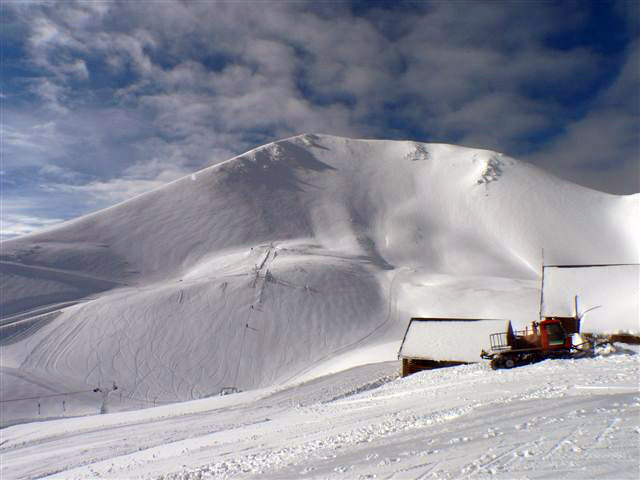 Brief summary: New Zealand has been hit by three unusually severe winter storms in the space of a week. [The image (left) snows Mount Lyford on Monday afternoon between storms. A rope tow ascends the ridge on the left. By Thursday they had received another metre of snow and will begin August with a 3m snow base]. There has been widespread disruption and several lives have been lost. The storms have left snow conditions at some resorts better than they have been for several years. However, some places have seen rain and strong wind too, and overall there has been a high proportion of closed days in resorts. The weekend should offer reasonable weather for most South Island resorts and early next week looks like it provides a window of fine weather everywhere. In Australia, conditions have remained good for skiing and the significant snowfall we forecast a week ago has begun to arrive. South America continues to enjoy a good ski season while the European Alps have to contend with mild temperatures and downpours. Summer skiing at Whistler in Canada ended on 27th July
Ski resort news:
Burton New Zealand Open Kicks Off 2008-9 Series
Over 200 competitors from 17 countries are in New Zealand for the Burton Open which kicked off Tuesday, July 29th at Snow Park. Thankfully Snow Park is to the south of the recent storms and so they have received just a little of the snow and none of the wind and rain.
The Burton New Zealand Open is the first event of the 2008/09 Burton Global Open Series (BGOS) which features competitions in Australia, Japan, Europe, Canada and the USA. The event is also part of the SwatchTicket to Ride (TTR) World Tour. Competitors include participants from Australia (11), Austria (3), Belgium (2), Canada (18), China (6), Finland (9), France (2), Great Britain (6), Germany (2), Japan (42), Norway (5), New Zealand (29), Slovakia (3), Spain (1), Switzerland (8), USA (55). The youngest competitor is 10-year-old Seamus O'Connor from Park City, USA and the eldest is 62-year-old Dick Schulze from Truckee, USA.
The event boasts a NZ$50,000 prize purse, plus a chance to compete for US$100,000 as overall Burton Global Open Series winner, last year won by Torah Bright (AUS) and Peetu Piiroinen (FIN). Nice work if you can get it.
The slopestyle course is 800m long with six sets of features including a staircase, two kickers and urban wallride. Snow Park NZ's Superpipe is the Southern Hemisphere's only Olympic and X-Games standard halfpipe. It uses 70,000 cubic meters of snow and is 5.5m deep, 170m long and 18.2m wide with a 17 degree pitch. The quarterpipe is equally massive at 10m tall and 30m wide.
If you can't make it to New Zealand, you can watch the semi-finals and finals live on Go211.com, where webcasts and highlights of the competitions will also be available for on-demand viewing once the event is over.
Abu Dhabi's National newspaper
has reported that a team of 114
German
engineers have been laying ground works for what will be by far the biggest indoor snow slope in the world at Jebel Hafeet at 2.6km (1.7 miles) long. That is five times longer than the existing longest indoor slopes in Holland and
Germany
and six and a half times longer than neighbour Ski Dubai. The full area of the slope will be 337,000 square metres, about ten times the largest indoor slope area at present. Reports say that sections of the slope, although possibly not all, will be indoors, with movable sections to allow different slope configurations. Parts of the slope will also be supported by stilts and there will be an indoor ski jump.
The development, called Jebel Hafeet Glacier, will also include a theme park, golf courses, two hotels and a retail area at the base of the mountain. Full construction work is due to commence in October at Jebel Hafeet, the best known of Abu Dhabi's mountains. A solar energy farm at one corner of the mountain will provide an as yet undisclosed proportion of the energy requirements.
The project still needs final approval from the Government because the mountain has historic sites and a hot springs area set up by the late Sheikh Zayed. Jebel Hafeet rises about 1,240 metres; the highest mountain in the UAE is Jabal Yibir, which is 1,527 metres. It is coped construction will be completed by 2013 and that it could then host International Ski Federation competitions. The development is being implemented by Tamouh, part of the Royal Group, a holding company owned by Sheikh Tahnoon bin Zayed al Nahyan. Mr Joe Ong, chief executive of Tamouh Investments, described it as the eighth wonder of the world. Temperatures at the base of the mountain are currently around 45°C at midday although natural winter snow on the mountains of UAE does fall about once a decade.
A report by the Denver-based National Conference of State Legislatures in conjunction with Maryland University has noted that Colorado 's climate has been growing warmer for 50 years, especially in the mountains. In common with other mountainous areas around the world it reports that temperatures in the Rockies are rising faster than for the US as a whole. Although the report, entitled "The State Economic and Environmental Costs of Climate Change," says that precipitation is increasing, it believes more of this is falling as rain rather than snow, reducing the build up of snowpack and shortening the ski season. The worse case scenario is for average temperatures to rise by another six degrees by 2100.
On the downside this would shorten the ski season, on average, by about a month. On the upside resorts could offer more for summer visitors escaping city heat. The report can be downloaded here
Summary:
Extreme winter weather has hit New Zealand again


The latest weather system dumped 1m of snow at Mount Lyford

North of here there has been too much wind and rain

South of Ohau the the weather has remained fair with only light snowfalls

Further snow for some this weekend, especially North Island resorts

Early next week sees a ridge building from the Tasman


In Australia, last week provided light to moderate snowfalls


Blizzards for Thursday night and Friday August 1st

Clearing to isolated snow showers at the weekend

Possibly further light snow on Monday and Tuesday, otherwise fine

Earlier this week saw fine weather with mild summer temperatures on the glaciers of the European Alps. This made for great early skiing before the snow got too heavy, although French glaciers were cool enough for some snow around the peaks at Tignes on Sunday night and it only reached two degrees at Les Deux Alpes on Monday afternoon. More generally, afternoon temperatures on the glaciers were about 10 degrees. Unfortunately the weather has turned rather thundery in the French and Swiss Alps and this wetness will spread east on Friday and clearing from all but the Italian Alps by the weekend. Variable cloud next week and staying mild until Friday when freezing levels will sip to about 3500m. Thursday was already to wet for skiing at Saas Fe and in Austria Stubai glacier was closed due to insufficient snow and Hintertux was the only Austrian summer skiing resort to be reporting sunny skies.
New Zealand has had some really extreme weather over the past week thanks to three storm systems that crossed the country in quick succession. We wrote about the first of these last time and accurately forecast the paths of the next two as they dive-bombed New Zealand from the tropics just a few days apart. At the weekend the first of these tropical lows crossed East Cape and brought 200km/h winds to Ruapehu forcing the resorts to be evacuated. The resort staff we caught out by the abruptness of the change in the weather as blue skies were quickly chased away by a ferocious blizzard. Further south, severe gales extended as far as about Rainbow but the overall effect of this storm was to give a boost to the weakening SE flow over South Island ski fields that had been established in the wake of the previous weather system. As a result, resorts from Arthurs Pass to the Kaikouras saw another moderate snowfall over the weekend followed by superb skiing conditions on Monday, best at Mount Lyford which is proving to be the standout resort in New Zealand this season. 7cm of snow on Monday night gave Rainbow its best day of the season on Tuesday.
The weather window was fleeting and by Tuesday the effects of the next tropical low were already being felt across North Island. This system was much larger and only a little less ferocious than the previous one and caused damage and destruction over a much bigger area as it took a more southerly path. Severe gales and flooding extended all the way from Cape Reinga to Hokitika. Once again, the easterly flow off the Pacific meant that the mountains between the Kaikouras and Ohau saw very heavy snowfall and by Thursday morning Mount Lyford reported a metre of fresh snow - much more than the 40cm we had forecast and bringing the total snow depth to almost 3m. To our credit, we specifically mentioned that Mount Lyford would see the heaviest snow from this system 6 days before it happened.
New snow and plenty of it is undeniably a very good thing but despite what the snow reports say, if you come from Utah, you are unlikely to find anything resembling powder. On Tuesday we came across this in the Christchurch Press quoting Pete Foote of Mount Dobson "The snow's not been light and fluffy. It has some moisture, so when you groom it, it packs down to powder". New Zealanders describe pretty much any new snow as powder, packed or not. This means that the accurate snow reports of real powder conditions - usually from Ohau or somewhere in central Otago don't stand out as being exceptional. To set the record straight, all of this recent snowfall from Canterbury north has been derived from very moist sub-tropical air and the high moisture content means that it is very good for building pistes and terrain parks but if anyone tells you it is powder try a simple test. Attempt to throw a snowball at them - if they are right and it really is powder, you won't be able to because the snow won't bind together.
The resorts along Arthurs Pass have also seen a lot of fresh snow. Apart from a few weekend showers this should slowly clear away on Friday. Looking good for the Fire and Ice weekend at Temple Basin where 15cm of fresh snow is reported. Closer to the east coast, snowfalls have been much heavier as you approach Porters Pass and the plains. Mt Cheeseman has seen 50cms and Porters and Broken River both have more than 70cms of fresh and it is still snowing at all of these resorts on Thursday night. To the south the snow has been just little lighter - Mount Dobson and Roundhill have 45cm of fresh snow each. At all of these areas expect incredible conditions once they open. Some will reopen on Friday but they should all be running at the weekend, including Fox Peak. Don't be surprised if the back country above the lifts is considered too dangerous until Sunday.
To the north, Rainbow, Taranaki and Ruapehu also saw heavy snow but were also affected to varying degrees by a spell of mild air and rainfall, much as forecast a week ago. Thankfully rain has turned back to snow and on Thursday afternoon Rainbow was again reporting blizzard conditions. To the South of Lindis Pass the Otago skifields have again been rather peripheral to all the weather action. Although they have missed out on the heavy snow, receiving just dustings, at least they have been open throughout this period and still have reasonable bases. Elsewhere, most New Zealand resorts were closed on Thursday which gives a good indication of how widespread the bad weather was.
The current storm system may have eased but is in no hurry to depart. A secondary low in the Tasman will keep things unsettled for a while longer with several associated fronts moving up the west coast and onto North Island. The air is generally cooler now and so the weekend should bring snow rather than rain wherever precipitation falls at ski resorts. The lightest snowfalls will be in Otago and Canterbury and will just be heaviest on Ruapehu and at Manganui. Early next week, rising pressure will bring a very welcome respite from the storms but with low pressure never far off the east coast of South Island cloud and further bands of light snow are likely on the east side and it should remain cool too. With so much fresh snow in the Southern Alps, if you are venturing into the back country please be aware of the avalanche risk which is now considered high in some areas. The combination of wind, heavy snowfalls and very variable temperatures makes for complicated snowpack with considerable risk from loading of weak layers. Check avalanche.net.nz for further details.
Last week our forecast for Australian resorts was for light to moderate snowfalls early in the week followed by a brief break in the weather before a much more significant band of snow arrived today - Friday August 1st. This forecast seems to have been correct on all counts. We feel we need to point this out because this time round we are not so confident that the forecast beyond the weekend will be as accurate.
Starting with a brief review of conditions, snowfalls boosted the skiing conditions at Mount Hotham over last weekend. 9cm fell on Sunday followed by a further 5cm by the time the lifts opened on Monday. Thredbo saw 15cm on the 28th while Perisher blue only received 4cm. Snow also fell in the Flinders ranges of South Australia on Sunday afternoon with Kadina recording its coldest ever July minimum with just -2.8 degrees, down on -2.2 degrees on July 9, 1959. Mount Buller received new snow on Wednesday and all resorts were open and reporting great snow conditions on Thursday.
All resorts should see a very substantial covering of fresh snow from the current cold front with blizzard conditions right across the Snowy Mountains and Victorian Alps on Thursday night and through Friday. Snow showers will become isolated over the weekend and winds will moderate enough to allow some great skiing. As much as 50cms of snow is possible.
After the weekend the forecast is uncertain. On Monday a weakening depression should move into South Australia from the Great Australian Bight. After that, the weather models can't decide whether it decays in situ or whether it crosses the Alpine region, in which case it would bring another period of cloud and scattered snowfalls much as happened this week. Either way, the second half of the week should be fine with the next active cold front not arriving before Saturday or Sunday.
In Argentina, Las Lenas reported 20cm of new snow on Monday and is open for top to bottom skiing. It can expect a heavy fall of snow on Friday to slowly clear away on Saturday morning. The weather should be fine from Sunday with clouds gradually increasing in the second half of the week. Other resorts have also seen fresh snow but it continues to be too mild at low altitude. Chapelco reported 10cm on Wednesday but snow only settled on the upper slopes. Cerro Catedral also lacks sufficient snow on lower runs. Some snow fell on Tuesday but on Wednesday 30th they reported that fog and strong winds had forced some lifts to close. Wind and snow were again reported on Thursday morning and more snow is forecast in the days ahead but it may turn mild enough for rain on lower runs on Saturday night. The good news is that snow should fall to resort level from Monday through to Wednesday morning and afterwards it should turn much colder, helping to preserve the fresh snow and hopefully allowing resort runs to open. Cerro Castor, the southernmost ski resort in the world has 1.6m of snow on its upper runs and about half this at the base area. Expect a typically cold and unsettled week here.
What resorts in Chile lack in latitude they compensate for in altitude. The Three Valleys resorts La Parva, El Colorado and Valle Nevado) are again reporting good cover conditions but cloud has increased ahead of what promises to be a snowy weekend. With a snow base of 3.15m, mighty La Parva is only just beating tiny Mt Lyford in New Zealand for the deepest snow cover of any Southern Hemisphere resort. Both resorts should see more snow this week but if La Parva sees 40cms of new snow between Friday night and Saturday afternoon as forecast, it will probably keep the edge. Sunny skies will follow the snow so expect perfect skiing conditions.
The snow-forecast team