World Snow News 47

Update for July 25th 2008

Brief summary:
Snow conditions have continued to improve in
Australia
following blizzard conditions last Sunday. Earlier this week
New Zealand
resorts had very mixed reports as a mild nor'wester brought a variable mix of rain and snow. As we mentioned in the last editorial, a major Tasman storm reached
New Zealand
on Tuesday and quickly delivered substantial snowfalls of up to 50cm at
Mt Olympus
and 45cm at
Porters
. Over much of
New Zealand
the price has been poor visibility accompanied by strong winds resulting in a large number of closed resorts on Thursday. The bad weather is in no hurry to move on, so the challenge for Kiwi skiers and boarders is where to make the most of any weather windows in the week ahead. This is because it is going to be a real mixed bag and for
North Island
where a storm that will easily be the most intense of the winter so far, and quite possibly the most destructive for a number of years is expected. Several resorts in
South America
have reported fresh snow today.
Snow-forecast Site news:
SNOW ALERTS: Our popular snowmail alert service is in the middle of a major upgrade. We have already improved the content of the actual alerts with much more detailed information than before. Soon we will introduce much greater user control including multiple resorts.
SNOW-FORECAST IN MANY LANGUAGES: Multi-lingual support on snow-forecast.com is something we have been planning for a very long time. We are greatly indebted to everyone who has helped us achieve this and we look forward to providing several languages other than English in just a few weeks once final testing is complete.
PHOTO GALLERY: Our apologies to anyone who has recently tried to submit a photo to our gallery. A recent bug that prevented user uploads has now been fixed and you can once again share your best shots with the world. If you have any submissions for our 2009 Snow-forecast.com Calendar please sumbit as soon as possible, because we are aiming for a September print run. As usual, there will be great prizes for any images that get published.
MORE RESORTS: We continue to add support for updated and new resorts. Last week was typical, with the details for another twenty added. Most of the latest crop are Canadian ski lodges but we should make special mention of Alpure Peaks in New Zealand, a snowcat operation covering a significant chunk of Canterbury High country, an area that has received about 40cm of snow in the last 24 hours.
Ski Resort News:
As the global ski industry confronts climate problems, snowmaking becomes more and more important. Last week, a company with the unlikely name of Israel Desalination Enterprises Technologies (IDE) demonstrated its worth by making a huge pile of snow in the Israeli summer, despite air temperatures of more than 30C. IDE have been chosen by the ski resorts of Pitztal Glacier in Austria and Zermatt in Switzerland to deliver large amounts of snow at all ambient temperatures, totally chemical free.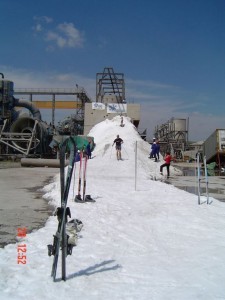 IDE's All Weather Snowmaker is based on a 15-year proven, proprietary Vacuum Ice Maker (VIM) technology which utilises vacuum conditions to generate snow. It was first discovered when IDE installed a cooling system in to a South African gold mine and discovered a by-product of the cooling process was that it created snow. This economical and ecological technology uses water as refrigerant. Inside the VIM, a high vacuum induces the phenomenon of the triple point of water, where vapour, liquid and ice coexist. Some of the water evaporates, while the remaining water freezes. Ice-water slurry is formed and pumped out of the VIM into a snow concentrator which separates the water from the snow crystals, extracting high quality snow.
The first two Alpine applications are currently under construction and due to be operational during October 2008. Dr. Hans Rubatscher, Chairman, Pitztal Glacier Resort has said that "This 1.5 million Euro investment will complement existing snow making systems by covering slopes that so far had to rely exclusively on natural snowfall". Willi Krueger, Marketing Manager of the Pitztal Glacier Resort, sees in the IDE snowmaker a true quality improvement for the start of 2008/9 season. He is convinced that this will translate itself in increased bookings for the Pitztal resort. "Reliable snow at all ambient temperature is becoming more and more of an issue for our area. Consequently the purchase of this snowmaker system has generated a lot of interest in the region" says Kruger at the recent product launch press conference in Innsbruck, Austria. The idea for this project was conceived following the warm autumn months of 2006 and the subsequent lack of snow.
The Matterhorn ski paradise above Zermatt is one of the largest ski resorts in the Alps and one of the few to remain open throughout the entire summer. There is however, one small problem. "As of late autumn the toe of the glacier slope falls 500 meters short of the mountain station, forcing skiers to cover the remaining stretch by foot" says Christen Bauman, CEO of Zermatt Mountain Resort AG. "This is definitely not an ideal situation". The IDE system will bridge that snow gap. Daniel Luggen, Zermatt Tourism Director, added, "We definitely saw a decrease in bookings for the usually very popular ski tests that take place between October and December. We have to offer our guests an enjoyable ski experience and this innovative technology could not have come at a better time."
Willi Krueger, Marketing Manager of the Pitztal Glacier Resort, sees in the IDE snowmaker a true quality improvement for the start of 2008/9 season. He is convinced that this will translate itself in increased bookings for the Pitztal resort. "A reliable snow at all ambient temperature is becoming more and more of an issue for our area. Consequently the purchase of this snowmaker system has generated a lot of interest in the region" says Kruger at the recent product launch press conference in Innsbruck, Austria. The idea for this project was conceived following the warm autumn months of 2006 and the subsequent lack of snow.
The Kaunertal Glacier ski area in Austria operates from September to June each year. The area closed for skiers last month but aims to re-open in September 29th if snow conditions are good. By mid-November the Karlesspitze T-Bar will be replaced with their first eight seater gondola, Karlesjochbahn. The 1.65km long lift has cost six million Euros to build and will carry up to 1,700 skiers and boarders a year from the lower station at 2,750m to the upper station at 3,100m in four-and-a-half minutes.
Bulgaria's rapidly expanding Pamporovo ski centre is extending its ski area to the village of Stoikite with the construction of three-kilometre six-seater chair lift. It has already received the environmental impact assessment from the environment ministry and estimates the cost of the project at 13 million leva. The lift will service two new ski runs with a total length of seven kilometers and is part of wider plans to extend the ski area to link with other ski developments including those at Chapelare. The total length of the ski runs in Pamporovo is currently 55 km (35 miles).
Summary:
Winter weather has returned to New Zealand


On Wednesday a deep low crossed the country bringing 9m Swells to Raglan and 5m waves to Kapiti

Wednesday night and Thursday saw all South Island resorts receive new snow

A cold and snowy SE flow will remain over S Island for several days

A tropical low crossing N Island will bring blizzard conditions to Ruapehu

This unusually intense storm is likely to prove destructive over parts of North Island

Another Tasman low maintains the very unsettled theme next week


Resorts in Australia had blizzards at the weekend following a snowy week


The snow cleared on Monday night


Mount Hotham had received 50cm of snow in the previous week

Mostly fine weekend but further snowfalls from Sunday afternoon

Next week becoming quite unsettled with a chance of heavy snow on Friday
There is fresh snow at many resorts in South America


The week ahead sees further snowfalls, more frequent further south

Fresh snow has been reported from the Austrian summer skiing destinations. The snow fell on Wednesday refreshing the on-piste cover on the Hintertux glacier and elsewhere. The snow base on the Dachstein glacier is now reported to be more than six metres deep. Almost 20cm of fresh snow fell on Wednesday at Kaprun and also at Molltal Glacier. Unfortunately heavy clouds have reduced the visibility, so skiing at Molltal Glacier is not possible on Thursday.
In France, Switzerland and Austria it has been relatively warm and sunny. The next seven days are generally mild across all of the Alps and there is a clear trend towards less settled conditions with slow moving thundery showers from Sunday. Make the most of the next two days before the fresh snow becomes heavy.
When we wrote the last editorial we expected a mid-week low to be depart New Zealand about now and leave an improving picture in its wake as pressure built back in from the Tasman. By Saturday the forecast has changed, so we duly uploaded a site-wide weather warning that looks like it proved accurate. This change began as a very subtle tropical depression over Queensland; no more than a small area of heavy rain but the models confidently drove this would move offshore and quickly head SE towards North Island as a rapidly intensifying storm system. This very intense depression will have two effects of importance to skiers when it reaches New Zealand at the weekend. First, as it approaches East Cape, strong east winds will drag moist air over a cold layer and cause heavy snow for Ruapehu and especially the ranges to the east like the the Ruahines and Kawekas. The second effect is that this new system will maintain the cold ans often snow SE flow over the South Island for a few days longer. Aside from the snow, bear in mind that this intense low is expected to bring potentially damaging east to southeast winds to many parts of the North Island, with a period of torrential rain likely in northern and eastern areas.
On the slopes of Mount Taranaki the little resort of Manganui has continued to suffer from a net snow loss as the weather pattern there has alternated from full exposure to very wet and mild nor'westers but less exposure to the southerly fronts that have kept the snow topped up elsewhere. On Thursday only the top tow was open although conditions were at least improving thanks to snow showers..
Ruapehu has also suffered from a lot of poor weather in a season that can't make up its mind whether to be good or bad. Resorts began the season with hardly any snow, then they had a record breaking dump but soon after a lot of that was washed away by heavy rain leaving them with a fairly ordinary cover for the time of year that is nevertheless still twice as deep as anywhere in Australia. Thursday saw Whakapapa closed and Turoa with just six lifts running but at least there was 5cm of new snow. Thursday night and Friday should see cold southerlies and further snow showers settling down to the Desert Road. At present, the weather models suggest the snow from this weekends weather system will be quite significant on Ruapehu, heaviest at Tukino, but not spectacular - just 10-15cm. The band of heaviest precipitation is very narrow and is currently forecast to be heaviestjust to the north and east of the volcanic plateau. If the low veers just a little south of the predicted path then there will be very heavy snow indeed on Ruapehu. The forecast is very finely balanced.
Having launched one major weather system at New Zealand, Queensland directs another low across the Tasman for the middle of next week. This shouldn't be as vigorous and it will probably track further south. There is a strong possibility that it will track south enough to allow a brief but unwelcome period of mild northerly air to affect Turoa and Whakapapa on Wednesday, in which case the main mountain snow area from that system will affect the top half of the South Island - places like Mount Lyford and Rainbow.
Before we get too carried away with the path of the third storm in a week, we have not even seen the back of the first one yet. As much as 50cm of snow has fallen in 36 hours at South Island resorts from this weather system. Snow showers and bands of organised snow will continue to fall in roughly the same places leading to further travel disruption, especially on the higher passes.
On Thursday, many resorts did not open because of the poor weather conditions. In the central South Island, at places like Round Hill and Mount Dobson, the reason was primarily because of poor visibility and blocked access but nearby Ohau did at least allow a lucky few to make fresh tracks. Most fields around Arthur's pass were able to open, although road access via Porters Pass was difficult and Mount Hutt stayed closed for the day. The Otago snowfields have seen less of the new snow and will continue to avoid the worst of the weather. Most resorts have seen a covering of fresh snow and the weather was good enough to allow all resorts to operate on Thursday although visibility was poor. Expect further light snow here. At the top of the South, closer to the departing low, the very strong wind was also a factor and at Rainbow they reported it was a losing battle keeping the road clear from drifting snow. As mentioned above, these places are most likely to see heavy snow mid-week. Hopefully more South Island resorts will open on Friday and snow conditions will be exceptionally good. Please note that Fox Peak is currently only operating at weekends so that might be a good bet if you want to be sure of fresh tracks at the weekend.
After a slow start to the ski season in Australia, it is steadily turning into a reasonably good winter. The weather pattern improved about three weeks ago and since then, cold fronts have been regularly crossing the region building up a decent base at the resorts. We are pleased to report that this favourable pattern should continue for another week at least.
Last week was again unsettled with light snowfalls. As anticipated, the heaviest snow arrived on Sunday with widespread blizzard conditions reported. Mount Hotham saw the best of it with 50cms of fresh snow over the whole week, two thirds of which fell on Sunday and Monday. On Tuesday, all lifts were open and snow depths exceeded a metre for the first time this season, neck and neck with Thredbo where 174 canons have been working overnight to supplement the natural supplies because at resort level snow depth of just 9cm are very thin. Because the snow was accompanied by strong winds everywhere, some of the best skiing and riding has been where trees have trapped powder stashes. Most resorts saw 20-30cm of snow over the weekend however snow did not fall at Mount Baw Baw and a very modest depth of 20cm means that there has been only a limited area open for skiing. At last, Ben Lomond in Tasmania has received enough snow to open for skiing. There is only 10 to 25cm of snow at present which limits the accessible area but we are hopeful that conditions will continue to improve this weekend and again late in the week.
Friday and Saturday should be fine at all
Australian
ski areas but Sunday and Monday look like they will bring cloudy skies with further snow showers as a cold front passes. Although they will be well scattered at first, the showers may well merge into continuous light snow and although it will be breezy, we don't expect the snow to blow about as much as it did last weekend. A ridge of high pressure should make mid-week briefly fine again but strengthening northerlies on Thursday will precede another active cold front. This introduces a southwest change on Friday and Saturday and this will hopefully deliver the next really substantial snowfalls.
After the legendary 2007 season, the 2008 ski season in South America got off to a fantastic start at the higher altitude resorts in the north of the ski regions such as the Chilean Three Valleys resorts and nearby Portillo. The last few weeks have generally provided great skiing conditions, but high pressue in the nearby Pacific has made for fewer and less extreme snowfalls than this time last year they have not been entirely absent and as a result snow depths in South America remain on average much greater than in Australasia.
In Chile, at Chapa Verde, snow depth have incread to between 50 and 90cm following 45cm of snow in the last seven days. This mean that it is now possible to ski there. The Pudu, Chapa and La Liebre pistes are open. The conditions are superb across all of the Three Valleys resorts following 25cm of snow falling over the last week. La Parva reports the deepest snow base with over three metres of snow on the upper pistes. This weekend should see predominantly sunny weather at all three of the resorts. The riding at Portillo is again superb following this week's fresh snowfalls. Fresh snow has also fallen at Termas de Chillan this week improving the base across the ski area. The open pistes include Benno, Bosque Nevado, Zorritos, Chueco, Volcan, Pillin and the beginner's slope.
In Argentina, we are pleased to be receiving snow reports direct from the resort staff in Cerro Catedral in Argentina, the resort with the most infrastructure of any South America. Although there is almost a one metre base on upper runs the lower slopes still need more snow before it is possible to ski back to the resort which is below the snowline at about 1200m. On Thursday it was snowing lightly but only a third of the lifts were open. The week ahead should see a good mix of snowy and sunny days. Tomorrow (Friday) afternoon and Monday are forecast to be the sunniest days but enough snow should fall to steadily improve conditions there. The wind remains in a westerly quarter and will sometimes be strong on the exposed tops, especially on Tuesday.
Further light snowfalls this week have refreshed the cover on the upper slopes of
Chapelco
and more snow is expected as we head into the weekend. There are fourteen open pistes on Thursday. The snow cover at
Las Lenas
is the deepest we are aware of at any of the Argentinean resorts. There were snowfalls on Sunday and although we don't have a snow report yet today the latest webcam images suggest that the forecast was correct and it did indeed snow last night. We expect it to remain quite cloudy until Saturday morning with further light snow on Saturday evening and night. Next week should be fine until Wednesday evening when cloud and snow return
The snow-forecast team