World Snow News 45
World Snow News Update for July 11th 2008
Snow Forecast | Alps | New Zealand | Australia | N. America | S. America | Sign Up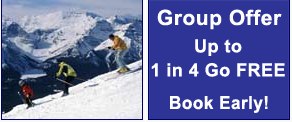 Welcome to the latest roundup of worldwide snow conditions and weather prospects for the week ahead from www.snow-forecast.com.

This week's editorial is sponsored by Iglu Ski who are offering a great 1 in 4 go free deal on ski holiday bookings. If you are intestsed in sponsoring one of our email newsletters or email alerts please let us know.

After three weeks of stormy weather that dropped record snowfalls at many places in New Zealand the weather settled down in time for the school holidays and many resorts have reported superb conditions this week once they had dug themselves out. The main weather action has shifted across the Tasman and snow conditions in Australia are improving very quickly thanks to recent snowfalls. The current blizzard that is affecting resorts in the Victorian Alps and the Snowy Mountains will abate on Friday morning allowing all resorts to enjoy the best weekend of the winter so far. Prospects for the week ahead below.
Turoa, Whakapapa and Tukino have previously seen wonderful snow conditions go to waste because of volcanic activity. Similarly, Llaima ski area in Chile's Conguillio National Park was evacuated last week as the Llaima Volcano on which the ski area is located spewed out lava flows up to two kilometres long above the ski runs and lifts. The 3,125 metre high volcano is 78km from regional capital Temuco and 700km south of Chile's capital Santiago. The area's two drag lifts serve five ski runs between 1500m and 1800m above sea level. The current eruption began on New Year's Day and the last few people still staying in the area were evacuated to outside a 15km exclusion zone last week. The biggest fear in that the heat of the lava will melt snow causing a lahar. We note that Llaima is not currently on our list of forecast locations and so we will optimistically add it, on the assumption that it will still operate in the future.
Few foreigners associate South Africa with snowfalls but with so much of the country being at a higher altitude than the highest point in Australia, snow is actually fairly frequent. It tends to fall mainly on the Drakensburg and the little resort of Tiffindell at 3000m on the Northern Cape offers the only commercial skiing in the country as well as the highest bar in the continent. At the other side of the country, last week has seen unusual cold and snowy weather close to the west coast where it has caused travel disruption in the Borland Ranges of Western Cape with deep snow covering a large area. At lower altitudes, torrential rain, floods and landslides have made the news. Conditions will ease in a couple of days.
Tiffindell has announced plans to significantly expand facilities. Currently the ski area has just over a kilometre of runs and a 90m vertical served by several portable surface lifts, along with accommodation for 150 people. Demolition of the existing accommodation will be carried out and new accommodation will cater for 250 guests, whilst the ski runs will be extended eight-fold to about 10km (six miles) and chairlifts will be installed. The resort hopes to capture a greater share of the domestic market of 100 000 South Africans who travel to overseas skiing destinations each year.
Bertha, the first hurricane of the Atlantic season is approaching Bermuda as a powerful category 3 storm on the Saffir-Simpson Hurricane Scale - meaning that winds have intensified to just below 200km/h. It remains unclear if it will make landfall. See the Bermuda forecast from Weather-forecast.com. You can select weather and swell forecasts as well as live weather observations from ships and buoys in the area.
The relatively quiet 2007 hurricane season was attributed to a La Nina pattern in the Pacific. The same pattern also accounted for the remarkably cold and snowy 2007 winter in South America and 6 months later in places as far apart as British Columbia, The Alps and China. It was also blamed for the drought last summer in New Zealand and the floods in Britain too. In the past few weeks, this La Nina pattern has finally more or less ended. More about what that means for skiers next time.
Snow-forecast Site news:
We are in the process of updating the snow report archives for the southern season of 2007 as well as the remarkable 07/08 northern season. These will be available to members in the next few days adding to a rich resource of hundreds of thousands of historical snow and weather reports. Our records cover more than 250 of the bigger resorts around the world and extend back 15 years. It will be interesting to see how the 07/08 season compares.
When we first introduced snow alerts, our forecasts only went out three days compared to nine day forecasts that we now provide. In addition, we also provide snow reports for many of these locations. Users have written in and suggested that it would be a good idea to give more control over what triggers a snow alert email. This certainly seems like a good idea. By default, we will keep all existing alerts set to trigger on significant snowfall over the next 3 days but in addition we will allow users to select other triggers from now on. These will include snow forecast for days 3-6 and 6-9, as well as an alert triggered if there is a report of fresh snow in a particular resort. Users may select any or all of these triggers but as usual we will only ever send you one email within a 3 day period so as not to overload our servers or to flood your in-boxes.
Multi-lingual support is at an advanced stage and we will be releasing versions of our site in languages other than English very soon.
We are still looking for helpers to translate parts of the site into French, German, Italian and finish off Spanish. Please contact us if you would like to help.

Summary:
The snow in New Zealand has stopped falling at last.

Up to 5m of snow reported at Tukino on the east side Ruapehu

Weekend snow was reported as far north as Rotorua, closing many roads on both islands

Central Otago areas benefited from the recent snow too - Cardrona reports 60cm of fresh snow

An increasing mild and strong NW wind this weekend, followed by a westerly

Expect some snow loss with little new snow expected soon


In Australia, conditions have greatly improved and the 2008 ski season is now in full swing


Further snow on Thursday and Friday, blizzards at times

Much better weather on the weekend. Perfect skiing conditions.

Prospect of further snowfalls late next week


South America offers plenty of great skiing


Very little fresh snow fell last week

Expect moderate falls around Las Lenas on Saturday

Next week will provide fine weather for most

Prevailing cold and snowy at Cerro Castor in the far south

The wet and cool British summer continues to disappoint. This unsettled weather over northern Europe continues to affect the Alps from time to time with the best of the weather on the summer glaciers in Italian resorts. This week began mild and cloudy in the French Alpsbut the weather has since improved a little. The good news is that we expect French glaciers like Tignes to see some fresh snow this weekend, more especially on Sunday. Freezing levels will fall well below 3000m on Sunday and Monday and next week looks like it will be cooler than recent weeks, helping to preserve any fresh snow. Less in the way of snow and more in the way of rain for the lower and/or milder Austrian glaciers.
The wild weather of the past three weeks has moved away from New Zealand. The only extreme weather in the forecast for the next week or so is the prospect of severe winds to 120km/h in exposed areas on Friday 11th.
Most of New Zealand's ski areas reported deep powder this week, legacy of the a major winter storm last weekend that spread snow all the way from Southland to Rotorua. At one stage, all of the passes in South Island were closed together with many rural roads in the southern and eastern North Island with snow settling to unusually low levels in places like the Manawatu. Whereas previous fronts skirted the important central Otago ski areas en-route to the Canterbury Fields and Ruapehu, the last one also scored a direct hit where it was most needed. Cardrona was typical reporting 60 cm (two feet) of natural snow falling over the three days to Saturday but with high winds and poor visibility forcing the resort to close for these days. Blue skies from Sunday through to Thursday made for perfect conditions. Perhaps the heaviest snow fell on Ruapehu with over 5m depth reported from parts of Tukino ski area on the east side of the mountain.
With high pressure moving away to the northeast of the country on Thursday, a northerly airflow is strengthening as a weather front approaches South Island from west. Thurday was already windy at the Southern Lakes resorts. The northerly will get very strong to the east of high ground and about Cook Strait. Freezing levels will rise on Friday, peaking briefly at 2200m at The Remarkables in the Southern Lakes along the Southern Alps as far as Rainbow in the Nelson lakes but rising to 2600m at Turoa on Ruapehu on Friday night. The combination of very strong winds and fairly mild temperatures together with some rain on lower slopes means that snow conditions will inevitably deteriorate. Cooler air will return as the weather front crosses on Saturday and upper slopes, especially at Ruapeheu will see rain turn back to snow before it clears on Saturday night. Behind the front there will be cooler strong Westerlies over South Island. A second weakening front will move north on Monday causing the freezing level on Ruapehu to drop back to below the car parks by mid-week.
In terms of snow conditions, the devil will certainly be in the detail. In some places rain will get into the snowpack and it will subsequently freeze, but others may come through the nor'wester more or less intact and on Ruapehu it looks as if it goes briefly much worse before fresh snow on Saturday night repairs things, at least on upper slopes. On South Island, warm-sector rain on Friday 11th should not get very far east of the main divide so places like Temple Basin, Treble Cone and Managnui and Rainbow look most vulnerable to some rain getting into the snowpack before it freezes again. Whereas this week everywhere in New Zealand offered ideal snow and weather conditions top to bottom, next week will be more variable and it will certainly pay to check the snow reports beforehand. West of the Otago and Canterbury ski areas the rain should be very heavy and will provide a welcome boost to the southern-hydro lakes, currently only at about 50% capacity.
The Remarkables has announced that they will celebrate the opening of The Stash® on Saturday, July 26th. This will be the third Stash to open in the world, and the first in the southern hemisphere. Conceived by Jake Burton and Burton team riders it involves using natural terrain features rather than machine-made snow structures for terrain park design.
"The grand opening of The Stash in New Zealand will be a groundbreaking session, giving the public and our Burton team riders a chance to ride this new style of The Stash that uses rock features unique to The Remarkables' natural terrain," says Jeff Boliba, Global Resort Director for Burton Snowboards.
Located in the bowls of Serpentine and the Galleries trails, The Stash® is created for intermediate and advanced riders. The kilometer-long Stash run provides riders with an organic, big mountain terrain park that follows the natural lines of the mountain. Riders will discover rock-wall rides, log jibs, cliff drops, a stone hut and other one-of-a-kind obstacles hidden away in The Stash run. An all-natural environment, The Stash uses no metal or plastics to create obstacles, only stone, wood, trees, dirt and rocks. Even the signs that direct riders to The Stash are hand-carved out of stone and wood and are designed to be jibbed.
There has been a huge improvement in snow conditions in Australia already and thanks to snowfalls on Thursday night and Friday it should be even better by the weekend. Snow is currently falling to low levels.
The first week of July has seen the 'real' start of winter at many Australian resorts after poor natural snowfall in June. Mount Hotham had reported 42cm of fresh snow by Tuesday afternoon, enough to open Heavenly Valley for skiing and riding on Wednesday 9th July for the first time this season. Expect much more snow to have accumulated by the weekend. The opening of the Heavenly Valley Chair provides access to some of Hotham's signature terrain such as Imagine, Milky Way, Black Snake, Brockhoff and Purgatory Spur. The resort's new snowmaking expansion into Heavenly Valley has played a critical role in topping up the natural snowfall in the area
Mount Hotham and neighbouring Dinner Plain Alpine Village will be hosting the third annual Mountain Fresh Festival from July 18th to 23rd. The six-day winter festival of delicious regional food and cool climate wines from the Alpine Valleys will incorporate a diverse program of individual events held at venues that will strongly feature food and wine from the Alpine Valleys Wine Region. From wine tastings and master classes, to foodie films, pampering sessions and much more, there will be something for everyone at the festival.
Expect isolate snow showers for the ski resorts of Australia this weekend. Freezing levels will rise from their unusually low sub-1000m levels and the wind will ease. make the most of it. Conditions should be excellent.
A deep depression in the Bight will weaken well before it reaches South
Australia
and should not have very much influence on the fair weather over the high country next week other than to return free air freezing levels back to about 2000m. It may however direct a west swell at the
Adelaide
area surf breaks that are usually sheltered by the Cape Yorke Peninsular and Kangaroo Island. For details, visit
surf-forecast.com
. By the end of the week it looks as if another cold front will deliver fresh snow to the ski areas and this may mark the onset of another spell of significant snowfalls.
The forecast for Timberline in Oregon is very straightforward this week. Fine, quite mild and breezy at times. There has been no fresh snow for a month but there is still almost a 2m base. The Palmer snowfield offers excellent summer riding conditions. The Magic Mile and Palmer lifts are open from 7am until 1.30pm. Only the jumps are open in the terrain park, unfortunately the halfpipe is closed.
Mild and wet weather have made the pistes at
Whistler
quite heavy and there has been no new snow since the middle of June. Thursday will be a much colder day with a chance of snow showers but it will turn mild again over the weekend with a forecast of light rain on Sunday morning. Often cloudy but mostly dry next week. Frosty on the snow on calm and still nights but the free air freezing level will mostly hover around 3000m, well above the summit leading to typical spring snow conditions.
Most resorts in Chile have not seen significant snowfall for over two weeks. Thankfully, exceptional snowfalls in May and June mean that there is still a great snow base and most facilities are open. We are hopeful that places like Portillo will see a reasonable snowfall of about 20cm on Saturday with a fine week to follow.
We mentioned in last weeks editorial that Las Lenas should see fine weather with just one moderate snowfall and 5cms of snow did fall last weekend. We expect 15cm of snow to fall on Saturday12th followed by fine weather with freezing levels climbing to about 4000m on Monday. Falling temperatures and further light snowfall on Thursday night and Friday.
For guaranteed fresh tracks most days you'll again need to head right down to Cerro Castor almost at the southern tip of South America. Look forward to week of regular light snowfalls, snow showers and low temperatures with freezing levels dropping to sea level by the end of the week.
The snow-forecast team