World Snow News 17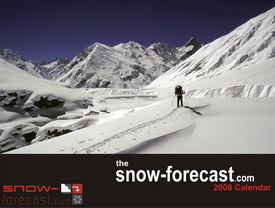 Welcome to another snow news update from www.snow-forecast.com. Our new calendar is available to purchase online containing 13 months of stunning photos submitted from around the world by our users. Buy one now and get 6 months membership of snow-forecast.com (or a 6 month extension if you're already a member) included in the price! Also, by the time you read our next editorial you will see many new features on the site as a result of our work over the summer.
Turoa on North Island, New Zealand is taking the unusual step of re-opening this weekend. Meanwhile, the small club field of Broken River on South Island is still going strong with yet more fresh snow last week - Broken River has enjoyed a superb late season. In the Northern Hemisphere, there has been new snow across the Austrian Alps and especially the mountains of Eastern Europe. Right now there is localised heavy snow across the Maritime Alps (inland from Nice) - Isola 2000 and Auron have benefited most. It is now late enough in the year to be confident that recent snowfalls in Austria and Southern France have established a base layer that will survive the season above about 1800m.

A few weeks ago we wrote about the on-going La Niña weather pattern in the Pacific and made some predictions about what that would mean for the North American ski season. Rather than repeat it again, visit http://snow-forecast.blogspot.com/ to read this or any other of our weekly editorials. In summary, La Niña is characterized by unusually cold ocean temperatures in the Equatorial Pacific. The closer a mountain range is to La Niña, the more predictable its effect is. This means that the snowfall signal in places like California, British Columbia and Alaska is easy to predict. Once you reach Colorado or the Appalachians, historical correlations are not nearly so obvious and by the time you reach Europe, predictions become very woolly indeed. Even so, La Niña (and El Niño) events have a global impact on weather patterns which means that the effects are felt even in the distant European Alps and Britain, but these places are more profoundly affected by a much more local effect - the North Atlantic Oscillation (NAO).

At present, we have a strong La Niña pattern in the Pacific and this is expected to intensify further. Already it is causing chaos in nearby Southern California as strong dry winds and high temperatures are fanning the flames of fires. Weather models suggest that there is about a 50% chance that the present La Niña pattern will last right through winter 2008. The last comparable La Niña winter was at the beginning of 2000. La Niñas also began in 1970, 1973, 1975, 1988, and 1995 and typically lasted 9 to 12 months. Broadly speaking, La Niñas tend to cause slightly warmer winters than usual in Northern Europe, but often with notable cold snaps early on, such as in 2000. Present sea surface temperature anomalies in the North Atlantic mean the Met Office expects the NAO to be a weekly negative this winter - something that tends to favour cool and settled weather over Western Europe with less Atlantic influence. Taken together, the overall effect should be to produce to pretty ordinary winter over Western Europe - perhaps marginally colder than usual to begin with and warmer towards the end. This is good news because it is in complete contrast to last winter when a combination of strong El Niño and positive NAO conspired to make early winter very warm with warm SW winds driven to Moscow and beyond. Last season was late and poor in the Alps and a non-existent in Scotland - in short, we expect 2008 to be much better. During the past few days, apart from heli-skiing in the Southern Alps, the only Antipodean snow sports on offer have been at Broken River, but only if you were lucky enough to be a club member. This weekend BR will once again welcome guests, but excellent spring skiing and blue skies means that it is sure to be busy so be sure to book in advance. On North Island, last week Mt Ruapehu resorts of Turoa and Whakapapa closed for the season 6 days early because of yet more windy weather in the forecast. If this wasn't bad enough, a technical error meant that 90% of ski pass holders didn't receive an email to warn them that the resorts had closed and many of these made wasted journeys from as far away as Auckland and Wellington. Presumably in an attempt to pacify skiers, Turoa aims to open again this weekend and the good news is that the forecast is very good. We will continue to update New Zealand prospects for as long as one or more resorts stays open. We will update prospects for these regions from May 1st 2008. followed the forecast very closely with 10-20cm of fresh snow for the higher slopes in Austria and heavier falls reported from the mountains of SE Europe. The only thing we didn't foresee was a small depression forming over Corsica that is now delivering quite heavy snow to the Maritime Alps and a dusting further north. This situation commonly occurs during autumn and early winter while the Mediterranean is relatively warm. It is why places like Isola 2000 often have an early season advantage over more famous resorts just a 100km further north, often providing December skiing on 1 or 2m of natural snow. Located close to the budget airline destination of Nice, Isola 2000 (and nearby Auron) are again worth considering if you are planning a pre-Christmas trip. Once the present snow clears away, expect another depression to do a similar thing on Tuesday. Hopefully, the heavier snowfall will extend further north. With pressure expected to build again across the Bay of Biscay and France, the longer range outlook is again for another northerly airstream to bring snow to Austria but not Switzerland. Last week's cold snap is over and much of the snow that fell has melted. Higher freezing levels mean that prospects for new snow are restricted to the upper slopes of more Northern resorts - places like Bansko in Bulgaria should see fresh snow on Sunday night. Remaining dry and mild at resorts in Lebanon and Turkey. The hot and dry conditions in Southern California are making the headlines. Further North, it has settled down over the Pacific NW too but in reality this week is probably just a brief respite from an inevitably unsettled/stormy La Niña season. Further East in Colorado bright sunshine and low humidity has eaten away some of the snow that fell last week - typically 15cm of snow. The ski season usually begins in about 4 weeks and with about 45cm of snow on upper slopes already, we don't foresee any delays. We will be providing more detailed prospects for North American prospects from November 1st.
Lastly a word from our newsletter sponsors Iglu Ski. Check out their website to easily search thousands of packages including 2-4-1 lift pass deals.
Best wishes,
The Snow-Forecast.com editorial team
Please click here if you would like to unsubscribe from the newsletter