Weather Hindcasts Launched
Hindcasts are now available exclusively to our
members
(and guests on free days) using the historicalsnow tabs on each resort page. To access them, click the
historical snow
tab on your chosen resort pages.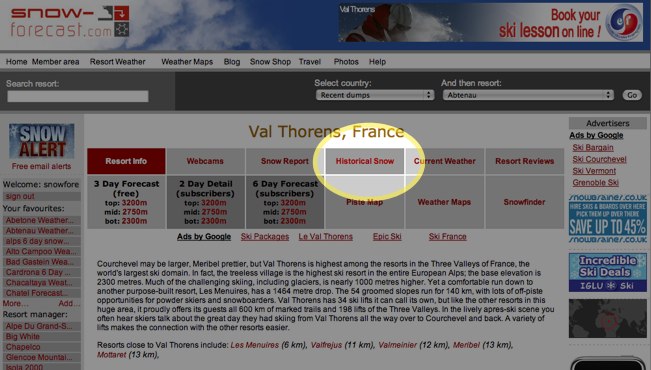 Hindcasts allow users to check what our models thought the weather was like over the past weeks at all the resorts in our database (currently 2100). They are compiled from the most accurate part of each weather model (the next 6 hours) which we maintain as a continuous rolling archive, therefore provide the best record of past weather conditions.
Using hindcasts, you can check what the weather was like in a particular resort during the weeks before you visit. From this you can predict the probable condition of the snow when you arrive
(e.g. has a fresh powder dump occured? has it been above freezing and then re-frozen giving nasty icy conditions? have strong winds blown it all away? etc.)
, even if there is no actual snow report.
As the archive of hindcasts grows (it was initiated on December 25 2007) it will become possible to compare conditions over progressively longer timescales, say from one year to the next. Apart from helping you decide what kind of equipment to take, we envisage the following user benefits:
in the absence of actual snow reports, hindcasts provide the best possible indicator of probable snow depth and snow condition.

by comparing the snow/wind/temperature that was forecast with what was actually reported (we receive 500+ reports each day) we can "train" our model to include very local biases, improving accuracy.

hindcasts should allow us to compile informative statistics for all locations, even obscure ones.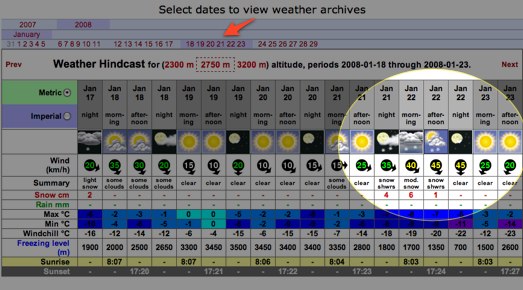 the image above shows a hindcast for the week prior to 24th Jan 2008. We can see that an 11cm fall of snow was followed by sun and subzero conditions. The forecast (below) for the following three days detail shows continuing snow showers until mid-week where it clears up and the best skiing is to be had.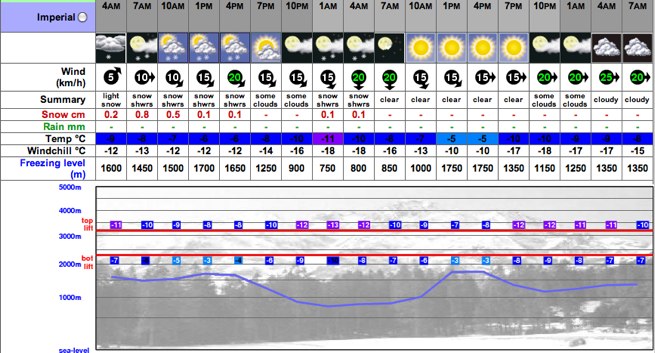 Don't forget we also archive Snow Reports (where available) which are available to view by clicking the
We are confident that this will become an enormous resource and welcome any
feedback
or suggestions.