Christmas 2014 Snow Roundup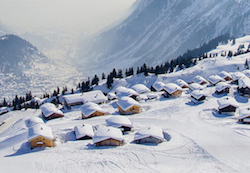 Ski resorts in the European Alps have been generally sunny and mild through autumn and early winter. As a result, snow conditions are much worse than normal for at this time of year, especially at low elevations. Perhaps things are not quite as bad as the headlines suggest, but it is certainly nothing at all like the bumper early season European snowfalls that we've become accustomed to in recent years.
Thankfully, we are predicting that the weather pattern will rapidly improve. Winter was delayed rather than canceled, and perhaps the change in global weather patterns accompanying the onset of weak El Niño pattern means that the Alps won't suffer another 6-week long mid-winter dry and spring-like spell.
From Christmas Eve, much colder air will sweep across the Alps allowing much-needed snowmaking to low altitudes everywhere. Better still, many Alpine resorts, especially in Austria, will see dusting or a light covering of natural snow to valley elevations on Christmas Day, followed by heavier and more widespread snowfalls forecast in the run up to New Year. By about Dec 28th, we expect the majority of Alpine pistes to be open for skiing, albeit on thin cover. The not so good news is that it will take several snowfalls before a decent base accumulates but over New Year high pressure is set to take charge for at least a few days. If reality follows the forecast, take extra care off-piste because rocks and other obstacles are going to be obscured by powdery fresh snow. Whereas last January the big worry was a very unstable snowpack, this year the off-piste problem will be insufficiently covered rocks and logs.
Meanwhile, in the US and Canada things are about ideal with fantastic conditions widely reported and more cold and dry snow forecast across the Rockies over the holiday period. In Japan, the problem this season has been one of too much snow and the forecast is for more of the same as bitterly cold westerly winds collect moisture off the relatively warm Sea of Japan, dumping heavy snow on the mountains of the west side from about Tokyo north. A welcome respite in a few days, but it is not forecast to stop snowing for long.