PRICING (including VAT)
note that we now only offer 6 or 12 month packages. To avoid disappointment, the annual option will ensure that your ad space will always be maintained.
only £295 for 6 months or £425 for the year
You can also sponsor the e-mail snow alert messages for your chosen resort. If the resort you want is taken, this may be an alternative option. click here to see a sample

---
How do I get started?
The process is very simple...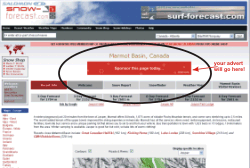 1. Visit the Banner Signup Page and create an account, then login using your username and password.
2. In order to post an advert, you need to ADD FUNDS to your account. At present you can do this via Paypal or by cheque/BACS. Click the ADD FUNDS link and choose an amount to credit depending on the length of time you want.
3. Click "Add New Ad" on the left hand menu, then select banner ad (for your 728x90 or 468x60 jpeg, .gif or .swf), or text ad if you don't have a graphic. We can also create a banner graphics for you for a small fee if you don't have one.
4. Now choose the RESORT you wish to sponsor, and the length of time package you want. At this stage you can choose the resort forecast page, or email snow alert message.
5. Fill in the form giving the image your wish to upload and click through URL to your website then click "continue"
6. That's it! Your banner will appear on the resort pages for the duration that you chose. You can login to your account at any time to view statistics, edit your advert or PURCHASE MORE TIME CREDITS to extend your advert display time.
any problems, please contact us and we will help you ASAP
*exclusive visibility of your ad refers to the designated space for independent banner adverts shown on the image above, only for the period of time purchased.