World Snow Overview
We've created this page to help you find the best snow conditions. It combines past, present and future data sources from around Snow-Forecast.com and updates regularly. The Snow Roundup page is updated on Mondays and Thursdays for all major ski resorts. Live Eyeball snow updates are shown in real time when submitted via twitter by our global network of reporters. Resort Picks lists ski resorts from around the world where new snow is forecast, powder is reported and latest snow depths.

SNOW NEWS UPDATED 16 FEBRUARY 2017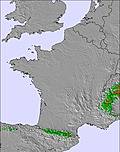 INTRODUCTION Thursday 16th of February was one heck of a day for French resorts where the sun ruled supreme over both ranges. Slope quality varied depending on the temperatures, recent snowfalls and exposure to the sun but remained generally good to excellent.
AUSTRIA There has been so much sun over our featured Austrian resorts of late, that you would be forgiven for thinking that spring has come early. Thursday 16th February was no exception to this, providing the common theme of packed upper slopes and softening resort runs. The off piste across the country now consists almost entirely of crud and is tracked out in the majority of areas. In the Ski Welt (55/65cm) the resorts of Ellmau, Hoptgarten, Scheffau and Soll have all seen a slight decrease in their base depths, where temperatures of around +5C have certainly been a contributing factor. However, this did not prevent 89/91 lifts running in the area and 263km of well-groomed slopes being prepared. Looking towards the Schladming area, temperatures were slightly cooler at around +3C, and some excellent skiing was on offer on the upper slopes at Obertauern (110/1170cm), Zauchensee (90/120cm) and Schladming (90/130cm). In the same area at Wagrain (90/170cm), the sun shone bright over the snow park, as skiers and boarders enjoyed a slightly softer landing area to the kickers and rails. Looking to the current forecast, Friday 17th is expected to be a polar opposite day to Thursday. Snow is predicted across the country, where the heaviest accumulations of over 20cm are expected for the Arlberg resorts of St Anton (60/150cm) and Zurs (70/100cm). Saturday 18th is expected to be a bring a return to brighter skies for much of the country, and fingers are crossed that there will be plenty of fresh tracks to be had,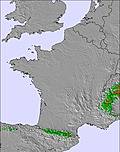 FRANCE There was a coherent narrative in France on Thursday 16th of February: sun and fast, well groomed slopes. It was a beautiful day in the Portes du Soleil, where the sun was shining throughout the day. The slopes are in good condition but can soften up fast where exposed to the sun and become hard where they are in the shade for too long. Generally, conditions remain best in Avoriaz (90/120cm) but Chatel (50/90cm) is also a good option. It was a similarly lovely day in the 3 valleys where the sun was shining. The skiing there is still fantastic as the pistes remain in excellent condition, especially at the top end. Resort runs are pretty variable but even the runs down to St. Martin are still in good condition, despite softening up fast in the strong sun. The slopes will be best in the morning and that is true across all resorts. As a general rule, slopes will soften up pretty early in the strong sun but will tend to harden where there is shade, so if you want to avoid hard and possibly icy slopes then stay on the sunny side!

SWITZERLAND Spring weather conditions were in abundance over Switzerland today, Thursday 16th February. Warm temperatures and strong sunshine made for soft forgiving snow conditions today. On piste snow transformed throughout the day from hard and fast in the early morning shade to lovely fun soft spring snow in the afternoon sun. Not exactly what you might expect from mid-February skiing in the Swiss Alps but fun all the same. Off piste snow condition was varied from tracked and firm to a crusty slightly wet slow to ski snow on the open sunny aspects. As always when conditions become warm those with the know-how and knowledge turn to the shaded north facing aspects to find the colder drier snow. The current sunny conditions dominating the Swiss Alps will take a brief break tomorrow, Friday 17th as cloudy and snow conditions return. Snow is forecast for almost everywhere but the accumulations will be small, expect a maximum of 10cm to fall. Sunshine will make an immediate return from Saturday and is currently forecast to remain for most of next week.

ITALY Thursday 16th February was yet another glorious sunny day for the Italian ski fields. Sunshine has dominated the weather pattern all week and today was no different. On snow conditions remained excellent despite warmer temperatures and a strong baking sun. Resorts around The Sella Ronda continue to offer simply outstanding piste skiing, although the off piste is non-existent. In the Bormio region the snow is holding very well, although soft spring snow is abundant on the lower slopes. Around The Matterhorn, Cervinia (50/180cm) is offering up the best skiing in Italy at the moment, with some excellent recent snow falls and its superior altitude you can still find some powder conditions off piste. Moving south towards Mont Blanc, conditions are best described as good with the lower slopes beginning to show some grassy patches. Finally In the far south The Milky Way ski areas continue their strong season, snow conditions are excellent here thanks to recent snowfalls. A brief patch of instability is expected all around Italy tomorrow with clouds and even snow forecast. It certainly won't be a powder day but enough to refresh the pistes, particularly around Val Senales (10/90cm) near the Austrian boarder were 12cm is forecast. Beyond Friday's brief cloudiness the weekend is forecast to be fine and sunny.
ANDORRA A few clouds and periods of fully blotted out sun can't spoil the party in Andorra, where conditions are fantastic and have been for some time. The Grandvalira flying cam is showing some lovely skiing and some great views throughout the area. After last week's free ride world tour in Vallnord (140/210cm) there is slightly less excitement but still certainly enough good skiing to keep people happy.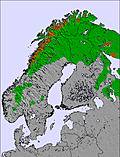 NORWAY/SWEDEN Thursday 16th of February was a mostly cloudy day for Scandinavian resorts. Conditions are still good on-piste thanks to snowmaking, but there hasn't been much snowfall for a while now. This could all be set to change over the next 6 days, however, with snow forecast. The best conditions in Norway are probably in Trysil (82cm). Over in Sweden, it's set to rain today in Are (64cm) meaning slopes will be wet and conditions could be pretty rough. In Salen it's just a cloudy with some good skiing on offer.

GERMANY Thursday 16th February was a spring like day across our featured German resorts. Although nothing seems unseasonable about this season so far, it is still pretty early to be seeing such quick warming. Breaking the conditions down to three parts things are still in pretty good shape. Firstly, atmospheric conditions are brilliant for those on holiday from the ever dull English weather, all resorts have bathed in fantastic rejuvenating sunshine this week. Secondly, on snow conditions today were soft, forgiving, and playful, not ideal for powder hounds but franky fantastic for people learning to ski and for families on a once a year trip. Finally tomorrow all of our featured resorts can expect fresh snow, around 15 to 20cm is forecast. Beyond tomorrows expected snowfall conditions will return to bright sunshine until some instability is expected to move in early next week.
BULGARIA There were some excellent conditions in Bansko (70/150cm) today where the sun was shining. Pistes soften up in the sun but conditions are mostly packed or hard packed. It was a similar story in the more northerly Borovets (75/110cm) where you could get incredible views of the surrounding area: Mountains for starter and Forests for main. Finally, Pamprovo (75/110cm) was also providing the dandy weather and the skiing wasn't half bad either.

SCOTLAND Despite skiing still being on offer in Scotland on Thursday 16th January, things have now turned slightly sour. Overnight rain has left slopes throughout the country looking somewhat sorry, and have exposed a fair amount of natural hazards at Nevis Range (5/15cm), where the lifts were on hold on Thursday due to strong winds. At The Lecht (5/10cm) only the magic carpet was running due to the limited snow cover elsewhere. Glenshee (5/15cm) is still running 8/22 lifts, but the the Glas Maol side of the mountain is yet to open for the season. Rain continues to dominate the forecast for the coming weekend, with the earliest snow next predicted for Wednesday 22nd February.

USA Another varied day today across the American ski fields. Thursday 16th February was a unique day in the season, the small resorts of Attitash Bear Park (61/121cm) and Sunday River (122/122cm) absolutely knocked the snowfall totals out of the park. Both resorts have seen around one metre of fresh powder in the last three days. Things are stepping up in Alaska also with Alyeska (243/243cm) reporting one metre in the past 48 hours. Elsewhere in Colorado the weather has shifted producing some brilliant sunny days. However, Utah is suffering with rain falling on the ski slopes today. As always the forecast for the USA is mixed but mostly for decent snowfalls. Next week will see some disgustingly big snowfalls hit the Sierra Nevada's again. Mammoth and Squaw Valley may see almost one metre in 24 hours on Monday. The American winter continues to impress.

CANADA The pictures coming out of the Banff national park resorts indicate some incredible conditions with plenty of powder still left untracked. Lake Louise (114/159cm) in particular looks in super condition. 7cm of new snow was set to fall in Fernie (220cm) today, meaning powder could be skied throughout the area. Around the same amount of snow fell in Mont Sainte Anne (94/389cm) and Mont Tremblant (130cm), which deserves a special mention because of the amazing season they are having over there. Footage out of Mont Tremblant showed impeccable powder and stunning tree lines. What a season in Quebec

EUROPEAN WEATHER OUTLOOK If you have been watching the forecast and wondering if the winter is over already, fear not. While a strong high pressure system has yet again returned over the Alps, a brief cold front will bring some fresh snow in the next 24 hours. The front is coming from the north west and so the best snow falls will be, general speaking, on the north west side of The Alps. Germany, Austria and Switzerland will be the winners. Italy will see some small totals but not much, France is unlikely to see anything at all. Beyond this brief period of snowy conditions sunshine will make an immediate return. How long will it stay in place for? Currently long range forecasting suggests we shouldn't expect any new snow until at least the 24th of February. For now it's a case of making the best of what's available and working on that google tan. In Andorra and Spain, atmospheric conditions are slightly more unsettled with a mix of sun and cloud this weekend. Next week Sierra Nevada in Spain may well kick things off with almost a metre of snow forecast for Monday 20th. In far north Scandinavia expect a continuation of overcast dull conditions. No significant snowfall is currently forecast.

NORTH AMERICAN WEATHER OUTLOOK The last 6 days have seen heavy snowfalls in North America with the hotspot being British Columbia and the Canadian west coast. There was also some heavy snow in California and some medium snowfalls in pacific north west. The next six days are going to bring more snow This time the hotspot will definitely be the Sierra Nevada range hitting California and Nevada with the kind of ferocity that no longer surprises us to be quite honest. longer surprises us to be quite honest.