World Snow Overview
We've created this page to help you find the best snow conditions. It combines past, present and future data sources from around Snow-Forecast.com and updates regularly. The Snow Roundup page is updated on Mondays and Thursdays for all major ski resorts. Live Eyeball snow updates are shown in real time when submitted via twitter by our global network of reporters. Resort Picks lists ski resorts from around the world where new snow is forecast, powder is reported and latest snow depths.

SNOW NEWS UPDATED 22 APRIL 2014

INTRODUCTION Fresh snow fell at many European resorts over the weekend, freshening up the conditions for Easter skiers and providing powder turns at some locations. Many resorts are now closed although the skiing on the higher slopes at the open resorts is still good.
AUSTRIA The majority of resorts in Austria have now closed for the season following the relatively busy Easter period. Some fresh snow has fallen over the last week though, which is great news for the resorts that are still open. 15cm of fresh snow has been reported in the Arlberg area, which includes Lech (15/40cm), Zurs (15/40cm) and St Anton (15/115cm). This is the last week of the winter ski season for this area.You can still enjoy skiing at the higher ski areas in Austria too, including the likes of Obergurgl (33/149cm), Kaprun (120/260cm), Hintertux (30/400cm), Neustift (100/365cm), Kuhtai (60/90cm), Kaunertal (305/343cm), Pitztal (239/322cm) and Solden (0/314cm). Fugen (0/70cm), Galtur (20/85cm), Ischgl (0/80cm) and Kiztbuhel (0/66cm) may not have the depths of some of the glacier skiing areas but you can still enjoy good spring skiing at these resorts too.Cloudy weather is expected to dominate this week and with the freezing level rising up to 3,000m most slopes will could receive rain.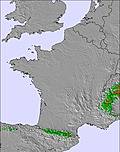 FRANCE The Easter weekend was the end of the season for many French ski area, although around two thirds of the French resorts are still open for skiing. This is the last week of winter operations for a number of resorts though, including Cauterets (200/300cm), Meribel (30/95cm), La Plagne (0/215cm) and Les Arcs (33/166cm)Fresh snow fell over the weekend at resorts in the Northern Alps too, providing excellent skiing conditions in areas such as the Espace Killy, the Paradiski area and the Three Valleys.The temperature has increased again this week though and as a result spring skiing conditions dominate. Cloudy skies are forecast across this week and next weekend, with the freezing level remaining above 2,000m. This could rise to around 3,000m later this week, bringing rain to many locations.

SWITZERLAND 14 of our featured 30 Swiss resorts are now closed for the season, including the likes of Wengen, Grindelwald and Arosa. The remaining open resorts all received fresh snow over the weekend, with up to 50cm falling over the course of the Easter weekend in some places. Saas Fee (25/402cm) has fantastic conditions on its upper mountain, with a base depth that's increased a lot recently. Powder can be found high up if you know where to look. Lower runs are more spring-like but skiing is still possible down into the town itself. Davos (3/140cm) is still open too, although skiing is limited to the Parsenn area. Again, the snow over the weekend improved conditions and the highest runs have some great skiing on offer.

ITALY Around half of our featured Italian resorts remain open after the Easter weekend. Alagna (40/200cm) will be closed through this week but then will reopen again for 25, 26 and 27 April. They'll then close again before reopening for the final weekend of the season at the start of May. Passo Tonale (0/500cm) has skiing on its upper slopes and the Presena Glacier available. There was quite a lot of fresh snow over Easter up high and the glacier looks in fantastic shape for the time of year. Fresh powder can be found off piste in most areas.

ANDORRA All of the Vallnord and Grandvalira resorts in Andorra are now closed for the season.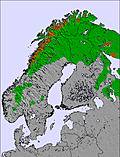 NORWAY/SWEDEN The Easter weekend was a good one in Norway with excellent snow conditions still on offer at all the open resorts. Geilo (61/89cm) had 10 of its 20 lifts running on Tuesday 22nd April and great snow on and off piste. They're expected to remain open until 27th April before closing for the winter. A few more centimetres of snow fell at Salen (80/90cm) in Sweden on Tuesday 22nd April. Their whole ski area is still open and the fresh snow means there's excellent skiing across the entire mountain.

GERMANY Of our featured resorts in Germany, only Oberstdorf (15/120cm) was available for skiing on Tuesday 22nd April. Their upper slopes are in fairly good condition for the time of year after fresh snow over the Easter weekend. Garmisch closed for the season after the Easter weekend.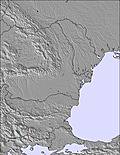 BULGARIA The three Bulgarian we feature are all now closed for the season.

SCOTLAND High winds on Tuesday 22nd April in Scotland meant skiing was fairly limited, but all three available resorts did have a few lifts open.Glencoe (0/300cm) was running four of its seven lifts on Tuesday with good spring snow higher up. Lower areas are bare now but this is to be expected for the time of year. Windy weather is expected for the majority of the week, which could have an effect on the lift openings. The Lecht and Glenshee are both closed for the ski season.

USA Many American resorts closed on Monday 21st April after the Easter period passed. A handful of resorts remain open in Colorado, including Breckenridge (218cm). They've still got loads of snow and on Tuesday 22nd April they were running 13 of their 32 lifts. This is expected to be the final week of their season before closing before closing this weekend. Mammoth (89/165cm) in California is still open too. It's been a dry season for them but they've got good snow on their runs. They plan to stay open until the last weekend in May so there's still another month to enjoy the skiing on offer at Mammoth.

CANADA Mt Norquay in the Banff area (140/230cm) is now closed for the season although you can still ski at Lake Louise and Sunshine Village, and the skiing conditions are currently very good Whistler (243cm) is also open and the skiing is also very good with recent snowfall freshening conditions. Marmot Basin (134cm) is the last of our featured western resorts in Canada still open for snowsports and although spring skiing dominates the snow is still deep enough to provide excellent slope conditions.In the east, Mont Sainte-Anne is closed during the week but will be open on 26th and 27th April for the last weekend of their season.

EUROPEAN WEATHER OUTLOOK The forecast is for cloudy skies across the major European nations this week and over next weekend. The freezing level is supposed to rise to around 3,000m this week before dropping back down to around 2,000m next week. This could result in wet weather for many areas this week following by snow conditions on the higher slopes next week.

NORTH AMERICAN WEATHER OUTLOOK A mixed week is expected in America, with high temperatures generally but also a few days where it will suddenly turn much colder and deliver some fresh snow. Breckenridge could get some rain on Friday 25th April but then fresh snow for the closing weekend, with the freezing level dropping to almost 1,000m below the village. Light snow is expected on and off all week at Whistler in Canada. The freezing level will hover around 1,400m all week, which is just below mid mountain. This should deliver around 30cm of fresh snow to the upper area over the course of the week and the coming weekend. the week and the coming weekend.