Snow Forecast Mapswhere's the snow in the next 3 days?
Snow Forecast for 3100 ski resorts around the World, updated four times a day. Weather forecasts are provided for the top lift, bottom lift and mid-mountain elevations. Our detailed Snow Reports and live updates are submitted by local Ski Clubs, ski resort staff and our users. Interactive weather maps show the amount of predicted snowfall as well as the current snow conditions and weather observations. The snow maps also show where the best piste conditions, off-piste powder and forecast weather for skiing and snowboarding can be found.
This map shows the accumulated snow forecast for the next 3 days. Click the image to view the interactive snow forecast map, or see a worldwide overview of all our maps that cover ski resorts for the Rest of the World.
Accumulated snow forecast for the next 3 days.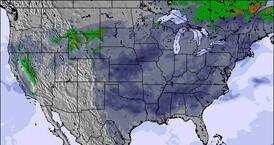 Click to view snow map
Country ski resort overviews
Latest Snow News
Anonymous Report:

Snow falling in Los Penitentes.

Anonymous Report:

Heavy snow is falling in Lake Mountain.

Check our Twitter feed for operational updates using #WBops.

Anonymous Report:

Snowing heavily in Remarkables.
Latest worldwide snow report
UPDATED 26 MAY 2016 Great skiing remains on offer across our featured Austrian resorts. Hintertux continues to provide some of the best conditions, whilst resorts such as Kaprun and Dachstein Glacier also boast impressive snow depths..... (courtesy of the Skiclub of GB)
Current ski resort picks
Long range skiing weather forecasts for daily picks of our top 5 Resorts are FREE to non snow-forecast.com members! Find the deepest snow, the snowiest forecasts and the ski resorts reporting powder conditions to make the most of planning your winter sports holiday.
Fresh Snow Depth
Upper Snow Depth
Powder reported
New snow in next 3 days
Latest submitted reviews
Antillanca ski resort:
"Lo mejor del sur, buena nieve, bien trabajada, buenas pistas buena comida y el alojamiento es agradable y familar!
El lugar es unico, muy buena vista."

Andres from SPAIN - 20 May 2016
Timberline ski resort:
"Been skiing on my birthday June 15, since 1988, have done everything from 75° to 8 inches of new powder. Palmer is great"

Bob from UNITED STATES - 17 May 2016
San-Isidro ski resort:
"San Isidro esta muy bien comparandola con la Estacion de pajares años luz en todo (remontes y servicios de todo tipo referente a la nieve)siento decirlo ya que soy Asturiano y vivo cerca de la estacion de Pajares pero es la realidad de que el deporte de la nieve no lo cuidan un saludo juami."

JUAN MIGUEL CASTAÑON from SPAIN - 16 May 2016
Snow Equipment, Snowboard and Ski Clothes
Wherever you ski or snowboard, our snow store has everything you need from leading brands such as Burton, Salomon, Volcom, K2 and many more. We've accumulated years of experience securely selling quality snow equipment to thousands of customers Worldwide. Our snow store offers free or low cost delivery, a 'Price Match Promise' and really simple returns. Start browsing our extensive range of Mens and Womens ski clothes or snow sports accessories.